Jacobs Creek Tour Down Under - 2.3
Australia, January 15-20, 2002
Stage 4 - January 18: Unley - Victor Harbor, 141km
Live report  Results Preview and course profile Previous stage Next stage
No-one can beat McEwen
By Karen Forman in Victor Harbor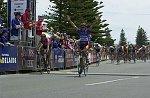 McEwen...again
Photo: © Tom Balks/CN
Two riders, at the opposite ends of the scale, brought together in one race. Both heroes, both deserving of attention.
On one side, highly experienced international champion Robbie McEwen, winner of three stages of the 2002 Jacobs Creek Tour Down Under - including the 141km fourth stage at Victor Harbor today.
On the other, young Australian compatriot, David Pell, the courageous newcomer to the international scene, who rode alone for 81km after a solo breakaway - keeping a time break of up to five minutes between himself and some of the best road cyclists in the world.
In the end, it was the Lotto Adecco rider McEwen who picked up the points and the glory, in a stunning (but not altogether unexpected) bunch sprint to the line.
But nobody who saw today's event, raced by 91 riders in draining 35 degree heat, is going to forget the hard work put in by the younger United Water rider. Today, 21 year old David Pell stamped his name indelibly on Australian road cycling - and showed himself to be a talent of the future.
Today's win by McEwen, whose has shown himself to be in top form during the past two weeks, with first his 2002 Skilled Geelong Bay Classic victory and now, this week, three stage wins in the 2002 Jacob's Creek Tour Down Under, came as no surprise once it became clear the race would come down to a bunch sprint.
But it took some doing.
This was a race thought to be one for the sprinters and it did turn out that way. But there were plenty of twists and turns along the way - including Pell's breakaway and a crash involving six riders just two kilometres from the finish.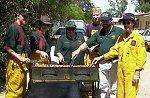 BBQing heat
Photo: © Tom Balks/CN
Weather conditions were a stark contrast to those of the day before. While stage three was windy - with AIS rider Scott Sunderland (ironically, we discovered today after he was involved in the crash) expressing fears that the wind could contribute to accidents) - today was so hot that extra water was placed in support vehicles and feed zones were opened early.
Some people were concerned, others weren't.
The Italy based Mapei-Quick Step team doctor said he wasn't too concerned for his riders, who would just be encouraged to take on extra fluids. But Australian rider Brett Aitken, said before the start he suffered badly in the heat, sweating "three times" as much as anyone else, and losing vital electrolytes.
It was an easy start, with the group staying together for the first uphill 5km. Then the attacks began. Birthday boy Luca Paolini (Mapei Quick Step) had a go. Arvis Piziks (Tiscali), Jans Koerts (Domo) and Carlos Da Cruz (La Francaise Des Jeux) got into difficulty.
In the next few kilometres Paolini was joined by Alexandre Botcharov (Ag2r Prevoyance).
At the 13km mark a new attack involving Thierry Loder (AG2r Prevoyance), Kevin Hulsmans (Mapei Quick Step) and Robert Tighello (AIS) began. They formed a breakaway and established a 25 second time gap before being joined by Stefan Van Dijk (Lotto Adecco) and Pell.
Along came the first intermediate sprint, which went to Hulsmans with Tighello second and Mikel Astarloza (AG2r Prevoyance) third. Eight riders got together to form a lead group but was caught and then, at the 35km mark, young David Pell put his head down, pumped on the pedals and put 200 metres between himself and the bunch.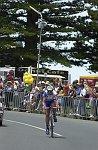 David Pell
Photo: © Tom Balks/CN
Within two kilometres he had 1'05 on the bunch, another kilometre he had 1'45.
Team Saeco controlled the pace of the chasing bunch, but the action was really up front with Pell who just kept going and going.
At 50km he had 2'15, then 2'35 and then 3'00.
The bunch was still being controlled by Saeco, with other major contenders Mapei in the first third, defending champion Stuart O'Grady (Credit Agricole) midfield and sprinters like Fred Rodriguez (Domo), Jans Koerts (Domo), Andrea Tafi (Mapei Quick Step), Daniele Nardello (Mapei Quick Step), resting on the back of the field.
At 63km, Pell was still riding solo, looking incredibly strong, with hands up on the hoods and a big gear. At this stage, he said later, his coach Brian Stephens was "telling me through the radio to ride at my own pace and just keep going."
He won the second intermediate sprint easily...ahead of the bunch by 4'50. There was some attacking back on the bunch, and Biagio Conte (Saeco) picked up second and O'Grady third.
With Pell at the front and Saeco doing its bit on the front of the bunch, the minutes before the King of the Mountain sprint, on a 5km long, 200 metre high hill, came around. Would Pell hold his lead? He did. He was still 4'50 ahead after the climb, for which he spent 95 per cent of the time sitting firm in the saddle, standing on the pedals only to stretch.
Pell took the KOM points, with Glenn D'Hollander (Lotto Adecco) second and Cadel Evans (Mapei-Quick Step) third. Sunderland was fourth and yellow jersey wearer Fabio Sacchi (Saeco) fifth. But by 111 km, Pell was noticeably tiring. His gap shortened to 1'55. Then 1'30 and 1'10.
Sebastien Hinault (Credit Agricole) attacked Pell fell off, moving backwards as the bunch moved in. Ten kilometres before the finish, Hulsmans was out in front alone, but it was obvious a bunch sprint - which is right up McEwen's alley - was on the cards.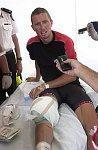 Scott Sunderland
Photo: © Tom Balks/CN
It was in the middle of the bunch's preparation for the run to the line that the crash occurred, leaving Sunderland with a fracture and soft tissue damage to his right leg - which has left him unable to ride for at least two months and shattered his early season (See separate story). As Sunderland climbed aboard a replacement bike and pushed ahead just to record a finish, McEwen forged ahead for yet another easy stage win.
"I hope nobody is getting bored with this," he said afterwards. "Because I know I'm not."
McEwen said his form was "very good" and attributed it to "six weeks perfect training" and the fact "the boys were riding a perfect race."
He fobbed off teasing about his comments the previous day that he was going to take a rest day today. "When you can get to the finish in the bunch, then you sprint, " he said. "It's my job, what they pay me to do."
The other hero of the race, Pell, was too happy with his solo effort to be concerned about not winning.
"It is great to be on this team and to be here with all these riders," he said. "I didn't expect to be away for so long. They let me go a bit today and at the end I thought I might have had enough, but my legs went. Brian told me to try and save it, but I couldn't."
>From Adelaide he plans to contest the Tour of Tasmania and then will go to Italy for 12 months with the AIS program.
But for the next few days at least, his focus is on the Tour Down Under. He has lofty ambitions...and after today's effort, it would be no surprise to see him on a podium of his own in the future.
Photography
Photos by Phillip Chia.
Results
1 Robbie McEwen (Aus) Lotto Adecco                       3.25.50 (41.1 km/h)
2 Danilo Hondo (Ger) Telekom
3 Jaan Kirsipuu (Est) AG2r-Prevoyance
4 Baden Cooke (Aus) La Française Des Jeux
5 Andrea Tafi (Ita) Mapei Quick Step
6 Luca Paolini (Ita) Mapei Quick Step
7 Fabio Sacchi (Ita) Saeco-Longoni Sport
8 Thierry Loder (Fra) AG2r-Prevoyance
9 Luke Roberts (Aus) UniSA
10 Stuart O'Grady (Aus) Crédit Agricole
11 Alexandre Botcharov (Rus) AG2r-Prevoyance
12 Paul Van Hyfte (Bel) CSC - Tiscali
13 Stefano Zanini (Ita) Mapei Quick Step
14 Patrick Jonker (Aus) UniSA
15 Anthony Morin (Fra) Crédit Agricole
16 Biagio Conte (Ita) Saeco-Longoni Sport
17 Fred Rodriguez (USA) Domo Farm Frites
18 Tristan Hoffman (Ned) CSC - Tiscali
19 Michael Rogers (Aus) Australian Institute Of Sport
20 Allan Davis (Aus) Australian Institute Of Sport
21 Scott Davis (Aus) Australian Institute Of Sport
22 Steffen Wesemann (Ger) Telekom
23 Mikel Astarloza (Spa) AG2r-Prevoyance
24 Brett Aitken (Aus) UniSA
25 Regis Lhuillier (Fra) La Française Des Jeux
26 Daniele Nardello (Ita) Mapei Quick Step
27 Dave McPartland (Aus) United Water
28 Julian Dean (NZl) CSC - Tiscali
29 Lauri Aus (Est) AG2r-Prevoyance
30 Carlos Da Cruz (Fra) La Française Des Jeux
31 Simon Gerrans (Aus) United Water
32 Fabian De Waele (Bel) Mapei Quick Step
33 Kevin Hulsmans (Bel) Mapei Quick Step
34 Niko Eeckhout (Bel) Lotto Adecco
35 Robert Tighello (Aus) Australian Institute Of Sport
36 Servais Knaven (Ned) Domo Farm Frites
37 Peter Dawson (Aus) United Water
38 Koos Moerenhout (Ned) Domo Farm Frites
39 Ashley Humbert (Aus) United Water
40 Gerrit Glomser (Aut) Saeco-Longoni Sport
41 Chris Jenner (NZl) Crédit Agricole
42 Jans Koerts (Ned) Domo Farm Frites
43 Laszlo Bodrogi (Hun) Mapei Quick Step
44 Bobby Julich (USA) Telekom
45 David Kopp (Ger) Telekom
46 Bjarke Nielsen (Den) CSC - Tiscali
47 Cadel Evans (Aus) Mapei Quick Step
48 Kai Hundertmarck (Ger) Telekom
49 Stefan Van Dijk (Ned) Lotto Adecco
50 Steve Cunningham (Aus) UniSA
51 Joerg Ludewig (Ger) Saeco-Longoni Sport
52 Kurt Van De Wouwer (Bel) Lotto Adecco
53 Brad Davidson (Aus) Saeco-Longoni Sport
54 Christian Pepoli (Ita) Saeco-Longoni Sport
55 Max Van Heeswijk (Ned) Domo Farm Frites
56 Frederic Bessy (Fra) Crédit Agricole
57 Oscar Mason (Ita) Saeco-Longoni Sport
58 Tomas Konecny (Cze) Domo Farm Frites
59 Pierrick Fedrigo (Fra) Crédit Agricole
60 Innar Mandoja (Est) AG2r-Prevoyance
61 Geert Van Bondt (Bel) CSC - Tiscali
62 Robert Bartko (Ger) Telekom
63 Brett Lancaster (Aus) Australian Institute Of Sport
64 Mark Renshaw (Aus) United Water
65 Anthony Langella (Fra) Crédit Agricole
66 Gorik Gardeyn (Bel) Lotto Adecco
67 Daniel Mackey (Aus) United Water
68 Glenn d'Hollander (Bel) Lotto Adecco
69 Hans De Clercq (Bel) Lotto Adecco
70 Andreas Klöden (Ger) Telekom                             0.25
71 Ief Verbrugghe (Bel) Lotto Adecco
72 Igor Astarloa (Spa) Saeco-Longoni Sport                  0.31
73 Matt Wilson (Aus) La Française Des Jeux                  0.42
74 Frederick Guesdon (Fra) La Française Des Jeux            0.44
75 Raphael Jeune (Fra) CSC - Tiscali                        0.50
76 Bruce McIntosh (Aus) United Water
77 Bradley McGee (Aus) La Française Des Jeux                0.54
78 Nicolas Vogondy (Fra) La Française Des Jeux
79 Thomas Bodo (Fra) La Française Des Jeux
80 Inigo Chaurreau Bernadez (Spa) AG2r-Prevoyance
81 Jakob Piil (Den) CSC - Tiscali                           1.22
82 Jonathan Vaughters (USA) Crédit Agricole
83 Sebastian Hinault (Fra) Crédit Agricole
84 Bram Tankink (Ned) Domo Farm Frites
85 Arvis Piziks (Lat) CSC - Tiscali                         1.26
86 Jurgen Van Goolen (Bel) Domo Farm Frites                 2.08
87 Steve Williams (Aus) Australian Institute Of Sport
88 Russell Van Hout (Aus) UniSA                             2.38
89 Corey Sweet (Aus) UniSA
90 Gene Bates (Aus) UniSA
91 Adrian Laidler (Aus) UniSA                               3.30
92 Jens Heppner (Ger) Telekom                               3.33
93 David Pell (Aus) United Water                            7.13
94 Scott Sunderland (Aus) Australian Institute Of Sport    10.16
 
General classification after stage 4
 
1 Fabio Sacchi (Ita) Saeco-Longoni Sport                11.25.44
2 Michael Rogers (Aus) Australian Institute Of Sport        0.01
3 Andrea Tafi (Ita) Mapei Quick Step                        0.05
4 Alexandre Botcharov (Rus) AG2r-Prevoyance                 0.07
5 Paul Van Hyfte (Bel) CSC - Tiscali
6 Patrick Jonker (Aus) UniSA
7 Anthony Morin (Fra) Crédit Agricole
8 Daniele Nardello (Ita) Mapei Quick Step                   0.45
9 Robert Tighello (Aus) Australian Institute Of Sport       0.46
10 Stuart O'Grady (Aus) Crédit Agricole                     0.53
11 Biagio Conte (Ita) Saeco-Longoni Sport                   0.54
12 Steffen Wesemann (Ger) Telekom                           0.56
13 Cadel Evans (Aus) Mapei Quick Step
14 Inigo Chaurreau Bernadez (Spa) AG2r-Prevoyance           1.44
15 Scott Davis (Aus) Australian Institute Of Sport          5.06
16 Robbie McEwen (Aus) Lotto Adecco                         7.58
17 Kevin Hulsmans (Bel) Mapei Quick Step                    8.03
18 Dave McPartland (Aus) United Water                       8.06
19 Luca Paolini (Ita) Mapei Quick Step                      8.09
20 Danilo Hondo (Ger) Telekom
21 Mikel Astarloza (Spa) AG2r-Prevoyance                    8.12
22 Bobby Julich (USA) Telekom                               8.13
23 Fabian De Waele (Bel) Mapei Quick Step
24 Thierry Loder (Fra) AG2r-Prevoyance
25 Max Van Heeswijk (Ned) Domo Farm Frites
26 Chris Jenner (NZl) Crédit Agricole
27 Ashley Humbert (Aus) United Water
28 Kurt Van De Wouwer (Bel) Lotto Adecco
29 Simon Gerrans (Aus) United Water
30 Koos Moerenhout (Ned) Domo Farm Frites
31 Robert Bartko (Ger) Telekom                              8.24
32 Peter Dawson (Aus) United Water                          8.27
33 Tomas Konecny (Cze) Domo Farm Frites
34 Kai Hundertmarck (Ger) Telekom
35 Bradley McGee (Aus) La Française Des Jeux                9.07
36 Nicolas Vogondy (Fra) La Française Des Jeux
37 Joerg Ludewig (Ger) Saeco-Longoni Sport                  9.30
38 Frederic Bessy (Fra) Crédit Agricole
39 Pierrick Fedrigo (Fra) Crédit Agricole
40 Gene Bates (Aus) UniSA                                  10.44
41 Jens Heppner (Ger) Telekom                              12.00
42 Servais Knaven (Ned) Domo Farm Frites                   12.16
43 Mark Renshaw (Aus) United Water
44 Tristan Hoffman (Ned) CSC - Tiscali                     12.18
45 Glenn d'Hollander (Bel) Lotto Adecco
46 Luke Roberts (Aus) UniSA                                12.20
47 David Kopp (Ger) Telekom
48 Steve Cunningham (Aus) UniSA
49 Allan Davis (Aus) Australian Institute Of Sport         12.23
50 Julian Dean (NZl) CSC - Tiscali
51 Laszlo Bodrogi (Hun) Mapei Quick Step
52 Oscar Mason (Ita) Saeco-Longoni Sport
53 Innar Mandoja (Est) AG2r-Prevoyance
54 Stefan Van Dijk (Ned) Lotto Adecco
55 Regis Lhuillier (Fra) La Française Des Jeux
56 Gorik Gardeyn (Bel) Lotto Adecco
57 Hans De Clercq (Bel) Lotto Adecco
58 Geert Van Bondt (Bel) CSC - Tiscali
59 Igor Astarloa (Spa) Saeco-Longoni Sport                 12.54
60 Bruce McIntosh (Aus) United Water                       13.06
61 Frederick Guesdon (Fra) La Française Des Jeux           13.07
62 Thomas Bodo (Fra) La Française Des Jeux                 13.17
63 Sebastian Hinault (Fra) Crédit Agricole                 13.45
64 Bram Tankink (Ned) Domo Farm Frites
65 Russell Van Hout (Aus) UniSA                            15.01
66 Adrian Laidler (Aus) UniSA                              15.53
67 Jaan Kirsipuu (Est) AG2r-Prevoyance                     17.23
68 Jans Koerts (Ned) Domo Farm Frites                      17.24
69 Baden Cooke (Aus) La Française Des Jeux                 17.25
70 Stefano Zanini (Ita) Mapei Quick Step
71 Brett Aitken (Aus) UniSA
72 Fred Rodriguez (USA) Domo Farm Frites
73 Bjarke Nielsen (Den) CSC - Tiscali
74 Carlos Da Cruz (Fra) La Française Des Jeux
75 Brett Lancaster (Aus) Australian Institute Of Sport
76 Niko Eeckhout (Bel) Lotto Adecco
77 Brad Davidson (Aus) Saeco-Longoni Sport
78 Lauri Aus (Est) AG2r-Prevoyance
79 Anthony Langella (Fra) Crédit Agricole
80 Andreas Klöden (Ger) Telekom                            17.50
81 Jurgen Van Goolen (Bel) Domo Farm Frites                17.53
82 Raphael Jeune (Fra) CSC - Tiscali                       18.15
83 Scott Sunderland (Aus) Australian Institute Of Sport    18.25
84 Jonathan Vaughters (USA) Crédit Agricole                18.44
85 Jakob Piil (Den) CSC - Tiscali
86 Arvis Piziks (Lat) CSC - Tiscali                        18.51
87 David Pell (Aus) United Water                           19.33
88 Steve Williams (Aus) Australian Institute Of Sport
89 Ief Verbrugghe (Bel) Lotto Adecco                       19.42
90 Gerrit Glomser (Aut) Saeco-Longoni Sport                19.44
91 Christian Pepoli (Ita) Saeco-Longoni Sport              19.45
92 Corey Sweet (Aus) UniSA                                 20.03
93 Matt Wilson (Aus) La Française Des Jeux                 37.09
94 Daniel Mackey (Aus) United Water                        46.47
 
Sprints classification
 
1 Robbie McEwen (Aus) Lotto Adecco                            28 pts
2 Jans Koerts (Ned) Domo Farm Frites                          14
3 Fabio Sacchi (Ita) Saeco-Longoni Sport                      12
4 Tristan Hoffman (Ned) CSC - Tiscali                         10
5 Glenn d'Hollander (Bel) Lotto Adecco                        10
6 Michael Rogers (Aus) Australian Institute Of Sport           8
7 Scott Sunderland (Aus) Australian Institute Of Sport         8
8 Daniele Nardello (Ita) Mapei Quick Step                      6
9 Kevin Hulsmans (Bel) Mapei Quick Step                        6
10 David Pell (Aus) United Water                               6
11 Stuart O'Grady (Aus) Crédit Agricole                        6
12 Corey Sweet (Aus) UniSA                                     6
13 Danilo Hondo (Ger) Telekom                                  6
14 Luca Paolini (Ita) Mapei Quick Step                         6
15 Biagio Conte (Ita) Saeco-Longoni Sport                      4
16 Robert Tighello (Aus) Australian Institute Of Sport         4
17 Jaan Kirsipuu (Est) AG2r-Prevoyance                         4
18 Andrea Tafi (Ita) Mapei Quick Step                          4
19 Mikel Astarloza (Spa) AG2r-Prevoyance                       2
 
Mountains classification
 
1 Glenn d'Hollander (Bel) Lotto Adecco                        28 pts
2 Scott Sunderland (Aus) Australian Institute Of Sport        28
3 Cadel Evans (Aus) Mapei Quick Step                          20
4 David Pell (Aus) United Water                               16
5 Russell Van Hout (Aus) UniSA                                12
6 Daniele Nardello (Ita) Mapei Quick Step                      8
7 Nicolas Vogondy (Fra) La Française Des Jeux                  8
8 Joerg Ludewig (Ger) Saeco-Longoni Sport                      6
9 Fabio Sacchi (Ita) Saeco-Longoni Sport                       4
10 Michael Rogers (Aus) Australian Institute Of Sport          4
11 Brad Davidson (Aus) Saeco-Longoni Sport                     4
 
U23 classification
 
1 Dave McPartland (Aus) United Water                    11.33.50
2 Ashley Humbert (Aus) United Water                         0.07
3 Simon Gerrans (Aus) United Water
4 Peter Dawson (Aus) United Water                           0.21
5 Gene Bates (Aus) UniSA                                    2.38
6 Mark Renshaw (Aus) United Water                           4.10
7 Allan Davis (Aus) Australian Institute Of Sport           4.17
8 Regis Lhuillier (Fra) La Française Des Jeux
9 Gorik Gardeyn (Bel) Lotto Adecco
10 Bruce McIntosh (Aus) United Water                        5.00
11 Thomas Bodo (Fra) La Française Des Jeux                  5.11
12 Adrian Laidler (Aus) UniSA                               7.47
13 Brad Davidson (Aus) Saeco-Longoni Sport                  9.19
14 Jurgen Van Goolen (Bel) Domo Farm Frites                 9.47
15 David Pell (Aus) United Water                           11.27
16 Daniel Mackey (Aus) United Water                        38.41
 
Most aggressive rider
 
1 David Pell (Aus) United Water

Teams classification
 
1 Mapei - Quick Step                                    34.19.03
2 Australian Institute Of Sport
3 Ag2R Prevoyance                                           7.19
4 Crédit Agricole                                           7.22
5 Saeco Machine Per Caffe - Longoni Sport                   8.42
6 Telekom                                                  15.25
7 UniSA                                                    18.42
8 United Water                                             22.27
9 Domo Farm Frites                                         22.55
10 CSC - Tiscali                                           22.59
11 La Francaise Des Jeux                                   26.58
12 Lotto Adecco