Jacobs Creek Tour Down Under - 2.3
Australia, January 15-20, 2002
News
Sunderland out for 3 months after stage 4 crash
By Karen Forman in Victor Harbor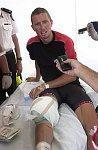 Scott Sunderland
Photo: © Tom Balks/CN
Australian Institute of Sport rider Scott Sunderland is facing every rider's nightmare - 10 to 12 weeks off the bike at the start of the road racing season - following an ill-timed crash during the final stages of the fourth day of the 2002 Jacob's Creek Tour Down Under near Victor Harbor today.
Sunderland, who just the previous day had happily told Cyclingnews that he was probably "the strongest person in the race" and was hoping this might be his year after steadily coming back from injury sustained in a crash during the Amstel Gold in 1998, is tonight nursing an injured right knee and abrasions on his arm and shoulder, and praying the damage isn't as serious as medics who attended him at the scene feared.
The Belgian-based Aussie was one of a group of six who went down around 2km from the finish of the 141km race, staged between the city of Unley and Victor Harbor in very hot conditions. In the first aid tent afterwards, he was feeling sore and angry, as well as critical of less-experienced riders whose behaviour he said had contributed to the crash.
"It was on the descent into Victoria Harbor," he said. "I was sitting back in the bunch, in about 25th place, making sure there were no gaps, then a bloke hit the wheels in front and Gene (Bates of the UniSA team) went down in front of me. All I remember is seeing Gene and then I went over the top."
Also down were Adrian Laidler (UniSA), Jens Heppner (Telekom), Jakob Piil (CSC-Tiscali), Jurgen Van Goolen (Domo) and Iņigo Chaurreau Bernadez (Ag2r Prevoyance), but only Sunderland suffered injuries serious enough to warrant a trip to the first aid tent. Tonight, medicos for Chaurreau Bernadez reported that his had cartilage damage to his nose, but would be OK to continue the Tour.
Sunderland got up - and did what comes naturally when you are in great form and carrying the King of the Mountain jersey and somebody brings you down - he gave Bates a "a mouthful".
"I was totally pissed off," he said. "Gene reckoned it was the guy in front of him. I had been going well, I was in good form, and then these bloody guys, who are booting arse all day, who are in over their heads...I dunno why they are sprinting for 25th place. . . .
"It is one of the reasons I avoid some of the races in Australia, because you end up like this."
On the ground, it was painfully obvious the 35 year old from Inverell, NSW (where the Sunderland family is synonymous with cycling and the annual Grafton-Inverell one-day classic finishes after an infamous climb), had sustained more damage than abrasions and cuts.
A large golf ball-sized lump immediately appeared on the inner side of his right knee and he couldn't walk. Yet somehow he managed to climb aboard a replacement bike and finish the race - pedaling with one leg.
"I wanted to finish," he said. "You never know, after all..."
And he did. In last place, 10 minutes and 16 seconds behind winner Robbie McEwen (3.25.50). It wasn't quite the result he was looking for.
Grimacing in pain
Photo: © Phill Chia
After the stage, he holds equal points but is second on the KOM pointscore, with Glenn D'Hollander (Lotto Adecco) (28), but today, he wasn't too confident he would be fronting up tomorrow to pick up some more points.
"This knee is not feeling good," he said. "It feels unstable, they say there is possibly ligament damage, which means two to three weeks off the bike. I will see what the x-rays say; what Barnesy (AIS doctor ) says. I can only hope it isn't too bad."
Sunderland's wife Sabine, on the phone from Belgium as soon as she heard about the crash, could barely believe it.
"It is just not his week," she said. "He doesn't need this right now."
Unfortunately, the news was far worse than it was first feared. After visiting the hospital in Adelaide, Dr Peter Barnes gave this assessment:
"He has an undisplaced fracture of his tibia (upper tibia through to the knee joint surface) with minor posterior cruciate ligament damage. He's seen an orthopaedic surgeon who doesn't believe he needs surgery. However, Scott will need 10-12 weeks off the bike. He'll have an MRI in the next day or two."
When Scott heard the news, he was shattered. "The first year I did this race I was coming back from '98 and I struggled so hard but really shouldn't have done it. I wanted to know if I could still be a bike rider."
"Now I had a great year and bloody something like this happens. I'm gutted I just wanted to cry. What have I done - how many times do I have to prove myself?"
Scott will make no decisions until after the MRI, but his early season is now out the window.
"I was planning to do all the spring classics from March through April. Now I have to reassess and refocus and work on salvaging the year. There's the Commonwealth Games selection in June. Hopefully I can pull something out of the hat before then."
"I've gone through much worse than this. Too much to break my spirit. I'm frustrated and it makes you want to cry."