2002 Australian National MTB Championships - CN
Thredbo, NSW, February 23-24, 2002
Men's Cross-country - February 24: Thredbo
Taberlay takes the titles, and ruins Rowney's run
by Paul Goldsmith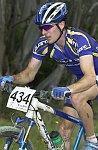 Sid Taberley
Photo: © Tom Balks
Sid Taberlay rode away with both the Elite and Under 23 titles with a commanding ride in Thredbo today. Leading from start to finish, Taberlay finished 1 minute 18 seconds ahead of Paul Rowney. Rowney was hoping for his fourth straight National title after winning in 2001, 2000 and 1999. Picking up third was Josh Fleming.
The course was very fast and predominately dry, which combined with the high race pace, quickly spread out the field. Taberlay used his road training and almost from the word go, established a thirty second lead and was never headed. In the 2001 National's Taberlay trailed Paul Rowney by ten minutes, but a change in training programs has definitely paid dividends for the young rider. "Just a whole lot of road miles. Last year I did a lot of miles on the MTB," said Taberlay explaining his spectacular speed increase.
Paul Rowney is renowned for his fast finish, however Taberlay was even was able to counter this, putting 50 seconds on Rowney on the last lap. "Once over the climb it wasn't too bad. But I was looking back all the time, watching for Paul," Taberlay said.
Whilst the win doesn't guarantee Taberlay a spot on Australia's team for this year's Commonwealth Games team, it will make it very hard for selectors to ignore him. Commonwealth Games selection is based on UCI points, with the Australian Nationals having the most UCI points of the Australian races.
After this weekend Taberlay will ride the Tour of Tasmania. Whilst there is no indication that Taberlay wants a career on the road, success in that race is a career path that has worked well for another Australian star and recent Mapei recruit, Cadel Evans.
The Under 23's made a good showing overall, with Brent Miller, taking eighth place in the Elite field and second in the U23's. Miller was closely followed home by Daniel Van Der Ploeg, who finished ninth in the Elite and third in the U23's.
Photography
Results

Elite Men
                         lap 1    lap 2    lap 3    lap 4    lap 5    lap 6       Time      
1 Sid Taberlay           17.55.0  18.22.3  18.50.2  18.32.9  18.14.3  18.57.6  1.50.52.20
2 Paul Rowney            18.49.5  18.11.3  18.33.2  18.22.5  18.35.6  19.37.8     1.18.18
3 Josh Fleming           18.26.6  18.56.3  19.10.0  18.52.4  19.07.6  18.55.4     2.36.36
4 Garth Hennesy          18.45.3  18.42.9  19.06.9  19.23.2  19.29.6  20.15.1     4.50.50
5 Murray Spink           18.49.5  19.18.6  19.34.6  19.37.4  19.29.3  19.35.7     5.33.33
6 Chris Jongewaard       18.43.4  19.25.4  19.29.8  19.42.1  19.40.3  20.20.2     6.29.29
7 Timothy Bartholomew    19.18.4  19.36.5  19.44.8  20.00.2  20.13.4  19.05.1     7.06.60
8 Brent Miller           19.09.6  19.36.8  19.52.7  19.40.9  20.04.0  19.40.7     7.12.12
9 Daniel Van Der Ploeg   19.38.3  19.33.8  19.25.0  20.04.1  20.15.7  19.23.4     7.28.28
10 Perren Delacour       19.43.3  19.28.0  19.56.0  20.21.0  20.27.5  19.29.7     8.33.33
11 Simon Bishop          18.56.7  22.33.5  19.04.0  19.35.3  19.54.1  19.45.0     8.56.56
12 Jared Graves          20.16.0  19.58.2  20.52.9  20.51.2  20.41.4  19.54.6    11.42.42
13 Mark Leisi            20.06.1  20.09.4  20.24.3  21.02.5  20.39.4  20.22.2    11.51.51
14 Matthew Russell       20.17.9  19.59.9  20.47.7  21.07.0  21.06.5  20.29.4    12.56.56
15 Tim Hucker            20.17.2  19.55.8  20.23.0  20.20.8  22.31.8  20.53.2    13.30.30
16 Peter Hatton          19.14.0  18.57.2  20.01.3  21.51.3  23.18.8  21.56.8    14.27.27
17 Matthew Fleming       22.54.9  20.19.7  19.58.3  20.43.2  20.47.8  20.42.7    14.34.34
18 Ian Longville         20.19.2  20.27.8  21.39.7  21.38.0  22.15.7  21.13.7    16.42.42
19 Brad Sing             20.44.9  20.46.3  20.51.5  21.29.6  23.09.8  21.12.2    17.22.22
20 Shane Scott           21.43.5  21.36.4  21.06.5  21.07.5  22.01.1  20.44.1    17.27.27
21 Kian Blethyn          21.27.0  20.50.2  20.45.3  20.47.2  22.19.0  22.19.5    17.36.36
22 Peter Milostic        21.39.1  21.14.4  21.08.3  21.44.1  21.31.0  21.43.0    18.07.70
23 Shaun Lewis           20.45.9  20.59.4  22.04.0  21.46.0  21.59.0  21.31.4    18.13.13
24 Luke Paton            20.14.2  20.27.5  20.59.0  20.59.0  22.26.9  24.12.5    18.27.27
25 James Williamson      21.48.9  21.01.3  21.03.5  21.35.3  22.05.2  21.53.9    18.36.36
26 Chad Gossert          20.20.2  20.24.9  21.43.4  25.52.4  20.51.5  21.19.5    19.40.40
27 Brett Buckland        21.44.4  21.32.9  22.28.6  22.13.6  21.37.5  22.30.6    21.15.15
28 Jamie Kornell         21.49.7  21.34.2  21.54.5  22.05.1  23.04.2  21.53.6    21.29.29
29 Jonathon Hall         21.18.6  20.55.5  20.51.0  21.55.9  23.32.3  23.53.0    21.34.34
30 Matthew Smith         21.40.9  21.10.7  22.05.1  22.18.1  22.53.1  22.44.6    22.00.00
31 Ed Holinger           21.36.8  21.20.0  21.46.8  21.59.8  23.34.4  24.04.5    23.30.30
32 James Dickey          20.48.6  20.55.2  21.16.2  22.10.9  22.57.5  26.44.6    24.00.00
33 Cameron Single        21.51.9  21.26.5  21.54.7  22.04.4  22.45.6  26.01.3    25.12.12
one lap down
34 Brad Prescott         21.41.6  21.45.0  22.46.1  23.53.9  23.33.4
two laps down
35 David Wood            23.35.7  23.25.3  26.01.0  25.26.7
36 Shaun Lloyd           23.27.0  24.02.4  24.24.8  25.42.3
37 David Moran           22.35.2  24.14.8  24.03.3  25.00.5
38 Jordan Vogel          22.52.3  24.29.6  23.33.7  24.06.6
39 Scott Finlay          23.40.2  23.47.5  23.24.6  24.08.5
40 James Lobegeiger      22.03.4  22.40.3  23.57.9  26.19.2
41 Guy Burgoinee         23.20.1  23.20.5  23.35.4  23.45.4
three laps down
42 Peter McLean          24.48.5  26.58.5  28.07.3
43 Jason English         28.48.6  24.35.1  22.56.8
44 Warrick Grieve        24.06.2  24.26.9  27.41.9

U23 Men

1 Sid Taberlay           17.55.0  18.22.3  18.50.2  18.32.9  18.14.3  18.57.6  1.50.52.20
2 Brent Miller           19.09.6  19.36.8  19.52.7  19.40.9  20.04.0  19.40.7     7.12.12
3 Daniel Van Der Ploeg   19.38.3  19.33.8  19.25.0  20.04.1  20.15.7  19.23.4     7.28.28
4 Jared Graves           20.16.0  19.58.2  20.52.9  20.51.2  20.41.4  19.54.6    11.42.42
5 Tim Hucker             20.17.2  19.55.8  20.23.0  20.20.8  22.31.8  20.53.2    13.30.30
6 Peter Hatton           19.14.0  18.57.2  20.01.3  21.51.3  23.18.8  21.56.8    14.27.27
7 Ian Longville          20.19.2  20.27.8  21.39.7  21.38.0  22.15.7  21.13.7    16.42.42
8 Shane Scott            21.43.5  21.36.4  21.06.5  21.07.5  22.01.1  20.44.1    17.27.27
9 Shaun Lewis            20.45.9  20.59.4  22.04.0  21.46.0  21.59.0  21.31.4    18.13.13
10 James Williamson      21.48.9  21.01.3  21.03.5  21.35.3  22.05.2  21.53.9    18.36.36
11 Brett Buckland        21.44.4  21.32.9  22.28.6  22.13.6  21.37.5  22.30.6    21.15.15
12 Matthew Smith         21.40.9  21.10.7  22.05.1  22.18.1  22.53.1  22.44.6    22.00.00
13 James Dickey          20.48.6  20.55.2  21.16.2  22.10.9  22.57.5  26.44.6    24.00.00
 
U19 Men
 
1 Trent Lowe             19.42.2  19.57.0  20.18.9  19.54.6                    1.19.52.70
2 Michael Skroblin       19.53.2  20.18.2  20.10.1  20.12.0                       0.40.90
3 Matthew Molan          20.23.7  20.54.5  21.09.3  20.32.7                       3.08.80
4 Daniel McConnell       20.53.5  20.54.1  20.39.2  20.42.5                       3.17.17
5 Chris Winn             20.54.4  21.03.7  20.52.7  21.19.8                       4.18.18
6 Mark Frendo            20.14.1  21.05.7  21.46.2  22.29.6                       5.43.43
7 Bret Townsend          21.08.4  21.55.0  22.26.7  22.27.1                       8.04.40
8 Scott Clements         21.18.8  22.23.0  22.49.0  22.17.0                       8.55.55
9 Jeremy Clark           22.02.1  22.16.1  22.38.8  23.23.5                      10.28.28
10 Brendan Kay           21.35.2  22.52.4  23.38.3  23.07.6                      11.21.21
11 Michael Goodwin       22.51.0  23.17.3  22.43.8  23.03.5                      12.03.30
12 Steve Neilson         22.19.2  22.29.9  22.53.8  24.14.3                      12.05.50
13 Jason Watts           22.55.8  23.10.8  23.22.3  24.00.4                      13.37.37
14 Nigel Heap            22.49.4  23.21.5  24.57.2  25.30.1                      16.46.46
15 Mitchell Marlin       23.17.6  24.10.9  24.54.1  24.55.7                      17.26.26
 
U17 Men
 
1 Justin Case            20.23.3  20.30.6  22.45.4                             1.03.39.40
2 Jeremy Davis           21.57.7  22.43.9  23.21.7                                4.24.24
3 Neil Van der Ploeg     22.54.7  24.07.2  23.46.9                                7.09.90
4 Al Farley              22.53.0  25.39.4  25.30.9                               10.24.24
5 Jack Mullaly           27.48.1  29.27.5  31.02.3                               24.39.39
6 Angus Harding          29.18.8  32.34.4  33.50.2                               32.04.40
Lapped
7 Shaun Lewis            1.03.415
 
U15 Men
 
1 Cal Britten            25.50.5  26.56.7                                        52.47.30
2 Johann Jnr Esterhuyzen 31.37.2  33.22.4                                        12.12.12
3 TJ Hollis              39.43.3  44.58.9                                        31.55.55
 
Sport Men
 
1 Dave Nairn             19.42.4  18.59.1  18.58.3  19.22.8                    1.17.02.80
2 Nick Both              19.46.6  19.09.2  19.19.4  19.28.1                       0.41.41
3 Scott Caraher          19.51.1  20.11.9  21.44.2  19.37.7                       4.22.22
4 David Boonzaayer       20.19.8  20.30.5  20.41.6  20.16.4                       4.46.46
5 Simon Christie         21.48.2  21.47.0  21.40.9  21.09.6                       9.23.23
6 Craig Niles            21.34.5  21.57.1  21.56.1  21.11.8                       9.37.37
7 Warren Nelson          23.51.3  21.48.5  22.16.7  22.02.1                      12.56.56
8 Chris Ravenhall        22.20.2  23.10.7  22.59.4  24.14.3                      15.42.42
9 Trent Morgan           23.23.7  24.17.5  22.26.5  22.51.2                      15.56.56
10 Nathan Leins          22.07.8  23.39.1  24.07.5  24.21.4                      17.13.13
11 Dominic Barber        23.19.9  23.34.2  24.18.2  24.27.7                      18.37.37
12 Brad Glennan          24.01.3  24.51.7  23.53.2  23.47.4                      19.31.31
 
Masters 1/2 Men
 
1 Rob Eva                18.23.5  18.58.4  19.14.7  19.38.9                    1.16.15.70
2 Garron Buckland        19.36.8  19.40.8  20.20.0  20.22.6                       3.45.45
3 John Pittendreigh      19.56.7  20.05.4  20.14.5  20.12.6                       4.14.14
4 Paul Natoli            19.34.0  20.46.6  20.15.9  21.43.8                       6.05.50
5 Brett Stevens          20.11.2  20.08.8  21.12.9  21.56.5                       7.14.14
6 Shane Chaplin          20.21.7  20.53.8  21.39.9  20.52.9                       7.33.33
7 Rob Strong             22.11.5  23.08.2  22.26.4  22.36.5                      14.07.70
8 Eric Lange             21.58.8  23.25.4  23.16.1  23.26.2                      15.51.51
9 Ross Morgan            23.22.0  23.58.4  24.59.1  25.18.9                      21.23.23
Lapped
10 David Ewins           30.06.3  29.15.3
 
Masters 3+ Men
 
1 Tony Peake             21.20.6  21.28.7  21.36.1                             1.04.25.40
2 Mike Lawson            21.17.5  21.12.7  22.27.1                               00.32.32
3 Kahn Franke            21.44.2  22.30.4  22.20.8                               02.10.10
4 Jim Buda               27.38.7  30.09.1  32.15.6                               25.38.38