Australian National Club Road Championships
Incorporating The Mooloolaba Masters Week

Mooloolaba, Qld, September 17 - 22, 2001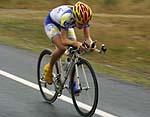 Natalie Bates with her head down towards a national title.
Photo: © Tim Francis
Results Photos Pairs Time Trial Road Races
Individual Time Trial - Bates & 'Snozza' take gold
Even the wet and windy conditions at the Australian Individual Time Trial Championships on the Sunshine Coast today could not stop Natalie Bates (Parramatta CC) setting a time of 43.49.6 to take first place and the Australian Championship crown, her second of the championships after she won the Pairs Time Trial on Monday.
The women's 30 kilometre ITT course brought out the best in all competitors as they struggled into a headwind with a chain ring that was not small enough and then back with an outer chain ring that wasn't big enough due to the assistance provided by the blustery south easterly winds. In second place was up and coming Olivia Gollan from Koorangang Club, who also was the first woman to finish in last weekend's 228km Grafto to Inverell, closely followed in the ITT by Brisbane's Liz Young.
Pairs Time Trial Winner and current national points series leader Peter Milostic struggled with the conditions to finish over half a minute down in fifth place on eventual winner and new Australian Time Trial Champion, Kristjan Snorrason, from the Carnegie-Caulfield Club in Victoria. Snorrason set a good pace from the start and never slowed during the 40 kilometre TT.
Dennis Mungoven followed Snorasson's winning time of 50.29.5 by less than one second at 50.30.3, while South Australian Russel Van Hout took third some 14 seconds behinmd. Racing in the National Championships continues on Friday with the age group road race on the tough, hilly course at Eudlo in the Maroochy Shire hinterland followed by the Open Men and Women's plus under 23 men on Saturday over the same course with a beachfront start in Mooloolaba Beach.
Photos by Tim Francis/cyclingpics.com
Results
Men - 40 kms


1  Kristjan Snorrason (Carnegie-Caulfield)      50.29.5	
2  Denis Mungoven (Canberra)                         .8
3  Russell Van Hout (Adelaide)                      5.2
4  Ben Day (St Kilda)                              23.4
5  Peter Milostic (Penrith Panthers)               31.4
6  Geoffrey Cook (Sutherland Shire)              1.11.4
7  Steve Williams (Sutherland Shire)		 1.21.4	
8  Allan Seiper (Canberra)                       1.31.5	
9  Tom Brook (Parramatta)                        1.47.4	
10 Glenn Stoaianow (Parramatta)		         1.47.7	


Women - 30kms

1  Natalie Bates (Parramatta)                   43.49.6		
2  Olivia Gollan (Kooragang Open)	           31.9	
3  Liz Young (Hamilton Pine Rivers Wheelers)     1.19.4	
4  Erin Philp (Nowra Velo Club                   1.24.6		
5  Oenone Wood (Canberra)                        1.25.6	
6  Toireasa Ryan (Bathurst)		         1.35.9	
7  Rebecca McConnell (Northcote)	         2.10.6		
8  Jennifer Manefield (Parramatta)               2.12.8	
9  Tania Shipton (Hamilton Pine River Wheelers)  2.18.1
10 Helen Kelly (Blackburn)                       2.46.9

Men U23 30km

1 Andrew Mason           39.11
2 Ashley Humburt           .22
3 Jono Davis               .53
 
Women U19 20km

1 Zoe Southwell          22.40
2 Sallyanne Cowman         .07
3 Kate Gaynor              .46
 
Women U15 10km

1 Jakie Kedja            16.26
2 Jessica Tanner           .22
3 Joanne Von Berky         .45
 
Men U15 10km

1 Mathew Stephens        14.54
2 Todd Dawson              .26
3 Tyler Mclachlan          .30
 
Women U17 10km

1 Kate Nichols           15.53
2 Gabrielle Workman        .05
3 Renee Braithwaite        .29
 
Men U17 20km

1 Sean Finning           21.15
2 Chris Pascoe             .17
3 Miless Olman             .23