News for October 6, 2001
Ullrich notified by Italian court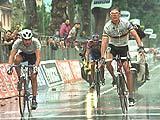 Ullrich successful in the Giro di Lucca.
Photo: © Sirotti
Jan Ullrich tasted success again this week, winning the third stage of the Giro di Lucca, clearly showing that he is ready for the World's. However on the same day he was officially notified by the Italian police that he had to answer doping charges at the request of public prosecutor Bocciolini. The charges stem from the police raid in San Remo during the Giro d'Italia on June 6, where over 60 people were implicated.
Team Telekom has engaged an Italian lawyer to look after the case, but team leader Pevenage saw no cause for concern. "There is no new information, it concerned a formality," he said on Thursday at the team hotel.
Team doctor Lothar Heinrich reiterated that the medicinal products seized from Ullrich were only asthma drugs, which Ullrich used (with permission from the UCI) for allergy problems. The public prosecutor is claiming that they were 'illegal stimulants', and Ullrich will be heard some time after the World Championships.
Around a dozen foreign riders, in addition to 40 Italians, have been named in the investigation.
Van Houwelingen speaks
On Erik Dekker
Rabobank team manager Adri van Houwelingen doesn't think Erik Dekker will win the World Cup this coming Sunday. "I think Erik will win the World Cup, but not in Paris-Tours, because than he needs 100 points more than number two. There are enough challengers, like Erik Zabel and Paolo Bettini [Ed: who will not participate]. Our target is to protect Dekker as much as possible. Our riders have to try to control the race."
Van Houwelingen expects a 'normal' Paris-Tours. "Most likely is the following scenario: in the beginning a break. It isn't important to have one of our team in that group. If there is wind, we don't have to wait, than we can take initiative on our own. Normally you get a final selection later in the race. In the final kilometres there will be around 60, 70 or 80 riders left. In such a big group you have to be lucky to score some points. But for us it isn't necessary that Dekker wins this World Cup race. The direct challengers have to win. Erik must take care of his lead."
"Paris-Tours is a good parcours for the Rabobank-team. In the past Paris-Tours 1997 was the first World Cup race in which we had Rabobank riders in the top 10: Aart Vierhouten and Leon van Bon."
On the World's representation
The Rabobank team is well represented in the World Championships in Lisbon. In the Dutch selection of 10 riders, 9 riders are from Rabobank. Rabobank has 15 riders in the race from all countries.
Van Houwelingen: "I don't think there will be another team with so many riders at the start. It says something about quality. But it also says something about our dominance of our team in the Netherlands. And I'm not too happy about that. The Rabobank want to support the spirit of cycling, but not to rule. I would be glad with the competition from another Dutch team."
German team for the World's
Elite Men
Road Race
Rolf Aldag (Telekom)
Danilo Hondo (Telekom)
Kai Hundertmarck (Telekom)
Joerg Jaksche (ONCE)
Matthias Kessler (Telekom)
Andreas Klier (Telekom)
Grischa Niermann (Rabobank)
Stephan Schreck (Telekom)
Jan Ullrich (Telekom)
Jens Voigt (Crédit Agricole)
Christian Werner (Nürnberger)
Erik Zabel (Telekom)
Time Trial
Jan Ullrich (Telekom)
Jens Voigt (Crédit Agricole)
Elite Women
Judith Arndt
Vera Hohlfeld (Acca Due O)
Hanka Kupfernagel
Tina Liebig
Petra Rossner (Saturn)
Trixi Worrack
Austrian Team for the World's
Junior women
Bernadette Schober (Road Race and Time Trial)
Elite women

Doris Posch (Time Trial)
Isabella Wieser (Road Race)
Junior men
Time Trial
Harald Berger
Road Race
Harald Berger
Josef Benetseder
Markus Eibegger
Michael Neumann
U23 men
Time Trial
Martin Gratzer
Road Race
Patrick Kofler
Christian Pfannberger
Thomas Rohregger
Stefan Rucker
Harald Starzengruber
Elite men
Road Race

Gerrit Glomser (Post Swiss)
Peter Luttenberger (Tacconi Sport)
Harald Morscher (Team Nürnberger)
Gerhard Trampusch (Team Telekom
Heulot will go to Lisbon
French rider Stéphane Heulot, injured in yesterday's Paris-Bourges race, will make the trip with the French team to Lisbon. There was some doubt about whether he would be able to go after injuring his nose in a crash, however he reassured the selectors today that he would go to Portugal.
Casero wants to sign soon
Vuelta winner Angel Casero still hasn't made a decision about which team he will ride for next season, after his current team Festina is folding. His objective prime at the moment is the World Championships in Lisbon, but he said that he will decide his future this coming Wednesday. He is particularly interested in riding for a Spanish team next season, and is reported to have a couple of good offers, but it is not clear from whom.
He said that the Spanish team, including himself, will ride for Oscar Freire, who will be the leader in Lisbon. "If he fails in the finale, Chechu Rubiera, Oscar Sevilla and I will be free to dispute the World's, but in principle, the aim is to work together to bring the medal to Spain.
Kupfernagel to ride for Nürnberger

Hanka Kupfernagel
Photo: © Hans Will
German cyclist Hanka Kupfernagel will ride for Equipe Nürnberger next season, after her separation from Farm Frites-Hartol. The 27 year old said that she "Really wanted to ride for a German team. In the Equipe there are a number of high level riders for next season, ensuring a strong team. I will also be able to train with my friends in the Berliner Sportgruppe, which makes me happy but even more is the co-operation with Equipe coach Jens Zemke, who will certainly lead the team very professionally in training and competition."
Her manager Miriam Feyerabend (All-Right Sportmanagement) was happy with Kupfernagel's decision. "A top German cyclist can do something for the disadvantaged women's sport of cycling, if she rides for a German team. With Equipe Nürnberger, all the prerequisites for professional top sport are there, and I think that Hanka will probably fit in well with the team."
Courtesy of Hans Will
Erik Lievens to Landbouwkrediet-Colnago
Erik Lievens, who celebrated his 22nd birthday on Thursday, will make the transition to the professional ranks with Landbouwkrediet-Colnago next season. Lievens rode for the U23 Domo-Farm Frites team this year, and has signed a one year deal with Gerard Bulens' team.
Saeco Macchine per Caffè signs Martinelli for 2002
Saeco's team manager Claudio Corti has today signed an agreement with Giuseppe Martinelli who will become one of the team's sports directors for the 2002 season. 46 year old Martinelli has been a sports director since 1986 after riding as a professional for nine years. In the past he has worked with the Ecolfam, Carrera and Mercatone Uno teams. The signing of Martinelli completes the sports directors for Saeco for 2002. The others are Guido Bontempi and Bruno Vicino.
2002 French road championships in Briançon
Next year's French National Road Championships will be held in Briançon, announced the FFC on Friday. The races will start on Thursday July 27 and finish on Sunday June 30 with the elite men's road race. Although the races will be held in the Alps for the first time, the circuit is reportedly one for a "complete rider" and not a pure climber. Races will finish near the Palais des Sports in Briançon.
It is also possible that the national championships will be held again in the Alps within four years.
Sassone puts off operation
Recently crowned world madison champion, Robert Sassone, has put off an operation scheduled this week on his iliac artery. He will now have it in December, meaning that he will be able to ride the first part of the Six Day season.
World HPV Speed Challenge
Queally struggling as Whittingham sets new record
Human Powered Vehicle (HPV) racing is certainly as much about the bike as it is the rider. The fully faired recumbent machines that are allowed in the "Streamliner" class are probably about as far as one could get from UCI regulations aside from the fact that they have two wheels and are powered by a human. The aim is to go as fast as possible under one's own power and that means certain rules have to be bent, although HPV racing does have a set of standard regulations.
How fast? Try 124.17 km/h (77.03 mph). That's the speed that Canadian Sam Whittingham averaged over 200 metres of flat road on Nevada's Battle Mountain on Thursday, a new World Record in this discipline. Whittingham was riding in the Varna Diablo, designed and built by George Georgiev, which resembles the nose cone of a jet fighter on wheels.
It took Sam just 29.71 seconds to ride one kilometre. Contrast this with Olympic Gold medallist in the 1,000 metre time trial, Jason Queally, who came to Nevada with his US$144,000 Blueyonder Challenger and has not been able to get close to Whittingham's speed. Queally's team has been plagued with mechanical problems of the sort that arise when these vehicles reach high speeds, a form of the "death wobbles" albeit at 100 km/h.
In four days of competition, the Blueyonder Challenger has managed to clock 71.40 km/h (44.29 mph) and 99.41 km/h (61.67 mph) with Queally at the pedals. Faster times are expected over the final three days of competition, but will Queally be able to claim the "fastest man on earth" title?
Up until today's 99+ km/h run, Queally was lagging behind 15 year old Tanya Markham, who impressed many by averaging 76.34 km/h (47.36 mph) for 200 metres, riding in Gold Rush Le Tour.
Mapei for upcoming races
October 6: 35th Subida al Naranco
Riders: Elio Aggiano, Triki Beltran Martinez, David Cañada Garcia, Dario Cioni, Pedro Horrillo Muñoz, Eddy Ratti, Antonio Rizzi. DS: Jesus Suarez Cueva
October 7: 95th Paris - Tours
Riders: Paolo Bettini, Laszlo Bodrogi, Davide Bramati, Oscar Freire Gomez, Daniele Nardello, Luca Paolini, Andrea Tafi, Stefano Zanini. DS: Serge Parsani
October 7: Giro del Mendrisiotto
Riders: Fabian Cancellara, Graziano Gasparre, Rinaldo Nocentini, Evgueni Petrov, Filippo Pozzato, Michael Rogers, Charly Wegelius, Pavel Zerzan. DS: Roberto Damiani
Recent results and new features on Cyclingnews
Major Races and Events
September 7-29, 2002: Vuelta a España (GT) - Preview, stage list
May 11-June 2, 2002: Giro d'Italia (GT) - Preview, stage list, photos
July 6-28, 2002: Tour de France (GT) - Full preview & official route details
December 8: Superprestige Rd 5 (Cat. 1) - Erwin Vervecken
November 29-December 4: Six Days of Noumea (6D) - Sassone/Neuville victorious
November 26-December 1: Six Days of Zurich (6D) - Day 6 - McGrory/Gilmore/Schnider win
December 1: Melbourne Cup on Wheels (IM) - Scott Moller, Keirin, Sprint, Support races
December 2: Cyclo-cross World Cup #2 (CDM) - Sven Nijs again
November 24-December 3: Juegos Deportivos Centroamericanos (JR) - Final results
December 8-9: Frankfurter Rad-Cross (Cat. 2) - Alex Mudroch, UK National Trophy Series #4 (Cat. 3) - Roger Hammond, Grote Prijs Industrie Bosduin - Kalmthout (Cat. 1) - Bart Wellens, Int. Radquer Obergösgen (Cat. 2) - Björn Rondelez, Trofeo Mamma e Papa Guerciotti (Cat. 3) - Enrico Franzoi, Premio Egondo (Cat 3) - David Seco, Irish cyclo-cross championships - Robin Seymour

Results: local racing
Australia - CycleWest Promotions Omnium Series #2, Eastern Suburbs Summer Criterium Series, Carnegie Caulfield Tuesday criterium, Southern Cross Junior Track Open & Madison Cup, Manly Warringah CC, George Town Track Carnival, Carnegie Caulfield CC, Randwick Botany CC, Gold Coast CATS CC, Caesar's Illawarra CC, Caesar's Illawarra (track)
Denmark - Danish cyclo-cross Post Cup #3
Italy - Gran Premio Città di Bassano
Luxembourg - GP De Kopstal
New Zealand - Cyco Criterium series
Spain - Elorrio cyclo-cross
USA - Georgia Cross Series Championship, Chimborazo Grand Prix cyclo-cross, Boulder Cross Rd 6, New Mexico State Cyclo-x Champs, Sorrento Cyclo-x & California State Champ's, Boulder Cross Rd 5, Verge New England series, Northampton CC Cyclo-cross Championships, Chris Cross International CycloCross


Recently on Cyclingnews
Latest Photos - Olympic Armstrong, Boulder & California 'cross, More Pan-Am, Canberra, Boston & REI 'cross (December 13)
Cyclingnews survey - Reader Poll 2001 - Vote for your favourite riders
Letters - VDB, Lance, Boring Tour, Coastal Post, Respect (December 13)
Cyclingnews Interview - Ryan Bayley - the KFC-fuelled world champ (December 13)
Cyclingnews Interview - David McKenzie - Macca's back (December 12)
Cyclingnews Interview - Laurent Jalabert - Jalabert looks ahead (December 11)
Cyclingnews Interview - Charly Wegelius - A coffee stop with Charly (December 8)
Cyclingnews Interview - Sven Montgomery - Moving up in the world (December 6)
Cyclingnews Interview - Rochelle Gilmore - Road scholar (December 6)
Tales from the Peloton - 12 Hours of Oleta - MTB endurance race in Miami (December 6)
Tales from the Peloton - Tony Cruz - back to his roots (December 7)
Marco Polo Diary - Tour du Faso - Part II - Nathan Dahlberg's report (December 3)
Tech maintenance - Wheels - how to keep them true and tight
Tech letters - Headsets, Pegoretti, Carbon cage, gloves & tubes (December 10)
Tech news - Navigators power-tap, Headsets, Carbon cages (December 7)
Tech- Recycling - How to protect your chainstay for free
Tech Reviews: Egg Beater pedals; Park Tool belt; Shimano shoes; Speedplay
Breaking the Chain  - Dope planning and testing - From Willy Voet's book


cyclingnews.com Copyright ©1995-2000 Knapp Communications
Systems:

Adrian Butterworth