News for November 17, 2001
Edited by Paul Goldsmith

Evans in Austria
Photo: ©AFP
Cadel Evans joins Mapei - Quick Step
Dual mountainbike World Cup series winner Cadel Evans has signed a two year contract to ride with Italian division one team, Mapei-Quick Step. Evans who won the '98 and '99 mountainbike cross-country World Cups has decided to leave the dirt behind and will concentrate solely on his road career.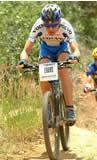 Leaving the dirt
Photo: © Rob Karman
This year the 24 year old Australian mixed road and mountainbike races, showing enough form to take fourth place in the World Mountainbike championships and winning a number of road races. Perhaps his best road win was in the Tour of Austria, where he made the decisive break during the fourth stage and was never headed. He also won the Italian Brixia Tour and A Travers Lausanne in Switzerland.
In the A Travers Lausanne Evans won both mountain time trials in the invitation only event that included post Tour winner Lance Armstrong.
Given Evans desire to ride the Tour de France and ability in the mountains, his addition to the Mapei team should provide some very interesting racing.
Evans leaves the Volvo Cannondale mountain bike team and the Saeco Macchine Per Caffe' road team.
U.S. Cycling Federation 2002 calendar
The U.S. Cycling Federation announced today the 2002 National Racing Calendar. Four new races have been added to the calendar; Orlando's Festival of Speed, the NYC Invitational, Atlanta's U.S. 10K Classic and the Wine Country Classic in Napa, California. The Wine Country Classic has been on the NRC in the past and is reappearing in 2002.
The NRC begins on the first weekend in March with the McLane Pacific Bicycle Classic in Merced, California and ends with the Michelin Classic, Greenville, South Carolina in October.
Other changes to the calendar include upgrading the 100-mile Housatonic Valley Classic, to a UCI event and lengthening Pennsylvania's Tour de 'Toona, into a nine day event.
2002 National Racing Calendar
March 2: McLane Pennsylvaniaific Downtown Grand Prix, Merced, California.
March 3: McLane Pennsylvaniaific Foothills Road Race, Merced, California.
March 9-10: Sequoia Cycling Classic, Sequoia, California.
March 12-17: Redlands Bicycle Classic, Redlands, California.
March 21-23: Mercury Sea Otter Classic, Monterey, California.
March 28-31: Solano Bicycle Classic, Solano Beach, California.
April 9-14: Tour of Willamette, Lane County, Oregon.
April 13-14: Festival of Speed, Orlando, Florida.
April 20: First Charter Criterium, Shelby, North Carolina
April 27: Xcelerate Twilight, Athens, Georgia
May 1-5: Tim Schoeny Tour of the Gila, Silver City, New Mexico
May 19: Housatonic Valley Classic, Danbury, Connecticut
May 27: Tour of Somerville, Somerville, New Jersey
June 1: Capital Cup, Arlington, Virginia
June 2: US Postal Service Clarendon Cup, Arlington, Virginia
June 4: First Union Invitational, Lancaster, Pennsylvania
June 6: First Union Classic, Trenton, New Jersey
June 7: First Union Hill Climb, Manayunk, Pennsylvania
June 8: North CarolinaWomen's Sports Challenge, New York, New York
June 9: First Union USPRO Championships, Philadelphia, Pennsylvania
June 9: First Union Liberty Classic Women's World Cup, Philadelphia, Pennsylvania
June 15-23: HP Laser Jet Women's Challenge, Boise, Idaho
June 15-16: Nature Valley Grand Prix, Minneapolis, Minn.
June 27-30: Fitchburg Longsjo Classic, Boston, Mass.
June 27: Elite National Road Race, Redding, California.
June 29: Elite National Time Trial, Redding, California.
July 2-7: Wendy's International Cycling Classic, Hilliard, Ohio
July 7: Four Bridges of Elgin, Elgin, Illinios
July 10-14: Cascade Cycling Classic, Bend, Oregon.
July 27-Aug. 4: Tour de 'Toona, Altoona, Pennsylvania
August 1: Espoir National Time Trial Championship, Clemson, South Carolina
August 2: Espoir National Road Race Championship, Clemson, South Carolina
August 4: North CarolinaInvitational, New York, New York
August 10: Saturn Cycling Classic, Breckenridge, Colorado
August 11: Chevron Manhattan Beach Grand Prix, Manhattan Beach, California.
August 18: USPRO Criterium Championships, Downers Grove, Illinios
August 18: USCF Criterium Championships, Downers Grove, Illinios
August 23-25: Hotter Than Hell Hundred, Wichita Falls, Texas
August 25: Chris Thater Memorial Criterium, Binghamton, New York
August 31-Sept. 2: US 10K Classic, Atlanta, Georgia
September 8: Mercury Cycling Classic of Irvine, Irvine, California.
September 14: Univest Grand Prix, Souderton, Pennsylvania
September 14: San Rafael Cycling Classic, San Rafael, California.
September 15: San Francisco Grand Prix, San Francisco, California.
September 15: Bear Mountain Road Race, Harriman State Pennsylvaniak, New York
September 21-22: Wine Country Classic, Napa, California.
September 28: International Cycling Invitational, Miami, Florida.
September 29: The Great Coconut Grove Bicycle Race, Miami, Florida.
October 4-6: CycleFest 2001, West Pennsylvaniam Beach, Florida.
October 5: Mercy Celebrity Classic Criterium, Fort Smith, Arkansas
October 12-13: Michelin Classic, Greenville, South Carolina
For further information on the calendar see www.usacycling.org
World Cup cyclo-cross start list
The first round of the UCI cyclo-cross World Cup, the Gran Premio d'Italia, will be held today in Monopoli, Italy.
The course is considered unusual in cyclo-cross cirles with its absence of mud, but the riders will have to contend with a section an extended sand section along the beach.
The course was designed by Monopoli's Vito Di Tano, a former manager/trainer of the Italian team and two time amateur champion (1979 Saccolongo, 1986 Lembeek)
Belgians Sven Nys and Bart Wellens, will be the favourites for the event, however it would be very dangerous to right-off another Belgian, world champion Erwin Vervecken.
Start List
1 Richard Groenendaal (Ned)
2 Gerben De Knegt (Ned)
3 Wim De Vos (Ned)
4 Maarten Nijland (Ned)
5 Camiel Van Den Bergh (Ned)
6 Wilant Van Gils (Ned)
7 Erwin Vervecken (Bel)
8 Sven Nijs (Bel)
9 Mario De Clercq (Bel)
10 Bart Wellens (Bel)
12 Tom Vannoppen (Bel)
16 Jiri Pospisil (Cze)
17 Vaclav Jezek (Cze)
18 Kamil Ausbuher (Cze)
19 David Kasek (Cze)
20 Tomas Trunschka (Cze)
21 Beat Wabel (Sui)
22 Thomas Frischknecht (Sui)
23 Christian Heule (Sui)
25 Jan Ramsauer (Sui)
26 David Rusch (Sui)
30 Martino Fruet (Ita)
31 Michele Sbetta (Ita)
32 Francesco Cingolani (Ita)
35 Daniele Pontoni (Ita)
36 Luca Bramati (Ita)
39 Francis Mourey (Fra)
40 David Derepas (Fra)
41 Arnaud Labbe (Fra)
42 John Gadret (Fra)
43 Guillarme Benoist (Fra)
44 Tadeusz Korzeniewski (Pol)
45 Pawel Cierpikowski (Pol)
46 Piotr Wysmyk (Pol)
47 Bartlomiej Gierczak (Pol)
50 Krzysztof Reca (Pol)
51 Matthew Ellis (Gbr)
52 Stuart Blunt (Gbr)
53 Shaun Snodden (Gbr)
54 David Collins (Gbr)
55 Gavin Hardwicke (Gbr)
56 Tobias Nestle (Ger)
57 Jens Reuker (Ger)
58 Christian Wasmer (Ger)
59 Robert Glajza (Slo)
60 Vaclaf Metlicka (Slo)
61 Pavel Medved (Slo)
62 Marian Kovac (Slo)
63 Peter Simora (Slo)
64 David Seco (Spa)
65 Jonathan Page (USA)
66 Valeriano Vandelli (Ita)
67 Stefano Toffoletti (Ita)
68 Igor Tavella (Ita)
69 Massimo Sargenti (Ita)
70 Enrico Franzoi (Ita)
 
Cyclo-cross World Cup Program

1st Round: GP of Italy with Monopoli on November 17, 2001 
2nd Round: GP of Spain with Igorra on December 2, 2001 
3rd Round: GP of Belgium with Wortegem-Petegem on December 16, 2001 
4th Round: GP of France with Nommay on January 6, 2002 
5th Round: GP of Switzerland with Wetzikon on January 20, 2002  
6th Round: GP of the Netherlands with Heerlen on January 27, 2002  Start List
   
Verge New England Cyclo-cross series
The 2001 Verge New England Championship Cyclo-Cross Series continues Saturday, Nov. 17, as racers converge on historic Plymouth, Massachusetts.
Whilst Plymouth is better known for the Pilgrims landing and the home of Thanksgiving, it is also considered the birthplace of cyclo-cross racing in the US.
Currently, two Massachusetts racers - Saturn teammates Mark McCormick and Tim Johnson - sit atop the series leader board after three races in the Verge series.
McCormack wears the yellow leader's jersey after his surprise win at the Amherst International Cyclo-Cross, but Johnson, wearing the stars and stripes jersey that belongs the U.S. national champion, is just five points back
Other riders to watch for will be New England rider Matt Svatek of Wheelworks/Cannondale. Svatek is currently in 10th place overall in the series. Alec Donahue and Jeff Leake, teammates for the NCC / BikeReg.com team, are also hungry for a win.
Among the women, no one is in a position to overtake the dominating Saturn rider Lyne Bessette, even though she won't be competing at Plymouth on Saturday.
Of the women who will be competing look for Emily Thorne (Cyclocrossworld.com).
In the junior category U.S. National Champion Jesse Anthony is also likely to remain the undisputed leader. The Saturn Development rider has won the last two Verge races, placing second to teammate Oliver Stiler-Cote in the first round when he lost a pedal on the technical Lost Valley, Maine, course. Stiler-Cote sits in third place behind Jamey Driscoll of the Green Mountain Bike Club.
The Plymouth Cyclo-Cross kicks off with amateur racing at 10 a.m. The elite women's field gets under way at noon, while the men follow at 1:15 p.m.
For more information see www.necyclocross.com.
Buy old pro stuff
If the idea of owning someone's sweaty gear pushes your buttons then a new web-site will be just what you are after. Newly signed Saturn rider Will Frischkorn has teamed up with some of his ex-Mercury mates and other local Boulder, Colorado pro riders to start a web site selling off their extra team issue equipment.
Called TheProsStuff.com, the site features new and used parts, wheels, complete bikes, and team clothing.
Participating riders include 2001 Mercury riders Frischkorn, Scott Moninger, and Chris Wherry, plus Michael Barry (ex-saturn now US Postal), Clark Sheehan, Travis Brown (Trek/VW), Marc Gullickson (Mongoose Hundai), and Jeremy Horgan-Kobelski (Polo Sport)
Anthony Rappo Race
The Anthony Rappo Memorial Race will be held on November 18 in Smithfield Australia. Proceeds from the race will go to the Victor Chang Cardiac Research Institute
Sign on from 8.00am (At least 15min's prior to Start Times) Entry Fee: $10 ($3 to Victor Chang Cardiac )
Start Times
8.30am E Grade 30Min's + 2 1.$100, 2. $75, 3. $50, 4. $30, 5. $20
9.00am D Grade 30Min's + 2 1.$100, 2. $75, 3. $50, 4. $30, 5. $20
9.30am C Grade 30Min's + 2 1.$100, 2. $75, 3. $50, 4. $30, 5. $20
10.00am B Grade 45Min's + 2 1.$100, 2. $75, 3. $50, 4. $30, 5. $20
11.00am A Grade 1 Hour + 2 1.$200, 2. $150, 3. $100, 4. $60, 5. $40

For more info see Marconi CC
South African Cyclist of the year awards
The South African cyclist of the year award will be announced on Monday 19, November. The award has boiled down to a two horse race between reigning World Cup mountainbike Champion Greg Minnaar and Lampre-Daikin road pro Robbie Hunter.
Hunter hasn't hurt his chances winning the recent Bellville 3 day track event to add to his Stage 17 win in this year's Vuelta.
The ever humble Minnaar however seems to be pretty confident of winning, even to the point that he has already picked out his presentation clothes. "I've been very fortunate this year and I know that what I've done in my sport in 2001 has been a huge help for mountain biking in South Africa, and I really hope to inspire more kids to take up the sport. If I'm chosen for the award it would be a dream come true, and once again something I would use to help promote the sport to the kids in my country. I've been really overwhelmed by the messages of support and so forth since the voting started, thanks to everyone", Minnaar said.
He described what he was going to wear as "anything but boring". Absolutly nothing we can add to that.
Trail Preservation Awards
Ten American bike clubs have been awarded grants to support trail preservation. The grants are aimed projects that preserve and enhance trail access, promote environmental education, and inspire conservation in the mountain bike community.
The $500.00 grants will go to;
Rockville Alternative Transportation Society ­ Suisun, CA
Backcountry Bicycle Trails Club ­ Seattle, WA
National Capitol Mountain Bike Association ­ Ottawa, ON Canada
Earth Riders Mountain Bike Club ­ Kansas City, MO
Responsible Organized Mountain Pedalers ­ San Jose, CA
South Texas Off Road Mountain Bikers ­ San Antonio, TX
Cathedral Panther Mountain Bike Club ­ Gallup, NM
Northeast Tennessee Mountain Bike Association ­ Piney Flats, TN
Central Iowa Trails Association ­ Des Moines, IA
Wilmington Mountain Pedalers ­ Wilmington, NY
The grants are sponsored by Clif Bar, who recently signed a deal with top U.S. road team U.S. Postal Services.
Recent results and new features on Cyclingnews
Major Races and Events
September 7-29, 2002: Vuelta a España (GT) - Preview, stage list
May 11-June 2, 2002: Giro d'Italia (GT) - Preview, stage list, photos
July 6-28, 2002: Tour de France (GT) - Full preview & official route details
December 8: Superprestige Rd 5 (Cat. 1) - Erwin Vervecken
November 29-December 4: Six Days of Noumea (6D) - Sassone/Neuville victorious
November 26-December 1: Six Days of Zurich (6D) - Day 6 - McGrory/Gilmore/Schnider win
December 1: Melbourne Cup on Wheels (IM) - Scott Moller, Keirin, Sprint, Support races
December 2: Cyclo-cross World Cup #2 (CDM) - Sven Nijs again
November 24-December 3: Juegos Deportivos Centroamericanos (JR) - Final results
December 8-9: Frankfurter Rad-Cross (Cat. 2) - Alex Mudroch, UK National Trophy Series #4 (Cat. 3) - Roger Hammond, Grote Prijs Industrie Bosduin - Kalmthout (Cat. 1) - Bart Wellens, Int. Radquer Obergösgen (Cat. 2) - Björn Rondelez, Trofeo Mamma e Papa Guerciotti (Cat. 3) - Enrico Franzoi, Premio Egondo (Cat 3) - David Seco, Irish cyclo-cross championships - Robin Seymour

Results: local racing
Australia - CycleWest Promotions Omnium Series #2, Eastern Suburbs Summer Criterium Series, Carnegie Caulfield Tuesday criterium, Southern Cross Junior Track Open & Madison Cup, Manly Warringah CC, George Town Track Carnival, Carnegie Caulfield CC, Randwick Botany CC, Gold Coast CATS CC, Caesar's Illawarra CC, Caesar's Illawarra (track)
Denmark - Danish cyclo-cross Post Cup #3
Italy - Gran Premio Città di Bassano
Luxembourg - GP De Kopstal
New Zealand - Cyco Criterium series
Spain - Elorrio cyclo-cross
USA - Georgia Cross Series Championship, Chimborazo Grand Prix cyclo-cross, Boulder Cross Rd 6, New Mexico State Cyclo-x Champs, Sorrento Cyclo-x & California State Champ's, Boulder Cross Rd 5, Verge New England series, Northampton CC Cyclo-cross Championships, Chris Cross International CycloCross


Recently on Cyclingnews
Latest Photos - Olympic Armstrong, Boulder & California 'cross, More Pan-Am, Canberra, Boston & REI 'cross (December 13)
Cyclingnews survey - Reader Poll 2001 - Vote for your favourite riders
Letters - VDB, Lance, Boring Tour, Coastal Post, Respect (December 13)
Cyclingnews Interview - Ryan Bayley - the KFC-fuelled world champ (December 13)
Cyclingnews Interview - David McKenzie - Macca's back (December 12)
Cyclingnews Interview - Laurent Jalabert - Jalabert looks ahead (December 11)
Cyclingnews Interview - Charly Wegelius - A coffee stop with Charly (December 8)
Cyclingnews Interview - Sven Montgomery - Moving up in the world (December 6)
Cyclingnews Interview - Rochelle Gilmore - Road scholar (December 6)
Tales from the Peloton - 12 Hours of Oleta - MTB endurance race in Miami (December 6)
Tales from the Peloton - Tony Cruz - back to his roots (December 7)
Marco Polo Diary - Tour du Faso - Part II - Nathan Dahlberg's report (December 3)
Tech maintenance - Wheels - how to keep them true and tight
Tech letters - Headsets, Pegoretti, Carbon cage, gloves & tubes (December 10)
Tech news - Navigators power-tap, Headsets, Carbon cages (December 7)
Tech- Recycling - How to protect your chainstay for free
Tech Reviews: Egg Beater pedals; Park Tool belt; Shimano shoes; Speedplay
Breaking the Chain  - Dope planning and testing - From Willy Voet's book


cyclingnews.com Copyright ©1995-2000 Knapp Communications
Systems:

Adrian Butterworth