Six Days of Munich - 6D
Germany, November 8-13, 2001
Main Page Results Previous Day
Day 4 - November 11
McGrory and Gilmore hit the front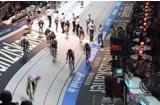 Day 4 begins
Photo: ©Lucy Power
The situation at the top of the leader board of the Munich Six Days is still tight after four nights of racing. Four teams are on the same lap, with Belgian/Australian combo Matthew Gilmore and Scott McGrory taking a lap and enough points to become the outright leaders with 262 points. In second place is the very popular team of Erik Zabel and Silvio Martinello, on 241 points, followed by Risi/Betschart (230) and Kappes/Beikirch (215).
Gilmore and McGrory won the first 60 minute madison from Zabel/Martinello, while Adriano Baffi/Marco Villa took out the second 30 minute madison from Jimmi Madsen/Stefan Steinweg.
In the sprinter's competition, Jens Fiedler won in front of Ryan Bayley (Aus), Florian Rousseau (Fra), Jobie Daijka (Aus) and Jan van Eijden (Ger).
Photography
These photos kindly supplied by Lucy Power
Results
Standings after night 4

1 Scott McGrory (Aus)/Matthew Gilmore (Bel)    262 pts
2 Erik Zabel (Ger)/Silvio Martinello (Ita)     241
3 Bruno Risi/Kurt Betschart (Swi)              230
4 Andreas Kappes/Andreas Beikirch (Ger)        215

2 laps behind

5 Jimmi Madsen/Stefan Steinweg (Ger)           103

4 laps behind

6 Robert Slippens/Danny Stam (Ned)             155
7 Adriano Baffi/Marco Villa (Ita)              104

7 laps behind

8 Lars Teutenberg/Thorsten Rund (Ger)           47

9 laps behind

9 Etienne Dewilde/Frank Corvers (Bel)           63

17 laps behind

10 Jens Lehmann/Guido Fulst (Ger)              111

20 laps behind

11 Gerd Dörich/Mario Vonhof (Ger)               85

26 laps behind

12 Franz Stocher (Aut)/Lorenzo Lapage (Bel)     33

30 laps behind

13 Erik Weispfenning/Frank Kowatschitsch (Ger)  58

32 laps behind

14 Robert Sassone/Jérôme Neuville (Fra)         26

42 laps behind

15 Marty Nothstein/James Carney (USA)          115

Sprinters
1 Jens Fiedler (Ger)
2 Ryan Bayley (Aus)
3 Florian Rousseau (Fra)
4 Jobie Daijka (Aus) 
5 Jan van Eijden (Ger)

Amateur Six Days

1 Florian Pieper/Paul Martens (Ger)
2 Daniel Musiol/Robert Hafemann (Ger)
3 Ronny Harz/Felix Wolf (Ger)

---