Six Days of Munich - 6D
Germany, November 8-13, 2001
Main Page Results Previous Day
Day 3 - November 10
Zabel/Martinello still in front at halfway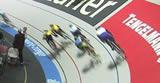 Zabel and Martinello exchanget
Photo: © Lucy Power
Erik Zabel and Silvio Martinello continue to be at the top of the leaderboard in the Six Days of Munich, which they have led since the first night. The experienced pair are currently a lap up on Swiss duo Bruno Risi/Kurt Betschart and Germans Andreas Kappes/Andreas Beikirch. These two teams will regain that lap once they reach 200 points, but will have plenty of work to do to catch Zabel/Martinello.
Other candidates for a bonus lap are Scott McGrory/Matthew Gilmore, who are very close to the leaders on points, but will need to take a lap to be on level pegging.
Dutchmen Danny Stam and Robert Slippens won the first madison of the evening in front of Kappes/Beikirch and Baffi/Villa. However, Zabel/Martinello bounced back in the second madison to win from Risi/Betschart.
USA's Jame Carney and Marty Nothstein are in last position, 36 laps behind. However, they are still crowd pleasers with Nothstein riding 10.32 seconds to break the one lap (200m) track record. The pair combined to win the 1 km teams time trial, also breaking the track record in a time of 56.96 seconds.
Photography
These photos kindly supplied by Lucy Power
Results
Standings after night 3

1 Erik Zabel (Ger)/Silvio Martinello (Ita)       202 pts

1 lap behind

2 Bruno Risi/Kurt Betschart (Swi)                191
3 Andreas Kappes/Andreas Beikirch (Ger)          178

2 laps behind

4 Scott Mcgrory (Aus)/Matthew Gilmore (Bel)      196

4 laps behind

5 Jimmi Madsen/Stefan Steinweg (Ger)             77

5 laps behind

6 Robert Slippens/Danny Stam (Ned)               119

6 laps behind

7 Adriano Baffi/Marco Villa (Ita)                72

8 laps behind

8 Lars Teutenberg/Thorsten Rund (Ger)            37

10 laps behind

9 Etienne Dewilde/Frank Corvers (Bel)            52

15 laps behind

10 Jens Lehmann/Guido Fulst (Ger)                95

17 laps behind

11 Gerd Dörich/Mario Vonhof (Ger)                73

22 laps behind

12 Franz Stocher (Aut)/Lorenzo Lapage (Bel)      22

24 laps behind

13 Erik Weispfenning/Frank Kowatschitsch (Ger)   50

25 laps behind

14 Robert Sassone/Jérôme Neuville (Fra)          18

36 laps behind

15 Marty Nothstein/James Carney (USA)            99


---