Latest Cycling News, March 20, 2009
Edited by Bjorn Haake
Boonen motivated for 100th La Classicissima more than ever
Tom Boonen has had many good moments in cycling, but Milano-Sanremo still makes him dream
Photo ©: Roberto Bettini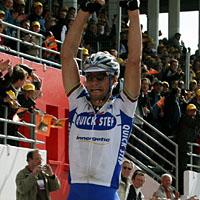 Tom Boonen is highly motivated for Milano-Sanremo on Saturday, March 21. The Quick Step rider even took it easy in the sprints in Tirreno-Adriatico to reduce the risk of crashing and to be able to start the longest Classic of the season in optimal condition.
Boonen doesn't find it difficult to motivate himself for Milano-Sanremo. "I am 28 years old now and even though cycling has given me a lot of satisfaction, I continue to dream of Milano-Sanremo," Boonen said at a press conference, according to Belgian magazine Actu 24.
Boonen has already come close, finishing third in 2007. He was also part of a brilliant tactical move of his Quick Step team in 2006, when all eyes were on the then-reigning world champion. That left the door open for then-teammate Filippo Pozzato to sprint to victory.
Coming up on
Cyclingnews will cover the 60th edition of the Dauphiné Libéré live as of stage 4 on Wednesday, June 10, at approximately 15:00 local Europe time (CEST)/ 23:00 Australian time (CDT)/ 9:00 (USA East).

WAP-enabled mobile devices: http://live.cyclingnews.com/wap/
It is a scenario that shouldn't repeat this time, with the entire team committed to Boonen. "I sense that maybe this time could be it," Boonen said. He knows that winning Milano-Sanremo is never easy. "But the tactical schemes aren't complicated. It suffices to be accompanied by two or three teammates at the bottom of the Poggio and to hit the descent in the top five in order to have a chance for victory. I will hence rely on [Sylvain] Chavanel, [Jérôme] Pineau, [Matteo] Tosatto, [Marco] Velo and [Allan] Davis."
The number of his opponents has been reduced a little bit, with Fabian Cancellara (Saxo Bank) deciding not to defend his title and Alessandro Ballan (Lampre-NGC) out with a virus. From others, Boonen doesn't expect too much resistance. "Cavendish? I don't think he will still be there when we hit the last two climbs." Boonen found Haussler impressive lately but doesn't think Cervélo could control the race.
In his mind, the man to beat is Alessandro Petacchi (LPR Brakes - Farnese Vini). "He is on good form, as he has shown in Tirreno-Adriatico."
Discuss Milano-Sanremo with fellow cycling fans on our forums.
Mending time for Millar
By Daniel Benson
David Millar wasn't time trialing when he was brought down in the final stage of Paris-Nice
Photo ©: AFP

David Millar has had surgery on the broken collarbone he sustained during the final stage of Paris-Nice. The operation, in Sheffield yesterday, means he'll be out for a minimum of four weeks. The Garmin rider was brought down in a crash caused by Silence-Lotto rider Jurgen Van den Broeck.
Speaking to Cyclingnews directly from his hospital bed in Sheffield, Millar explained why he'd delayed the operation: "I spent quite a lot of time researching the injury and had ten different consultations before finally settling on this one. I wanted it done properly. I was operated on by David Potter, who is a world-leading specialist in this field. He's operated on a number of cyclists, including Ben Swift."
In a career that has spanned more than a decade, this was Millar's first collarbone break and he explained that the injury wasn't clean, with the bone breaking into several pieces. "It broke into three pieces and was torn off the ligament. It was one of the worst injuries my surgeon has seen."
No plates or screws were involved in the surgery. Instead Potter carried out a 'tight-rope' procedure that involved an artificial suspension between bone and ligament.
Millar crashed during the final stage of the race, just as Alberto Contador (Astana) attacked at the foot of the col de la Porte. "It was a stupid crash. Christian [Vande Velde] and I were positioning ourselves near the front of the field and Van den Broeck panicked and came screaming up the left side. As he did his skewer jammed into my wheel and catapulted me through the air. Due to irresponsible riding and a lack of respect he's taken me out. It's fair to say that he's not my favourite rider at the moment."
Millar will now return to his home in Girona in the next few days before evaluating his goals for the season. "Because I need total rest for four weeks as my shoulder heals, the Critérium International is out of the window, but if I have the perfect, textbook recovery for the next two months I should still be in line for the Dauphiné and Tour de France. May and June are all up in the air though."
Saxo Bank confident despite missing key players
Cancellara during his winning 2008 attack
Photo ©: Roberto Bettini

Defending champion Fabian Cancellara and Fränk Schleck of Team Saxo Bank had to cancel their appearances at the upcoming Milano-Sanremo, but the team is confident they can contest for victory once again. Saxo Bank will have to avoid a sprint at all costs.
Directeur Sportif Torsten Schmidt was confident that recent races have have put every member of his squad in good condition. "We come with a very strong team to the first of the Classics. They all just finished stage races in Paris-Nice and Tirreno-Adriatico, where the speeds were very high, so they're all going very fast at the moment."
There is no secret about the tactics for the Danish team. "We must clearly try to go on the two ascents [Cipressa and Poggio - ed.] towards the end of the race," Schmidt said.
A finish similar to last year, when Cancellara took off in the final run-in to Sanremo and won solo would be the ideal scenario. The new finish, which is twistier than the long straight on the Via Roma, makes it slightly harder for the sprinters's teams to hold it all together.
Cancellara had to forfeit for family reasons. He is also still recovering from a crash. Schleck crashed Wednesday in training.
The Saxo Bank team for Milano-Sanremo: Kurt-Asle Arvesen, Matti Breschel, Frank Høj, Andy Schleck, Karsten Kroon, Stuart O'Grady and Marcus Ljungqvist.
Sanremo's key points
By Gregor Brown
Milano-Sanremo is one of the sprinters' Classics, but there are decisive climbs that shape the final bunch gallop. The riders will face seven key climbs this Saturday, March 21, in 298 kilometres of racing.
Passo del Turchino: From the start at Milan's Castello Sforzesco, there are 117 kilometres south before the first climb of Passo del Turchino starts. The escape group that is typically in place before this 24-kilometre pass will search to hold a gap it can maintain along the Ligurian Coast and the race's westward journey.
Le Mànie: Organisers added in the Le Mànie climb in 2008 due to road construction. The 4.7-kilometre climb at 94 kilometres remaining also serves to weaken the sprinters' legs for the traditional final over I Tre Capi and the Cipressa/Poggio.
I Tre Capi: The sprinters' men will move to the front after Le Mànie to control the race over the narrow and twisty roads, and the approach of I Tre Capi: Capo Mele (-52.4km), Capo Cervo (-47.1km) and Capo Berta (-39.6km). Berta is the highest of the climbs, at a low 130 metres, but all three combine to eliminate all but the strongest for the race's finale.
Cipressa/Poggio: The Capo Berta leaves 39.6 kilometres to race and only 11.8 kilometres before the start of Cipressa. The 5.7-kilometre Cipressa and the 3.7-kilometre Poggio are perfect opportunities for attacks. A small group that can escape the sprint teams may have a chance to hold over final 6.2 kilometres off of Poggio if its advantage is large enough and the riders behind are unorganised.
The final three kilometres are flat and fast. They enable the remaining sprinters to regroup for the bunch gallop on Lungomare Italo Calvino.
Sanremo sticks with Italo Calvino finale
By Gregor Brown
Milano-Sanremo will end on Lungomare Italo Calvino again this Saturday instead of the traditional Via Roma used in past years. Organisers switched the arrival in 2008 due to resistance from local shop merchants on Easter weekend.
The 298-kilometre Classic ends along the Ligurian coast. As normal, the race will descend the Poggio after 291.8 kilometres to head west to Sanremo.
The sprint trains will align on Corso Cavallotti. A sharp left and right, puts the riders on Corso Raimondo and in view of the red triangle of the last kilometre.
Instead of Via Roma, riders will head straight on Corso Nino Bixio. There is a left at -500 metres and then a long sweeping right turn to start the final 300 metres on Lungomare Italo Calvino.
Valverde: Don't compare Sánchez to Induráin
By Antonio J. Salmerón
Alejandro Valverde (Caisse d'Epargne) changed his race programme slightly
Photo ©: Christophe Mury

Alejandro Valverde is not surprised at Luis León Sánchez's triumph at Paris-Nice, but cautioned that Sánchez still needs time to get to the top level. Valverde for his part can't wait to meet the top guys in competition and changed his calendar to participate in the Vuelta a Castilla y León.
Valverde knows Sánchez well – the two are friends, teammates at Caisse d'Epargne, often train together and even share the same manager, Antonio Sánchez. "I have been saying for a few years that Luis León is capable of great performances," Valverde said to Cyclingnews.
"I think it is still necessary to let him mature and not to put too much pressure on him. This is not the time for comparisons. Don't compare him to Induráin or to me, for that matter; everyone is different."
Valverde sees some characteristics that could make Sánchez a rider for the Grand Tours. ."His advantage is that he is a complete rider, with a lot of strength. He can also hold his own in a time trial." Sánchez sealed his Paris-Nice win in stage seven when he rode away from an elite front group, including former winner Alberto Contador (Astana). Sánchez rode the last 17 kilometres by himself to win by over a minute.
Speaking of his own campaign towards the Tour de France, Valverde admitted he had not planned to ride the Vuelta a Castilla y León. "I couldn't wait any longer without competing. There is a pretty long time trial to check my power, a very competitive field and there are also some mountains and even a mountain top finish. All that means you have all the interesting ingredients to justify a start."
Valverde travels to the start of the race with two of his teammates – José Joaquín Rojas and Fran Pérez – of a very strong Caisse d'Epargne team.
Valverde said that no other modifications in his racing programme are planned. "The rest stays the same. The Volta a Catalunya as well as the Dauphiné Libéré are two very important races towards the Tour de France." His goal for the Tour is clear, he wants to be in the top three in Paris. "I think I am capable to fight for a podium spot, as I have already demonstrated."
Basso: Back in the thick of the Italian action
Ivan Basso had a surprise doping control on Friday, one day before Milano-Sanremo, according to La Gazzetta dello Sport. Otherwise things are going fine for the Italian, as he reports in the Cyclingnews diary.
I hope you enjoyed Paris-Nice and Tirreno-Adriatico. They were great races this year due to the level of competition. While the Spaniards were battling in France, the Italians were fighting hard in Italy.
My fifth place overall was a good test as I build for the Giro d'Italia. You know from reading my last diary entry that I was able to work very little due to me banging my knee in the Tour of California. When I got home I had four days of rest and the other days it was just an hour and a half to two and a half hours of training.
I think my condition is getting there, based upon Tirreno. I was able to battle everyday in a race that was full of great riders.
Read the entire diary entry.
Food supplement maker to sue Keisse
Keisse was celebrated at the last day in Gent, but life hasn't been so good since his positive test
Photo ©: Cyclingnews.com

Maximize Europe bvba is suing Iljo Keisse for claiming that its food supplements contained the forbidden product for which he tested positive.
Keisse tested positive for cathine and HCT, a diuretic, last fall after the final day of the Gent Six Day race. The 26-year-old said that the cathine came from cold and flu tablets he had taken.
At his hearing earlier this month, Keisse's attorney Johnny Maeschalck claimed that the HCT was in the ZMT food supplement supplied by Maximize, which sponsors Keisse's former team, Topsport Vlaanderen.
The company had its products tested by several independent laboratories, and no trace of HCT was found. In a press release, Maximize also claimed that Aminolabs, which produces the supplement, has never bought or otherwise obtained HCT, so that there is no possibility of contamination.(SW)
Teams announced for Bayern Rundfahrt
Christian Knees was the overall winner in Bayern last year
Photo ©: Florian & Susanne Schaaf

Sixteen teams will participate in the 30th edition of the Bayern Rundfahrt from May 26 to 31, 2009, including five ProTour teams. Eight of the teams will also ride in the Tour de France.
Race director Ewald Strohmeier was quite happy with the achieved quality in the peloton. "We had an excellent starter field in the past years, but I think that with the line-up in our anniversary year we can show the importance of the Bayern Rundfahrt in the international racing calendar."
Some riders have also already been announced, headed by Milram's Christian Knees, who is the defending champion. Milram already indicated it would send a strong team including Gerald Ciolek and Linus Gerdemann.
Danish team Saxo Bank also is in good standings with the German stage race, thanks to three-time winner Jens Voigt. Columbia-Highroad is an American team with a bit of German history, and riders like Marcus Burghardt or Bert Grabsch are likely to participate. First time starters include Euskaltel-Euskadi and Garmin-Slipstream.
The professional Continental teams include Agritubel, Cervélo TestTeam and Skil-Shimano, all three of which will also race in the Tour de France.
The queen stage will be from Mühldorf am Inn to Ruhpolding, with the climb to the Hochschwarzeck, to be done twice. The individual time trial around Friedberg is 26 kilometres long.
Women's World Cup with 24 teams
Last year's winner Emma Pooley
Photo ©: Trofeo Alfredo Binda

On Sunday, March 29, the women's World Cup will open with the Trofeo Alfredo Binda. 24 teams line up to battle for the win and the first lead in the 10-event series.
Defending champion is Emma Pooley, who rides for the Cervélo TestTeam this year. The 120km race features five KOM points.
The teams are Columbia-Highroad, Equipe Nürnberger, Selle Italia Ghezzi, Team Flexpoint, Safi Pasta Zara Titanedi, Cervélo TestTeam, Bigla Cycling Team, Gauss Rdz Ormu-Colnago, Red Sun Cycling Team, Vision 1 Racing, Lotto Belisol Ladiesteam, USC Chirio Forno D'Asolo, Team Uniqa Elk, Team Cmax Dilà, Fenixs, SC Michela Fanini Record Rox and Top Girl Fassa Bortolo Raxy Line. The field is completed by National teams from Belgium, France, Hungary, Germany, Netherlands, Slovenia and the USA.
Cyclingnews weekly podcasts: get them now!
Compelling audio every Thursday
Can't get enough cycling into your life? We have the solution: the Cyclingnews weekly podcast, available every Thursday (except when it's not).
Each week, Cyclingnews editor Dan Benson and his BikeRadar counterpart Jeff Jones discuss and analyse the big stories in professional cycling. From what's going on in the races, to who's not being implicated in Operation Puerto, to the current form of Heinrich Haussler. It's all covered in around 20 minutes.
You can subscribe to the podcasts via iTunes (search for 'cyclingnews') or via this XML feed: http://video.cyclingnews.com/podcasts/cn_podcast.xml.
You can also download the podcasts directly by clicking on these links:
March 5: Belgian opening weekend and Heinrich Haussler
March 12: Paris-Nice mid-race, Tirreno-Adriatico preview and Heinrich Haussler
March 19: Paris-Nice, Tirreno-Adriatico, Milan-Sanremo preview and Heinrich Haussler
Introducing the Cyclingnews Forum
We're pleased to unveil the Cyclingnews Forum and we'd like to welcome you to drop by! To kick things off we've created a selection of folders based on the themes you're familiar with from our site, including one for all topics mountain bike related. We'll be adding more sections over the coming weeks as we find out which topics and sub-topics you, our readers, are talking about.
And we won't stop there. We'll also be improving the look and feel of the forums as we gear up for a total redesign of the site in a few months' time. All you have to do click on the link below and sign up.
Don't forget to let us know what sections or sub sections you want to see in the Forum, and stop by our about the website folder to see what's coming up in the future. For an extensive run down on features such as private message, avatars and profiling please click here.
(Additional editorial assistance from Susan Westemeyer)
(All rights reserved/Copyright Future Publishing (Overseas) Limited 2009)