Latest Cycling News, March 19, 2009
Edited by Bjorn Haake
Will Armstrong be ready for the Tour?
By Kirsten Robbins
Lance Armstrong's form is improving
Photo ©: Greg Johnson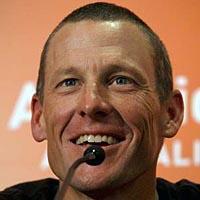 Three months into Lance Armstrong's cycling comeback and there is speculation as to how prepared the seven-time Tour de France winner will be for this year's event, come July. According to Johan Bruyneel there is no doubt that Armstrong will be a force amongst the Tour contenders. Just how much of a force is yet to be discovered.
"I don't think we are going to know how far he can go in the Tour de France until he does the Giro d'Italia," Bruyneel said. "The Giro is going to be a learning process also because it's been so long. We don't know how he is going to recover, we don't know how he is going to be in the hills and what condition he will be in. It makes it interesting and challenging because everyday we don't know what is going to happen."
Armstrong made large improvements in his early season events at Australia's Tour Down Under in January where he placed 29th overall to the USA's Tour of California in February where he placed seventh overall. "I was surprised with his level of fitness at the Tour of California," Bruyneel said. "I hope he can keep that progress and keep improving. We also know that we have to be realistic [about the Tour de France and the Giro d'Italia] because after three years they will be very difficult. He has to work a lot harder than he did before and he knows that."
Whether Armstrong is winning himself or working for another teammate, his presence heightens the level of competition within Astana and at the races. "If we are talking about the Tour de France, he is totally ready to be there," said Bruyneel, regarding concerns that competing in the Grand Tours might be difficult after a three-year retirement.
"There are so many strong riders on this team and maybe he is going to be a teammate like he was at the Tour of California," he continued. "But I think at the same time having him around, independently of what his results could be, he really brings everyone to a higher level. For me that is the best thing that I can see right now. As soon as he showed up... the other years it was a game on a bike and this year it is a race on a bike."
How do you see Astana's tactics in the Tour? Discuss in our forum.
Astana's Tour de France team strongest on paper
By Kirsten Robbins
Contador has won the Tour once – his biggest challengers may come from his own team
Photo ©: Sirotti

The Amaury Sports Organisation (ASO) announced the 20 teams that will participate in the Tour de France set to begin on July 4th in Monaco. Unlike last year, Astana is back on that list with possibly the strongest team on paper. According to Johan Bruyneel, his squad will field five solid overall contenders, but acknowledged the possibility of another team intercepting Astana's quest for yellow.
"Our first goal is to try to win the Tour de France with the team," said Bruyneel, who led Lance Armstrong into seven Tour titles with the US Postal and Discovery Channel teams. "Other teams are strong and they are always stronger than you think. We want to feel strong and confident when we go to the race but in the end the difference between the first and second is very, very small."
According to Bruyneel, Astana will start five riders who have placed in the top five overall Tour de France in previous years. Riding alongside Armstrong will be Spain's 2007 Tour winner Alberto Contador, USA's Levi Leipheimer (third in 2007), Germany's Andreas Klöden, (second in 2004 and 2006) and Spain's Haimar Zubeldia (fifth in 2003 and 2007).
"We have to use our strengths with our individuals to our advantage and try to win the race," Bruyneel said. "Having a lot of GC riders gives us extra pressure but at the same time it also gives us a secure feeling that if we do everything right and we ride together then we have a big chance of winning." Bruyneel didn't want to favour anyone within Astana. "It's going to be the strongest rider."
Talks of how Astana will appease all of their GC riders's stage race aspirations is Bruyneel first priority. "It's true we have a very strong team and I'm getting a lot of questions on how we are going to manage all the individuals," Bruyneel said.
"First, they are not always racing together. At the Tour de France we will put together the strongest team. There will be a lot of pressure on the riders going into that. In the last Tours we were the favourites and everyone expected us to win. The only difference this year is that we have more than one sole leader. I think that will only make us stronger – this is a good problem to have."
There will be 20 teams in total for the French Grand Tour including 17 of the 18 ProTour teams: Milram, Quick Step, Silence-Lotto, Saxo Bank, Caisse d'Epargne, Euskaltel-Euskadi, Garmin-Slipstream, Columbia-Highroad, AG2R La Mondiale, Bbox Bouygues Telecom, Cofidis, Française des Jeux, Lampre-NGC, Liquigas, Astana, Rabobank and Katusha. There will also be three Professional Continental teams with the Cervélo TestTeam, Skil-Shimano and Agritubel.
You can discuss the Tour teams announcement with others in our forums.
Cavendish the Sanremo man for Columbia-Highroad
Mark Cavendish has no pressure for Milano-Sanremo
Photo ©: Shane Stokes

Columbia-Highroad tackles Milano-Sanremo this weekend with high hopes for Mark Cavendish, the recent winner of the last stage of Tirreno-Adriatico. However, the squad has no intention of placing its top sprinter under any pressure to come up with a specific result.
"We're very aware that it will be Mark's first participation in Milano-Sanremo," said Sports Director Valerio Piva. "If he's there in the front group after the [final climb of the] Poggio, then of course the team will back him up 100 percent for the sprint. But if he's not up there, it's not the end of the world. This is his first Sanremo and his main objective is to get the experience of racing it.
"We've got guys like Thomas [Lövkvist], George Hincapie and Maxime [Monfort] taking part, too, all of whom are going well and who could make it into a break.
"Milano-Sanremo is always one of the most unpredictable races of the season," he said. "You have to be prepared for all sorts of outcomes as we saw last year – a bunch sprint is only one of them."
Mark Renshaw received some advice before the race. "Someone said to me that Sanremo is the easiest race to finish but the hardest one to win. I've ridden it three times and it's so long that the last two climbs, which aren't so difficult, become much more of a challenge. The wind direction has a major effect as well. If it's a tailwind then it's just 45 minutes longer than a normal race, but if it's a strong headwind it can last up to seven and a half hours."
There is an added twist in the finale. "The finish is more complicated than it used to be, we checked it out today [Wednesday] as part of a training ride. There's a couple of extra corners which make it more difficult. Then the new climb they brought in last year [Le Manie] makes a tough race even harder."
Renshaw is ready for the challenges, though. "I'm feeling good after Paris-Nice, I got second in one stage [two], and my condition is good. My main mission will be to go with Mark [Cavendish] and support him as best I can."
Only two more days until the big spring race in Italy – discuss the event with others.
Columbia-Highroad for Milan-San Remo: Michael Barry, Edvald Boasson-Hagen, Mark Cavendish, Bernhard Eisel, George Hincapie, Thomas Lövkvist, Maxime Monfort and Mark Renshaw
Aussie intervention in la Classicisima
By Les Clarke
With a contingent of seven Australians taking on Milano-Sanremo this weekend, there's a strong chance the outcome on Saturday afternoon will be shaped by most of them.
Every one of the seven will be competing for different squads, and whether it's as a potential race winner or trusted lieutenant in the finale, the Antipodean aroma will be noticed at the pointy end of the race.
Read up on all the Aussies for Saturday.
More teams announce line-ups for Milano-Sanremo
Katusha: Pavel Brutt, Sergey Ivanov, Mikhail Ignatiev, Sergey Klimov, Luca Mazzanti, Filippo Pozzato, Robbie McEwen and Alexander Botcharov. Sports directors: Serge Parsani and Claudio Cozzi
Lampre: After the forfeit of Alessandro Ballan, the captain will be Mirco Lorenzetto. He is supported by Marco Bandiera, Emanuele Bindi, Enrico Gasparotto, Francesco Gavazzi, David Loosli, Manuele Mori and Daniele Righi. Sports director is Maurizio Piovani.
"Ballan's forfeit damages us," Piovani said. "But the team is strong and we can rely upon Lorenzetto, who showed during the last weeks to be in a very good form. Gavazzi, Gasparotto and Mori will be ready to join the attacks, while Bandiera, Bindi, Loosli and Righi will give us the usual support."
Ceramica Flaminia: Maurizio Biondo, Wladimir Duma, Cristiano Fumagalli, Dainius Kairelis, Leonardo Giordani, Alessandro Maserati, Enrico Rossi and Filippo Simeoni. Directeurs sportifs are Giuseppe Petito and Massimo Podenzana.
The directors are banking not only on Italian champion Filippo Simeoni. "We have Enrico Rossi as our man for the final, together with Cristiano Fumagalli. We will protect them until the decisive phase. Then those two will enter in the game for the win."
Cavendish's switch to the track
Mark Cavendish wants to get his leg speed up
Photo ©: Nick Rosenthal

Columbia-Highroad's sprinter Mark Cavendish intends to interrupt his road campaign and compete in the Track World Championships at the end of March. The Worlds are held in Pruskow, Poland.
"I've always enjoyed racing on the track. I believe the big advantage of continuing to do some track racing is that it helps develop my leg speed and can help me reach my road racing goals," Cavendish said. "I am very focused on my goals on the road with Columbia-Highroad. All my thoughts at the moment are on Milano-Sanremo. Only after that will I start thinking about the World Championships."
Columbia-Highroad Team Manager Rolf Aldag supports the idea. "It is all about leg speed. Cav is the fastest road sprinter because he has that extra speed. The track offers a good opportunity to work on this and keep him on a high level of performance," Aldag said.
"He has proven before that he is competitive on the track [Cavendish is current World Madison Champion] and can adjust to the track very quickly. We support his decision to race on the track as we have done with many of our athletes, including the four athletes that participated in track events at the Olympic Games in Beijing," said Aldag.
Schleck crashes in training
Fränk Schleck of Saxo Bank crashed during training on Wednesday and was forced to go to hospital. He received seven stitches on the chin and had a heavy contusion on his left wrist. Subsequent examinations showed no signs of fractures.
The rider from Luxembourg skidded with his front wheels during a training ride and crashed in a curve going downhill. "I guess I should consider myself lucky that nothing is broken. This doesn't come at a convenient time, since I'm in really good shape after Paris-Nice and I hope to get back into racing as soon as possible," said Schleck. His next race is now set to be the Criterium International at the end of March.
Sports Director Kim Andersen took precautionary measures. "We need Fränk to be back racing as soon as possible and since nothing is broken we had the possibility to send him to do the cobblestone races in Belgium next week. Since these races are demanding on the whole body, it's better to wait and then have him come back 100% fit in the race in France, where we should have a good possibility to get some results with him and Jens Voigt."
Van Gerwen wants to get Milram to the front
Gerry Van Gerwen wants to see more of his team on the front
Photo ©: AFP
Milram's Team Manager Gerry van Gerwen is urging his team to show its trademark blue-and-white "cow" jerseys more on the front of the races. Van Gerwen said he was happy with the atmosphere in the team and how the new riders were integrated, but that results were lacking.
"Look at the live pictures on the Eurosport television broadcasts, you will rarely notice our team at all, with very minor exceptions. We don't have the 'visibility' – the presence and awareness of the public... The riders must show and do more."
Van Gerwen feels the foundations are laid to tackle the problem. "We have done everything right so far. We achieved the perfect infrastructure, there is a good mood in the team. We have put together a young and hungry team. Everyone finds it to be an ideal situation."
Van Gerwen didn't want to panic anyone and was not going to criticise any riders by name. "But our first goal has to be to give something back to our sponsor and to German cycling. I would like to have seen [us] in one race or another.", Van Gerwen said it would have been the chance for the second-string riders to push themselves into the foreground. But he also the directeurs sportifs would have to encourage the riders. "The team must bring itself into situations where it can win races ... instead of just riding along and waiting. Only then can we be successful."
The next chance for the team to show up on the front of a race will be on Saturday at Milano-Sanremo. "It has its own set of rules. In the first third, it is a game between the escapees and the peloton. On the long way to the coast, the favourites try to save as much strength as possible."
Things heat up in the end. "Only the riders who can hold up to the mental stress and stay cool until the end have a real chance. It is our goal to have Gerald Ciolek in the front up to the finale at the foot of Poggio. It would be optimal to have two more Milram riders, like Fabian Wegmann or Peter Wrolich, at his side. I would be very satisfied with that because at that point in the race, anything is possible."
Early-season appetiser on offer in Castilla
By Les Clarke
It's amazing the effect a year can have. Consider Team Astana's predicament leading into last season's Vuelta a Castilla y León; told it wouldn't be riding the 2008 edition of the Tour de France, the super squad made its way to the north west of Spain with a chip on its shoulder and a race to win.
Contador was successful in achieving that aim, but not before providing Spanish TV cameras with a spray about his team's exclusion from the Tour. It was entertaining stuff, and provided a spark in what was fairly standard racing fare from the Castillian region.
The race itself was still recovering from a period of instability, as finances were a consideration and the effect of numerous doping scandals in 2007 was being felt. The event's prospects were set for a boost, however.
Read the entire preview.
Skil-Shimano ready for its first Tour de France
Skil-Shimano made it to the Tour
Photo ©: Roberto Bettini

Skil-Shimano already knows its goals for its first Tour de France this summer. They are "basically the same as it is for most other races we start: riding offensively, attractively and with a good team spirit."
The Dutch Professional Continental Team received one of three wild card invitations to ride the 2009 Tour de France.
"We are grateful for the confidence Direction Cyclisme A.S.O. shows in our organisation and our vision," said team manager Iwan Spekenbrink. He noted that the team has grown in the past two years, "in terms of both organisation and the potential of our riders. We have become a lot stronger in terms of breadth and our riders have shown they can compete at the highest level."
The team most recently brought in top results at Paris-Nice, where 23-year-old French rider Jonathan Hivert finished eighth overall..
The team is sponsored by the Dutch firm Skil, which makes electrical tools, and the Japanese cycle component manufacturer Shimano. The 22 riders come from seven different nations, and include two Japanese and three Chinese riders.
The team says that in addition to its international character, its core values include "investment in the development of young and not so young riders; special attention for innovation in many areas, including training guidance and equipment; and the practice of elite sport in accordance with the strictest ethical principles."(SW)
Introducing the Cyclingnews Forum
We're pleased to unveil the Cyclingnews Forum and we'd like to welcome you to drop by! To kick things off we've created a selection of folders based on the themes you're familiar with from our site, including one for all topics mountain bike related. We'll be adding more sections over the coming weeks as we find out which topics and sub-topics you, our readers, are talking about.
And we won't stop there. We'll also be improving the look and feel of the forums as we gear up for a total redesign of the site in a few months' time. All you have to do click on the link below and sign up.
Don't forget to let us know what sections or sub sections you want to see in the Forum, and stop by our About the website folder to see what's coming up in the future. For an extensive run down on features such as private message, avatars and profiling please click here.
(Additional editorial assistance from Susan Westemeyer)
Previous News Next News
(All rights reserved/Copyright Future Publishing (Overseas) Limited 2009)