First Edition Cycling News, June 15, 2009
Edited by Peter Hymas
Valverde prepared to help Contador - at the Tour
By Jean-François Quénet in Grenoble, France
Alejandro Valverde (Caisse d'Epargne) won
Photo ©: Sirotti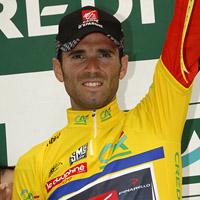 After his second consecutive overall win at the Dauphiné, Alejandro Valverde didn't hide that he's having "difficult moments" with the possible extension of his Italian ban internationally. "With the support of my representatives, my family and my team, I manage to stay focused on my training and my racing," the Spanish champion said. "Sometimes I get discouraged, then I found the motivation again. My win at the Volta a Catalunya has helped me be very motivated for the Dauphiné.
"I don't externalise my anger but I know it's an injustice to suspend me and I'm confident that everything will be proved in my favour at the end," Valverde continued. "This win is also a message to the organisation of the Tour de France, yes. I still hope to do it. The decision is not in my hands."
Valverde awaits a decision within next week from the International Cycling Union (UCI) to globalise the Italian sanction, which is quite likely considering that the governing body already requested that he wouldn't take part in the world championship for the next two years for the same involvement in Operación Puerto. But once again, Valverde is also likely to win at the Court of Arbitration for Sport (CAS) and therefore to be able to participate to the Tour de France.
If so, he isn't able to set ambitions for himself as there are too many doubts in his mind. "It's hard for me to say now what my goal will be if I race. We'll first see if I go or not. I want to go and do from the first to the last day, I don't want to go and have to pull out before the race goes to Italy, but that would eventually be the team's decision. The level of form I have now will be hard to maintain. For sure, the Astana riders will be some of the most difficult rivals."
The first of them, Alberto Contador, clearly assisted Valverde at the Dauphiné every time that Cadel Evans attacked. Valverde denied there was an agreement between them but their cooperation was obvious. "If I can help him at the Tour de France, I'll do it," Valverde said to a question about the possible help that Contador could look for in case of an offensive by Lance Armstrong. "But if I have to attack him, I'll do it as much as he'd attack me."
Duggan impressed with ProTour performance
By Jean-François Quénet in Grenoble, France
Timothy Duggan (Garmin - Slipstream) climbs
Photo ©: Sirotti
Garmin-Slipstream's Timothy Duggan proved he's returned to form one year after suffering a brain injury from a crash in stage three of the 2008 Tour de Georgia. Duggan finished in second place in the final stage of the Dauphiné at Grenoble. Dutchman Stef Clement out-sprinted him but he wasn't devastated afterwards. On the other hand, the American said, "It's kind of cool to be up there for the win at a ProTour race."
Duggan arrived in Grenoble as part of a three-men break with Stef Clement and Frenchman Sébastien Joly, who was shaking on his bike as he had the possibility to score a win in his home region at one of his favourite races exactly two years after his testicular cancer was diagnosed. "When Joly attacked, I knew we had a good chance to come across," Duggan said. "In the sprint against Clement I couldn't come around in the wind."
Duggan found it hard to express any disappointment. "For the whole week I struggled and today it was cool, it happened to be easy," he said. "It was the easiest day of the week. To be up there for the win again after what happened last year is really good. This ride today will definitely give me confidence for the future. I'll go on holiday with my wife for four days, then I'll ride the Tour of Austria in early July."
Targeted riders to be informed by UCI
UCI president Pat McQuaid
Photo ©: Gregor Brown
The International Cycling Union (UCI) will target a list of 50 riders for specific doping controls ahead of next month's Tour de France, it indicated on Sunday.
At the final stage of the Dauphiné Libéré, UCI president Pat McQuaid said that the first of the targeted riders and their teams would be informed this week. McQuaid also expressed his own reservations about riders, named in the list, being included in their team's Tour de France squads.
"We [have] targeted research on a fifty riders," said McQuaid, according to L'Equipe. "Federations, teams and riders will gradually be informed in the coming days. I can not imagine that teams [will] bring riders covered on the list to the Tour de France."
The news of the additional controls comes after the cycling union had revealed on Wednesday that it would be taking disciplinary action against a small number of riders who had return irregular results under its biological passport program. The action against riders will be a firm test of the anti-doping program introduced in 2008. However, McQuaid told L'Equipe that they were confident that evidence provided by the program will hold up to examination.
"We worked with experts. We are ready to defend these results before the court." (RT)
UCI won't delay Valverde decision
It seems Dauphiné Libéré winner Alejandro Valverde will not have to wait long to find out whether the UCI will enforce further sanctions for alleged doping practices, following comments made by International Cycling Union (UCI) president, Pat McQuaid, on Sunday.
French sports daily L'Equipe has reported that the UCI will make a determination on Valverde's future within the next seven days. McQuaid confirmed that cycling's governing body had received anticipated evidence from Italian Olympic Committee (CONI) authorities on Wednesday.
"The UCI may decide to 'globalise' the penalty. A decision will be reached in six or seven days," McQuaid told L'Equipe at the final stage of the Dauphiné Libéré.
Farrar second again at Zeeland, wins everything else
Tyler Farrar (Garmin - Slipstream)
Photo ©: Sirotti
Robert Wagner (Skil-Shimano) defeated a quality field at the Delta Tour Zeeland, taking victory in the third and final stage of the race in Terneuzen, The Netherlands, on Sunday. Tyler Farrar (Garmin-Slipstream) once again finished in second place, ahead of Saturday's stage winner Alessandro Petacchi (LPR Brakes - Farnese Vini), but not Wagner.
For Farrar, second place on the 186km stage sealed a dominant victory in the Tour's general classification. Victory in Friday's prologue set up the win as the Garmin-Slipstream rider continued his good form, never finishing lower than second on the race's road stages. Time bonuses meant that the 25-year-old extended his overall lead in the final stage to finish 11 seconds ahead of Petacchi. Wagner's stage win moved the German up to claim third place on the final podium.
In addition to the overall, Farrar also claimed both the points and young rider classifications, completing an impressive weekend for the rising sprint star.
Previous News Next News
(All rights reserved/Copyright Future Publishing (Overseas) Limited 2009)