Latest Cycling News, June 7, 2009
Edited by Hedwig Kröner
Team Columbia-Highroad sweeps Philly
By Kirsten Robbins and Peter Hymas
a familiar view these days: André Greipel (Team Columbia - Highroad) wins
Photo ©: Jon Devich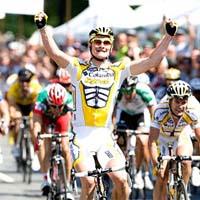 Team Columbia-Highroad's André Greipel and Ina-Yoko Teutenberg sprinted to victory in their respective Philadelphia International Championship and Liberty Classic events on Sunday, while Greipel's teammate Greg Henderson also claimed second in the men's event.
Greipel won the 25th TD Bank Philadelphia International Championship on Sunday, uncorking an unmatched burst of speed over the final 200 metres of Benjamin Franklin Parkway pavement to best Columbia-Highroad teammate Greg Henderson and Bissell Pro Cycling's Kirk O'Bee.
Team Columbia-Highroad's pre-race game plan was to deliver fast man Greipel to the line in a field sprint and the team executed the lead-out to perfection, despite the confusion of a crash at the head of the race within the final kilometre approaching Logan Circle.
"Every race we are at we are one of the best teams but that doesn't mean that we get the win easily," Greipel told Cyclingnews. "We always have to work hard and play our tactics correctly in order to win any race. It was a bit dangerous, there was a crash and we lost each other a little bit at the end, but everything worked out well.
"Hendy [Greg Henderson-ed.] started his sprint with 400 metres to go and I came around him with 200 metres to go. He did a really good lead-out and it was a team victory," said Greipel, who is in a rich vein of form.
While Henderson told Cyclingnews about the team's plan to set up Greipel, the Team Columbia-Highroad one-two finish was an unexpected bonus.
"It's pretty good when we end in a sprint with Greipel," said Henderson. "I started my sprint really early with Greipel on my wheel. I caught Kirk O'Bee and passed him. There was no one else there and I thought, 'Well heck, I have to keep going.' One guy passed me and it was Greipel so it doesn't get much better than that."
Ina Teutenberg (Team Columbia - Highroad) wins
Photo ©: Jon Devich

In the women's category, Teutenberg came into the 13th annual Liberty Classic as the race favourite, and she did not disappoint her teammates or the crowds that flocked to watch her sprint. The German jumped ahead of a late race break with a commanding lead ahead of Joanne Kiesanowski (Team TIBCO) and Shelley Olds (Proman-Hit Squad).
"I like Philly and I'm happy to win again here," said Teutenberg who scored her third victory at the famed women's event. "My girls went very hard on the last time up the Wall. Once we were at the top they kept going and we had a gap. I had four girls left with me all the way to the finish so they controlled the front. I think it was the hardest Philly that I've ever done."
Holloway sprints out of the blocks
By Kirsten Robbins
Daniel Holloway accidentally rode off the front of the peloton in the first kilometre of the TD Bank Philadelphia International Cycling Championships held on Sunday. The youngster was hoping to test his legs against the stellar field in a final sprint, but instead spent more than half of the 250-kilometre American Classic off the front in a solo move.
"I didn't plan to go in the first 200 meters," Holloway said. "I just went off the line because everyone told me it was a fast start to the race. I went off like I normally would [in a criterium]. I heard I had a gap but I expected every one to follow. It looks dumb if you get a minute and then sit up because you don't want to be out there. Then I was in it for the long haul."
Coming up on
Cyclingnews will cover the 60th edition of the Dauphiné Libéré live as of stage 4 on Wednesday, June 10, at approximately 15:00 local Europe time (CEST)/ 23:00 Australian time (CDT)/ 9:00 (USA East).

WAP-enabled mobile devices: http://live.cyclingnews.com/wap/

Holloway was competing in the event with the US National Team but normally races under the Garmin-Hollowesko Partners-Felt U23 banner. He made a name for himself after winning the 2007 US national elite criterium championships. "I don't really specialize in breakaways and I didn't anticipate it in the morning," he said. "My legs were not expecting to be hammered until the last 80 kilometres. I kind of had a free pass today to hang out until the finish and give it a crack."

Holloway's gap settled at a sizable five minutes but exploded to 13 minutes when the professional women's peloton caught and passed the main field. The men's field was neutralized behind the women until the finish of their race. "I could see that the gap was opening and that the women were so close to the men's field," he said. "I didn't worry about it. I was hoping to get neutralized, too, so I could relax and stretch. They neutralized the field and not me."
The Tour de France form ladder
By Daniel Benson and Susan Westemeyer
With less than four weeks to go until the Tour's Grand Départ in Monaco, it's shaping up to be one of the most spectacular races in recent memory. Not only has race director Christian Prudhomme pulled out all the stops with one of the most exiting routes in years, but there are no less than four previous winners scheduled to start.
In our latest Tour ladder our brave dozen have gone through a whole host of experiences; from Grand Tour success and career-defining wins, to crashes, court races and total losses of form. It's been one of the most breath-taking months cycling has seen.
Read this month's ranking with only four weeks to go to the event!
Contador tests TT bike
Alberto Contador (Astana) rode to second
Photo ©: AFP
Despite saying that he had no ambitions of winning the Dauphiné Libéré - and after a two-month break from racing - Alberto Contador finished an impressive second in the race's opening time trial in Nancy on Sunday.
A runner-up to winner Cadel Evans (Silence-Lotto) by only eight small seconds, the Astana rider said his performance was a test for his new Trek TTX time trial bike. "I have no ambitions on the overall race, and it would be stupid to risk anything so close to the Tour," the Tour de France favourite told L'Equipe. "But I said that this time trial was interesting to me because it gave me the opportunity to test my new bike for the Tour's time trials. If I went a bit hard, it was only for this reason. Had it been raining, I wouldn't have taken any risks."
The conditions were good enough for Contador to give the newly designed Trek TTX frame a serious trial. The Spaniard was quite satisfied: "I finished second in a time trial after 60 days of without racing, and I think that's not too bad," he said. "But I also felt that I am still a bit short on explosiveness, especially on the climb."
Velits scores in Switzerland
Peter Velits (Milram) scored his first victory for Milram
Photo ©: Emmanuel Isnard

Milram rider Peter Velits took his first victory since he signed with Milram in 2008, at the GP Kanton Aargau on Sunday. The Slovakian thereby topped off a solid weekend of racing for the German ProTour team which had already placed three riders in the Top Ten at the GP Triberg-Schwarzwald on Saturday.
In a breathtaking finale, Velits got the better of breakaway companion Jan Baekelants (Topsport Vlaanderen), with the bunch just a few seconds behind - Heinrich Haussler (Cervélo TestTeam) took the remaining spot on the podium.
"Peter Velits attacked on the last climb, nine kilometres from the finish, and was off the front on his own at first," said Ralf Grabsch, Team Milram sports director. "Jan Baekelants was able to bridge up to Velits. The two then raced with only 12 seconds advantage to the field."
The small advantage for the two leaders did not melt away under the pressure of the chasing field. "With two kilometres to go, the chasers disagreed and lost ground, which was what we had hoped for," continued Grabsch. "Peter Velits then took advantage of the situation."
In the end, the duo was only 15 metres in front of the peloton, led out by the Cervélo TestTeam, which complained of too little cooperation in the chase.
Team Milram was happy over the victory, especially since it topped off an already strong showing at the GP Triberg-Schwarzwald the day before. With Johannes Fröhlinger finishing third, Peter Velits eighth and Peter Wrolich tenth in Germany, the squad had all the reason to be satisfied. "We rode a top race yesterday already and could do even better today," continued Grabsch. "Our team works together brilliantly and we are finally rewarded for our efforts. These two races this week-end make us very hopeful for the next important events before the Tour de France."
No Tour for Valjavec and Elmiger
AG2R La Mondiale's Tadej Valjavec and martin Elmiger will not participate in the Tour de France this year, even though both riders have the potential to win stages for their team at the Grande Boucle. They will stay at home, albeit for different reasons.
"Valjavec [who finished tenth overall at the 2008 Tour - ed.] has had a baby one week before the Giro, where he achieved the objective to place within the top ten [he was ninth - ed.]," explained the team's manager Vincent Lavenu to L'Equipe. "He will do the Vuelta.
"As to Elmiger, the World Championship in Switzerland is a big goal to him [Elmiger is Swiss - ed.]. He will prepare for it at the Vuelta."
Moreover, Elmiger may have a physical problem: his iliac artery is starting to be blocked. "He either has surgery now, or after the Worlds. It may be after," said Lavenu.
Cyclingnews is changing - Sneak preview no. 2!
A sneak peak at Cyclingnews' new look
Photo ©: Cyclingnews.com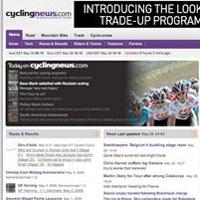 As promised, here is the second instalment in our series of sneak previews of the exciting changes we're making to Cyclingnews... Faster news, RSS feeds and newsletters!
We've made it much faster for you to find the news you want and keeping up with the latest headlines is even easier thanks to our improved news page, RSS feeds for tailored, up-to-the minute stories and our first-ever newsletter, delivered directly to your inbox every week.
Don't forget to check back daily for more exciting sneak previews!
Daniel Benson and the Cyclingnews team
Previous News Next News
(All rights reserved/Copyright Future Publishing (Overseas) Limited 2009)