First Edition Cycling News, June 6, 2009
Edited by Peter Hymas
Bazayev leads in Luxembourg
Assan Bazayev (Astana)
Photo ©: Emmanuel Isnard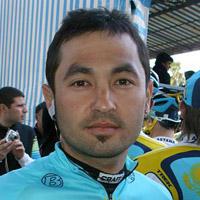 Team Astana's Assan Bazayev has assumed the leadership of the Tour de Luxembourg on Thursday. The Kazakh national champion finished sixth in the 188-kilometre stage from Schifflange to Differdange as part of an eight-man leading group which sprinted for the stage win. Andy Schleck (Saxo Bank) out-sprinted his seven breakaway companions for the victory ahead of his teammate Matti Breschel and third place finisher Aitor Galdos Alonso (Euskaltel-Euskadi).
Overnight race leader, Bazayev's teammate Grégory Rast, finished the stage in a group 27 seconds behind the eight leaders and dropped to 16th on general classification.
"Of course I am happy with this leader's jersey and I will defend it," said Bazayev. "On the local circuits with the 1.5-kilometer climb, everybody looked at me when Schleck attacked. The other seven knew that maybe I was the fastest sprinter of the group. I jeopardized my sprint by working and getting Schleck back, but I had no choice. I really wanted that leader's jersey."
Astana directeur sportif Alexander Shefer believes Bazayev can contest for overall honours over the remaining two stages.
"I am convinced that he can win," said Shefer. "Of course there are the two Schlecks with a strong Saxo Bank Team, but our team is surely as good as theirs. Today we controlled the race with Schär, Iglinsky, Dmitriyev and Raimbekov. This weekend we have two hard stages but Assan is strong. I am convinced he can keep the yellow jersey. Additionally, we have Andreas Klöden who is only eight seconds behind on the general classification."
Assan Bazayev has been riding strongly since March. He's earned top-10 finishes in Tirreno-Adriatico, Three Days of De Panne and the Tour de Romandie. Last year Bazayev finished fifth in the five-day Tour of Luxembourg.
Continue to full coverage of the Tour de Luxembourg.
BMC prepared for Dauphiné
Markus Zberg, BMC's Swiss champ
Photo ©: Isabelle Duchesne

With an eye to becoming competitive in Grand Tours within the next several years, the second-year Professional Continental BMC Racing Team will take part in the upcoming Critérium du Dauphiné Libéré from June 7-14 in France.
"The Dauphiné is always one of the toughest one week races of the year," said BMC Racing Team directeur sportif John Lelangue. "And looking at the parcours, I think that this year might be more difficult than previous editions; over 50km of time trialling is very unusual for a one week stage race.
"That we have been invited and will be the only non-ProTour team at the race proves that the organizers believe in our riders and our philosophy as much as we do," Lelangue said. "We have selected the most efficient and complete riders that we can take on the roster since we don't just want to participate, but rather we want to impact the race."
Lelangue believes being the only non-ProTour team at the race could be an advantage. "We will have almost a free hand since we don't have to control the race. The teams with the big names like Valverde, Contador and Boonen will have to control the race which means that we can work for ourselves and always be on the offensive."
Lelangue feels he has at least six riders on the team who could emerge as the team leader for the race and finish in the top 10. "We are going to the race confident, without pressure and without a clear leader. We will take the race day by day, and if we can leave the Dauphiné fighting for a place in the top 10, feeling as though we did a good race and that we were always present in the big moves, then I think we will be very happy with our performance."
BMC Racing Team: Markus Zberg, Brent Bookwalter, Mathias Frank, Thomas Frei, Jeff Louder, Ian Mckissick and Alexandre Moos
Miller aims for Liberty Classic victory
By Kirsten Robbins in Philadelphia, Pennsylvania
Brooke Miller finished second in Philly last year.
Photo ©: CJ Farquharson

Reigning US National Champion Brooke Miller had a breakthrough performance at Philadelphia's Liberty Classic last year when she out-kicked world-class sprinter Ina-Yoko Teutenberg in a pack sprint for second place. On Sunday, June 7, Miller and her TIBCO teammates are prepared to battle to the end for a top spot on the podium at the most esteemed women's event in America.
"It's one race that we are very focused on," said Miller who went on to capture double national championship victories in the road race and the criterium last year. "There is such a great field this year but our team is riding better and better It's fun to watch how well we have been stepping up compared to the European teams. We have a lot of riders who can win this race from a breakaway. I'm plan B and my job is to win the bunch sprint."
Last year Teutenberg's teammate Chantal Beltman stole the victory in a solo breakaway. Should the peloton arrive at a bunch sprint this year, Miller will be up against the fastest sprinters in the world including Teutenberg and Kate Bates (Columbia-Highroad) as well as former world champion Regina Schleicher and Suzanne de Goede (Neurnberger-Versicherung). Formidable domestic sprinters looking for a sprint victory include Tina Pic (Colavita-Sutter Home), Gina Grain (Webcor Builders), Theresa Cliff-Ryan (Verducci-Breakaway), Jen McRae (Team Type 1) and Laura Van Gilder (Jittery Joe's).
"I feel really good with my legs and it is a fun situation for me,"Miller said. " I'm in a good situation because the other sprinters have already established themselves as the best in the world. I'm confident but the burden is on them to beat me and not the other way around. They race against each other all the time, an advantage, but that also means they don't know my fitness. It's a double-edged sword."
TIBCO riders registered to compete in the Liberty Classic include Miller, Lauren Tamayo, Joanne Kiesanowski, Emma Richards, Julie Beveridge, Amber Rais, Katharine Carroll and Meredith Miller. "When push comes to shove, our girls push back hard. As strong as all our individual riders are, it's all about how well we work together. Our girls sacrifice themselves for a team win. We don't hold back, we execute a game plan without hesitation.
Wild wins Le Tour du Grand Montréal
Kirsten Wild (Cervélo Test Team) relaxes
Photo ©: Gregor Brown
Cervélo TestTeam's Kirsten Wild has won the five-stage Le Tour du Grand Montréal which finished on Thursday with the Mont-Saint-Hilaire Circuit Race. Wild, winner of three stages at this year's event, led general classification throughout the entire race and finished 46 seconds ahead of Germany's Trixi Worrack (Equipe Nürnberger Versicherung) with the American Lauren Tamayo (Team TIBCO) a further nine seconds back in third place. The Dutch Cervélo TestTeam rider also captured the event's sprints classification.
"This week was great," said Wild. "It was my first race after a break of a month without any races, so I'm very happy with my performance. But without all the super work of the team and the staff it would have been impossible to win here".
The 115-kilometre concluding stage was won by Germany's Hanka Kupfernagel (German National Team), the first time a rider outside of Cervélo TestTeam claimed a stage victory. Kupfernagel out-sprinted Martine Bras (Selle Italia Ghezzi) and teammate Denise Zuckermandel (German National Team) for stage honours on a stage dominated by Wild's team.
"The plan was control the race to win the Tour," said Cervélo TestTeam directeur sportif Manel Lacambra whose team has won each of the three stage races it' s competed in this year. "Today we spent the stage on the front of the peloton at a high speed to block the race. We had some attacks but the team always reacted very well and controlled the race.
"The final sprint was downhill and I said to the riders that after all the hard work all week, it would be better enjoy the overall victory and not take any risks in the final sprint for the stage and possibly crash. Today was also nice for our team because we had a rider from the men's team, Dominique Rollin, supporting the girls at the top of the climb."
Continue to full coverage of Le Tour du Grand Montréal's stage five.
UCI renews media rights deal with EBU
The International Cycling Union (UCI) has signed a deal with the European Broadcasting Union (EBU) for the broadcast of its road, track, mountain bike and trials world championships for the years 2009 to 2012.
The deal represents a significant amount of the UCI's revenue from these championships and guarantees the UCI a committed broadcast partner which enables viewers in countries including France, Italy, Spain, Belgium, the Netherlands, Switzerland and the UK to watch them on free-to-air channels.
"I'm very pleased that we have once again reached an agreement with the EBU," said UCI president Pat McQuaid. "The media rights landscape is developing and changing but the EBU has always been a solid and loyal supporter of our sport and we have always worked well together. This deal, along with others we have agreed outside Europe and on new media, provides a reliable source of recurring revenue and enables us to further develop these championships and the sport as a whole."
The EBU is the largest association of national broadcasters in the world. It has 75 active members from 56 countries in and around Europe. Its membership principally comprises the major free-to-air broadcasters in Europe, with a weekly audience of some 650 million people.
Andalucía-Cajasur hires three neo-pros
The Spanish Professional Continental team Andalucía-Cajasur has announced that Jorge Montenegro, José Vicente Toribio and Sergio Carrasco will make their professional debut with the team in August.
Montenegro, the Copa de España elite champion, is an Argentinean who has lived in Spain for the past several years. Jose Vicente Toribio, 23 years old, and Sergio Carrasco, 24, are Spanish and hail from Socuéllamos and Puerto Serrano respectively.
"We are very pleased with this decision," said directeur sportif Antonio Cabello. "Every year we have riders from the elite ranks making the transition to the professional team and this should be motivation for others who know there's an open door in the professional team for them."
Cyclingnews podcast: Episode 14
The longest one yet
Working on the 'more is better' philosophy, the Cyclingnews podcasts keep getting longer. This week's 14th episode nudges the 25 minute mark. Why? Because it can.
This week, Cyclingnews' Daniel Benson and BikeRadar's Jeff Jones wrap up the Giro d'Italia, taking a good look at how the race unfolded in the final week, which was still exciting despite Mount Vesuvius not actually erupting on cue. Also, they discuss Taylor Phinney's win in the U23 Paris-Roubaix, Mark Cavendish's new tell-all book and finally, preview the Criterium du Dauphine Libéré.
You can subscribe to the podcasts via iTunes (or just go to iTunes and search for 'cyclingnews') or via this XML feed: http://video.cyclingnews.com/podcasts/cn_podcast.xml
You can also download the podcasts directly by clicking on these links:
(All rights reserved/Copyright Future Publishing (Overseas) Limited 2009)