First Edition Cycling News, January 31, 2009
Edited by Laura Weislo and Peter Hymas
Sprinters up the revs in the desert
Tom Boonen (Quick Step) taking another one
Photo ©: AFP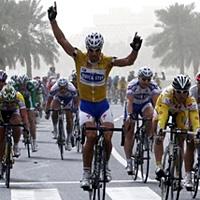 The top sprinters of the peloton head this weekend to the Persian Gulf for the eighth Tour of Qatar to get in a little early season speed, and this year's event should prove to be one of the most hotly contested in the history of the race. With the only elevation in the area provided by the shiny glass skyscrapers and the occasional sand dune or highway overpass the only challenge for the riders, this flat and fast stage race is custom made for the quickest men in cycling.
And when speaking of fast men, two names leap to mind: Mark Cavendish and Tom Boonen. Last year Boonen ruled the roost in Qatar, finishing no lower than fourth place on any stage and waltzing through to the overall win with three stages wins under his belt (four if you include the team time trial). In fact, Boonen has been so dominant in this event that he has won 14 stages in the five years he's come here.
But that streak might end with the presence of the speedy Manx man, Cavendish, who has proven to be virtually unbeatable in bunch sprints over the past year. He will have his lead-out men Marcus Burghardt and Greg Henderson for the sprints and world time trial champion Bert Grabsch to help propel the team to the lead in the opening team time trial.
But the Columbia and Quick Step teams are not the only ones with some time trial engines – the Garmin-Slipstream team will field a powerful squad including Olympic gold medallist Bradley Wiggins, who has been educating his new teammates on just how fast one can ride a flat six-kilometre race.
Continue to the full preview.
UCI expects WADA Code rule to be successfully defended
"The whereabouts system is a necessary and legitimate tool."
By Shane Stokes
The UCI has stated its confidence that a court application to ban the WADA whereabouts rule will be dismissed. The measure, taken recently by a group of 65 Belgian athletes, cyclists, soccer and volleyball players against the Flemish regional government seeks to use European Union privacy laws to thrown out the provision.
Coming up on
Cyclingnews will cover the 60th edition of the Dauphiné Libéré live as of stage 4 on Wednesday, June 10, at approximately 15:00 local Europe time (CEST)/ 23:00 Australian time (CDT)/ 9:00 (USA East).

WAP-enabled mobile devices: http://live.cyclingnews.com/wap/

It is understood that two other legal challenges are being prepared by FIFPro, the umbrella group of footballers' unions
Under the new WADA code introduced on January 1, all sportsmen and women on the drug-testing register must commit to be in a declared location for one hour a day. This time must be noted up to three months in advance and enables testers to arrive unannounced and take samples from the athlete, if selected.
Three missed tests count as a doping violation. However, any changes to the athlete's location may be registered online, via text message or by email.
The sportsmen and women involved are trying to exploit Article 8 of the European Convention on Human Rights, which concern an individual's right to privacy, to have the rule declared invalid. Spanish tennis player Rafael Nadal – who has rejected rumours that he was a client of Dr. Eufemiano Fuentes – has said that he is prepared to join the 65 Belgian sportspeople in resisting the WADA provision.
The world number one, vice president of the ATP Player Council, claimed that "it is an intolerable hunt. We have proved that we are a clean sport. You can count (doping) cases with one hand."
However, the UCI feels that the court application will be dismissed. "We are confident that the whereabouts information system will stand the legal test," its spokesman Enrico Carpani told Cyclingnews this week.
"The system works well in cycling and the UCI congratulates the riders on their cooperation. It shows that athletes that care about a doping-free sport accept the system, even if it places a burden on them."
There has been a considerable amount of governmental and inter-governmental backing for the introduction of the WADA measure. "The UNESCO convention and national legislation acknowledge the need for unannounced out-of-competition testing," he continued. "The whereabouts system is a necessary and legitimate tool in an effective fight against doping."
In a related move, WADA director general David Howman this week invited athletes' groups for a meeting to defend the whereabouts rule. He said that the new system should make things easier for athletes, as it requires them to nominate their whereabouts only one hour a day, and provides for notification if they have a change of plans.
Howman called on athletes to educate themselves as to what the WADA code actually requires of them. "Give me a call, or come to one of the meetings. Find out something more before you open your mouth," he told the Associated Press on Thursday.
"There are things that need to be learned, we appreciate that," Howman added. "But make sure you learn all the information before you criticize it."
The Kiwi also said that he felt the WADA code would stand up in court. "We took legal advice to make sure that all the provisions were obeying the laws of proportionality," he stated.
Kohl's attorney satisfied
Bernhard Kohl
Photo ©: Roberto Bettini

Bernhard Kohl's attorney said he was right to accept his two-year ban and to be satisfied with it. Siegfried Fröhlich, lawyer for the rider who won the Tour de France's mountains classification and took third overall before testing positive for a banned blood booster said, "From the beginning on, the plan was to hide nothing, but instead to confess to what happened."
Fröhlich noted the public appreciated Kohl's honesty, and opined that the fans are tired of "adventurous excuses" from riders caught doping. He said that the public do not want to hear "from medical experts ... who confirm that this athlete is the only person in the world who gets a higher haematocrit after eating streusel cake."
Kohl actually received only a 21 month ban, the lawyer said. The ban was dated as of the date of the first positive test on July 2, while Kohl continued to ride until the middle of September. This makes him "the first who will be able to start again of all the riders given a two-year ban for doping."
"You could say that Kohl won the sprint of those confessing. I am not aware of any other case, in which a top athlete confessed only two days after the announcement of a positive A sample."
In October it was announced that Kohl, who finished third overall in the Tour de France, had tested positive twice during that race for CERA, the new generation of EPO. The Gerolsteiner rider confessed to having used the illegal drug and was given a two-year ban, which ends July 2, 2010.
BMC hoping for wild-card status
BMC at the 2008 Tour de Suisse.
Photo ©: Isabelle Duchesne

The BMC Racing team is hoping to get the nod from the UCI to race the sport's top events, the team reported this week. Team manager Gavin Chilcott traveled to Switzerland last week to attend the UCI License Commission hearing which the UCI held to discuss the teams' qualifications. The team was granted wild card status in 2008, a designation which is required in order for Professional Continental teams to compete in the ProTour or World Calendar events.
"I feel as though the hearing went well and I am optimistic that they will decide in our favour," Chilcott said in a press release. The team must participate in the UCI's biological passport program in order to earn the designation. "We declared our commitment to the biological passport program which is not something that all Pro Continental teams do," Chilcott said.
Now that Garmin-Slipstream has stepped up to a ProTour license, BMC is the only USA-registered team on the list of Professional Continental squads. The wild card status will be critical in the team gaining entry to two of its major targets, the Tour of Romandie and the Tour of Switzerland.
"We want to be at the Tours of Romandie and Switzerland again this year, and we also want to increase the number of large European races we are invited to," Chilcott said.
2009-2010 UCI Cyclo-cross World Cup schedule announced
Sven Nys, reigning World Cup champion
Photo ©: Riccardo Scanferla

The UCI Cyclo-cross World Cup expands from its current nine-event, six-nation schedule to a ten-event, seven-nation itinerary for the 2009-2010 season with the addition of a race in Schmerikon, Switzerland.
The three Belgian venues, Koksijde, Kalmthout and Heusden-Zolder, the two French venues, Nommay and Roubaix and the Spanish venue in Igorre remain from the current 2008-2009 season's schedule. The Czech Republic's World Cup race site changes from Tabor to Plzen, although Tabor will be the site of the 2010 'cross World Championships, Italy's race site changes from Milan to Treviso and The Netherlands' venue switches from Pijnacker to Hoogerheide when compared to this season's edition.
The Elite men's World Cup will consist of ten races, one more than the 2008-2009 season, the Elite women will contest eight rounds, equal to the 2008-2009 total, while the Under 23 men and Junior men will compete six times, gaining two rounds when compared to 2008-2009.
All categories will compete in Treviso, Schmerikon, Koksijde, Heusden-Zolder, Roubaix and Hoogerheide. Nommay and Kalmthout will be contested by Elite men and women only, while Plzen and Igorre will be exclusively for Elite men.
2009-2010 Cyclo-cross World Cup schedule:
October 4, 2009 - Treviso, Italy
October 18, 2009 - Plzen, Czech Republic
October 25, 2009 - Schmerikon, Switzerland
November 8, 2009 - Nommay, France
November 28, 2009 - Koksijde, Belgium
December 6, 2009 - Igorre, Spain
December 20, 2009 - Kalmthout, Belgium
December 26, 2009 - Heusden-Zolder, Belgium
January 17, 2010 - Roubaix, France
January 24, 2010 - Hoogerheide, The Netherlands
Jittery Joe's merges with Kudzu.com U25 Team
Jittery Joe's changes focus for 2009
Photo ©: Mark Zalewski
The Jittery Joe's team announced Friday that it would join forces with the Kudzu.com under-25 team for the 2009 season. The Jittery Joe's team had stepped away from professional status for this year, and is now refocusing its efforts on developing talent in the southeast US region.
The merger creates the Jittery Joe's p/b Kudzu.com U25 Cycling Team, which will bring in Dan Larson as a team director. Kudzu.com riders Jafer Beizer, Thomas Brown, Oscar Clark and Joey Rosskopf will return, and will be joined by Mike Niemi, former US junior national time trial champion and Anthony Bennett, former Australian junior national scratch race champion.
Micah Rice, who built the Jittery Joe's Cycling team from the ground up commented, "While it is always hard to take a step back, I think we have put together a really strong and reputable program for 2009. Jittery Joe's will always have a strong presence in the cycling community."
The Jittery Joe's p/b Kudzu.com U25 Cycling Team Riders: Jafer Beizer, Anthony Bennett, Thomas Brown, Oscar Clark, Mike Niemi, Joey Rosskopf. Team Director: Dan Larson with additional team support provided by Jeremy Hutchison-Krupat and Micah Rice.
London-Paris organiser launches sports events company
By BikeRadar
Sven Thiele, organiser of the London-Paris Cycle Tour, has launched HotChillee - a new global sports events company with an emphasis on cycling.
Thiele hopes to develop a series of high-octane events starring international sporting heroes. "Our events will push the boundaries and take people to the edge," he said. "We want people to experience the ultimate challenge and to know what it's like to test the limit of their personal endurance."
HotChillee will run this year's London-Paris and has teamed up with BikeRadar for May's BikeRadar Live at Donington Park in Leicestershire, where the company will stage Devil Takes the Hindmost, a demanding elimination race.
Thiele said: "Cycling is a fast-growing sport and people are keen to participate in professionally-run events. The British success in Beijing has inspired the nation to take up pedal power once again and cyclists would relish the chance to take part in high energy, world class events."
Thiele's reputation has grown over the past five years of the London-Paris, which has won respect in the international cycling community for its professionalism. London-Paris 09 is billed as the closest an amateur rider can get to experiencing what it's like to ride in the Tour de France.
"HotChillee will build on the success of London-Paris and take the concept to the next level," said Thiele. "London-Paris has created a network of cyclists with a great sense of camaraderie. Amateur cyclists have been able to ride with their heroes - experienced pros who've reached the top of their sport - and HotChillee would like to replicate that with other sports."
(All rights reserved/Copyright Future Publishing (Overseas) Limited 2009)