First Edition Cycling News, January 25, 2009
Edited by Peter Hymas
Australian fighting spirit back at Française des Jeux
By Jean-François Quénet in Adelaide, Australia
Française des Jeux leads the team classification
Photo ©: Jean-François Quénet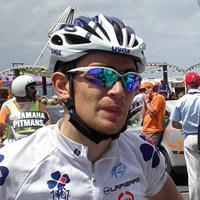 Française des Jeux is close to winning the teams' classification at the Tour Down Under for a second year in a row, but the team spirit inside the French squad seems to have increased even more in 2009. At the end of every stage you can see the riders wearing the four-leaf clover jerseys gathering and talking briefly about their race prior to rejoining their team support van. They are close to each other in the standings as well having successfully passed the test of Willunga Hill with Jérémy Roy finishing fifth, Wesley Sulzberger seventh, Jussi Veikkanen 11th and Mikaël Chérel 15th.
"With these seven guys here in Australia, we form a group of people happy to live and race together," Chérel explained. "The environment in Adelaide also helps a lot for the common happiness. We felt like coming for a holiday and that has been beneficial for our team spirit. We focused on the race to perfection. It's significant to lead the teams' classification, it shows that we're all going well, but we would have enjoyed a stage win, too."
Française des Jeux leads the team classification despite losing Rémy Di Gregorio and Tim Gudsell in a crash during stage three. The New Zealander reported a collarbone broken in four parts and he'll be out of racing for the next two months.
Most of Française des Jeux's riders have in common a university degree. "We actually don't talk about cycling together when we get off the bike," said Chérel, who was hoping to win the best young rider classification. José Joaquin Rojas from Caisse d'Epargne leads Chérel by 10 seconds entering the final stage.
If the general classification remains the same after the last stage, Veikkanen and Chérel will score their first world ranking points in the classification based on the ProTour and the historical races. "In my case it might already secure a spot on the start line for my country at the world championship," said Veikkanen, the champion of Finland.
Another high point for Française des Jeux at the Tour Down Under is the integration of neo-pro Wesley Sulzberger into the squad. The Tasmanian rookie has brought the Aussie fighting spirit back into the French team. 2008 was the only season for Marc Madiot's outfit without an Australian since 1998 following the departure of Bradley McGee after those of Baden Cooke, Matt Wilson and Mark Renshaw. "Everything is really organized in this team," Sulzberger said. "I went to France for a training camp in December and everybody was overly friendly with me and tried to help me speak some words of French. Since we arrived in Adelaide everybody has good morale."
Chérel was the first Française des Jeux rider to tell Madiot the team should sign Sulzberger after Wesley's first race as a stagiaire at Paris-Corrèze in August. "I don't regret my words because we really get on well together," said Chérel, the former French junior champion.
After the departure of Philippe Gilbert to Silence-Lotto, Madiot motivated the young riders left in the team by saying, "There's space for you guys, take your chance." The core of riders travelling together to Adelaide seems to have picked up on the message.
"I feel there is more to be seen this year," said Madiot, talking from Paris. "At our training camp there was a great competitive spirit from all the riders." Matthieu Ladagnous has already paved the way for a good season by winning the Tour of Gabon.
Zirbel sidelined with food poisoning
By Kirsten Robbins in San Luis, Argentina
Tom Zirbel finished second in stage 3's TT
Photo ©: Pablo Cersosimo

USA's Tom Zirbel (Bissell Pro Cycling) was not able to start stage five of the Tour of San Luis due to a bout of food poisoning. The American had to give up his sixth place position in the general classification.
"The sickness came on so fast that I'm thinking it had to have been food poisoning," said Zirbel. "I was throwing up a lot and it came on in the middle of the night after stage four. I've been hydrating well because its been so hot down here. It's a let down in the sense that I'm missing out on some great training and racing."
Zirbel placed second in the stage three time trial and moved into sixth place in the overall, just seconds ahead of his teammate Ben Jacques-Maynes. "In all likelihood I would have lost a chunk of time on yesterday's climb up to Merlo," said Zirbel, who plans on helping the team in the final two stages by preparing water bottles.
According to the Boulder, Colorado, native, traveling down to the Argentina was a good experience, despite his illness. "I took away some good things, the time trial being one of them," Zirbel said. "Getting the early season race jitters out of the way is helpful. When I get to the Tour of California I'll be ready. The tans lines are back and I feel like a bike racer again.
Moser tips Armstrong for hour record
By Gregor Brown
Armstrong would have to do without this aero equipment
Photo ©: Gary Boulanger

Francesco Moser tipped seven-time Tour de France winner Lance Armstrong to break the current hour record and added to speculation that the American could make an attempt as part of his comeback to cycling.
"If I was him I would be back to break the hour record, not for the Tour [de France]," said Italy's Moser to La Gazzetta dello Sport. "I am not saying that he can't return to the top, but he has everything to lose. Re-entering a Grand Tour after three years is risky."
Moser set the hour record 25 years ago, January 23, 1984, with a distance of 51.151 kilometers. He beat the time set by Eddy Merckx 12 years prior, though he used a non-standard bike. The current record on a road-style bike stands at 49.7 kilometers, set by Ondrej Sosenka in July 2005.
Armstrong returned to professional racing this month after he had retired three years prior following his 2005 Tour de France victory. His main goals are the Giro d'Italia, May 9 to 31, and the Tour de France, July 4 to 26.
Moser's comments add to other recent news reports that the hour record maybe under investigation by Armstrong and his coach, Chris Carmichael. The last time he talked about the record was during the build up to his 2005 Tour victory.
Perhaps Armstrong could make a record attempt in Moser's home country at the inauguration of the new velodrome in Montichiari, Brescia. The track is indoors with a 250-metre wood surface.
The record is established by covering furthest distance on a track in a period of 60 minutes. The International Cycling Union (UCI) created limits in 2000 regarding the use of special equipment, disallowing aero helmets, wheels and frames.
Bike Pure recruits more, heading to 'cross worlds
By Shane Stokes
The not-for-profit Bike Pure movement
Photo ©: Bike Pure

The Bikepure.org anti-doping movement is travelling to the cyclo-cross worlds in Hoogerheide next weekend to begin its campaign for the 2009 season. The primary goal is to speak to some of the competing riders and try to add more names to its list of those pushing for a cleaner sport. The not-for-profit movement was started last year in order to promote the drug-free message in cycling.
Recent additions include Olivier Kaisen (Silence-Lotto), Burry Stander (Specialized) and GB talent Lizzie Armitstead (100%ME), while those who have already joined include world MTB champion Christoph Sauser (Specialized), Baden Cooke (Vancansoleil), Dan Martin (Garmin-Slipstream), Nicolas Roche (AG2R La Mondiale), Willow Koerber (Subaru-Gary Fisher), Rebecca Rusch (Specialized MTB), Bert Roesems (Cinelli-OPD), Dan Fleeman and Dan Lloyd (both Team Cervélo),
"It's building very quickly," said Andy Layhe of Bike Pure. "It's a subject myself and Myles [McCorry] are very passionate about. We've had enough of the cheating and deceit making the headlines and wish to promote the clean riders and rebuild the trust with the fan base.
"The Konica-Minolta team in South Africa will carry the Bike Pure logo on their jerseys for 2009, which is excellent," he continued. "Each and every one of their team has signed the honour code. Jelly Belly has also joined and will ride the Tour of California soon. We're hoping that Dan Fleeman and Dan Lloyd will also compete there as part of the Cervélo squad."
Layhe said that he welcomes more teams, riders and the public to join the campaign, which can be done via the Bikepure.org website. "We wish to become an umbrella group for everyone in cyclesport, riders, teams and the cycle trade to protect the sports image and future."
Donations can also be given there, with all contributing receiving a blue Bike Pure-marked headset spacer and wristband. "These symbols will be the mark of a real rider and true performance," he said.
"We are looking for affiliates to help support our fight against doping. Hopefully Bike Pure will build to become synonymous with anti-doping efforts and cleaner cycling. We don't claim to be a complete solution to cycling's doping problem, but wish to give a voice to the clean riders that have up to now been drowned out by the dopers. Fans worldwide need cycling heroes they can believe in for our sport to survive."
Sauser is one of those who feel the same way. "To me it is very important to bring the Bike Pure message to the youngsters, to tell them that it is absolutely possible to win any mountain bike race clean and pure," he stated.
For more information go to www.bikepure.org.
Rasmussen comments on CAS decision
Michael Rasmussen
Photo ©: Roberto Bettini

Michael Rasmussen lost his appeal before the Court of Arbitration for Sport (CAS) on Thursday regarding his two-year suspension for missing out-of-competition doping controls prior to the 2007 Tour de France.
"Now I just have to move on," Rasmussen said, according Danish news agency Ritzau. "This case hasn't been in my favor, and of course I don't feel very well treated. But there's nothing else to do than just look forward and move on."
"Now I know exactly when I can race again and that makes it a little easier to plan the next six months of training," continued Rasmussen. "Until about 24 hours ago I still had a little hope that I would be able to get back earlier. Of course I'm disappointed with CAS' decision, but it doesn't change my ambitions to get back to racing on the highest level again."
Team Cyclesport.se - Magnus Maximus Coffee.com granted UCI Continental licence
Team Cyclesport.se - Magnus Maximus Coffee.com, granted a UCI Continental license for 2009, become's Sweden's first professional team of the modern era.
"There has always been a small number of riders from Sweden who have made it as professionals. Now we can collectively bring all that is good about the Swedish culture and mentality to the running of this team," said Team Manager Martin McCrossan. "The riders have no pressure, there is a bigger picture to this team. All we ask is that they go out and race with the true Viking spirit, with the correct ethos and become the new generation of committed young professionals who want a clean future for our sport."
Team Manager Dennis Nystrand enlisted the help of UK based sports management company Sprocket Promotions to bring in sponsors, which lead ultimately lead to a new partnership with Sprocket owner Martin McCrossan and a mentor in Garmin-Slipstream's Magnus Backstedt.
As well as providing guidance, Backstedt's involvement is also as a sponsor with his own Magnus Maximus coffee brand. After setting up his coffee company to help young riders, the proceeds of sales will now directly fund the team.
For 2009, the team has a mix of Swedish and British riders and they are on a talent search to bring in riders from the USA for 2010. "This is purely a development team and nothing will give us more pleasure than bringing a rider in and watching him move up to the highest level in the sport," said McCrossan.
The 2009 Team Cyclesport.se - Magnus Maximus Coffee.com roster includes Alex Wetterhall (Swe), Max Oste MacDonald (Swe), Niklas Gustavsson (Swe), Freddy Johansson (Swe), Filip Rudenstam (Swe), Johan Nystrand (Swe), Marcus Johansson (Swe) and Daniel Patten (GBr).
Hunter helps shape future champions
Robert Hunter at the 2007 Tour
Photo ©: Cyclingnews.com

Team Barloworld captain Robert Hunter, the first South African to win a stage in the Tour de France and winner of the Cape Argus Pick n Pay Cycle Tour in 2008, spent time at the recent Toyota Supercycling Academy training camp in the eastern Free State, South Africa, with the squad of Junior and Under-23 riders training at high altitude.
Hunter's team sponsor, Barloworld, is a co-sponsor of the Academy, which identifies and nurtures young road cycling talent within Cycle Lab Supercycling club, South Africa's largest cycling club, right from Under-14 through to Under-23 level. Hunter is the patron of the Academy and his presence at the camp made a significant impact on the 15 riders.
"Robbie was great," said Ian Wilson, a camp manager. "He told it like it is and made the Academy guys realize in his uncompromising way that hard work and commitment aren't negotiable in professional road cycling and that if they want to achieve their goals, they need to be prepared for a lot of suffering and hardship in order to achieve success.
"Robbie told them to use their youth to their advantage and painted them a picture of what life is really like as a pro, making them understand that it is not as rosy as it appears," continued Wilson. "He was both honest and inspirational and each of the riders really appreciated that."
The riders each had a turn to ride next to Hunter during a five-hour training ride and to chat one-on-one. During the five-day camp, the riders learned the values of teamwork with both on- and off-the-bike drills.
"Most of the riders in the Academy are at a very impressionable age and we include life skills training, not only at the camps but at every race we participate in," said Wilson. "Whether it's about showing respect to rivals, showing loyalty to sponsors, or simply personal cleanliness and appreciation for equipment. It's our way of preparing them to eventually graduate into big-time professional racing, or, as is sometimes the case, into the corporate world where basic sport principles are just as applicable."
For more information, visit www.cyclelab.com.
(All rights reserved/Copyright Future Publishing (Overseas) Limited 2009)