First Edition Cycling News, February 23, 2009
Edited by Sue George, Daniel Benson & Les Clarke
AG2R steals Rose Bowl limelight
By Kirsten Robbins in Pasadena, California
Rinaldo Nocentini (AG2R) takes the win
Photo ©: Mark Johnson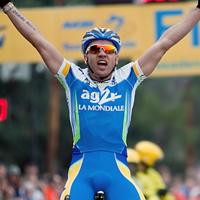 After a week of cold, rain and lack of representation during the Tour of California, the AG2R La Mondiale team mastered its tactics on the penultimate stage to Pasadena, with Rinaldo Nocentini the beneficiary. The Italian out-sprinted what was left of a star-studded breakaway to take his season's first victory.
"This is our first victory of the year so I'm very pleased," said Nocentini. "I think this might even be my most important victory. We had two riders in the front group and I'm really happy with how we played our tactics."
The other break away contenders included strong men Fränk Schleck (Team Saxo Bank), Markus Zberg (BMC Racing Team), George Hincapie (Team Columbia - Highroad), Hayden Roulston (Cervélo TestTeam), Chris Baldwin (Rock Racing), Pieter Weening (Rabobank), Addy Engels (Quick Step), Christian Vande Velde (Garmin - Slipstream).
On the final lap, Nocentini, Roulston and Weening got away from the rest of the break, and the threesome managed to hold their slight lead despite some last-minute cat and mouse action. Nocentini admitted that he thought he had the fastest legs on the final finishing circuits and proved himself correct when he won the sprint to the line.
"Today was a beautiful route but it was a difficult climb. The mountains are very hard for me. This race has been a little difficult with crashes and the bad weather but I stuck with it today and I'm very happy with the stage win."
See Cyclingnews' coverage of stage seven of the Tour of California
Landis breaks radio silence
By Laura Weislo
Floyd Landis (OUCH)
Photo ©: Roberto Bettini

Floyd Landis has avoided the press since the start of the Tour of California, and indeed since he came back from his two-year suspension at the start of February. He broke his silence on Saturday and answered questions at the post-stage press conference after the Tour of California's seventh stage on Saturday in Pasadena. Landis refused to answer any questions about his doping suspension or any of the controversy surrounding the intense battle he launched to fight the testosterone positive which cost him his 2006 Tour de France title.
He did reflect on what it felt to be back in the game, the quality of his first race back. "It's been a very difficult race. Compared to any of the races we'd do in Europe of this length, I can't think of any race that would be harder," said Landis. "I haven't raced in two-and-a-half years, and it is a difficult race to start. I'm a little bit disappointed with how things have gone so far, but we're doing the best we can."
Landis also explained he doesn't have any immediate plans to go back to Europe. Racing close to home in California has been a good experience. "I've missed a lot about racing. It's certainly touching to have so many people come out and cheer for us – not just me but for everyone. And to see that in the United States and have this so close to home, it's very satisfying.
To read the full feature click here.
Mancebo crashes out of Tour of California
By Laura Weislo
Mancebo before crashing out..
Photo ©: Roberto Bettini

Rock Racing lost its leader and the holder of the mountains classification jersey, Francesco Mancebo, on Saturday's stage into Pasadena. The Spaniard crashed on the descent of the day's single classified climb and was taken to the hospital. His team said that Mancebo was receiving medical attention at Huntington Memorial hospital in Pasadena, but as of Saturday evening they were still awaiting confirmation of his injuries.
"We believe he has suffered a concussion as well as a broken hand and elbow. The fact he is unable to continue the race does not in any way diminish his accomplishments or those of the team," a team spokesperson said. "We've lost two incredible riders in Paco and Victor Hugo Pena, but that's bike racing. This is such an exciting team and we are incredibly proud of everything we've achieved this week."
Mancebo held the lead in three classifications for one day after going on a solo breakaway on last Sunday's stage into Santa Rosa. He led the overall race, sprints and mountains jerseys until Leipheimer took over the general classification on Monday. The Spaniard then relinquished control of the sprints jersey when Mark Cavendish (Columbia-Highroad) took the lead on stage five in Paso Robles. He held a nearly unassailable lead in the mountains classification with two stages to go, but after his crash that jersey passed to Saxo Bank's Jason McCartney.
Mancebo's teammate Glen Chadwick said he didn't even know that Mancebo had crashed during the stage. "Some team's riders asked us if Paco was OK - and we said we didn't even know he'd crashed. There were no communications on the radio. Apparently he's cut up and has a concussion, but will be OK."
"It's not a good thing, but we'll be on the attack again tomorrow."
Contador wins in Algarve
Alberto Contador won his first race of the season at the Volta ao Algave, and in doing so sent a clear message to all his Tour de France rivals. The Spaniard finished within the bunch on the final stage - won by Heinrich Haussler in a bunch sprint - but claimed the overall classification by virtue of his second place on the mountaintop finish on stage three, and victory in the following day's time trial in Tavira.
It was Contador's ninth professional win of his career and an ominous sign of form as he builds up to the Tour de France in July. But while he was happy with his early season performance, Contador was keen to make out that victory here in Portugal signified just one step in accomplishing his bigger goal. "This is the first step toward preparing for the Tour. I had a good training camp, but I never know what to expect in your first race. The team worked hard and when the opportunity presented itself, we capitalised. Now I will look to Paris-Nice, a race that I won two years ago," said Contador.
After Paris-Nice, Contador will head to the Vuelta a Castilla y León, the Vuelta al País Vasco and the possibility of racing at some of the Spring Classics. "We will decide about the classics in País Vasco", said Contador. Finally, Contador denied that this victory was designed as a message for Lance Armstrong, who is currently racing in the Tour of California. "By no means, I only go to cycling races and, if I win, better, because it is what I like, to ride bike, but certainly that this has not been any message for Lance. He is my team mate."
Vande Velde back in support role - for now
By Laura Weislo
ToC not to plan for Vande Velde.
Photo ©: Roberto Bettini

Christian Vande Velde stood on the podium of last year's Tour of California when he placed third behind teammate David Millar and winner Levi Leipheimer, but this year he's taken a step back from his usual leadership role due to a bad break on the first stage, where he finished in a group over five minutes down.
The American who wore the pink jersey in the Giro d'Italia last year thinks his bad luck was a blessing in disguise which could help him when it comes to the Grand Tours. "A lot of times I ride above my level here, and pay for it in weeks to come after this race. My form isn't as high as it's been in the past [here], and at the same time the field is so much stronger and the racing that much more aggressive.
The course is also much more difficult with the mountains and the horrible weather we had in the first three days," Vande Velde said. Since the first stage, the Chicago native has been riding for David Zabriskie, who sits in second overall, and Tom Danielson, who is in 11th, and he's enjoying getting back to a role he's played for years before rising to the status of team leader last year. "It's a long season, and sometimes playing a supportive role [is good] - that's my natural habitat anyways. So, I like riding there and supporting my team, and I know it'll come back around 360 degrees later in July." R
ather than sit in and protect the team's leaders, Vande Velde's job on Saturday was to make sure the team was represented in the day's breakaway, and that is just what he did. But getting there wasn't easy. "I knew it was going to be aggressive from the get-go, and our team wanted to get someone in the breakaway. It was super hard - it took 35-40 miles before the breakaway was established, and that was not fun. But once we got away it was a really strong group and we knew it was going to stay away." Coming into Pasadena, Vande Velde was impressed by the huge crowds that lined the circuit around the Rose Bowl.
"The fans were unbelievable. Frank Schleck came up to me and showed me he had goose bumps all over - it was a neat feeling to race through a throng of fans like any Grand Tour stage." A group of three escaped from that breakaway, with AG2R's Rinaldo Nocentini taking the stage ahead of Hayden Roulston (Cervelo) and Peiter Weening (Rabobank). Vande Velde finished in ninth after marking several attacks.
Successful operation for Kirchen
Kim Kirchen's broken collarbone was operated on Friday in Redlands, California. The Team Columbia-Highroad rider crashed in the fourth stage of the Tour of California, breaking his right collarbone and shoulder blade.
"The operation was very successful," said Dr. John Steinman, who conducted the surgery, "and I expect very good recovery from Kim in the next six to eight weeks."
Kirchen is expected to fly home to Luxembourg this week.
Devolder mourns dead friend Nolf
Stijn Devolder is still trying to come to grips with the death of his friend Frederiek Nolf, who died in his sleep during the Tour of Qatar earlier this month. "I can't believe he is no longer there," the Quick-Step rider told Het Nieuwsblad, adding that he thinks of Nolf every day. "Those are difficult and painful moments."
Devolder has recently finshed the Volta ao Algarve, and has a photo of Nolf with him in his suitcase. "I intend to take the photo with me to all my races for the rest of my career."
Rosseler goes under the knife
Sebastien Rosseler underwent surgery today on is left wrist following a crash in the Volta ao Algarve last Friday. The 27-year-old Quick Step rider had been in the leading break on stage three with three other riders, but hit the deck on a fast downhill stretch and was swiftly taken to hospital. The operation was performed by team doctor, Toon Claes at the Herentals Clinic.
Rosseler has been instructed to take three weeks off, after which he'll wear a sling with which he can start some low intensity training. He won't be back to racing for at least 6 weeks. "I'm very upset," said a recovering Rosseler. "I had great form and this accident will keep me out of all the April classics, the races I love the most." Last year Rosseler missed the Classics because of an injured shin. "I'd prepared so well for this season with a lot of training over the winter. I've got the habit of messing things up but I will do all that I can to come back as soon as possible.
Gazzetta mourns loss of Cannavò
By Gregor Brown
Candido Cannavò, former director of Italian newspaper La Gazzetta dello Sport, passed away Sunday morning at 8:45 at the age of 78 in Milan's Santa Rita clinic. Doctors gave his condition as critical after he entered the clinic after suffering a brain haemorrhage last Thursday. Doctors stated cardiovascular arrest as the cause of death.
"Goodbye Director, we already miss you," stated the headline on La Gazzetta dello Sport. Born on November 29, 1930, in Catania, Cannavò held the position of director for 19 years, from 1983 to 2002, helping it become one of the most widely read sports newspapers in Europe.
He began a career in journalism in 1949 and in 1955 joined La Gazzetta dello Sport, as a correspondent. He became director 28 years later when he took over for Gino Palumbo. He received several awards during his career, including the Saint Vincent-Indro Montanelli in 2006 for his contributions to journalism.
"He was an extraordinary person. As a director he was very serious, but at the same time very human," Paolo Marabini, deputy editor of cycling at the paper, told Cyclingnews. "He remained close with us, even after 2002, eating lunch with us daily, even three days ago."
He leaves behind his wife Franca and three sons - Alessandro, Marilisa and Marco. The funeral will be Tuesday in Milan's San Pietro in Sala church.
Cyclingnews sends its condolences to Cannavò's family and the staff of La Gazzetta dello Sport.
(All rights reserved/Copyright Future Publishing (Overseas) Limited 2009)