News feature, January 14, 2008
Season partners: Valverde & Pereiro
Caisse d'Epargne leaders Alejandro Valverde and Oscar Pereiro both finished within the top 10 of general classification at the Tour de France last year, and intend to combine forces again this season to reach at least the podium on the Champs-Élysées next July. But the two Spaniards not only have the French Grand Tour in mind for 2008; they also target other events together as Cyclingnews' Hedwig Kröner found out at the team's presentation in Paris last week.
The two team leaders, Valverde and Pereiro
Photo ©: Hedwig Kröner/Cyclingnews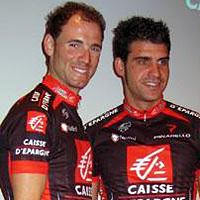 Pereiro and Valverde – 'partners in crime' you'd almost say when looking at their season goals and race programme. The low-key stage race specialist and his more popular and versatile team-mate want to work together throughout the season, to score the maximum of victories and top placings.
"We have a very similar race programme," Valverde told Cyclingnews after the presentation, revealing that the pair will be able to fine-tune its partnership in the lead-up to the Tour de France, the race being the biggest objective.
Goal #1: Tour de France
If all goes as planned, Valverde and Pereiro will be Caisse d'Epargne's road captains in July: Valverde will aim at the podium, and his team-mate at the top 10. "Valverde is a rider that has much more class and quality than I have," said Pereiro full of praise for his friend. "He's one of the best in the world. I can give him some Tour experience, but within the team it's clear that he will be the leader. I will be there protecting and helping him. It all goes like last year, where he was better than I, then that will be the order of things. Of course, if I'm in front, then he will be there for me – we'll be able to play with that, too."
But Pereiro won't put all his money on the Tour, revealing that as soon as the month of May, the roles between him and Valverde could be reversed. In a very determined manner, he explained, "I want to win something before the Tour. Last year was such a hard season for me with all that uncertainty about the 2006 Tour victory, so I have to make up for that now. I want to have really good form in the months of April and May, also for the Ardennes Classics. Afterwards, there's the Tour, in which I will help the team and also try to go for a stage victory – but first and foremost, I want to finish in the top 10 again. Every time I started at the Tour, I was in the top 10, so I'd like to do this one more time. And then, there's the Vuelta, too..."
Pereiro for Liège and Flèche
Full Caisse d'Epargne horsepower: Valverde and Pereiro's legs
Photo ©: Hedwig Kröner/Cyclingnews
But first things first. General Manager Eusebio Unzué confirmed that both riders will be racing the two Belgian Ardennes Classics (Flèche Wallonne and Liège-Bastogne-Liège), and that, contrary to previous years, Pereiro will be given more freedom in these events as Valverde will use them to build up for the Tour de France. "Oscar [Pereiro] will get a bigger role in the Ardennes Classics," said Unzúe. "He will aim at a higher level of performance for the Classics, and be an important asset in our roster for these races."
Valverde, who already won Liège-Bastogne-Liège and Flèche Wallonne in 2006, confirmed this. "This year, I won't race for the victory in the Classics. I will use them more for training and getting up to my peak of form in July. So, if Oscar is on the right level to do something in the Classics, I will help him, for sure. My objectives lie more in the second part of the season, so I will start the year lightly. I will race two days in Mallorca, then the Tour du Haut-Var in France, Murcia, Criterium International... After Flèche and Liège, it's the lead-up to the Tour with the Dauphiné."
Come the big event in July, Valverde added he was glad to have Pereiro by his side. "There has never been a problem to coordinate our collaboration," he said, discarding doubts about the double leadership. "We will both be in front, more or less, helping each other. For some teams, it may be better to have only one leader for a Grand Tour, but in our case I think it will be good to have two."
Finally a World's title for Valverde?
Valverde looks to the 2008 Tour de France
Photo ©: Hedwig Kröner/Cyclingnews

Asked to name his 2008 objectives, the Murcian said, "I will be satisfied with my season if I make it on the podium in the Tour de France, and if I get a good result in either the Olympics of the World's. And I would like to do a good Vuelta, too, but we'll see about that – you can't do everything, you have to choose." At the Spanish Grand Tour, Valverde will again partner up with Pereiro.
Looking back at 2007, Valverde said he missed out on some victories because of bad luck. "It was a good season, but not everything went as I would have wanted," he explained. "I won seven races, but I got second 14 times – that's a lot! Which means that with a little more luck, I could have won more." Asked if he wanted to invert those figures for 2008, the Murcian laughed: "Hopefully, hopefully! But I think 14 victories will be hard to achieve!"
Pereiro also had a difficult season last year, but because of completely different reasons. The official attribution of the 2006 Tour de France title in October was a "liberation" after a season "completely out of focus. It was hard waiting for the whole thing to become clear. I mean, the Tour de France being the most important race in the ProTour, it shouldn't have to remain without a winner for 14 months! People kept asking me about it during all this time, and I was powerless like this sport where it seemed everybody could just do as they pleased and there weren't any rules to abide. I wasn't in favour of condemning Landis, but the whole thing should have been more clear from the beginning."
Pereiro's 2006 Tour win "weird feeling"
Oscar Pereiro
Photo ©: Hedwig Kröner/Cyclingnews

We asked him if, deep down inside, he really felt a Tour de France winner, after all that had happened. "It's a weird feeling, really," Pereiro replied, carefully weighing his words. "I'm lucky to have worn the yellow jersey during five days, because I have photos of it. Little by little, the victory sinks in because looking at the pics, there I am wearing yellow on the [stages] podium. But still, when I say 'I've won the Tour' out loud to somebody, it sounds so strange. Well, I'm in the history books now, and that counts for something."
The 2006 Tour had been the most irregular one by far for the last few years, with spectacular changes in leadership, terrible backdrops and 'miraculous' come-backs. For some observers, it will forever remain a falsified edition, but Pereiro disagreed. "The fact that I was given so much advantage [on stage 13 to Montélimar - ed.] – well, that's just how the race goes. I mean, if Voeckler hadn't been given any advantage three years ago, he wouldn't be famous today, either. Everyone has to make use of his own racing characteristics. Maybe it wasn't a 'normal' Tour, but losing 26 minutes on the stage to Pla de Béret [stage 11] wasn't normal for me, either."