News Feature, January 19, 2008
Quick Step: On the eve of a crucial season
The Belgian Pro Tour team Quick Step – Innergetic officially presented their squad to the attending press on Friday, and just a few hours later they repeated the presentation for the visitors of the Velofollies exhibition in Kortrijk, Belgium. Rather than focusing on today's rumors circulating about Tom Boonen's romantic life, Team manager Patrick Lefevre started off by telling members of the press about his decision to step down as president of the AIGCP, the difficulties of finding a new sponsor and, of course, about his 2008 line-up. Cyclingnews' Brecht Decaluwé in Kortrijk was in Belgium for the presentation.
Team manager Patrick Lefevere
Photo ©: Stijn Vercaemer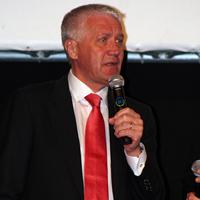 The Belgian manager reviewed all of his riders, taking a final look back at the 2007 season. "It wasn't an easy year, and for the first time in fourteen years we didn't win a Spring Classic," said Lefevre, who admitted the team had also been troubled with doping allegations.
Lefevre had led the cycling team's union, but stepped down after the Tour de France. "Everybody was blaming the teams and the riders for the doping perils. Then again, when you see that the organizers and federations are keeping mud fights, then it's obvious that the value of cycling is brought down; just like in Belgium there's no government in the cycling world," said Lefevre who was referring to local political problems.
After thanking members of the press who stayed calm and engaged throughout the tumultuous 2007 season, he said, "With the ARD case people could see how you shouldn't practice journalism. With the whereabouts system and the bio-passports the riders are giving up on a major part of their private life. Hopefully we still have some credit left," Lefevre asked for faith in his racers. "Hopefully the sporting aspects [of cycling] will win over non-sporting troubles [like doping]."
Looking at the 2008 season, Lefevre declined to show much enthusiasm. He failed to find a new main sponsor last year, and time is running out. "2008 will be a very important year. Everybody in the team is at the end of their term – riders, sponsors, mechanics, managers... which is the result of the ProTour system which obliged us to work in terms of four year," said Lefevre with regard to the effects of the UCI's ProTour structure.
Lefevre said that a new main sponsor had been expected to take over from Quick Step and Innergetic, but due to the doping problems in the sport, it decided not to support the team. Luckily for the managers and riders, current sponsors decided to extend their support for another year.
"It's been a month now since the team started working and now I can say that I feel at ease."
- New director Dirk Demol, freshly arrived from Team Discovery Channel
"Normally we would've stopped, but when the new main sponsor pulled out we took responsibility and stayed together, with Frans [De Cock from Quick Step]," said Luc Maes from Latexco of Innergetic. Quick Step has supported Lefevre for a decade, while Innergetic has been a faithful co-sponsor for four years.
The team's line-up for this critical season bears a strong resemblance to the 2007 squad, with only Matteo Carrara (Unibet), Alexander Efimkin (Barloworld) and Stijn Devolder (Discovery Channel) being new names and veterans Serge Baguet, Peter Van Petegem and Cedric Vasseur gone after ending their careers.
With the defending Tour de France's green jersey of Tom Boonen and the double World Champion Paolo Bettini on the team, it is obvious that Quick Step will be there in the bunch sprints and the big one-day races. For the Grand Tours the team has plenty of talent, although it is lacking a clear leader who has proven he has a chance for a podium finish in Paris.
Paolo Bettini, the current world champion,
Photo ©: Stijn Vercaemer

With directeur sportif Dirk Demol, Quick Step has attracted an experienced man who helped his former team Discovery Channel to multiple wins in the Tour de France. The man who stood next to Johan Bruyneel on the most successful American team ever talked with Cyclingnews about his transfer to Quick Step. "After the first meeting I knew it would become Quick Step, if my American team would stop. The differences are obvious, as in this team we work hard to get ready for the Spring Classics, whereas the focus was on the Tour de France in America.
"Quick Step is a real challenge for me since we have strong riders for every terrain," Demol analysed his new team. "I'm happy that it clicks with 'Fitte' [Wilfried Peeters], but I knew that already before I signed the deal. It's been a month now since the team started working and now I can say that I feel at ease," Demol said to Cyclingnews. "If you're new at a team you can't just say what you want to everyone. You need to accommodate the team's culture."
All riders present were introduced by the team manager on the podium in Kortrijk. Missing were six riders who had flown to Australia for the Tour Down Under. For the upcoming Spring Classics the team has Boonen, Gert Steegmans and Stijn Devolder. They will aim to be strong in Flanders and Roubaix. Paolo Bettini is the sole team leader for the Wallonian Classics like Liège-Bastogne-Liège.
In the Tour de France Boonen will be the man for the bunch sprints and the green jersey while Devolder and Juan Manuel Garate will focus on a good GC.
Juan Manuel Garate, is the former Spanish champion.
Photo ©: Stijn Vercaemer

Bettini is keen on defending his world title. A third consecutive title in home turf in Italy isn't impossible for the Italian team leader. "It's a tough course in Varese, and you need to be in top condition, but I think I can do it," Bettini said. A couple of the team's riders hope to be lining up in China for the Olympic Games including Bettini and Devolder who feel that they have a chance for a medal.
The Belgian team's enfant-terrible is Wouter Weylandt, a rider who could feature in the four kilometer team pursuit. This rumour was spread around last week and Weylandt explained how he felt about it. "Well, we would be a great team, with Boonen, Steegmans, Rosseler and myself. We could improve our technical skills before the Tour and then focus on our form. Nobody will be in the line-up for the road race, nor the time trial, so that would be a way to get to China." Weylandt was taking the idea seriously, but the talented Belgian with his fancy haircut pointed out that the idea wouldn't become a reality since Quick Step was not supporting the idea. "And I'm not going on my own," finished Weylandt.
2008 could be the year in which Lefevre's men win a big Classic once again, Bettini takes his third world title and perhaps also extends his claim to Olympic champion. Besides those sporting challenges, the team will have a few judicial obstacles to overcome.
"The team has already won one battle, and I'm looking forward to the second and third trial, hoping that justice can take place," Lefevre said, trying to sound ready for his legal fight with Belgian senator J-M Dedecker and Belgian newspaper Het Laatste Nieuws.
For the full roster, see the Cyclingnews teams database.
Earlier in January Cyclingnews attended a team training camp in Spain. Read an article about the camp or an interview from the camp with Tom Boonen talking about the upcoming season.
Photography
For a thumbnail gallery of these images, click here
Images by Stijn Vercaemer