News feature, November 5, 2008
Armstrong looking for balance
Armstrong is thinking about his 2009 plan
Photo ©: Mike Gladu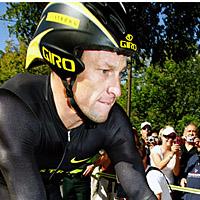 After his session in the San Diego Air and Space Technology Low Speed Wind Tunnel on Tuesday, Lance Armstrong sat down with Cyclingnews' Bruce Hildenbrand to talk about his comeback, the Tour, Linus Gerdemann and time trial positioning.
Of course, the subject of Armstrong's possible participation in the 2009 Tour de France was a hot topic. "I want to say that I am not trying to be coy. I am not playing games with them [ASO], with the fans, the media. I simply don't know and I am not in a hurry to decide." said the seven time champion.
"I am realistic about a lot of things when it comes to the Tour and I know there is tension between the French fans, French media and certainly with the organizers. And I don't want to deal with it now or perhaps even in July. I don't think we are all going to sit around and sing 'Kumbayah'."
"So, I have to find this balance of 'do I want to try to go for an eighth Tour or help the team win a Tour' or 'do I want to help further the international cancer campaign' and all this over the animosity that exists."
"I don't think we are all going to sit around and sing 'Kumbayah'."
- Armstrong is aware of the strained relationships with the Tour de France.
For now, the decision to ride the Tour is on the back burner as Armstrong prepares for an early start to his 2009 campaign and a possible challenge in the Spring Classics. "I am going to Italy [Giro], Tour of Flanders, all the classics of cycling [except Roubaix], Tour of California, Criterium International, Circuit de la Sarthe, but I don't want it to appear as if we are playing games with them [Tour organizers] or the fans. It is simply not a decision we are ready to make," he added.
The 1993 World Champion offered an interesting insight into his love-hate relationship with the Tour and the French fans. "The media likes to play it up with all this suspicion in and around doping. That suspicion exists in cycling but it makes no sense that you cross a border from France to Italy and that suspicion goes away and you are all of a sudden welcomed. It is just a personal animosity."
Man or machine?
Armstrong tests the best equipment
Photo ©: Gary Boulanger

So what does he believe is behind the French anti-Armstrong mentality? "I think the way that I raced the Tour, the methodical robotic approach to racing; not showing emotion; not showing pain, suffering or ease. It's not a popular style of racing in France."
"To them, panache is the guy who suffers swinging all over his bike looking like he is about to fall off. I never found that to be an effective way to try and win. To me it was also a game you played with the competitors and their coaches and the directors and the fans. We were always using that to our advantage. They [the French] didn't enjoy that," said Armstrong.
Packing heat in the team car
The animosity got so great during his record breaking years that Lance faced real dangers on the road. "I knew that the threats existed. On l'Alpe d'Huez in 2004 I was going to break the record so I had to decide, do I take a risk here and go for this record or do I say, 'no it's not worth it'. I decided to go for it."
"He better hope he doesn't get in a breakaway with me because I can still ride hard."
- Armstrong may make Gerdemann his new Simeoni.
"We had good support from the French authorities and from the French police. We essentially had secret service guys embedded in our team with a couple of French guys packing heat in the car, too. That's always good. You hear about these journalist who are embedded in a team, well we had French police embedded in our team."
Who the hell is Linus Gerdemann?
Recently, German rider Linus Gerdemann said that Armstrong's return may not be in the best interest for the sport's credibility. "He's right, I am older. I raced with Sean Kelly, Stephen Roche, Miguel Indurain and Greg Lemond of all people. I have been around a long time and I don't know who the hell Linus Gerdemann is, but I know that when I rolled up in 1992, I started winning races. And when I roll up in 2009, I am gonna be winning races. He better hope he doesn't get in a breakaway with me because I can still ride hard," said the Texan.
Strike a pose
Aerodynamic guru Steve Hed consults with Lance Armstrong
Photo ©: Gary Boulanger

While he will be using his 2005 Tour time trialing position as a baseline for his wind tunnel testing, Armstrong acknowledged that the status quo will not cut it and that in order to be competitive, he'll have to redefine and modify his postion – something he was keen to do at last week's Tour de Gruene. "Well, the rules have changed a little with regards to hand positions, but you have also seen positions change in general. Guys are going longer, narrower and trying to hide behind the hands."
"They drop the chin toward the [front] hub. Look through the upper part of the eye and really get that whole thing (head, helmet) out of the way. All the while you have the limit on the fore and aft on the seat which you can kind of get around with a shorter seat, but there are limits on the length of the seat."
"I have this hump in my back and I can't rotate my pelvis to straighten it out. I will go longer, narrower and more behind the hands if I can," said Armstrong.
"Last Saturday I tried a whole new position, seat back, nose of the seat up, elbows very narrow and bars low and I couldn't pedal the bike. So Sunday we went with nose of the seat down, moved the seat forward, widened the elbows and raised the bars. It was still fast but not as fast. However it felt infinitely better. So if you are 5% slower in the tunnel, but you gain 25% of your power back, that's what I mean about the perfect intersection of power and position," said Armstrong.
Cyclingnews' complete coverage of Lance Armstrong's comeback.
Photography
For a thumbnail gallery of these images, click here
Images by Gary Boulanger
Images by Mike Gladu/Photosport International