News feature, June 12, 2008
Support and criticism for Boonen
By Susan Westemeyer
Tom Boonen (Quick Step)
Photo ©: Ben Atkins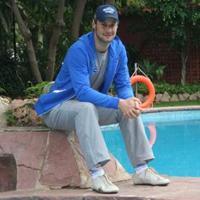 "It is not easy to be Tom Boonen: the pressure on him is great," according to Patrick Lefevere, team manager of Team Quick Step. "Tom has made a mistake," he acknowledged on HLN.be, "but there is a difference between the person Boonen and the cyclist Boonen. The man Boonen has made a mistake."
That is Quick Step's position in a nutshell: Boonen's positive test for cocaine is a personal matter and they will not allow it to interfere with his cycling career. Cocaine use is a sporting violation only when used during competition, and this was an out-of-competition control. Therefore, according to the team, there is no doping violation and thus no reason to sanction their star sprinter.
Not everyone agrees with that philosophy. Tour de France director Christian Prudhomme announced Wednesday night that Boonen will not be allowed to ride this year's Tour de France, saying, "Tom Boonen is a great champion, but a great champion also serves as a role model," according to Sporza. He added that the team is still welcome, and Lefevere indicated the Quick Step team will ride the Tour, "with or without Boonen."
Boonen has also been excluded from the Tour de Suisse, but the Ster Elektrotoer said Wednesday evening that he could ride there. After an internal discussion and conversations with sponsors on Wednesday, organisers will allow him to take the start of their race starting June 17 and running through June 21. "We are speaking here of a private matter and we do not want to nor will we make a judgment about that. As far as we are concerned, he is welcome in our race," said race administrator Huub Snoeks in a press release.
However, both the team and the sponsors strongly indicated that they would continue to support Boonen and help him through this "difficult personal moment". In fact, main sponsors Quick Step and Innergetic both announced at Wednesday's press conference that they would extend their contracts for an additional three years. Both contracts were scheduled to expire at the end of this year.
"Tom is going through a difficult personal moment at present. We'll be letting time pass by ... and then we'll start working again for the future."
-Team Quick Step's Patrick Lefevere speaks in support of Boonen.
"Both sponsors and the team have faith in Tom – we've had some of our most significant moments in the team's history with Tom. It is not a habit of ours to abandon our athletes. Tom is going through a difficult personal moment at present," said Lefevere in a team press release. "We'll be letting time pass by a little and then we'll start working again for the future."
Quick Step CEO, Frans de Cock, echoed that sentiment on behalf of the team. "Tom is and remains a great champion. For this reason we have great faith in him for the future. Things would have been very different if it was a doping problem. What happened is personal and private matter."
Lefevere said that he had been planning to call a press conference for this Thursday to announce the sponsors' extensions, but moved it up a day because of the Boonen situation. "Under the pressure of the circumstances we have had to advance the press conference. After discussions with our sponsors we definitely have to affirm our trust in Tom Boonen." according to HLN.be.
"The negative things that have happened, they are not good to talk about, but Boonen has also given us many beautiful moments over the last six years. We hope that he will continue to do so in the coming three years. Tom did something stupid, but what has happened, has happened."
"We want to make a point and emphasise that we will not put up with any rider who behaves that way."
-Tour de Suisse Director Armin Meier offers criticism of Boonen's behaviour.
The team manager confessed to HLN.be, "I was really very frightened Monday evening when I heard the news. Tom called me up and asked if he should come by, but I refused. I just wanted to be alone."
He emphasised that the team had an obligation to stand behind its troubled star. "When Tom wins, we stand to cheer him. It would not be just to let him fall now." Lefevere is willing to give the sprinter as much time as he needs, according to HLN.be. "How long he will remain on the sidelines, I do not know. But it is better that he now takes a rest and finds peace."
Team Quick Step is standing behind Boonen
Photo ©: Ben Atkins

In his prepared statement, Boonen apologised to his family, friends, team and fans, but only for causing them pain. He did not admit guilt, saying only, "I'm not perfect." The word cocaine was not mentioned.
Others were not as quick as Lefevere to forgive Boonen. Armin Meier, director of the Tour de Suisse, announced Tuesday that the sprinter would not be allowed to start in the race."We want to make a point and emphasise that we will not put up with any rider who behaves that way," Tour director Armin Meier said. "It doesn't matter to us whether it is a world star or any other rider."
"Armin Meier sits back in his easy chair and plays judge," responded Lefevere on HLN. "Do you think he has even bothered to call me?" He also denied that the race had a right to exclude Boonen. "The Tour of Switzerland is a ProTour race with start regulations and rights. They can't simply deny Boonen a start."
"We could easily overturn the decision to impose a prohibition on his start at the Court of Arbitration for Sport (CAS)", Lefevere continued "but it is better that he keep a low profile right now."