News feature, May 17, 2006
Domani sera in Pontedera
By Anthony Tan in Lido di Camaiore, Italy
One can only guess what will happen in one of the most important stages of the 2006 Giro d'Italia this Thursday, but there's more than a few willing to bet that Team CSC's Ivan Basso will be holding onto his maglia rosa tomorrow evening in Pontedera.
"I have only one focus: to go full gas,"
Photo ©: Anthony Tan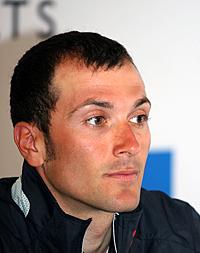 So what does the maglia rosa do on his last rest day before the finish in Milano, an entire eleven days from now?
"I woke up at nine o'clock, went two hours on the bike, where I went to Pisa to do one lap of the time trial and I came back. Nothing special. Soon, massage and eat," he says with all the reserved calm we've come to expect.
On a bustling beachside Wednesday afternoon, CSC leader Ivan Basso chose to hold a short press conference at the team's hotel in Lido di Camaiore, a half-hour's drive away from where the race of truth will start and finish tomorrow in Pontedera. And despite his tranquillo nature, the 28 year-old admitted that wearing the weight of expectation that goes with the maglia rosa has been far from the slight breeze that one currently felt, gently whipping across the Méditerranéen.
"No, I think it's all learning - it's not easy to ride with the leader's jersey. But it's good for my improvement to ride with the leader's jersey for as many days as possible, and I feel day by day more comfortable [wearing it]. But honestly, I feel more comfortable because I have eight teammates always around me, and who are all really strong; whenever I turn my head, I see two on the right, two in the front, three in the back... and I'm easy, because I'm always around my teammates, and you feel... safe."
"But," adds Basso pointedly, "my teammates always stay around me if I have the maglia rosa or I don't; my teammates believe I'm good until the final [day], and they're not staying with me now just because I have the maglia rosa - the first seven days they stayed around me, too."
"Remember last year, when I lost one hour? The next day, my teammates pulled the whole day to try and win the stage. And this is our philosophy."
- Whichever way things go in the next 11 days, Ivan Basso says his teammates will stand by him through thick and thin
No doubt this is in reference to what happened last year, where a stomach bug took what looked like an unbeatable Giro contender and ripped his podium dreams to shreds. Images abound of a deflated, defeated Basso, stopping at the top of a rain-soaked climb, his team manager and confidant Bjarne Riis helping him put his jacket on, asking - encouraging - him to stop. Despite losing the best part of an hour on a single stage, though, he wouldn't. He couldn't.
"Remember last year, when I lost one hour?" he says. "The next day, my teammates pulled the whole day to try and win the stage. And this is our philosophy."
Asked how careful he's being with his diet this time around, Basso provides a slightly quizzical reply: "I think last year was not because of what I ate.
"Many, many people wake up one morning and have pain in the stomach and go to the toilet and throw up, and you don't know why. I didn't do anything bad last year: in the morning, I woke up, I had breakfast, and then I stayed in bed... I don't know why. This year we have a chef with us, so we have more security, but I think it was just bad luck last year, not because I'm crazy. I don't eat eggs or omelettes or anything like that."
"Yes, of course!" Basso replies with a massive grin, asked if the pasta is cooked al dente by their Danish chef. "The chef will open an Italian restaurant in Copenhagen after the Giro and he will make a lot of money," he jokes.
With a personal chef on board since the start of the race, Basso was not looking in the least bit queasy this afternoon; rather, the slight squirming in his seat indicated he was becoming peckish, despite being two hours away from dinner still. But first, there was the not-so-small matter of discussing what may happen domani sera (tomorrow evening) in Pontedera.
Despite his tranquillo nature,
Photo ©: Anthony Tan

"I think it's really important," Basso concedes, placing great emphasis on his choice of words. "Tomorrow is like a mountain stage, and in the next ten days, we have eight days of danger - only Milano and maybe Brescia [are not dangerous] - but the other days are really tough, and the time trial is part of this dangerous group [of stages].
"First of all, I expect a good day from me. I expect to do a good time trial, but it's different after ten days' [racing], ten hard days. I don't know what the classification will be tomorrow night, but I have only one focus: to go full gas and tomorrow night we see who is good and who is bad. It's difficult to make a forecast about the time [gaps]."
Does he feel greater confidence after Discovery Channel came up a little short in the fifth stage team time trial, which first exposed a little weakness from Savoldelli?
"We don't discuss about the other teams," he says diplomatically. "We are happy with our victory and that's it. For my team, it was good to win the stage, and we don't talk too much about the other riders."
Prodded a little more on this 'danger group' as he calls it, Basso adds, "I have respect all the stages, but I think Plan de Corones is something special and is special for everybody. Those last five kilometres, it's going to be hard to know what to expect."
"We'll talk about that when it comes. Maybe I don't have the maglia rosa in the mountains, you never know... it's better to go day by day and don't put too much pressure on yourself, it's better to continue [each day] and do what I can."
Our maglia rosa also had some interesting observations about who may be his biggest rivals at the Tour de France, noting the steadily improving form of 1997 Tour champion Jan Ullrich. "I think he'll finish in the top three. It's a good time trial for Jan and I see him in really good condition. Of course, he's not here to win the Giro, but he's working hard for the Tour de France and I think tomorrow's a good test. He will make [the stage] a good race."