News feature, June 23, 2005
Voigt's best season ever?
CSC's #1 Tour priority: get Basso on the podium
By Anthony Tan
Jens Voigt (CSC)
Photo ©: Christine Grein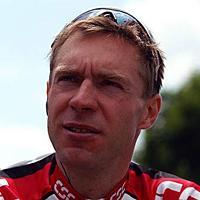 "Yeah, but I think last year was also not bad," said Team CSC's man for the breakaways, Jens Voigt, to Cyclingnews when asked if he rates 2005 as his best season so far.
"[In 2004], I was third in the Tour of Med, fourth in Paris-Nice, I won the Criterium [International], I won Bayern Runfahrt in Germany... so last year was not bad. But this year was also fantastic: so far I have eight wins - seven if you don't count the team time trial in the Tour of Med, but I still count it; we won, we were on the podium, so that's a win. So even if I don't win any more, the season is already good."
One race Voigt didn't mention was his second place in Liège-Bastogne-Liège on April 24, where he narrowly missed out on victory after being in a 50 kilometre two-man escape with eventual winner Alexandre Vinokourov (T-Mobile). Arguably, it was the 33 year-old's best Classic result ever, even though his palmarès indicates wins in Paris-Bourges and the Grand Prix Cholet, as well as numerous stage - and stage race - victories, perhaps his finest coming on the sixteenth stage of the Tour de France in 2001, where once again, he found himself in a breakaway.
"Always does, always feels good enough!" said Voigt with a big smile when one brings up the topic of a possible escape during last week's Tour de Suisse. "My Dad always used to say: 'Listen son, your mind controls the body, not the other way 'round' - so sometimes you just have to set your mind on something and then it happens."
Earlier last week, the friendly German said he was suffering a lot, a consequence of taking too much time off racing after a successful Spring campaign. But on a tough final day in Ulrichen, which included 50 kilometres of climbing on a 100 kilometre stage, Voigt came good and got himself in the early break, before dropping back to help their GC man Frank Schleck as much as he could on the final climb, the Luxembourger finishing second on the stage and fourth overall.
"Well, I have to say that maybe I took a little too much time off... Four weeks without racing - you train good, you train a lot - but you don't know where you are. You see other people getting better, getting results and winning races - but you're just at home training... great time for the family, but I think it was maybe a week too much without racing.
"Then after the Bayern tour, I had almost another two weeks off then all this... I was not good enough. But now I find my rhythm every day [getting] better. So I think I'm getting there - I just need to get some good quality racing days in."
A good man to have at the Tour
Photo ©: Sirotti

Clearly, Voigt will be an important man for Team CSC's Tour campaign: following last Sunday's stage of the Tour de Suisse, he was named as one of the final nine, destination France. Led by Ivan Basso, and also including Bobby Julich, David Zabriskie, Kurt-Asle Arvesen, Giovanni Lombardi, Carlos Sastre and Nicki Sørensen (the ninth rider will go to either Jakob Piil or Luke Roberts), it's a formidable and very well-balanced line-up. One that could go for a number of different objectives, such as the podium, stage wins and maybe the teams classification - so how will these objectives be prioritised?
Said Voigt: "The highest priority is for Ivan to go for GC, for the overall, and then we'll see how things happen, how it works... sometimes the best defence is to put somebody out there, so you don't have to ride behind. That would be my chance, my job - or Kurt-Asle Arvesen or Jakob Piil, for example. But we really want to go on the podium again with Ivan; we really would like to trouble Lance and Jan Ullrich a little bit more."
Speaking about his fellow countryman's form less than 10 days away from his eighth assault on the Grand Boucle, he said: "In the [Tour de Suisse] time trial [Stage 2], he laid it all out on the line and there was no holding back; he's really strong - on the flat and the flatter climbs, where he just uses (turns his arms slowly)... crunch power.
"I haven't seen him in the high mountains," Voigt said before the start of the sixth stage of Suisse. "It's the first race I'm doing with him the whole year - but to me, he looks pretty fine, he looks pretty good. It's going to be the eternal duel between Lance and him again... that's what it looks like."
Finally, on his American team-mate Dave Zabriskie, who enjoyed a fantastic Giro d'Italia and is clearly a rider for the future, he said: "Dave probably has more potential than he knows.
"You need to get into him; at first look, you go: 'Oookaaay... " his face turning to a quizzical expression, "but a week into the training camp, you go: 'he's a great guy.'
"And a really loyal team member - it's definitely a win for the team that he signed for us. I mean, he already helped me win the Tour of Med - he rode like almost three [men] and was the backbone of our defence, and it looked like it was the same at the Giro. He can really dig deep and really hurt himself - so yeah, I really rate him as a team-mate and as a friend."