News analysis, November 19, 2004
Anderson report recommends AIS reforms
Or, how to investigate doping without a positive test
Some puzzles answered; some still unclear; bizarre piglet iron link uncovered
By John Stevenson
The full stage one report of the Anderson inquiry
Photo ©: CN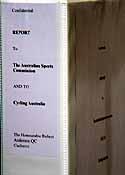 In December 2003 cleaners at the Australian Institute of Sport's Del Monte facility in Adelaide found a large plastic bucket containing injection paraphernalia, phials of equine growth hormone and packets of a homeopathic glucocorticosteroid preparation called TestiComp.
That discovery led to the almost certain end of the career of young sprinter Mark French, in whose room the bucket was found, and threatened to derail the preparations of the entire Australian track cycling team in the run-up to the Athens Olympics.
After three investigations into the affair and an enormous amount of negative publicity for Australian cycling, the latest stage of the official report from the enquiry conducted by retired Supreme Court Justice the Honourable Robert Anderson QC exonerates the riders implicated by French; reveals who actually used the equine growth hormone and makes some interesting recommendations as to how such situations should be handled in future that are relevant to all sporting bodies, not just Australian ones. It also leaves open some questions about the involvement of the Australian government and media in the ensuing furor, and finds that someone at the AIS was conducting some interesting Internet searches.
The Australian track cycling team bounced back in the most spectacular possible fashion at Athens, collecting its biggest track cycling medal haul in history. Nevertheless, in the months before Athens five members of the shadow team - Shane Kelly, Jobie Dajka, Sean Eadie, Graeme Brown and Brett Lancaster - found themselves accused of using French's room to inject themselves with various substances. The sport as a whole was subjected to an unprecedented media campaign of suspicion and hostility.
The findings
A major finding of the second stage report was that there was no culture of drug use at the AIS Del Monte facility in Adelaide. French had alleged that he had been part of group injecting sessions, but the report concludes that this allegation is unsupported by any evidence.
Other major findings of the report include:
A strong recommendation that there should be an independent body to investigate suspected infractions such as substance abuse and to carry the prosecution of persons against whom evidence is obtained;
That DNA testing of the contents of French's sharps bucket links only two cyclists to use of banned substances, French and Dajka;
Brown and Lancaster admitted self-injecting vitamins while overseas, claiming that they only injected permitted substances and complied with disclosure requirements. AIS frowned on the practice of self-injection but there were no rules or guidelines about it. This has been rectified. "There is now in place a policy of zero tolerance regarding the use of needles," says the report.
One unusual aspect of the French case is that the drug use took place in a government-funded facility. That introduces different standards of accountability and public perception than might be the case for, say, a professional team, and the Anderson report is very mindful of this.
Australian Senator John Faulkner's emotive and wholly inaccurate description of French's room as a "shooting gallery" is singled out by Anderson as an indication of the strength of the reaction when publicly-funded athletes appear to be guilty of misdeeds.
Anderson therefore recommends that AIS athlete agreements should contain a provision for random searching of the athletes' rooms and that a system of such searches should be implemented.
Should such a search - or any other situation - turn up evidence of doping infringement, then Anderson recommends the subsequent investigation should not be conducted by sporting bodies or the AIS, for several reasons: coaches, administrators and domestic staff as facilities such as Del Monte do not have, and should not be expected to have, investigative skills; investigators employed by such bodies will always be accused of conflict of interest; the capacity of the various sporting bodies to handle such an investigation is highly variable - some bodies would not be able to conduct such an investigation; an independent body should therefore handle the investigation.
Anderson draws this conclusion after extensively documenting the investigative process that occurred after the major piece of evidence, the sharps bucket, was found in French's room. He identifies a failure to treat the discovery as a 'crime scene' and to apply appropriate forensic rigour in the handling of the sharps bucket. As it happens, none of the resulting findings and sanctions depended on, for example, the position of samples within the bucket, but they might have.
Several times during the subsequent investigation and CAS proceedings there were delays, sometimes for legitimate reasons, sometimes unexplained. For example, tests in December 2003 that were expected to take a couple of days took two weeks; in February 2004, French and his solicitors took the full permitted two weeks to respond to the initial infraction notice; and in March 2004, the CAS in Switzerland took two weeks to decide French's case should be heard by just one arbitrator. The total effect of these delays was to give the impression that the case was somehow being covered up. Anderson finds that these delays were generally innocent or the result of well-meaning attempts to conduct fair and comprehensive investigations, though they had the unfortunate effect of fuelling the media hysteria around the case. Again, an independent, external investigating body might have had the skills to speed the investigation along.
Who leaked?
A serious aspect of this case in terms of the rights of athletes accused of involvement in doping is the leaking of the in-camera evidence given by French to the Court of Arbitration for Sport. French initially presented himself as a victim of a culture of drug use at AIS Del Monte. He claimed he had been induced to buy TestiComp for a more senior rider (a claim that eventually resulted in the Australian Olympic Committee banning him for life for trafficking), and claimed other riders had used his room to inject themselves. For several months, however, he refused to name the riders.
On May 28, French's solicitors delivered to the CAS, Australian Sports Commission and Cycling Australia, a written statement which named the five riders French claimed had used his room to inject themselves: Sean Eadie, Shane Kelly, Jobie Dajka, Graeme Brown and Brett Lancaster.
Such evidence given in CAS hearings is supposed to be confidential, and it's not hard to see why. In this case, for example, none of the five was called as a witness. French's evidence was considered unreliable; Brown and Lancaster were racing in Europe and the five would likely have wanted their own legal representation because of the seriousness of French's claims. Anderson concludes that it was sensible not to add further delays by involving the five, and therefore their names should have remained confidential as they had no opportunity to defend themselves.
However, in a politically-motivated attempt to score points against Australia's Liberal government, Labor senator John Faulkner revealed that French had named the five, and their names were subsequently published, unleashing a storm of media opprobrium against the participants in an alleged "shooting gallery". Even after Brown and Lancaster had established they could not possibly have been present because they were not in Australia at the time, the Australian mass media continued to mention their names in connection with the case.
Who passed French's evidence to Faulkner? According to Anderson, the bodies or individuals that had access to the report included French and his solicitors; Cycling Australia; the Australian Sports Commission; and CAS staff. Speculation was rife that John Coates, president of the Australian Olympic Committee was the source of the leak, but Coates told Anderson he did not hear about French's accusations until he was telephoned by Faulkner on June 16. After the allegations became public, Coates was in the forefront of casting suspicion on the five, saying the onus was on them to establish through the Anderson enquiry that they were "the proper sort of people we should be including on an Olympic team."
Who used the eGH?
The previous Anderson report did not explicitly accuse anyone of actually using the equine growth hormone from the phials found in French's sharps bucket. In this report, on the basis of new testing for eGH and previous DNA testing, Anderson points clearly to one rider as the eGH user: French.
Mark French has never given a DNA sample, failing to turn up to a test lab in July, despite public statements, "on behalf of Mr French that he has always been willing, even anxious, to provide a DNA sample." However, the first stage Anderson report concluded by process of elimination that some of the DNA recovered from the sharps bucket must have been French's. Two of the 25 items initially tested yielded a DNA profile that did not match Eadie, Dajka or Kelly, the three of the five riders accused by French of participating in group injecting sessions who could be established to have been in Adelaide at the time.
Testing for eGH found heavy contamination by the substance of one of the needles from which DNA inferred to be French's had also been recovered. Because a needle is small and non-absorbent it is considered unlikely that this could have resulted from cross-contamination.
"It must be acknowledged that the scientific evidence is not, of itself, wholly conclusive," writes Justice Anderson. "There remains the possibility that the needle containing eGH came into contact with some other article in the bucket with Mr French's DNA on it and received a deposit of Mr French's DNA in that way. However, the circumstantial evidence consisting, firstly, of the finding of Mr French's DNA on one of the EquiGen phials in the bucket and, secondly, the detection of eGH in one of the needles which also yielded his DNA, points to the use by him of EquiGen, when it is considered in the light of the evidence as a whole."
Despite being found guilty of possession and trafficking of eGH, French has always claimed he only used TestiComp, the homeopathic glucocorticosteroid preparation also found in the sharps bucket. He continued to deny any knowledge of the eGH, implying that it must have been put in the bucket by someone else.
Be careful where you surf...
Justice Anderson's investigation also turned up some interesting findings as a result of examination of computers used by athletes at AIS Del Monte.
In August 2004, Mark French's father David French, suggested that computers as the Del Monte facility should be examined, and eventually supplied a list of keywords that investigators should look for.
It took some time for the computers that had been available to Del Monte residents in 2003 to be rounded up, as some had been moved to Queensland when the AIS cricket program - previously resident at Del Monte - had moved there. But eventually a computer search revealed that on November 3, 2003 someone had done an internet search for 'equigen' on one of the computers. At the time, Anna Meares, Rosalee Hubbard, Ryan Bayley and Mark French were the only cyclists living at Del Monte "There is no evidence that Meares, Hubbard, or Bayley had any interest in EquiGen at that time," notes Anderson.
While the computer evidence implicates only French as having investigated Equigen, an amusing sidebar reveals the interest of another member of the squad. On January 29, 2004, says the report, ""a person using the user profile 'seaneadie' accessed the online catalogue and store of Livingstone International Pty Ltd ... [forensic investigator] Mr Chapman found a page indicating that two items were placed in the online 'shopping basket' for purchase."
Those items were Multibex, a multivitamin for large animals such as horses and Anaemax, an iron injection for piglets. Neither are prohibited substances, but someone at Del Monte at that time clearly considered him or herself to be a real animal.
Aftermath
David French has called the second Anderson report a whitewash, but in the light of the evidence it's hard to see how anyone comes out looking worse than his son, Mark. Mark French, considered a near-certainty for an Olympic berth in 2008, will now never represent Australia at the games, and is unlikely ever to wear his national colours at any event. In attempting to claim that he had been led astray by more senior riders, French dug a bigger hole for himself and effectively terminated his career - a track cyclist with no Olympic prospects is not going to find funding.
Even without the benefit of hindsight, it has to be said that somewhere along the line, French was extremely poorly advised, if only for the widely held view that if you're going to make allegations you've got to be able to make them stick. French came across as an excessively ambitious teenager willing to sacrifice the careers of some highly respected riders and tried to give the impression that he could not have possibly have obtained and used banned substances on his own. The evidence strongly suggests that that's exactly what he did and his attempt to shift blame just made things worse for him. Maybe he should have followed the example of Alex Zulle who 'fessed up after the Festina investigation served his suspension and quietly returned to racing.
Cyclingnews' coverage of the Australian doping allegations
November 18, 2004: Anderson report clears all but French
August 13, 2004: Dajka loses final bid
August 4, 2004: Witch hunting in the 21st century, part 2
August 3, 2004: Dajka appeal will be heard
August 2, 2004: Dajka misses deadline to appeal
July 30, 2004: Kersten in, Dajka out of Australian Olympic squad
July 29, 2004: Dajka's spot in Athens squad faces new threat, Selective leaks or reporting designed to defame?, Growth hormone test is go
July 29, 2004: Dajka's spot in Athens squad faces new threat
July 21, 2004: Australian Olympic Committee selects Eadie and Kersten
July 19, 2004: Eadie wins appeal
July 19, 2004: Eadie considers legal action
July 16, 2004: Dajka cleared by Customs
July 14, 2004: Eadie out, Kersten in, pending appeal
July 13, 2004: Eadie lodges appeal
July 12, 2004: Eadie hit with doping notice - from 1999; French saga rolls on
July 10, 2004: AOC 'withholds' Dajka from Australian Olympic team
July 9, 2004: Pound comments 'ill-informed', says ASC
July 2, 2004: Anderson report clears named riders; full Australian Olympics cycling team nominations
July 1, 2004: The high cost of controversy
June 26, 2004: Accused rider hits back: 'I was never in Adelaide'
June 25, 2004: One week for French inquiry
June 24, 2004: Mark French makes statement
June 23, 2004: Pound weighs in
June 22, 2004: Cycling Australia welcomes inquiry; Riders deny involvement in doping
June 22, 2004: French gets life, but still offers to assist new enquiry
June 21, 2004: Lifetime Olympic ban for French
June 19, 2004: French faces blowtorch from sports authorities
June 18, 2004: Opposition calls for inquiry into AIS track cycling program
June 9, 2004: French suspended two years
June 1, 2004: Horse hormones found in French's room