MTB index page for all MTB content
Mohican 100 - NE
Mohican State Park, Ohio, USA, June 2, 2007
Results
Eatough makes it two for two
Musto & Lowery swap wins
By Sue George
Winner Chris Eatough
Photo ©: Guru Graphix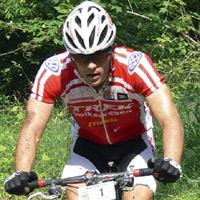 Chris Eatough (Trek / VW) made it two for two in the National Ultra Endurance (NUE) series when he won the second event, the Mohican 100 in Ohio Saturday in sultry, 90 degree (Fahrenheit) conditions. Behind him, Harlan Price (Independent Fabrication) and Shawn Adams (October Lake Effect) rounded out the podium. Carey Lowery (Outdoor Store) won the women's race ahead of round one Cohutta 100 winner Dannielle Musto (Slingshot).
For 2007, the Mohican 100 got a new and improved course, including starting with about 25 miles of technical singletrack almost from the gun. Winner Eatough commented on the challenging beginning. "The first half was pretty tough. There was 25 mile singletrack section from mile four to 29. It was pretty hilly and quite technical. Everyone had fresh legs, so some people were riding really fast. It made the second half tough even though the course was not as tough as the first half. The second half was more about gravel road and farmland."
Eatough credited Price and Michael Simonson (Bell's Beer) for driving the pace early in the race. "I was kind of following along. Michael and Harlan were pushing the pace at the beginning. I went to the front a couple of times. I thought they were going pretty fast." Tinker Juarez (Cannondale) was also with the crowd.
"We rode all that singletrack together and about five or six miles from the end of the singletrack, Tinker started fading off the back. Simonson and I were mostly in front. That was all the way to the first hike a bike," said Price.
That's when Simonson put the hammer down and gapped Eatough and Price.
"We'll let him do whatever he wants right now," said Price of his thinking about Simonson's early lead. "He put 30 to 40 second gap on us. From almost aid station two to aid station three, Chris and I chased Simonson and he held us off pretty well."
Harlan Price (Independent Fabrication) leads
Photo ©: Guru Graphix

The experienced Eatough and Price took a measured approach. "I wasn't too worried, it wasn't a big gap," said Eatough. "I was able to bridge across to him at halfway point. I dropped him soon after. I rode last 35 miles alone." Able to look back one and sometimes two minutes without seeing his chasers, Eatough assumed he had at least that much of a gap until the end. He would finish six minutes and 35 seconds ahead of Price.
"At aid station 3, I had some water bottle filling troubles," said Price, "We caught Simonson at aid station 3. Chris kept going. That's where I fell off." But Price chased from aid station 3 until 5, closing the gap steadily. Price caught him in the final five mile singletrack section, a crucial part of the race for Price, the same place he secured the win in 2006.
Michigan rider Simonson would eventually make a wrong turn after Price caught him. The mistake cost him one place when Ohioan Adams overtook him for third place. Racers reported the course well-marked, unlike in previous years, so Simonson's wrong turn was likely due to inattention or fatigue.
To combat the misbehavior of certain locals, 100 mile race veteran and NUE Series coordinator Garth Prosser put his racing ambitions aside this edition to help with course markings. He even went so far as to stand on top of his car to place arrows at a few key intersections, where he founds missing arrows missing, high enough to make it more difficult for those with malicious intention to remove them. His strategy seemed to work - racers generally stayed on course.
Eatough is going for the series this year and said he has five or six of the NUE events on his calendar. Next up is the Lumberjack 100 in Michigan in two weeks.
Lowery wins women's race
Only a few miles until
Photo ©: Guru Graphix

While the top men are often far off the front and out of the congestion and confusion that characterizes the mid-pack scramble in 100 milers, the women have a tougher time figuring out where they are and how they are faring against their fellow competitors.
"We started out with 100km (option) racers, so it was really hard to tell which women I was racing," said Musto, who won the race five years ago as the only woman to compete that year - it was the first endurance race she ever tried.
"I had game plan that I would take off hard and hold her off. I didn't know it would be for 30 miles, so I was away for a bit," said Musto, who knew her singletrack skills weren't as good as Lowery's. Not knowing exactly how long that first section was, it was a matter of time until she was caught and passed.
"Carrie is an amazing singletrack rider. and she passed me and that was it," said Musto, who would ride the rest of the race by herself. Her only company would be a thunderstorm, which lasted for about 15 minutes. "I was happy to get wet because it was so hot." Musto finished 38 minutes behind Lowery. Suz Falvey (Dirty Harry's) was third, more than two hours behind the leader.
Musto and Lowery will meet again at the Lumberjack 100. Both each have a win in the NUE are are currently tied in the overall standings (assuming the proposed new points-only scoring overall system is adopted - ed.).
Photography
For a thumbnail gallery of these images, click here
Images by Guru Graphix/www.gurugraphix.com
Images by John Johnston
Men's 100 mile
 
1 Chris Eatough (Trek/VW)                                            7.08.57
2 Harlan Price (Independent Fabrication)                                6.35
3 Shawn Adams (October Lake Effect)                                    43.21
4 Micheal Simonson (Bell's Beer)                                      49.42
5 Gerry Pflug (Freddie FU/Kona/Speedgoat Bikes)                        50.14
6 Peter Joski (Dedicated Athlete)                                      52.36
7 Shey Lindner (Bear Naked, Cannondale)                                54.51
8 Jeff Whittingham (Independent Fabrication)                         1.01.23
9 Mike Kuhn (VISITPA.com Mountain Bike Team)                         1.01.52
10 Josh Tostado (Giant, Smith, Dakine, Michelin, Niterider)          1.05.09
11 Ross Clark (Solon Bicycle)                                        1.06.59
12 Harvey Minton (Independent Fabrication)                           1.13.08
13 Jason Lummis (Beer Suppliers)                                     1.15.03
14 Nathan Deibert (C.C. Lebrija)                                     1.19.17
15 Andy Sanidas (Igleheart Frames)                                   1.22.40
16 Cully Todd                                                        1.33.00
17 Christopher Schmidt (Keweenaw Endurance Racing)                   1.37.32
18 Brett Davis                                                       1.42.55
19 Mike Loranty (A.G. Edwards Cycling Team)                          1.43.39
20 Ryan Wayne (Endura, Mongoose, Ray's Indoor Mountain Bike Park)    2.05.18
21 Jeff Kerkove (Topeak-Ergon)                                       2.07.17
22 Simon Koster                                                      2.11.24
23 TJ Platt (Gary Fisher, Trek of Pittsburg)                         2.17.30
24 Jeff Cote                                                         2.25.21
25 Patrick Jones                                                     2.37.21
26 Hugh Smallwood                                                    2.42.27
27 Wes Jones                                                         2.46.25
28 Mark Hartman                                                      2.47.42
29 Douglas Jenne (Vicious Cycles / BareKnuckleBrigade)               2.57.14
30 Brooke Furio                                                      2.58.53
31 Thomas Greene (Blesso Consulting )                                2.59.23
32 Richard Brown                                                     3.02.59
33 Andrew Klumb                                                      3.04.46
34 Thomas Mallory, Jr.                                               3.07.12
35 Chip Meek                                                         3.10.49
36 Scott Guenther,                                                   3.15.20
37 Adam Mallett (Sierra Nevada and HWB Products)                     3.17.59
38 Jason Hilimire (Geneva Bicycle/Gary Fisher/Bontrager)             3.18.10
39 Jason Mahokey (Bikeman.com)                                       3.18.22
40 Dan Orzell                                                        3.22.13
41 Doug Milliken,                                                    3.26.38
42 Joseph Meiser                                                     3.33.40
43 Peter Weiner                                                             
44 Timothy Wilkie (Riverbrook bike & ski)                            3.35.46
45 Andrew Carney                                                     3.41.03
46 Michael Mazzarese (Avalon Cycles)                                 3.45.17
47 Gary Hall (Procon/First National Bank of Arizona)                 3.54.57
48 Mark Rucker (Campus Cyclery)                                      4.00.31
49 David Coar (Team Chiropower)                                      4.05.43
50 David Farnham,                                                    4.09.42
51 Eric Schroeder                                                    4.19.28
52 Mike Rucker                                                       4.21.24
53 Chas Ryan                                                         5.18.17
54 Rob Brawlley                                                      5.18.18
55 David Lewis                                                       5.48.23
56 Cadet Bryant (Bike Pro of San Angelo TX)                          6.16.37
DNF Tinker Juarez (Cannondale)                                              
DNF Brian Palecek,                                                          
DNF Ronald Flagg (Organic Athlete)                                          
DNF Collins Bishop (Scenic City Velo/Outdoor Chattanooga)                   
DNF Peter Muench Jr (Park Ave Bike Shop, Specialized)                       
DNF Richard Bilson (Evolution Racing)                                       
DNF Andrew Brautigam                                                        
DNF Nathan Mirus (Biowheels racing cincinnati)                              
DNF Phillip Esempio (Kelly Benefits/LSV Amateur Racing)                     
DNF Thomas Guisleman                                                        
DNF Kip Biese (Old Town Bike Shop)                                          
DNF Caleb Walton (Blackwater BIke Shop/ Cutaway Clothing co.)               
DNF Shawn Tevendale (Trek-VW/Bike Factory)                                  
DNF Chris Ploch                                                             
DNF Dan Jansen                                                              
 
Women's 100 mile
 
1 Carey Lowery (Outdoor Store)                                       9.16.01
2 Dannielle Musto (Slingshot)                                          47.59
3 Suz Falvey (Dirty Harry's )                                        2.14.55
4 Reenie Greene (www.os2ogear.com)                                   3.12.47
5 Shirlee Finch (Cannondale Midwest Racing)                          4.09.08
6 Lauren Coffelt (Renn Multisport)                                   4.43.05
DNF Lindsay Struve                                                          
 
Singlespeed 100 mile
 
1 Tim Dougherty (Bear Naked/Cannondale)                              8.43.21
2 Robert Elam (Spot Brand/Twin Six/Bean's Bikes)                       16.44
3 Dejay Birtch (Niner)                                                 24.03
4 Kieth Ridenour                                                     1.08.24
5 Topher Valenti                                                     1.10.03
6 Blake Jenssen,                                                     2.23.04
7 Michael Tressler                                                   2.50.02
DNF Joshua Cohen (Nimmo Chiropractic, Dirty Harry's)                        
DNF Greg Sandknop (Team Seagal)                                             
DNF Robin Scurr (Cannondale Midwest Racing)                                 
 
Over 50 100 mile
 
1 John Majors (Giffin Interior & Fixture Inc.)                      10.50.58
2 Steve Kinley (Hammer Nutrition, Cannondale)                           1.59
3 Terry Gardner (Methusaleh Racing)                                  1.56.57
DNF Scott Nichols                                                           
DNF Daniel Musgrave                                                         
 
Men's 100km 
 
1 Anthony Slowinski (Clarksville A Team )                            5.19.57
2 Timothy Carson (Endura/Mongoose)                                     16.16
3 Travis Saeler (Gary Fisher, Trek of Pittsburg)                       22.49
4 Brad Wilhelm (Gary Fisher)                                           25.46
5 Steve Twining (Solon Bycycle)                                        32.40
6 Charley Miller (BioWheels)                                           43.02
7 Justin Becker (BioWheels)                                            45.51
8 Robert Goetz (A Gear Higher)                                         49.31
9 Bo Hamlett (Speedgoat)                                               59.27
10 Bruce Pisarek (A Gear Higher)                                     1.02.46
11 Matthew Fox (BioWheels)                                           1.09.30
12 Nathanael Ziccardi (Jeni's ice Cream)                             1.12.11
13 Robert Kranz (Spin Bike Shop)                                     1.16.59
14 Steven Gers (BioWheels)                                           1.27.33
15 John Davis (Spin Bike Shop)                                       1.29.09
16 Mike Kennedy (Louisville Bicycle Club)                            1.33.24
17 Rob Murphy                                                        1.34.34
18 Brian Kenney (CAMBA)                                              1.35.33
19 Mark Luecke                                                       1.35.34
20 Briaqn Lennon                                                     1.36.26
21 Paul Filliman                                                     1.36.27
22 Darin Evans (Timet)                                               1.39.13
23 Heath Boedecker                                                   1.41.28
24 Mike Colonna (Solon Bicycle)                                      1.51.46
25 Nate Loman                                                        2.00.14
26 Jason Reinhart (CAMBA)                                            2.00.33
27 Jim Core                                                          2.06.33
28 Mark Hepp                                                         2.07.23
29 Joe Merry                                                         2.08.18
30 Aaron Kent                                                        2.11.35
31 Dan Vonderwish                                                    2.15.48
32 Mike Hufhand                                                      2.19.15
33 Jeremy Larson                                                     2.22.50
34 Nick Devore (Sierra Nevada)                                       2.24.13
35 Gary Williams                                                     2.29.10
36 Dustin Clouse (Solon Bicycle)                                     2.30.52
37 Ryan Falk                                                         2.30.56
38 Rob Truscott                                                      2.36.03
39 Christopher Simmons (Cyco-Path Bicycles)                          2.39.23
40 D.A. Fleischer (Pale Ale)                                         2.39.46
41 Ryan Knopf                                                        2.42.02
42 Dave Placke                                                       2.44.09
43 Ralph Oppermann (Team AFD)                                        2.44.11
44 Thomas Burke                                                      2.44.45
45  Turanchik (Schlitz)                                              2.54.23
46 Doug Reid                                                         2.56.41
47 Kurt Russman                                                      3.04.35
48 Ben Karren                                                        3.10.19
49 Steve Little                                                      3.11.28
50 Lilly Zeke (Cycle South)                                          3.13.23
51 Trevor Dunlap                                                     3.20.54
52 Frank Vaughan                                                     3.28.46
53 Cory Knight                                                       3.32.10
54 Scott Lyle                                                        3.34.19
55 Chip Ellison (Pearl Izumi/QCW)                                    3.37.04
56 Glen Gardner                                                      3.40.31
57 Stephan Garcia                                                    3.41.06
58 Nick Davis                                                        3.57.15
59 EVAN Clark                                                        4.03.17
60 Kurt Smits (Smitty's Cyclery The best shop ever!!!)               4.11.34
61 Jerry Lynch                                                       4.17.57
62 Mark Gardner (Trek Ohio Valley)                                   4.31.53
63 Adam Schmidt                                                      5.02.29
64 kurt Shoemaker                                                    5.03.10
65 John Young                                                        5.08.25
66 Max Agee                                                          5.13.38
67 Sean Grady                                                        6.02.28
68 Christopher Bauer                                                 6.42.04
69 Matthew Broda                                                     7.46.11
DNF Mike Hollowniczky                                                       
DNF Kurt Broadwater                                                         
DNF Paul Hamad (Rogue Mechanic)                                             
 
Women's 100km 
 
1 Amanda McKay (Biowheels)                                           7.02.41
2 Rae Gandolf (Sierra Nevada)                                          26.59
3 Rebecca Blatt                                                        29.59
4 Cristina Frrentiu                                                    47.29
5 Jami Hartwig                                                       1.03.55
6 Marie Parker (Timet)                                               1.59.08
7 Leigh Cherni                                                       2.28.49
8 Laura White                                                        2.40.11
DNF Sherri Esempio                                                          
DNF Kristen Broda                                                           
DNF Aimee Murphy (Endurance blogs)                                          
DNF Meaghan Milner                                                          
DNF Tiffany Kenney (Summa Care)                                             
 
Singlespeed 100km
 
1 Michael Gorman (Orrville Cycling)                                  5.57.23
2 Gunther Wagner (Team AFD)                                          1.44.21
3 Andrew Norris                                                      1.55.01
4 Layne Peters (Bikesource)                                          2.03.57
5 Troy Cowin                                                         2.29.48
 
50+ Men 100 km
 
1 Virello Mark (Team Dayton)                                         6.49.55
2 Terry Campbell (Sierra Nevada)                                       28.31
3 Mike Dietlin (White Brothers)                                      1.17.54
4 Eddie Perun                                                        2.11.55
5 Bill Kennedy (Clarksville Cyclery)                                 2.41.34
DNF Don McIntyre                                                            
DNF John Lillig (Cycle South)                                               
DNF Alfred McCallin