Sea Otter Classic Mountain Bike Races - 1
Monterey, California, USA, April 16-19, 2009
Main Page Results Overall standings Previous Stage Next Race
Race 7 - April 18: Dual Slalom - Elite men & women
Buhl and Hill fastest in gravity opener
By Sue George in Monterey, California
Gravity racing kicked off with elite dual slalom wins by current four cross World Champion Melissa Buhl and former downhill World Champion Sam Hill. Racers tackled a dry and dusty course - drier and dustier than anyone could remember in recent years. In the first heats of the Saturday evening finals, many riders crashed as they honed their skills in search of the perfect edge between slipping speedily around the corners and washing out. Last year's winner Greg Minnaar, Chris Van Dine and Dan Atherton were among the favorites who crashed out en route to the finals.
"It was hard out there. The track is really slippery," said Hill after his win. "I slid out a couple of times in the first few rounds, but then I got a better rhythm going even though the track was deterioriating the whole time. The berms were getting blown out more with each run."
Reigning World Champ Buhl triumphs over former World Champ Kintner
Melissa Buhl (KHS) wins
Photo ©: Dave McElwaine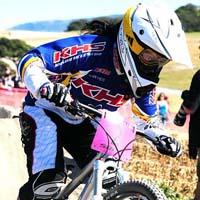 Buhl marched steadily throughout her rounds, dispatching her competition handily until she met more of a challenge in Jill Kintner, who was returning to gravity mountain biking after dedicating last year to racing Olympic BMX. Buhl seemed to have the first heat of the final won easily, but she still pushed her pedals until the very end to get every possible advantage in time going into heat two. That paid off, when in the second heat, she suffered a mechanical high up the course that caused her to have to ride a little more conservatively the rest of the run. Kintner narrowly took heat two, but not with enough of a margin to overtake the final champion Buhl. Kintner finished second.
"I felt really good today," said Buhl. "I was confident this year. In years past, I've made mental mistakes or crashed and this year, it all worked out."
Near the top of heat two of the finals, Buhl broke her brake. "It popped and went to the bars, so I was more tentative in the corners until the pedalling section at the end when I just cranked it down." Buhl pedalled powerfully and smooth in the finishing section of each heat.
"It was my first off-road slalom in over a year and a half," said Kintner, who won the bronze medal in BMX at the Olympic Games last summer. "It was super loose and the turns were unpredictable, so I was a bit timid. I probably should have attacked more." In this post-Olympic year, three-time four cross World Champion Kintner plans to stick with racing her mountain bike.
"Any time you get in the gate with Jill, you have to bring your A-game," said Buhl. "It feels good to win against her. When you do, you know you've had a good day at the office, but I'm proud of her, too, as a fellow old school BMXer, current mountain biker and American."
In the semi-final, Kathy Pruitt defeated Mio Suemasa. Pruitt recovered for the final despite a crash in the earlier rounds during which she hit her head. In heat one of the consolation finals, Pruitt came from behind to nip Suemasa at the line. Her second heat's win was more convincing, and she claimed third overall, with Suemasa in fourth.
Hill sails to win
Sam Hill (Monster/Specialized)
Photo ©: Dave McElwaine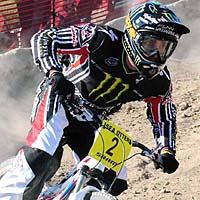 Australian Sam Hill made his win look easy as he marched steadily and without incident into the finals of the men's dual slalom where he faced American Cody Warren. Hill knocked out Gee Atherton in the semi-finals after winning one of the two runs. Warren arrived at the finals by defeating Jared Rando, who crashed in his second semi-final run.
Warren put up a good fight against Hill, but Hill triumphed in the end, winning both heats of the final. Hill took the first heat with a convincing 0.764-second margin while Warren crashed during the second heat.
"I'm really pumped. There's a lot of good guys here and I could perform well in front of my sponsors," said Hill, who last raced dual slalom at Crankworks last season. "I usually do this one at Sea Otter, but sometimes I don't qualify, and last year I was a bit hurt."
"I'm looking forward to the downhill," said Hill. "I was hoping to to do well in it. My legs are pretty tired after today, but will hopefully be OK for tomorrow."
"In the second heat, I had to give it everything I had. I knew I was behind so I had nothing to lose," said Warren who was uninjured in his crash and happy to be racing against Hill in the finals. "I just slid out and that was it."
The consolation round of the semi-finals ended up going to a tiebreaker after Atherton beat Rando by 0.143 seconds in the first heat, but then got beat by the same margin in the second heat. Per dual slalom rules, Rando took the third place by virtue of having won the second of the two heats.
"I've never ended a dual slalom in a tie like this before," said Rando, who is aiming to do well in the World Cups this season in order to qualify for the World Championships which will be held in September in Canberra, Australia, in Rando's hometown. "I've only ever ended it in a tie where we each had a 1.5-second margin due to one of us crashing in each heat."
Photography
For a thumbnail gallery of these images, click here
Images by Dave McElwaine/www.trailwatch.net
Results
Elite men

1 Sam Hill (Aus)                  
2 Cody Warren (USA)               
3 Jared Rando (USA)               
4 Gee Atherton (GBr)              
5 Mick Hannah (Aus)               
6 Eric Carter (USA)               
7 Kyle Strait (USA)               
8 Mike Haderer (USA)              
9 Bryn Atkinson (Aus)             
10 Michal Prokop (Cze)            
11 JD Swanguen (USA)              
12 Nathan Rennie (Aus)            
13 Mitch Ropelato (USA)           
14 Kayman Benetti (USA)           
15 Kirt Voreis (USA)              
16 Brad Oien (USA)                
17 Dan Atherton (GBr)             
18 Greg Minnaar (RSA)             
19 Scott Beaumont (GBr)           
20 Christopher Herndon (USA)      
21 Quentin Derbier (Fra)          
22 Petr Hanak (USA)               
23 Cedric Gracia (And)            
24 Brendan Fairclough (GBr)       
25 Chris Van Dine (USA)           
26 Chris Boice (USA)              
27 Ryan Condrashoff (USA)         
28 Scott Papola (USA)             
29 George Stephenson Iii (USA)    
30 Evan Turpen (USA)              
31 Brad Benedict (USA)            
32 Nathaniel Lewis (USA)          

Elite women

1 Melissa Buhl (USA)              
2 Jill Kintner (USA)              
3 Kathy Pruitt (USA)              
4 Mio Suemasa (Jpn)               
5 Claire Buchar (Can)             
6 Sondra Williamson (USA)         
7 Darian Harvey (USA)             
8 Joy Martin (USA)                
9 Lisa Myklak (USA)               
10 Katie Holden (Can)             
11 Eva Castro (Spa)               
12 Leslie Slagle (USA)            
13 Lainey Aldridge (USA)          
14 Jessica Vogt (USA)             
15 Neven Steinmetz (USA)          
16 Leana Gerrard (USA)