USA Cycling Mountain Bike National Championships - CN
Mt. Snow, Vermont, USA, July 17-22, 2008
Main Page Results Overall standings Previous Race Next Race
Race 10 - Saturday, July 19: Elite women cross country
McConnneloug wins epic battle of Olympians
By Dave McElwaine in West Dover, Vermont
Sprint race: Mary McConneloug (Kenda/Seven Cycles) defended her title
Photo ©: Dave McElwaine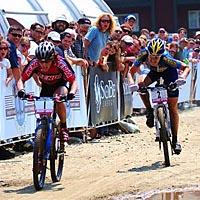 Mary McConneloug (Kenda/Seven) successfully defended her national championship in a hard fought battle with Georgia Gould (Luna Womens MTB). Heather Irmiger (Gary Fisher) finished third while up-and-coming rider Lea Davison (Trek/VW) took fourth spot.
It appeared for most of the race that Gould would ride to victory as she held a lead as large as 20 seconds. "Actually, every climb I would pass her (Gould) and on every descent she would pass me," McConneloug commented. "On the last descent I was finally familiar with all the lines I needed to be familiar with."
Georgia Gould (Luna Women's MTB)
Photo ©: Dave McElwaine

"I wouldn't give up," she added. "I just tried to keep the cadence up and not touch my brakes. I was cramping…and I just started to think of Mike (team-mate Mike Broderick) and how he pushes through all kinds of cramping."
Both McConneloug and Gould will be headed to Beijing, China as team-mates on the United States of America Olympic Mountain Biking Team. They are among the top ten ranked UCI riders in the world.
"It was the same as the other two laps," said Gould of the final lap. "Mary would get a gap on the climbs and then I would close it down on the downhill. I just couldn't get by her on the last lap. She was pretty good at blocking."
How it unfolded
Katie Compton (Spike)
Photo ©: Dave McElwaine

Powerful rider Katie Compton (Spike) won the start, holding her lead up the ski slope and around the parade lap. She was followed closely by Gould and McConneloug.
Gould had a 16 second lead over McConneloug heading out onto lap two. Irmiger was third, Compton fourth, and Willow Koerber fifth.Compton had slipped back to sixth position at the end of the second lap's descent while Lea Davison (Trek/VW) moved up to fifth place.
Gould had a 16 second lead at the start of the third lap's steep climb. However McConneloug passed Gould on the way up to the top and was able to hold Gould off on the descent this time around.
Pua Sawicki (Ellsworth) also passed Compton on the last lap and would go on to sixth place. Davison moved by Koerber into fourth place on the final lap.
Photography
For a thumbnail gallery of these images, click here
Images by Dave McElwaine/www.trailwatch.net
Images by Jamie Lau/www.jamielau.com
Results
1 Mary McConneloug (USA) Kenda/Seven Cycles         1.33.08
2 Georgia Gould (USA) Luna Womens MTB Team                 
3 Heather Irmiger (USA) Subaru-Gary Fisher             3.03
4 Lea Davison (USA) Trek/VW                            4.53
5 Willow Koerber (USA) Subaru-Gary Fisher              5.47
6 Pua Sawicki (USA) Ellsworth                          8.04
7 Kelli Emmett (USA) Giant MTB Team                    8.36
8 Judy Freeman (USA) Tough Girl/Contessa               9.02
9 Jenna Zander (USA) Sobe Cannondale                  10.26
10 Katie Compton (USA) Spike Shooter                  12.14
11 Heather Holmes (USA) Kenda/Titus/Hayes             13.06
12 Zephanie Blasi (USA) Kenda Titus Hayes             14.39
13 Krista Park (USA) Kenda-Titus-Hayes                15.12
14 Sue Butler (USA) Monavie/Cannondale                16.27
15 Nina Baum (USA) Sobe-Cannondale                    18.27
16 Maureen Bruno Roy (USA)                            19.09
17 Karen Potter (USA) MTBmind.Com                     20.08
18 Caitlyn Tuel (USA) Trek/VW /Rocky Mountain         20.24
19 Annajean Dallaire (USA) Sobe-Cannondale            21.11
20 Johanna Kraus (USA) Charlottesville Racing Club    21.44
21 Bryna Nestor (USA) Sobe Cannondale                 22.15
22 Tanya Nestvogel (USA) Vantaggio/Scv                23.12
23 Betsy Shogren (USA) Sobe Cannondale                24.08
24 Theresa Richardson (USA) Sobe Cannondale           26.16
25 Shannon Edson (USA) Velo Bella                     26.25
26 Sarah Kaufmann (USA) Roaring Mouse/Titus           26.57
27 Emily Van Meter (USA) Sobe/Cannondale              28.01
28 Marci Titus-Hall (USA) Desalvo                     28.15
29 Lindsey Bishop (USA) Mafia Racing/Felt             30.28
30 Kimberly Flynn (USA) Vantaggio/Specialized         30.50
31 Joy Duerksen (USA) Cole/Marten Transport           31.17
32 Patricia Buerkle (USA) Vanderkitten                31.53
33 Cheryl Sornson (USA) Trek VW East Coast            32.46
34 Jennifer Tilley (USA) Velo Bella/Kona              38.55
35 Natasha Cowie (USA) Velo Bella/Kona                38.56
DNS Kathy Sherwin (USA) Sobe-Cannondale                    
DNF Kyia Anderson (USA) Ekho/Cannondale                    
DNF Sara Bresnick-Zocchi (USA) Pedalpowercoaching.Com      
DNF Susan Haywood (USA) Trek/VW