13th Crocodile Trophy - NE
Australia, October 23-November 1, 2007
Main Page Results Overall standings Previous Stage Next Stage
Stage 5 - October 27: Chillagoe - Chillagoe, 140 km
American Dream Evaporates as Joachim Wins in Chillagoe Smelter
By John Flynn at Chillagoe, Queensland
Benoît Joachim goes it alone
Photo ©: John Flynn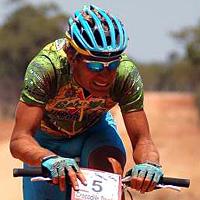 American Allen St Pierre experienced the ultimate in Crocodile Trophy heartbreak today, when his 70-kilometre solo breakaway in stage five of the Outback classic was reeled in within sight of the finish line by Luxemburger Benoît Joachim.
The Astana cyclist, racing for the Felt Dream Team in the Crocodile Trophy, punched the air with delight as he recorded stage win number three for the green machine, leaving in his wake a shattered St Pierre, whose dream of recording a stage victory in the great outback race went tantalizingly close.
Despite the stage being shortened to one hundred kilometres due to oppressively hot conditions, the Trophy maintained its reputation for relentlessly painful race conditions as riders battled road temperatures of close to fifty degrees, patches of thick body-caking dust and numerous crashes.
"Oh man it was like a true outback experience out there all by myself for seventy kilometres," St Pierre said. "Two Ks to the finish and Benoît went by me. I don't know what to say."
Allen St Pierre
Photo ©: John Flynn

A native Canadian based in the concrete jungle of Los Angeles, St Pierre ventured to Australia in pursuit of a Crocodile Trophy stage win. When he rolled of the front of the bunch at the 25-kilometre mark, the American wasn't intending to go it alone on a suicide move, but somehow, in the madness of a day littered with endless crashes and punctures, it almost paid off.
"At the half way point I felt super strong, then went faster and faster but at ninety kilometres I died," St Pierre said. By then, Joachim had St Pierre in his sights and there was no stopping the former Luxembourg time trial champion, who slammed the big gears on the road for home and caught St Pierre within the final two kilometres.
For St Pierre it was yet another excruciating chapter in his Crocodile Trophy experience, but one that, nonetheless, he will remember. "I had no idea it would be as tough as it is, just endless misery," St Pierre said when asked about his Crocodile Trophy experience. "Day after day of endless pounding, it was meant to be easy today, but just hot, dry, and dusty."
How it unfolded
Bettin's Felt Dream team buddies
Photo ©: John Flynn

With the Crocodile Trophy caravan based in Chillagoe for two days, the protagonists were presented with a reduced 100-kilometre out and back stage, on dry dusty roads through cattle stations in the local district. On paper the stage may have appeared easy, but factoring in the variables of thick dust, temperatures close to fifty degrees on the road and the constant risk of crashes, it was soon to become one of the Trophy's most nervous days.
The GC contenders reached an agreement pre-stage to have an easier day on the road. A smart move, given the four consecutive 140-kilometre-plus stages that lie ahead in this year's event. It was a decision which opened the door for the stronger riders, not presently in contention for the overall prize, to take a shot at a stage victory.
But there was drama almost from the outset when several cyclists hit the deck hard in a crash on descent at the five kilometre mark. Canadian Wallace King took a knock to the head and appeared to be in serious difficulty. He managed to re-mount and continue the race, albeit needing stitches to a wound in his elbow.
At the ten kilometre mark there was a nervous moment for race leader Mauro Bettin, when the Italian suffered a flat tyre. The professionalism of the Felt Dream Team shone through, with its "mobile spares man" Max Becker providing Bettin with a wheel, while team-mates Brett Anderson and Benoît Joachim hung back to ride the GC leader back to the bunch.
It was after the turn-around point at the fifty-kilometre mark when those wanting to challenge Allen St Pierre for stage honours emerged from the main bunch. The more ominous move coming from Benoît Joachim and Flight Centre's Nick Both, who worked together to peg back the margin.
"Yeah I tried as hard as I could to get across to the front guy," Both said. "We chased down the initial break and I thought beauty we're in with a shot here. I was on Benoît's wheel, but I just couldn't hold on. He's a pro roadie so I'm pretty happy."
With Joachim continuing on alone to mow down St Pierre's lead, Both crossed the finish line in third place – his first podium result in Australia's biggest international mountain bike event. "I can't think of too many other events that I've done that would be this prestigious," Both said.
Heat, dust and crashes
Allen St Pierre
Photo ©: John Flynn

For the first time in the 2007 Crocodile, competitors experienced the thick dust which is likely to feature in the coming attractions. Visibility proved poor along much of the race course and contributed to numerous stacks, one involving Austrian Gerry Bauer and another, women's contender Sandra Klomp.
"I'm not used to this, I have never done anything like this in my life before," the almost unrecognisable Klomp said at stage end. "I fell down on a guy, he was turning to the right and I couldn't stop and I fell down on the road. I will have a shower then I can see the damage that I have."
For Bauer, it was his second crash in as many days, evening out the bumps on his increasingly wearing body. "First my right side and now my left side," the dust encrusted Bauer mused when he reached the finish line. Hopefully that is the end of my crashes for this race."
Compatriot Valentin Zeller also finished the stage in obvious pain, after coming unstuck.
Herremans reaches half way
Marc Herremans powers
Photo ©: John Flynn

Setting off on today's 100 kilometre journey, Belgian iron-man Mark Herremans had to deal with all of the challenges facing his able-bodied rivals, plus much more. As the day wore on, and the road surface began to bake, Herremans, who is seated on his hand-cycle within just centimetres of the road, was forced to deal with reflective temperatures in the mid-fifties, not to mention the dust and corrugations.
Unlike other competitors in the Crocodile Trophy, Herremans isn't travelling fast enough to benefit from the evaporative cooling effect of the breeze and the job is left to team-mates Glenn Creynen and Dirk Van Gossum to keep pouring water over their inspirational leader, to ensure he doesn't bake.
"Today was quite alright, except the weather, really hot because we don't ride really fast," Creynen said. "We have a lot to do in fact, like today when there was not a lot of hills you have to pour water all the time over his head and his legs. When there is a very steep hill we have to put a rope on the front of the bike."
Creynan has been with Herremans on many of his journeys, but this, the Crocodile, is something again. "I've known him for a long time and this is just exceptional," Creynen said.
Herremans reached the finish line today and once again was placed on a saline drip by the race doctor to replenish his bodily fluids.
The incredible iron-man has now reached the half-way point of the Crocodile Trophy, and knows the next three stages in particular will be in the "near impossible" category for him to survive. That doesn't mean he is entertaining even the slightest thought of backing out of his greatest life challenge yet.
"Before the race I told the Belgian newspapers it was going to be the ten toughest days of my life and I am right," Herremans said. "If I was a better [betting man] I'd be in great money now."
If anything, Herremans' condition appears to have improved over the past three days, given his prognosis after stage two, which suggest an imminent withdrawal was on the cards. Even if he wanted too, from here, there is no turning back in the Crocodile Trophy of 2007.
"After stage one and two I thought it was very difficult, now we're in the middle I can't give up now," Herremans affirmed. "I have to listen to my body because, mentally, I will never give."
Ultimately, the heat and the race doctor may have the final say in Herremans epic quest. Given the furnace like conditions which are expected over the coming three days, on the Crocodile Trophy's most soul-destroying stages.
Photography
For a thumbnail gallery of these images, click here
Images by John Flynn/Cyclingnews.com
Results
Elite
 
1 Joachim Benoit (Lux) Dream Team                                    3.06.30
2 Nick Both (Aus) The Flight Centre Team                                1.15
3 Gerald Bauer (Aut) Publicity PowerBike Team                           3.50
4 Mauro Bettin (Ita) Dream Team                                        10.13
5 Stefan Rucker (Aut) Elk Haus                                              
6 Roman Stastny (Cze) Rock Machine - Cyklomax                               
7 Attila Marton (Hun) Meditech Sport Club - CIB Leasing                     
8 Tim Bennett (Aus) The Flight Centre Team                                  
9 Brett Anderson (Aus) Dream Team                                           
10 Michael Borup (Den) Team GHOST - avj.dk                                  
11 Jacob Agger Troelsen (Den) Team Wonsild - www.wonsild.dk                 
12 Ondrej Fojtik (Cze) Toyota Dolak                                         
13 Dave Wood (Aus) The Flight Centre Team                                   
14 Ryan Hawson (Aus) The Flight Centre Team                                 
15 Radoslav Sibl (Cze) Team Ironbike - Bikezone                        13.35
16 Dennis Van Mill (Aus) Team Gordon Street Cycles - Solid Stairs      20.05
17 Matt Hubber (Aus)                                                        
18 Daniele Avico (Ita)                                                 41.31
19 Lukas Mraz (Cze) X - SPORTS                                         44.34
20 Max Becker (Lux) Dream Team                                         56.24
21 Patric Wiedmer (Swi) Wiedmer-RRGLMV                               1.09.03
22 Dario Cerisara (Ita) Cicli Giorgio                                1.41.00
23 Marc Herremans (Bel) Team Heremans                                3.02.16
24 Dirk Van Gossum (Bel) Team Heremans                                      
25 Glenn Creynen (Bel) Team Heremans                                        
 
M1
 
1 Allen St Pierre (USA)                                              3.06.33
2 Ewart Van der Putten (Ned) HERBALIFE-MERIDA                           3.47
3 Roberto Haegdons (Bel) Belgian Joven Team_01                              
4 Salvatore Paolo Albano (Ita) Pedale Travisio                         10.10
5 Robby Lemmens (Bel) Belgian Joven Team_02                                 
6 Chrisophe Heinix (Bel) Team www.sjette.be                                 
7 Lloyd Newell (Aus) Team Gordon Street Cycles - Solid Stairs               
8 Allan Carlsen (Den) Alb-Gold Mountainbike Team                            
9 Struan Lamont (Aus) Team Scott                                            
10 Valentin Zeller (Aut) Endurance Team Kärnten                             
11 Christophe Desimpelaere (Den) Riis Cycling                          11.47
12 Christoph Herr (Ger) Team Radsport König                            17.10
13 Mauro Canale (Ita) Team Ironbike                                    19.46
14 Christan Hofer (Aut) Radsport Janger                                21.12
15 Karel Peelman (Bel)                                                 21.42
16 Franz Schwoediauer (Aut) Hrinkow Bikes                              23.49
17 Roman Petr (Svk)                                                    26.04
18 Joan Valbuena Roset (Spa) Valbuena                                  36.45
19 Jose Ezequiel Garcia Carmona (Spa) Valbuena                         37.49
20 Giovanni Roveri (Ita) Cicli Giorgio                                 52.38
21 Josh Freeman (Aus) Team Gordon Street Cycles - Solid Stairs         54.38
22 Bohuslav Babor (Cze) X - SPORTS                                   1.01.18
23 Philipp Zenklusen (Swi) World Wide Erne Spirit                    1.09.00
24 Günter Rafeiner (Aut) KTM Mountainbiker.at                        1.16.59
25 Michalak Slawomir (Pol) Bank BGZ Team                             1.23.25
26 Juan Kolbe Castillo Inga (Spa) Valbuena                           1.36.23
DNF Ugo Dalla Riva (Ita) Cicli Giorgio                                      
 
M2
 
1 Rudolf Senn (Swi) World Wide Erne Spirit                           3.16.43
2 Willy Welles (Ned) Mega-NPB.NL                                            
3 Lieb Loots SA Squirt Lube                                             3.22
4 Freddy Compernolle (Bel) Team www.sjette.be                          19.03
5 Han Vaalt (Ned) Klein-Puelhuis                                       23.26
6 Greg Featonby (Aus) Full Cycle of Albury                                  
7 Scott McLennan (Aus) Abs Security                                    26.25
8 Christan Sengstbratl (Aut) SV Lichtenberg                                 
9 Kurt Alderweireldt (Bel) Kyphon                                      37.32
10 Eduard Pleschutznig (Aut) Endurance Team Kärnten                  1.24.51
11 Dave Webb (Aus) Marco Polo (CTBE)                                 1.29.05
12 Joseph Kerkhofs (Bel) Belgian Joven Team_01                       1.30.44
13 Franz Duller (Aut) Fincon - CML                                   1.31.45
14 Wallace King (Can) Athleteslowyer.de                              1.33.22
15 Peter Dalziel (Aus) Team Dalley                                   2.09.50
DNF Hennie Schoonheim (Ned) NO Worries                                      
 
Women
 
1 Michela Benzoni (Ita) Team Lissone Isolmant                        3.16.43
2 Sandra Klomp (Ita) Team Ironbike                                          
3 Marika Covre (Ita) Bike Pro Action                                   27.39
4 Helle Sejersen Jepsen (Den) Riis Cycling                           1.25.57
5 Lindy Vandevenne (Bel) Belgian Joven Team_01                       1.30.42
 
General classification after stage 5
 
Elite
 
1 Mauro Bettin (Ita) Dream Team                                     18.38.44
2 Ondrej Fojtik (Cze) Toyota Dolak                                     19.27
3 Stefan Rucker (Aut) Elk Haus                                         23.43
4 Michael Borup (Den) Team GHOST - avj.dk                              36.58
5 Tim Bennett (Aus) The Flight Centre Team                             37.03
6 Radoslav Sibl (Cze) Team Ironbike - Bikezone                         46.24
7 Joachim Benoit (Lux) Dream Team                                      59.29
8 Jacob Agger Troelsen (Den) Team Wonsild - www.wonsild.dk           1.37.54
9 Nick Both (Aus) The Flight Centre Team                             1.38.31
10 Brett Anderson (Aus) Dream Team                                   1.41.02
11 Gerald Bauer (Aut) Publicity PowerBike Team                       1.46.21
12 Attila Marton (Hun) Meditech Sport Club - CIB Leasing             1.48.49
13 Dennis Van Mill (Aus) Team Gordon Street Cycles - Solid Stairs    2.14.55
14 Ryan Hawson (Aus) The Flight Centre Team                          2.39.02
15 Max Becker (Lux) Dream Team                                       2.41.13
16 Dave Wood (Aus) The Flight Centre Team                            2.51.57
17 Roman Stastny (Cze) Rock Machine - Cyklomax                       3.10.37
18 Patric Wiedmer (Swi) Wiedmer-RRGLMV                               4.48.20
19 Matt Hubber (Aus)                                                 5.11.06
20 Daniele Avico (Ita)                                               6.17.41
21 Lukas Mraz (Cze) X - SPORTS                                       7.23.04
22 Dario Cerisara (Ita) Cicli Giorgio                               18.23.49
23 Marc Herremans (Bel) Team Heremans                               23.35.55
24 Dirk Van Gossum (Bel) Team Heremans                                      
25 Glenn Creynen (Bel) Team Heremans                                        
 
M1
 
1 Allan Carlsen (Den) Alb-Gold Mountainbike Team                    18.59.12
2 Valentin Zeller (Aut) Endurance Team Kärnten                         49.14
3 Ewart Van der Putten (Ned) HERBALIFE-MERIDA                        1.05.04
4 Allen St Pierre (USA)                                              1.13.30
5 Roberto Haegdons (Bel) Belgian Joven Team_01                       1.17.11
6 Salvatore Paolo Albano (Ita) Pedale Travisio                       1.37.32
7 Chrisophe Heinix (Bel) Team www.sjette.be                          2.00.32
8 Struan Lamont (Aus) Team Scott                                     3.08.45
9 Karel Peelman (Bel)                                                3.36.45
10 Mauro Canale (Ita) Team Ironbike                                  3.46.59
11 Robby Lemmens (Bel) Belgian Joven Team_02                         4.00.37
12 Lloyd Newell (Aus) Team Gordon Street Cycles - Solid Stairs       4.13.47
13 Franz Schwoediauer (Aut) Hrinkow Bikes                            4.36.34
14 Christan Hofer (Aut) Radsport Janger                              4.42.50
15 Christoph Herr (Ger) Team Radsport König                          4.46.28
16 Christophe Desimpelaere (Den) Riis Cycling                        5.06.29
17 Philipp Zenklusen (Swi) World Wide Erne Spirit                    5.27.14
18 Joan Valbuena Roset (Spa) Valbuena                                6.09.24
19 Giovanni Roveri (Ita) Cicli Giorgio                               6.37.22
20 Roman Petr (Svk)                                                  7.00.36
21 Jose Ezequiel Garcia Carmona (Spa) Valbuena                       7.05.28
22 Josh Freeman (Aus) Team Gordon Street Cycles - Solid Stairs       7.38.47
23 Bohuslav Babor (Cze) X - SPORTS                                   8.54.47
24 Günter Rafeiner (Aut) KTM Mountainbiker.at                       10.39.56
25 Michalak Slawomir (Pol) Bank BGZ Team                            11.45.46
26 Juan Kolbe Castillo Inga (Spa) Valbuena                          13.06.28
27 Ugo Dalla Riva (Ita) Cicli Giorgio                                       
 
M2
 
1 Lieb Loots SA Squirt Lube                                         21.21.38
2 Willy Welles (Ned) Mega-NPB.NL                                       38.46
3 Rudolf Senn (Swi) World Wide Erne Spirit                           1.00.06
4 Greg Featonby (Aus) Full Cycle of Albury                           2.25.06
5 Scott McLennan (Aus) Abs Security                                  2.58.12
6 Kurt Alderweireldt (Bel) Kyphon                                    3.37.35
7 Freddy Compernolle (Bel) Team www.sjette.be                        3.52.35
8 Christan Sengstbratl (Aut) SV Lichtenberg                          4.23.28
9 Wallace King (Can) Athleteslowyer.de                               5.40.31
10 Peter Dalziel (Aus) Team Dalley                                   8.38.42
11 Han Vaalt (Ned) Klein-Puelhuis                                    8.54.18
12 Eduard Pleschutznig (Aut) Endurance Team Kärnten                  9.02.59
13 Joseph Kerkhofs (Bel) Belgian Joven Team_01                       9.30.43
14 Dave Webb (Aus) Marco Polo (CTBE)                                13.36.15
15 Franz Duller (Aut) Fincon - CML                                  15.29.55
16 Hennie Schoonheim (Ned) NO Worries                                       
 
Women
 
1 Michela Benzoni (Ita) Team Lissone Isolmant                       21.25.40
2 Sandra Klomp (Ita) Team Ironbike                                     57.09
3 Marika Covre (Ita) Bike Pro Action                                 3.07.40
4 Lindy Vandevenne (Bel) Belgian Joven Team_01                       9.27.59
5 Helle Sejersen Jepsen (Den) Riis Cycling                           9.44.10