13th Crocodile Trophy - NE
Australia, October 23-November 1, 2007
Stage 1 - October 23: Mareeba - Irvinebank, 80 km
Italy's Bettin victorious in opening stage
By John Flynn in Irvinebank, Queensland
Stage one belongs to Mauro Bettin
Photo ©: John Flynn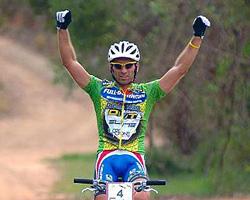 Italy's Mauro Bettin has emerged once again as the leading contender for overall honours in the Crocodile Trophy of 2007, following a spirited stage winning performance on day one of the outback classic. Bettin's technical skills came to the fore during a stage which took riders by surprise, few more so than the leader of the Felt Dream Team.
"I was not prepared for that today," Bettin admitted at the stage end. "My tyre setup was not right, I had too much pressure, it was hard to stay in control."
But the former World Cup champion was in absolute control when the race ventured seriously off-road for the first time on what appeared to be a benign 80 kilometre stage between Mareeba and the outback town of Irvinebank. What confronted the rapidly disintegrating peloton was a washed-out dirt trail through the sun-baked back country of Far North Queensland, complete with patches of sand, unridable rocky slopes and nail-biting descents.
A proven master in such terrain, Bettin finished the day with a lead in the general classification of more than one minute, ahead of Dane Allan Carlsen.
How it unfolded
The race started slightly behind schedule as the protagonists for 2007 were waved on their way by Mick Borzi, the Mayor of Mareeba Shire. Conditions were warm, but not hot by Crocodile Trophy standards with the mercury hovering around 30 degrees.
The race start in Mareeba.
Photo ©: John Flynn

Five kilometres into the stage, Dane Allan Carlsen launched the first attack of the race, powering up the road in a move designed to flush out the serious challengers from the bunch. "I thought that it was stupid to go all the way to Australia and just sit in the bunch and roll along," Carlsen said.
The tactic worked beyond expectations for Carlsen, who was soon joined by the two race favourites, Mauro Bettin and Stefan Rucker. "I had some luck in that there was two fast guys with me in Mauro Bettin and Stefan," Carlsen said. "We just worked together really well until the gravel road."
With the black-top behind them, and a punishing 50 kilometres ahead, opportunities for riders to work together were limited, in an environment where the terrain dictated an 'every man for himself' approach.
Stefan Rucker leads
Photo ©: John Flynn

Rucker, whose strengths lie more in the domain of road racing, struggled to keep pace with Carlsen and Bettin on the rocky, washed out back-country trails, where generally only wild pig hunters venture.
Carlsen too came unstuck, but managed to pick himself up, following a crash which could have had a much worse outcome. "It was really rough the gravel road," he said. "I tried to work together with Mauro but it was not possible. He was just too strong anyway and rode away. I hope I gained some time on my competitors today because I really gave it everything."
Behind the two leaders, the general classification of the 2007 Crocodile Trophy was being shaken up, and as many suspected it was the two Czech cyclists Ondrej Fojtik and Radick Sibl who emerged from the bunch to bring themselves into contention for the greater prize.
Storm clouds gather
Photo ©: John Flynn

With them for much of the journey, Australian Tim Bennett of the Flight Centre Scott team, who showed great technical skills but in the end couldn't match Fojtik or Sibl for pure power.
The Czechs crossed the finish line in third and fourth place, nearly five minutes down on Bettin, but still in contention for the greater prize. For Fojtik, it was a satisfying result. "I am happy it was good tactical from me," he said.
Bennett reached Irvinebank as the highest ranked Australian a further five minutes in arrears, but was happy not to give up a greater margin on what was a far more demanding stage than anyone expected. "There was some pretty tough climbing," Bennett observed. "It's good because I've trained really hard the last eight weeks and to go into the race with a bit of form you've got to be happy with that."
Herremans gets home
Marc Herremans
Photo ©: John Flynn

Seven hours after the stage began, Belgian Ironman Marc Herremans rolled into Irvinebank, completing the first stage of what will be one of world sport's great journeys - if he can make it to the finish line at Cape Tribulation.
Herremans' effort to tackle the steep rocky slopes of stage one almost defied description, given the Crocodile Trophy media vehicle, a turbo charged V8 Toyota Landcruiser, even struggled to tackle some of the ascents.
"I'm so tired, it was amazing," an exhausted Herremans said at stage end. "The beginning of the off road was very, very tough and I had a little help on the steep hills from my friends."
Herremans will climb back into the cockpit of his three wheeled hand cycle for stage two, a less demanding journey from Irvinebank to Koombooloomba Dam.
Photography
For a thumbnail gallery of these images, click here
Images by John Flynn/Cyclingnews.com
Results
1 Mauro Bettin (Ita) Dream Team                                   2.46.24 (28.85 km/h) 
2 Ondrej Fojtik (Cze) Toyota Dolak                                   4.51
3 Radoslav Sibl (Cze) Team Ironbike - Bikezone                       4.53
4 Tim Bennett (Aus) The Flight Centre Team                           9.45
5 Stefan Rucker (Aut) Elk Haus                                      17.35
6 Michael Borup (Den) Team GHOST - avj.dk                           18.20
7 Gerald Bauer (Aut) Publicity PowerBike Team                       18.47
8 Nick Both (Aus) The Flight Centre Team                            19.21
9 Joachim Benoit (Lux) Dream Team                                   22.10
10 Valentin Zeller (Aut) Endurance Team Kärnten                          
11 Dennis Van Mill (Aus) Team Gordon Street Cycles - Solid Stairs        
12 Jacob Agger Troelsen (Den) Team Wonsild - www.wonsild.dk         24.55
13 Max Becker (Lux) Dream Team                                      26.30
14 Brett Anderson (Aus) Dream Team                                  30.35
15 Dave Wood (Aus) The Flight Centre Team                                
16 Ryan Hawson (Aus) The Flight Centre Team                         32.24
17 Attila Marton (Hun) Meditech Sport Club - CIB Leasing            33.41
18 Patric Wiedmer (Swi) Wiedmer-RRGLMV                              43.48
19 Roman Stastny (Cze) Rock Machine - Cyklomax                      46.38
20 Matt Hubber (Aus)                                              1.06.37
21 Daniele Avico (Ita)                                            1.26.04
22 Lukas Mraz (Cze) X - SPORTS                                    1.33.58
23 Dario Cerisara (Ita) Cicli Giorgio                             2.28.38
24 Marc Herremans (Bel) Team Heremans                             3.40.32
25 Dirk Van Gossum (Bel) Team Heremans                                   
26 Glenn Creynen (Bel) Team Heremans                                     
 
M1
 
1 Allan Carlsen (Den) Alb-Gold Mountainbike Team                  2.47.35 (28.64 km/h)
2 Ewart Van der Putten (Ned) HERBALIFE-MERIDA                       17.36
3 Salvatore Paolo Albano (Ita) Pedale Travisio                      25.55
4 Allen St Pierre (USA)                                             29.24
5 Roberto Haegdons (Bel) Belgian Joven Team_01                      35.26
6 Chrisophe Heinix (Bel) Team www.sjette.be                         39.30
7 Struan Lamont (Aus) Team Scott                                    44.45
8 Philipp Zenklusen (Swi) World Wide Erne Spirit                    45.35
9 Franz Schwoediauer (Aut) Hrinkow Bikes                            48.38
10 Mauro Canale (Ita) Team Ironbike                                 50.29
11 Karel Peelman (Bel)                                            1.00.41
12 Joan Valbuena Roset (Spa) Valbuena                                    
13 Lloyd Newell (Aus) Team Gordon Street Cycles - Solid Stairs    1.06.30
14 Christan Hofer (Aut) Radsport Janger                           1.06.50
15 Giovanni Roveri (Ita) Cicli Giorgio                            1.07.05
16 Christoph Herr (Ger) Team Radsport König                       1.10.43
17 Jose Ezequiel Garcia Carmona (Spa) Valbuena                    1.18.14
18 Robby Lemmens (Bel) Belgian Joven Team_02                      1.21.33
19 Christophe Desimpelaere (Den) Riis Cycling                            
20 Josh Freeman (Aus) Team Gordon Street Cycles - Solid Stairs    1.28.30
21 Roman Petr (Svk)                                               1.31.57
22 Günter Rafeiner (Aut) KTM Mountainbiker.at                     1.48.26
23 Bohuslav Babor (Cze) X - SPORTS                                1.54.25
24 Michalak Slawomir (Pol) Bank BGZ Team                          2.05.52
25 Juan Kolbe Castillo Inga (Spa) Valbuena                        2.09.34
26 Ugo Dalla Riva (Ita) Cicli Giorgio                             2.51.41
 
M2
 
1 Rudolf Senn (Swi) World Wide Erne Spirit                        3.30.19 (22.82 km/h)
2 Lieb Loots (RSA) Squirt Lube                                      10.17
3 Greg Featonby (Aus) Fun Cycle                                     12.39
4 Willy Welles (Ned) Mega-NPB.NL                                    27.31
5 Scott McLennan (Aus) Abs Security                                 30.43
6 Kurt Alderweireldt (Bel) Kyphon                                   33.00
7 Wallace King (Can) Athleteslowyer.de                              38.27
8 Freddy Compernolle (Bel) Team www.sjette.be                       38.31
9 Han Vaalt (Ned) Klein-Puelhuis                                    42.17
10 Christan Sengstbratl (Aut) SV Lichtenberg                        43.16
11 Peter Dalziel (Aus) Team Dalley                                  49.55
12 Joseph Kerkhofs (Bel) Belgian Joven Team_01                    1.21.48
13 Eduard Pleschutznig (Aut) Endurance Team Kärnten               1.23.08
14 Dave Webb (Aus) Marco Polo (CTBE)                              1.34.17
15 Hennie Schoonheim (Ned) NO Worries                             1.39.20
16 Franz Duller (Aut) Fincon - CML                                2.12.49
 
Women
 
1 Michela Benzoni (Ita) Team Lissone Isolmant                     3.30.15 (22.83 km/h)
2 Sandra Klomp (Ita) Team Ironbike                                   4.06
3 Marika Covre (Ita) Bike Pro Action                                18.01
4 Lindy Vandevenne (Bel) Belgian Joven Team_01                    1.23.12
5 Helle Sejersen Jepsen (Den) Riis Cycling                        1.44.47