13th Crocodile Trophy - NE
Australia, October 23-November 1, 2007
Main Page Results Overall standings Previous Stage Next Stage
Stage 2 - October 24: Irvinebank - Koombooloomba, 107 km
Rucker claims stage two while Bettin consolidates GC
By John Flynn in Koombooloomba, Queensland
Mauro Bettin extended his overall lead on stage two
Photo ©: John Flynn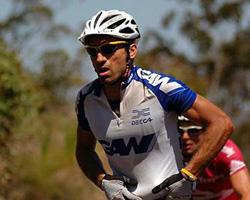 Austrian Stefan Rucker has emerged triumphant on a day when the Crocodile Trophy traversed one of the most diverse environments on the planet, from outback savannah to steamy tropical rainforest. The major obstacle for riders on the 106 kilometre stage from Irvinebank to Ravenshoe proved to be the searing heat of Far North Queensland, which looks to have claimed several of the early contenders.
Rucker was part of a first-up breakaway which also included race leader Mauro Bettin and Czech hard-man Andrej Fojtik. The trio stayed together until the final ten kilometres when Fojtik ran out of water and started to cook.
With Bettin concentrating on the General Classification and Rucker on the stage win, the Austrian and the Italian continued working together until the finish, where Rucker claimed the stage and Bettin more valuable seconds on his rivals for the overall prize. "GC is almost over for me, so I will try to do the same as last year and win stages," Rucker said after claiming his first for the Crocodile of 2007. "We worked together quite well on a very hot day today, much hotter than last year."
Bettin was also pleased with the outcome which saw him edge further ahead on GC. A solid position given the technical stage ahead tomorrow on the famed powerline track, which will suit the Italian. "Second is good for me," Bettin said. "Normally a day like today other people attack, but I found I had to attack."
Anyone for a cold ale?
Photo ©: John Flynn

Several of the much fancied contenders felt the heat - literally - including Dane Allan Carlsen. As many Crocodile Trophy first timers discover, Carlsen couldn't back up from yesterday's all-out effort. "I was doing quite well this morning but there was attacking from a few k's," Carlsen said. "The tempo kept up and I had a hard time on the small climbs."
Carlsen drank three-times the water he normally would racing in Europe and will be watching for the signs of heat-stroke ahead of tomorrow's stage.
The first placed Australian, Tim Bennett of the Flight Centre Scott team, finished an impressive fourth and appears to be easing himself into the race. His post-race comment lifted straight from the Cadel Evans book of quotes. "I'm pretty happy with the way things are going, so far so good," Bennett said.
A game of survival for the Europeans
A busy day at the drink station.
Photo ©: John Flynn

Already the Crocodile Trophy of 2007 is turning into a game of survival for many of the Europeans. Austrian Valentin Zeller, who was forced to withdraw from last year's race with heat exposure appears to have learnt from the experience and is riding within his limits.
Zeller arrived in Australia with only one day to prepare for the race, and effectively no time to acclimatize, but won't be making the mistake of trying to match the pace of Bettin, Rucker and Fojtik. "I'm more used to twenty-four hour races, where the pace is slower," Zeller noted. "It was very fast out there again today."
Zeller's comments were supported by Australian David Wood of the Flight Centre team, who is one of the Crocodile Trophy's most experienced exponents. Like many, Wood has struggled to keep pace during the first two frantic stages, but is maintaining his relaxed, composed demeanour. "It's definitely way faster than last year," Wood said.
Herremans hangs tough
Any challenges the able-bodied competitors might face will pale in comparison to the task facing Belgian Marc Herremans over the coming days. At the end of eight and a half hours the courageous Ironman triathlete reached the finish line of stage two, his condition rapidly deteriorating. The race doctor rushed to his aid and Herremans was placed on a saline drip for fluid replenishment at the Crocodile Trophy's makeshift bush triage centre.
Herremans still manages a smile
Photo ©: John Flynn

"Stage one was very difficult and last night I sleep almost nothing, I was too tired to sleep," Herremans said. "They said today it was a very easy stage so I thought it was totally flat but oh my gosh it was really hard, it was up and down. For me it was a very tough day, it was not an easy day."
The challenge so far for Herremans has centred on powering his hand cycle over the steeper climbs. A feat which, on its own, requires greater strength than most humans could find within themselves.
Even for an athlete of Herremans' calibre, a man who has contested five Hawaii Ironman events, it is proving near impossible. "About seven k's from the end the man with the big hammer hit me and I was totally empty," Herremans said. "I was so dizzy, I was a little bit afraid that I was going away. I am used to these things because I did five times the Ironman."
The medical team administers a saline drip
Photo ©: John Flynn

What Herremans may not be used to is the nightmare which lies ahead on the famed powerline track during stage three of the Crocodile Trophy. In previous years the technical mountainous stage has claimed even some of the event's most experienced off-road exponents, and as beautiful as the race parcours is, tracking on the fringe of World Heritage listed forest, it may be too great a challenge.
To make it to the finish, Herremans may be forced to go against his wishes, and enlist the support of his two helpers, who are riding alongside to push his three wheeled cycle over the steeper climbs. "I hope I have a very good night because tomorrow it's going be a very, very tough day and I need my energy," Herremans said. "Hopefully my two buddies they can help me. I want to do this race and I want to finish. Maybe I need a little bit more help from my team to reach the finish line."
No-one in the Crocodile Trophy family will begrudge Herremans the opportunity for on-course assistance. Watching the Belgian cross the line at the end of stage two, Stefan Rucker stood in disbelief as Herremans was treated by the race medical team. "He is incredible," Rucker said while shaking his head. "Mentally he is such a strong guy."
Whether or not Herremans survives stage three - this performance already satisfies the motto by which the Belgian lives his life:
"Giving anything less than your best is to sacrifice your dream."
Photography
For a thumbnail gallery of these images, click here
Images by John Flynn/Cyclingnews.com
Results
1 Stefan Rucker (Aut) Elk Haus                                     3.16.37 (32.65 km/h)
2 Mauro Bettin (Ita) Dream Team                                           
3 Ondrej Fojtik (Cze) Toyota Dolak                                    0.38
4 Tim Bennett (Aus) The Flight Centre Team                            8.36
5 Michael Borup (Den) Team GHOST - avj.dk                                 
6 Joachim Benoit (Lux) Dream Team                                         
7 Radoslav Sibl (Cze) Team Ironbike - Bikezone                        9.12
8 Max Becker (Lux) Dream Team                                        15.24
9 Brett Anderson (Aus) Dream Team                                         
10 Dennis Van Mill (Aus) Team Gordon Street Cycles - Solid Stairs    17.49
11 Gerald Bauer (Aut) Publicity PowerBike Team                       23.03
12 Attila Marton (Hun) Meditech Sport Club - CIB Leasing             23.08
13 Jacob Agger Troelsen (Den) Team Wonsild - www.wonsild.dk          23.16
14 Nick Both (Aus) The Flight Centre Team                            23.18
15 Ryan Hawson (Aus) The Flight Centre Team                          32.24
16 Patric Wiedmer (Swi) Wiedmer-RRGLMV                               34.34
17 Roman Stastny (Cze) Rock Machine - Cyklomax                       40.11
18 Dave Wood (Aus) The Flight Centre Team                            42.23
19 Matt Hubber (Aus)                                               1.06.39
20 Daniele Avico (Ita)                                             1.18.21
21 Lukas Mraz (Cze) X - SPORTS                                     1.33.31
22 Dario Cerisara (Ita) Cicli Giorgio                              3.33.07
23 Marc Herremans (Bel) Team Heremans                              4.56.20
24 Dirk Van Gossum (Bel) Team Heremans                                    
25 Glenn Creynen (Bel) Team Heremans                                      
 
M1
 
1 Valentin Zeller (Aut) Endurance Team Kärnten                     3.25.13 (31.28 km/h)
2 Allan Carlsen (Den) Alb-Gold Mountainbike Team                      0.40
3 Allen St Pierre (USA)                                               1.06
4 Roberto Haegdons (Bel) Belgian Joven Team_01                        6.48
5 Chrisophe Heinix (Bel) Team www.sjette.be                               
6 Salvatore Paolo Albano (Ita) Pedale Travisio                        9.10
7 Ewart Van der Putten (Ned) HERBALIFE-MERIDA                        15.37
8 Struan Lamont (Aus) Team Scott                                     33.06
9 Karel Peelman (Bel)                                                33.51
10 Philipp Zenklusen (Swi) World Wide Erne Spirit                    41.05
11 Robby Lemmens (Bel) Belgian Joven Team_02                         41.07
12 Christan Hofer (Aut) Radsport Janger                              42.19
13 Lloyd Newell (Aus) Team Gordon Street Cycles - Solid Stairs       44.14
14 Mauro Canale (Ita) Team Ironbike                                       
15 Christoph Herr (Ger) Team Radsport König                          51.48
16 Franz Schwoediauer (Aut) Hrinkow Bikes                            55.48
17 Giovanni Roveri (Ita) Cicli Giorgio                             1.02.08
18 Jose Ezequiel Garcia Carmona (Spa) Valbuena                     1.03.25
19 Joan Valbuena Roset (Spa) Valbuena                              1.09.08
20 Josh Freeman (Aus) Team Gordon Street Cycles - Solid Stairs     1.10.01
21 Christophe Desimpelaere (Den) Riis Cycling                             
22 Roman Petr (Svk)                                                1.18.45
23 Bohuslav Babor (Cze) X - SPORTS                                 1.34.57
24 Günter Rafeiner (Aut) KTM Mountainbiker.at                      1.45.49
25 Michalak Slawomir (Pol) Bank BGZ Team                           2.14.42
26 Juan Kolbe Castillo Inga (Spa) Valbuena                         2.22.10
27 Ugo Dalla Riva (Ita) Cicli Giorgio                              5.49.47
 
M2
 
1 Lieb Loots (RSA) Squirt Lube                                     3.39.42 (29.22 km/h)
2 Rudolf Senn (Swi) World Wide Erne Spirit                           17.06
3 Willy Welles (Ned) Mega-NPB.NL                                     17.51
4 Kurt Alderweireldt (Bel) Kyphon                                    19.22
5 Greg Featonby (Aus) Fun Cycle                                      27.25
6 Scott McLennan (Aus) Abs Security                                  46.30
7 Freddy Compernolle (Bel) Team www.sjette.be                        48.56
8 Christan Sengstbratl (Aut) SV Lichtenberg                          56.49
9 Peter Dalziel (Aus) Team Dalley                                  1.28.39
10 Eduard Pleschutznig (Aut) Endurance Team Kärnten                1.29.05
11 Wallace King (Can) Athleteslowyer.de                            1.38.05
12 Joseph Kerkhofs (Bel) Belgian Joven Team_01                     1.40.22
13 Hennie Schoonheim (Ned) NO Worries                              2.10.06
14 Han Vaalt (Ned) Klein-Puelhuis                                  5.35.18
15 Dave Webb (Aus) Marco Polo (CTBE)                                      
16 Franz Duller (Aut) Fincon - CML                                        
 
Women
 
1 Michela Benzoni (Ita) Team Lissone Isolmant                      3.57.27 (27.04 km/h)
2 Sandra Klomp (Ita) Team Ironbike                                    1.02
3 Marika Covre (Ita) Bike Pro Action                                 36.54
4 Lindy Vandevenne (Bel) Belgian Joven Team_01                     1.22.37
5 Helle Sejersen Jepsen (Den) Riis Cycling