USA Cycling Mountain Bike National Championships - CN
USA, July 19-22, 2007
Main Page Results Overall standings Previous Race Next Race
Race 10 - Sunday, July 22: Super D,
Craig takes fourth Super D title and extends streak
Returning Lloyd takes women's win in second race ever
By Jackson Weber in West Dover, Vermont
Adam Craig (Giant)
Photo ©: Jackson Weber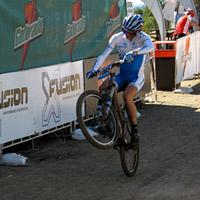 Adam Craig (Giant) and Rachel Lloyd (Proman/Paradigm) won the men's and women's super D national championships at the USA Cycling Mountain Bike National Championships.
Craig's dominance continued as he won his fourth consecutive national super D title and second national title in as many days [Craig won the cross country title yesterday. -ed.].
A smattering of experts from the previous day's races, including dual slalom winner Chris Herndon (Specialized/Cane Creek) former downhill, BMX and 4X champ Eric Carter (Mongoose), who had crashed out of the dual slalom the night before, and yesterday's cross country surprise, local cross country racer Mike Broderick (Seven/Kenda) lined up for the race in which no one was sure of who would have the edge.
Amusingly enough then, the first selection in the race occurred before the racers even got on their bikes. A shuttle run saw racers have to run to their bikes, run to another line with them, drop their bikes, run back to the start line, and then finally head back to their bikes for an uphill run to the rest of the course. It surprised and fried more than a few riders.
"I was just completely before anaerobic before I even thought about getting on my bike. I was walking," said Eric Carter. "My strong point which would be the descending. I had to sit…and that just killed me."
Dual slalom winner Chris Herndon faired slightly better, bombing down the first descent fast enough to surprise eventual winner Craig, but he couldn't create enough of a gap to separate himself from the more aerobically adept riders like Craig and Mike West (Maverick). The two passed the dual slalom winner going up the first fire road, and proceeded to make a race of it.
"West and I…were having a civil elbow bang going off the fire road into the second half of the downhill," explained Craig. "But I had the inside and momentum, so I gave him the poke, then he tried to make a move on me in the big rock slabs but didn't thank god cuz it would've been terrifying."
Ahead of West, who ultimately finished second, going into the final uphill, Craig rode away and finished with a comfortable 30 second gap, more than enough time for his trademark shrug and wheelie.
In the women's race, Rachel Lloyd, did exactly what she expected to do: win the woman's super D title. It was only her second super D race ever.
Lloyd almost looked out of place winning the super D, her spindly frame and rounded glasses making her look like she'd be more at home in a library than ripping down the side of mountain, but that just proves how useful looks are. A former mountain bike pro with Gary Fisher, Lloyd raced for 10 years before burning out and leaving the sport for several years. Only recently has she come back to bike racing on the Proman/Paradigm road team.
Like the men's race, the woman's super D quickly boiled down to two riders, Lloyd and her training partner and downhill legend, Marla Streb (Luna). To put it mildly, Lloyd and Streb knew each other well, as according to Streb, the two had been riding together for the last 10 years. Lloyd went further explaining "Marla was one of my main teachers in learning how to ride a mountain bike."
Knowing each other's strengths and weaknesses, Lloyd managed to follow Streb on the downhill, trusting Streb's downhilling expertise to get them to the base first climb.
"She followed me the first quarter of the course, then passed me on the long uphill," said Streb afterwards.
On the climb, it was all she wrote as Lloyd used to the climb to put more than 10 seconds into Streb, who attempted to pull back her former student in the next downhill section. Unfortunately, Streb went a bit too fast and lost her front wheel in one of the descent's winding turns, leaving Lloyd to comfortably roll to her first ever national title.
Photography
For a thumbnail gallery of these images, click here
Images by Jackson Weber / Cyclingnews
Adam Craig (Giant) wheelies across the line on his way to another Super D national championship victory.
Images by Dave McElwaine/www.trailwatch.net
Results
Pro/Open men
 
1 Adam Craig (USA) Giant                  7.57
2 Mike West (USA) Maverick                0.14
3 Bryan Fawley (USA) Kenda/X-Fu           0.32
4 Samuel Koerber (USA)                    0.41
5 Michael Broderick (USA) Kenda/Seve      0.44
6 Spencer Paxson (USA) Discover B         0.54
7 Ken Burt (USA) Motionbase               0.56
8 Christopher Herndon (USA) Specialize    1.15
9 Andy Johnston (USA) Kenda/Khs/          1.16
10 Brooke Scatchard (USA) Bliss           1.17
11 Dana Weber (USA) Jax Bicycl            1.17
12 Michael Patrick (USA) Gary Fishe       1.17
13 Brandon Draugelis (USA) Bear Naked     1.18
14 Kirk Turner (USA) Giant                1.24
15 Eric Carter (USA) Mongoose/S           1.26
16 David Wood (USA) Bearnaked/            1.26
17 Olivier Bock (USA) Jamis/Garm          1.26
18 Ben Moody (USA) Rhino Bike             2.06
19 Michael Zocchi (USA) Landrys           2.18
20 Tom Oakes (USA) Trailmaste             2.25
21 Trevor Downing (USA) Team Devo        13.54
DNF Mike Phillips (USA) Alterra/Sp            
DNF Jason Sager (USA) Monavia/Ca              
DNF Carl Decker (USA) Giant                   
 
Pro/Open women
 
1 Rachel Lloyd (USA) Proman/Par           9.07
2 Marla Streb (USA) Luna Women            0.28
3 Kelli Emmett (USA) Giant Mtb            1.00
4 Jamie Whitmore (USA) Cannondale         1.00
5 Dawn Bourque (USA) Rhino Bike           1.29
6 Kathy Pruitt (USA) Jamis                1.49
7 Jennifer Gersbach (USA) Bmc/Sports      1.52
8 Chenoah Hendershot (USA) Bear Naked     1.55
9 Mary Lynn Wikar (USA) Titus/Mich        1.55
10 Sabina Kraushaar (USA) Team Healt      2.14
11 Alexandria Fabbro (USA) Velo Bella     2.36
DNF Melissa Thomas (USA) Tokyo Joes           
DNF Lea Davison US Trek/Vw                    
 
Junior men
 
1 Greg Carpenter (USA) Giant/Devo         8.51
2 Tom Sampson (USA) Rhino                 0.15
3 Kyle Salisbury (USA) Fanatik Bi         0.15
4 Seth Kemp (USA) Khs/Kenda               0.36
5 Austin Eterno (USA) Santa Cruz          0.43
6 Geoffrey Ulmer (USA) Rotec/Azon         0.55
7 Taylor Kahl (USA) Liberty Cy            0.56
8 Matthew Sebas (USA) 603Sports.          0.56
9 Matthew Keiper (USA) Ncvc/Inova         0.57
10 Taylor Lideen (USA) Dp Air/San         1.00
11 Lars Mommer (USA) California           1.15
12 Ben Kraushaar (USA) Devo/Nso           1.15
13 Tristan Littlehale (USA) Santa Cruz    1.25
14 Joshua Berry (USA) Scott Usa           1.35
15 Neko Mulally (USA) Rockymtnbi          1.46
16 Menso De Jong (USA) Santa Cruz         1.49
17 Richard Rude (USA) Santa Cruz          1.50
18 Dylan Jones (USA) Byrds                2.20
19 Jonathan Merritt (USA) Byrds           2.23
20 Alex Couture (USA)                     2.32
21 Daniel Conley (USA)                    2.48
22 Adam Larochelle (USA) Michelin/G       4.30
23 Naish Ulmer (USA) Go.Ride.Co           4.36
24 Joseph Dombrowski (USA) Ncvc/Inova     5.19
25 Zachary Page (USA) Byrds               5.30
26 Saxton Dees (USA) Byrds                5.41
27 Kristo Jorgenson (USA)                 5.47
28 Chase Dees (USA) Byrds                 6.14
29 Brady Adams (USA) Byrds                9.33
DNF Ethan Gilmour (USA) Devo/Okemo            
DNF Michael Beck (USA) Byrds                  
DNF Jamie Knight (USA) Bents Schw             
DNF Kyle Wolmer (USA)                         
DNF Jeff Cayley (USA) Morewood/6              
DNF Evan Mallory (USA) Windham Mt             
 
Junior women 18 and under
 
1 Hollis Owens (USA) Charlottes          11.37
2 Caitlin Curran (USA) Bikeman            1.40
3 Kristine Koch (USA) Team Cmi/S          3.46
DNF Nicole Beck (USA) Byrds                   
DNF Maddyson Page (USA) Byrds                 
 
Men 19-29
 
1 Robert Herber (USA) Intense             9.18
2 Patrick Mccarthy (USA) Boston Wal       0.26
3 Art Nelsen (USA) Tokyo Joes             0.36
4 Eric Bascombe (USA) Mtbmind.Co          0.46
5 Matt Miller (USA) Gotham Cyc            0.51
6 Brian Yannuzzi (USA) Mt Perk Cy         0.57
7 Beau Cormier (USA) Bustedspok           1.13
8 Chris Flynn (USA) Skimarket/            1.38
9 Daniel Fama (USA) Iron Horse            2.16
10 Nathan Lusignan (USA)                  3.12
11 Gavin Vaughan (USA)                    3.27
12 Adam King (USA) Bustedspok             4.13
DNF Nic Magliocco (USA) Bliss                 
 
Women 19-29
 
1 Maureen Kunz (USA) Vanderkitt          11.16
2 Heidi Kanayan (USA) Fox Racing          0.16
3 Sasha Dingle (USA) Bliss Raci           0.46
4 Amanda Pilling (USA) Kona Midwe         0.54
DNF Kate Riedell (USA) Mtbmind                
 
Men 30-39
 
1 James Roy                               9.35
2 Jeff Turner (USA) Mirage                0.11
3 Courtney Cardenas (USA) Cannondale      0.15
4 Jed Prentice (USA) Ntieractiv           0.20
5 Tim Pierce (USA) Cycle Cref             0.34
6 Noah Meineke (USA) Team Bulld           0.40
7 Roland Dufresne (USA) Crankfire         0.56
8 Brian Shernce (USA) Bulldog             1.13
9 John Bazyk (USA)                        1.27
10 Mike Polito (USA) Intense Cy           1.42
11 Jacob Dallegro (USA) Keswick Cy        1.53
12 Michael Campbell (USA) Cyclethera      2.09
13 Doug Quinn (USA) Fastfreddy            2.25
14 Steve Battaglini (USA) Elevate Cy      2.33
15 Rich Blair (USA) Mtbmind.Co            2.47
16 Ron Salb (USA) Crank Raci              2.54
17 Stan Sheeran (USA)                     3.18
18 Lawrence Wells (USA)                   3.37
DNF Jeff Seaton (USA) Burke Mtn               
DNF Richard Price (USA)                       
DNF Rodger Carter (USA) Race Pace             
 
Women 30-39
 
1 Rozanne Puleo (USA) Lunachix           13.28
2 Jessica Hoeverman (USA) Teambulldo      0.12
3 Wendy Caldwell (USA) Kenda/Titu         4.44
 
Men 40-49
 
1 Rich Bartlett (USA) Block               9.10
2 Derek Pierce (USA) Teambikera           0.09
3 Darrell Szlachetka (USA) Sinister B     0.19
4 David Van Wart (USA) Town Cycle         0.48
5 Tony Watkins (USA) Cnybikes.C           1.05
6 Chris St. Peter (USA) Sycamore          1.19
7 Bert Blanchette (USA) Backbone R        1.58
8 Richard Rude (USA) Cycle Cent           1.58
9 Todd Plessel (USA)                      2.26
10 Alan Morrison (USA) Mudhounds          2.49
11 Robert Pratt (USA) Highlander          3.02
12 Mark French (USA) Kentucky             3.13
13 Tim Kelley (USA)                       3.14
14 George Ulmer (USA) Omr/Magura          4.55
15 Thomas Anderson (USA) Bike Loft        7.21
 
Women 40+
 
1 Charlene Smith (USA) Bikerag.Co        12.50
2 Kathleen Bortolussi (USA) Velo Bella    0.09
3 Vicki Koch (USA) Team Cmi/S             3.40
4 Sally Becker (USA)                      7.14
DNF Serene Forte (USA) Nebc                   
DNF Teri Carilli (USA) Nebc/Cycle             
 
Men 50+
 
1 Timothy Messersmith (USA) Trek-Vw      10.13
2 Kevin Lee (USA) Abrt                    0.07
3 Arthur White (USA) Yeti Cycle           0.11
4 Ed Smith (USA) Bikerag.Co               0.17
5 Scott Lideen (USA) Dp Air/San           1.00
6 Paul Zarubin (USA) Mt Lincoln           1.14
7 Mihaly Deak (USA) Crank Raci            1.55
8 Todd Samuelson (USA) Clarke Cyc         3.44
9 Charles Beristain (USA) Mercury Br      4.03
10 Harry Gill (USA)                      15.21
11 Kevin Mccarthy (USA) Oldandslo        20.39
DNF Henry Kramer US Calgiant S                
DNF Dan Meyer (USA) Loon State                
DNF Gil Goodrich (USA) Filz Built