USA Cycling Mountain Bike National Championships - CN
USA, July 19-22, 2007
Main Page Results Overall standings Previous Race Next Race
Race 9 - Saturday, July 21: Elite / Semi-Pro Dual Slalom Finals,
Herndon and Buhl win their first dual slalom national titles
By Jackson Weber in West Dover, Vermont
Men's dual slalom podium:
Photo ©: Jackson Weber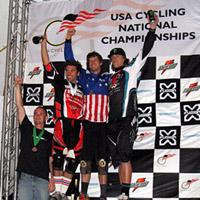 Christopher Herndon (Specialized/Cane Creek) emerged from a certain amount of obscurity to take the biggest title of his life by winning the dual slalom at the USA Cycling mountain bike national championships. Herndon capitalized on his consistency, where some of the bigger names floundered. Melissa Buhl (KHS Bicycles) won the women's event.
"Its one of these tracks that to get any kind of advantage... you gotta be perfect," explained an amazingly cool Herndon after taking the final heat and thereby the stars and stripes jersey.
The dual slalom course was a short, violent affair with racers savagely stitching their ways down the short zigzag of a course. It quickly became obvious it wasn't to be a race of who could go the fastest but who could stay the cleanest, as the crowds watched the number one seed, Eric Carter (Mongoose/SRAM/Kenda), successfully dispatch himself. He slammed his front wheel through a berm midway through the second round.
Carter wasn't the only giant to fall on his own. Third seed Mike Harderer (Foxshox/Yeti/Easton/Michelin) did not quite crash, but suffered a broken pedal in his second round. It broke his focus, and he was disqualified on his next run and sent packing.
In the next round, second seed Cole Bangert (Morewood/Utopia/Freestyle) also found his way to a rest in dirt, leaving Herndon to face George Stephenson (Northern Lights Racing) while seventh seed Rich Houseman (Yeti/Fox) faced sixth seed Joe Haley (Eastern Bikes/Maxxis).
Herndon lost his first heat against Stephenson, but took advantage of small mistake by Stephenson in the second to overcome his deficit and move to the finals to face Houseman in a race where no one had any idea who was the favorite.
In the end, Herndon capitalized on his consistency. Though he lost the second round, his cushion from his first heat victory still meant that the relaxed North Carolinia rider could call himself dual slalom national champion.
Buhl wins
Melissa Buhl (KHS Bicycles) made a hard race course look like a sure thing as she repeatedly etched her way down the Mount Snow dual slalom course to take her first national title in the event. In a clearly divided field that saw the top four seeds make waste of their competition with near worrisome ease, the competition quickly heated up as it moved into the later rounds.
Echoing Herndon's comments about the course, Buhl said simply, "There was no room for error."
In the second round, Buhl came across up and comer Caroline Jarolime (The Fix), who went down swinging, nearly edging Buhl in the first of their two heats, but in the end lacked the experience to deal with the veteran Buhl.
"I gotta give props to Caroline. This is one of her second [or] third pro races…that first round woke me up," explained Buhl.
After beating Jarolime, Buhl moved on to face childhood foe, Kathy Pruitt (Jamis), who tried valiantly to beat the raging Buhl but still simply couldn't find the line to beat the cagey vet.
Race Note
- Second place finisher Rich Houseman (Yeti/Fox) also won the dual slalom last year at Mount Snow.
Photography
For a thumbnail gallery of these images, click here
Images by Jackson Weber / Cyclingnews
Dual slalom podium: Men's dual slalom podium from left to right, Joe Haley, George Stephenson, Chris Herndon, and Rich Houseman.
Results
Pro Men 

1 Christopher Herndon (Specialized/Canecreek)         
2 Rich Houseman (Yeti/Fox)                            
3 George Stephenson (Northern Lights Racing)          
4 Joe Haley (Eastern Bikes/Maxxis)                    
5 Cole Bangert (Morewood/Utopia/Freestyle)            
6 Tommy Tokarczyk (Jamis Bikes/Shark Energy Drink)    
7 Tim "TJ" Sharp (Yeti/Fox)                           
8 David Camp                                          
9 Eric Carter (Mongoose/SRAM/Kenda)                   
10 Mike Haderer (Foxshox/Yeti/Easton/Michelin)        
11 Chris Boice (Fox Racing Shox/Orbitt Racing)        
12 Ross Milan (Yeti/Fox Racing Team)                  
13 Luke Strobel (Maxxis)                              
14 Heikki Hall (E13/Ironhorse)                        
15 James Schwanke (Mtn Cycle/Kenda/AXO/Oakley)        
16 Lance Mcguire                                      
17 Geritt Beytagh (Morewood)                          
18 David Flynn (Paulmitchell/Kenda)                   
19 Ryan Condrashoff (Wtbsantacruzxfusion)             
20 Steve Darcy (Go-Ride.Com/Michelin/Rock Worx)       
21 Tom Oakes (Trailmasters)                           
22 Josh Misevcis (Bear Naked/Cannondale)              
23 Coakley Jopling (Morewood/E13)                     
24 Chris Van Dine (Cannondale "The Cut")              
25 Michael Thomas (SEI/Michelin/Thomson)              
26 Dante Harmony (Brodie/Cactus)                      
27 Cody Warren (C-Dub Racing)                         
28 Fred Bassett (Fastfreddyracing)                    
29 John Hauer (X-Fusion/Specialized)                  
 
Pro Women 

1 Melissa Buhl (Khs Bicycles)                         
2 Kathy Pruitt (Jamis)                                
3 Lisa Myklak (Leelikesbikes.Com/Morewood Bikes)      
4 Caroline Jarolimek (The Fix)                        
5 Amelia Colasurdo (Bear Naked/Cannondale)            
6 Jackie Harmony (Brodie/Bike & Bean)                 
7 Hillary Elgert (Reading Racing/City Bikes)          
8 Karen Eagan (Vitaminwater)                          
 
Semi Pro Men 

1 Rudy Unrau (Rpm/Yeti)                               
2 Kyle Hickey (Bumrut)                                
3 Brian Price (9.8Germantowncycles)                   
4 Brian Piper (E13/Ironhorse)                         
5 Nick Vandine (Go-Ride.Com)                          
6 Jay De Jesus                                        
7 Walter Dunn (Sinister Bikes)                        
8 Bj Treglia (Ninepointeight)