NORBA USA National Championships - CN
USA, July 13-July 16, 2006
Main Page Results Overall standings Previous Race Next Race
Race 7 - Sunday, July 16: Short Track
Haywood and Wicks hot in Short Track championships
By Steve Medcroft in Sonoma
Haywood leads the pack on her way to a short-track national championship.
Photo ©: Steve Medcroft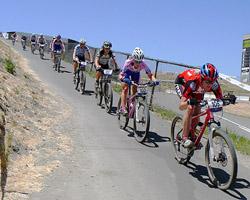 In ninety-eight degree temperatures, Sue Haywood (Trek/VW) and Barry Wicks (Kona/Les Gets) won short track national championship jerseys in Sonoma Sunday afternoon.
For twenty minutes plus three laps, racers ran the two kilometers of steep dirt road and pavement course; which included a short run across the sawtooth bumps of Saturday's short-track course for good measure. Haywood took her victory with a strong solo attack in the final three laps, keeping Dara Marks-Marino (Titus/Kenda) at bay by twenty meters to take her second championship this weekend (her first came in Saturday's super D). Kelli Emmett (Ford Cycling) finished third. Shonny Vanlandingham (Luna Chix) and Mary McConneloug (Kenda/Seven Cycles) rounded out the podium.
Wicks stayed close to a constantly shifting lead in the men's race and hung on while teammate Ryan Trebon, Ross Schnell and Jeremiah Bishop (both Trek/VW), Jeremy Horgan-Kobelski (Subaru/Gary Fisher), Carl Decker (Team Giant) among others attacked each other. In the final lap, Wicks slingshot past Schnell, who attacked hard into the final climb but dropped his chain. Schnell's teammate Bishop surged to take second. Trebon finished third. Schnell recovered from his mechanical to keep fourth and JHK finished fifth.
Stepping up
From the start, Sue Haywood set an aggressive pace in the women's race. "A friend of mine who watched the other races said they were selected in the first three laps so I thought that even though it is windy, I didn't want to get left behind. And I like to lead the first lap in short track, so I can see the turns at my speed."
The effort put other racers into the red. Including defending national champion Shonny Vanlandingham (Luna Chix), who is recovering from a hip injury suffered during a crash in training last Thursday. "I felt a little bit better today but I just didn't have any snap so for me, the start was really difficult. Sue had great power. I had to fire up the diesel engine and wait for that red light to come on, you know. Even though I was able to bridge back up when I finally got the motor going, there was no way I would have gotten to her on that last lap."
Dara Marks-Marino
Photo ©: Steve Medcroft

Dara Marks-Marino (Titus/Kenda) also had to work to put herself into position to contend for the win. "At the start, I was probably in 25th," she said. " I put in a huge effort to reach the lead."
After the initial push, Haywood says the pace dropped. "There was a big hill but you couldn't get away on it so I could tell I shouldn't be leading the whole way."
Haywood waited until the final lap to make her winning push. "It was a hard race, but not the hardest I've ever done," she said. "When it came down to the end, I felt like I just had to put my head down and go for it."
Marks-Marino finished just twenty meters back. "To come out here and get second is a very good result for me. Even though it's not always good to start that hard early, it worked out for me today."
Boys will be boys
Barry Wicks
Photo ©: Steve Medcroft

The men's race was aggressive from the very first lap as well. With two members each in the ever-shrinking lead group, it appeared from the sidelines that both the Kona/Les Gets and the Trek/VW teams were taking a tactical, team approach to the race. Not so, say the racers.
Recently-crowned US National Cross Country Champion Ryan Trebon says he and Wicks' use of cyclo-cross style tactics was about surviving the race. "I wasn't feeling real good," he said. "I was tired from Friday (cross country) and yesterday (singlespeed cross country). I told Barry that if it started coming to the end, he should just work off me."
Jeremiah Bishop says that his and Schnell's efforts were uncoordinated at first as well, that his initial aggression was motivated by anger over his call-up placement. "I was going for vengeance," he said. "Ten months ago I broke three bones in my back and didn't race much that season. They (staff from Team Big Bear; organizers of the NORBA series and national championship races) put me at the very end of the field (at Nationals in Mammoth Mountian, California). They did it again this year despite the fact that UCI rules say you should be called up based on your UCI rank (of which Bishop is third highest-ranked American). So I just wanted to ride a super-aggressive race, get right to the front." He did just that in one lap.
Teammate Ross Schnell found the front of the group as well and Bishop says that in the middle of the race, Trebon and Wicks started working together (falling into the cyclo-cross race rhythm of alternating attacks and covers). "The twin towers were putting the slam on us all," Bishop said. "And because of how effectively they race the tactical race, it was crucial for us to have an offense to respond with." Bishop says he and Schnell then came together. "Once we started to hit them back as hard as they were hitting us, we stood a fair chance."
Look left
Photo ©: Steve Medcroft

JHK found himself victimized by the coordinations happening around him. "Those Kona guys were racing with the strength of ten men," he said. "I was a marked guy right from the start. Every time I would try to make a move someone was right there. I tried to go with everything and keep myself at the front as much as I could but when it went down at the end, it's the same story as Friday; I did so much work early that I just didn't have the legs."
The final attack JHK was alluding to was launched by Schnell. "It was a good time to go," Schnell said, "and I think that maybe with a different set of circumstances, I might have stayed away for that lap." The cicumstance that rought his attack to a quick end; a dropped chain.
"Ross set me up perfect," Wicks said about his first elite win against the full domestic field. "I kept that momentum going and everyone else was tired."
Funky bike setups
The Sonoma short track course, mostly paved and with several hundred meters of climbing per lap, got a lot of riders thinking about equipment this weekend; especially in the men's race where we saw a number of unusual mountain-bike choices.
Singlespeed national champion Carl Decker (Team Giant) brought his one-geared bike to the party. "I ran faster laps in the singlespeed cross-country than I did on my regular bike on Friday (in the open cross-country race)," he said. "I did a lap of the course on both bikes and brought what I thought would be fastest."
Ross Schnell made some modifications to his race bike as well. "I was riding the (Trek) 9.9 carbon hardtail with a carbon rigid Bontrager fork and a 700c front wheel with a cyclo-cross tire. I did it, first of all, because it was a lighter setup but it rolled really fast on the flats and I still had the tire in the back to climb up that steeper pitch on the back side. All in all, I thought it was the perfect setup. It felt like a road bike up the climbs."
Even weight-conscious and typically experiment-adverse (he has resisted full-suspension and disk-brake setups longer than most due to, he says, weight concerns) Jeremy Horgan-Kobelski setup his (Gary Fisher) Race Day with 700c carbon Bontrager rims and cyclo-cross tires.
Did all this monkeying with setups make a difference? They probably made no difference in the outcome at all; Decker finished sixth and Schnell, who has just started to find the podium in NORBA's finished fourth. JHK, who is always a threat in short track, managed fifth. First through third place all rode standard bikes with various semi-slick MTB tire configurations.
Photography
For a thumbnail gallery of these images, click here
Images by Steve Medcroft / www.cyclingnews.com
Images by Rob O'Dea/www.BaldZebra.com
Results

Pro Men
 
1 Barry Wicks (Kona/Les-Gets)               28.29
2 Jeremiah Bishop (Trek/VW)                  0.06
3 Ryan Trebon (Kona/Les-Gets)                0.08
4 Ross Schnell (Trek VW)                     0.09
5 Jeremy Horgan-Kobelski (Subaru-Gary)       0.10
6 Carl Decker (Broadmark)                    0.15
7 Alan Obye (SRAM)                           0.35
8 Adam Craig (Giant)                         1.06
9 Erik Tonkin (Kona/Team)                    1.13
10 Jason Sager (Hotel)                       1.22
11 Todd Wells (GT Bicycle)                   1.39
12 Cody Peterson (3D Racing/Hillenbrand)     1.54
13 Eric Ransom (Tamarack)                    1.54
14 Dana Weber (Jax Bicycles)                 1.55
15 Michael Broderick (Seven Cycles)          1.56
16 Eric Jones (Raleigh Factory)              2.05
17 Aren Timmel (Soulcraft)                   2.15
18 Kevin Bradford-Parish (Bicycle)           2.15
19 Jeff Schalk (Trek-VW East)                2.23
20 Mitchell Peterson (Devo)                  2.28
21 Mark Weir (Wtb/Santa)                     2.33
22 Nick Waite (Kelly Benefits Strategies)    3.09
Lapped Charlie Pendry (Inland Construction)      
Lapped Keith Hickerson (Tamarack)                
Lapped Sam Jurekovic (U23 Nation)                
Lapped Brent Winebarger (Health Fx)              
Lapped Nat Ross (Subaru-Gary Fisher)             
Lapped Leonardo Sandoval (Bicycle)               
Lapped Blake Zumbrunnen (Revolution)             
Lapped Tj Woodruff (Litespeed)                   
Lapped Patrick Bush (Clif Bar)                   
Lapped Austin Carroll (Devo/Nso)                 
Lapped Matt Kelly (Subaru-Gary Fisher)           
Lapped Michael Andres (Team Chico)               
Lapped Colin Cares (U23 Nation)                  
Lapped Spencer Paxson (Balance Bar)              
Lapped Walker Ferguson (Scott/Spin)              
Lapped Sean Donovan (Cytomax/Kh)                 
Lapped Lucas Livermon (Cycling Sp)               
Lapped Stephen Iles (Comotion S)                 
Lapped Adam Snyder (Balance Ba)                  
Lapped Paul Hanson                               
Lapped Daniel Corum (Inland/Btd)                 
Lapped Jason Moeschler                           
Lapped Noah Holcomb (Bear Naked)                 
Lapped Sam Schultz (U23 Nation)                  
DNS Andy Schultz (Bear Naked)                    
DNS Luke Pennington (Sbm)                        
DNS Tim Olson (Trek VW)                          
DNS Charles Jenkins (Ie Bikes)                   
DNS Ariel Lindsley (Maverick)                    
DNS Dain Zaffke (Shimano)                        
DNF David Wyandt (Mcguire)                       
DNS Clint Muhlfeld (Sportsman)                   
DNS Jeff Hall (Salsa Cycles)                     
DNS Bear Perrin (Kenda/Jamis)                    
DNS Hal Helbock (Cytomax/KHS)                    
DNS Michael Janelle (Tokyo Joe's)                
DNS Jay Henry                                    
DNS Kyle Dixon (Reno Wheel)                      
DNS Travis Brown (Trek/Volkswagon)               
 
Pro Women
 
1 Susan Haywood (Trek/Vw)                   29.38
2 Dara Marks Marino (Titus/Kenda)            0.07
3 Kelli Emmett (Ford Cycling)                0.11
4 Shonny Vanlandingham (Luna Women)          0.18
5 Mary Mcconneloug (Seven Cycles)            0.26
6 Willow Koerber                             0.27
7 Georgia Gould (Luna Women)                 0.33
8 Kathy Sherwin (Ford Cycling)               0.46
9 Melissa Thomas (Tokyo Joes)                1.18
10 Sara Bresnick-Zocchi (Ford Cycling)       1.18
11 Jamie Whitmore (Felt Racing)              1.19
12 Zephanie Blasi (Kenda/Sinister)           1.27
13 Heather Irmiger (Subaru-Gary Fisher)      2.07
14 Nina Baum (Bear Naked)                    2.18
15 Jennifer Wilson (Titus Grass roots)       2.27
16 Kristin Danielson (Vello Bella)           2.35
17 Jenna Zander                              2.35
18 Chloe Forsman (Tokyo Joe's)               3.00
19 Stacey Scanlan (Tamarack)                 3.08
20 Judy Freeman (Bear Naked)                 3.57
Lapped Melanie Meyers (Ford Cycling)             
Lapped Megan Monroe (Sports)                     
Lapped Shannon Gibson (Crazy Cat)                
Lapped Sabra Davison (Balance Bar)               
Lapped Krista Park (Colavita)                    
Lapped Kim Passafiume (Velo Bella)               
Lapped Shannon Holden (Velo Bella)               
Lapped Chrissy Bono (Bicycle)                    
Lapped Meggan Flaherty (Bicycle)                 
Lapped Kristina Andrus (Dean Bikes)              
Lapped Heather Gasaway (Team Alaska)             
Lapped Rebecca Gross (Velo Bella)                
Lapped Jennifer Tilley (Kona-Velo)               
Lapped Hilary Wright                             
Lapped Abbie Durkee (Hunter Cycles)              
DNF Kristy Lanier-Mantz (Dirtbean.Com)           
DNS Alice Pennington (Desalvo)                   
DNS Christy Murphy (Soulcraft)                   
DNS Lorien Lightfield (Tamarack)                 
DNS Theresa Richardson (Bear Naked)              
DNS Heather Svahn (Content)                      
DNS Lynn Stott                                   
DNS Sarah Barber (Tamarack)                      
DNS Cassandra Perkins (Land Rover)               
DNS Ann Fitzsimmons (Schwalbe Tires)             
DNS Becca Blay (Bear Naked)                      
DNS Chris Costa (Team Tamarack)