NORBA USA National Championships - CN
USA, July 13-July 16, 2006
Preview
US National Championships opens Thursday
By Steve Medcroft, en route to Sonoma
Jeremy Horgan-Kobelski (Subaru-Gary Fisher) winning in '05
Photo ©: Rocky Arroyo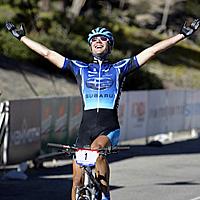 The US mountain-bike community comes together in Sonoma, California this week where National Championships will be awarded in one-day pro/elite, semi-pro, expert, and junior expert category Downhill, Mountain Cross, Super D, Short Track, Cross Country and Marathon competitions. Racing opens Thursday morning with the marathon and continues until the end of Sunday's short-track race.
Although there has been a cycling festival at the Infineon Speedway in Sonoma previously, (and even a NORBA event in 2004), this will be the first year the Cougar Mountain Classic has hosted the National Championships. The championship event was originally scheduled for the Mammoth Mountain ski resort in Mammoth Lakes, California but an unusually wet winter left a 21-foot base of snow on Mammoth Mountain and USA Cycling and the venue had to pull the plug and move the event earlier this season. In 2007, the National Championships move east to Mount Snow, Vermont.
Promoters expect about 1,500 racers from across the United States. The USA Cycling Mountain Bike National Championships brought to you by X-Fusion has up to 150 national titles on offer across a wide spectrum of ages, abilities and disciplines.
Beyond national pride and likely selection to the US Team for next month's World Championships (Rotorua, New Zealand, August 22-27), pro riders also have the chance to earn real cash for their success in Sonoma. X-Fusion's support of the event, along with a supplemental contribution from Infineon Raceway, means a $25,000 prize purse is up for grabs in the 12 men's and women's pro events. Competitors in the cross country, short track, mountain cross, downhill, marathon and super D ranks will compete for a $1,000 cash prize to compliment his or her stars and stripes jersey, gold medal and title of national champion. Additional cash prizes will be paid out five deep - $500, $250, $150, and $100 respectively. An additional $1,000 bonus will be on the line for any pro rider that wins two national titles over the weekend.
With the new qualification system underway for the 2008 Olympic Games, the championships also plays an integral part in the number of start positions the United States will receive in the sport of mountain biking in Beijing. As a UCI-recognized national championship event, the winner of the men's and women's cross country disciplines receive 110 UCI points each – a figure that directly factors into the depth of the United States' presence at the 2008 Games.
Check back on Cyclingnews.com throughout the week; we'll be on site to bring you pictures, race reports, results and more.
Preview of events:
Gretchen Reeves (Rocky Mountain Cycles)
Photo ©: Rocky Arroyo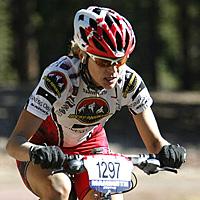 Marathon, Thursday, July 13: At 7am on Thursday morning, US National Championship week gets underway with a marathon. Racers will circle the 7.7-mile Infineon cross-country course nine times for a total distance of 69 miles (101 kilometers) of racing. The unusual short-lap format will favor riders who can establish an early lead before they begin to fight through lapped traffic and who have experience with the constantly shifting elevations that come with traditional cross-country courses.
Travis Brown (Trek/FRS), fresh off a marathon win at the Deer Valley NORBA, has said he will be on hand to defend his 2005 championship. He'll be challenged by a growing field of endurance stars though. Led by six-time 24-Hours of Adrenalin Solo World Champion Chris Eatough (Trek/VW), Jay Henry (3D Hillenbrand - second in 2005), Nat Ross (Subaru/Gary Fisher - less than a month from his participation in the winning four-man RAAM team) and Harlan Price (Independent Fabrication - who currently leads the new National MTB Ultra-Endurance Series) Among others.
In the women's event, two-time champion Gretchen Reeves (Rocky Mountain/Business Objects) is a clear favorite. Her closest challenger at the 2005 nationals was Monique Sawicki (Team MATA). Sawicki, however, is just recovering from a nasty crash at the Mont Saint Anne World Cup in which she took a header into a boulder and walked away with facial lacerations, a concussion, and weeks of medical care and recovery ahead of her.
McConneloug (Kenda/Seven Cycles)
Photo ©: Rocky Arroyo

Cross Country, Friday, July 14: Jeremy Horgan-Kobelski (Subaru/Gary Fisher) will be looking for his fifth elite National Championship and recently said that although he may have been seen as an altitude racer early in his career, he is just as competitive on the Sonoma sea-level course (JHK won the NORBA at Sonoma two years ago). During the 2006 season, Jeremiah Bishop (Trek/VW) has been the domestic rider nipping at Horgan-Kobelski's heels more than any other but without foreign riders to influence the make up of the lead and chase groups, strong and experienced championships challengers like Todd Wells (GT/Hyundai) Adam Craig (Team Giant), Ryan Trebon (Kona/Les Gets), will be marking JHK just as closely if they can. Not to rule out the possibility of a major surprise though; there have been a couple of younger riders, Ross Schnell (Trek/VW) and Nick Waite (Kelly Benefits Strategies) namely, who have ridden themselves onto contention recently and have shown that on their best day, they deserve to be in a lead group too.
So far in 2006, Shonny Vanlandingham (Luna Chix) has posted another dominant NORBA season, winning three of the four NORBA's. The only rider to beat her to a finish line in domestic racing this season was World Cup racer Mary McConneloug (Kenda/Seven Cycles). McConneloug is, of course, the defending National Champion. She won the jersey only after Vanlandingham lost what had been a clean lead in the 2005 race by flatting in the final mile of the final lap and crashing on the finishing straight.
The battle for the women's jersey may have even more than just two combatants though as there are a number of strong women peaking for the race. After a breakout 2005 season (in which she won her first NORBA at Brian Head), getting picked up by her husband's Subaru/Gary Fisher team and leaving her day job behind to focus on elevating her training and performance in racing, Heather Irmiger has stood on every NORBA podium so far in 2006. In the most recent contest, the NORBA at Deer Valley, Irmiger finished a slim fifteen seconds behind Vanlandingham after almost two hours of racing.
The women's race promises to offer strong action for racers and spectators. Besides Vanlandingham and Irmiger, Sue Haywood (Trek/VW) is always a threat, Willow Koerber (Subaru/Gary Fisher), has been just as strong as have Georgia Gould (Luna Chix), Dara Marks-Marino (Kenda/Titus USA) and Kathy Sherwin (Ford Cycling).
Super D, Saturday, July 15: Infineon Cougar Mountain Classic promoters have opted for a mass Le Mans start for their super D contest (a shift from the downhill-style timed race at last year's Nationals). The confusion of traffic will throws the predictability of possible results out the window. Will Adam Craig strap on the skinsuit and show off his descending skills to repeat as national champion or will riders who consistently shine in the NORBA super D series (Mike West (Maverick), Ross Schnell (Trek/VW), for example) finally shine on the biggest stage?
The women's event is equally open. It could be that East coast MTB star and noted bike handler Sue Haywood (Trek/VW) could pick up a jersey for herself but Abagail Hippely (Maverick) is ever-present in Super D results and, because of the expanding popularity of the venue, the number of challengers is expected to grow from even last year's unbelievable 700 pro and amateur competitors. And who know, just a couple of months after having her first child and less than a year from announcing her retirement, don't be surprised if DH star Marla Streb adds herself to the start list.
Eric Carter (Mongoose/Hyundai)
Photo ©: Rocky Arroyo

Mountain Cross, Saturday, July 15: In 2005, women's Mountain Cross was dominated by World Champion Jill Kintner. There was nothing riders like Tara Llanes or Melissa Buhl could do to get around her in the national championship race. With Kintner sweeping pretty much every race she enters in 2006, she will again be the biggest challenge for the rest of the field.
The men's side is more unpredictable. Veteran Eric Carter came back from a injury-plagued season to win last year's championship but Brian Lopes has posted more recent results. And domestic pros Rich Houseman (Sponsorhouse.com) and defending US downhill champion Cody Warren (C-Dub racing), have the best American results in NORBA competition this year.
Downhill, Sunday, July 16: Starting at the top of Cougar Mountain, 400-feet above the raceway, and completely visible from the bottom, the national championship downhill race will be short, fast and pedally; with little room for error.
In US-based competition, downhill is mostly ruled by non-Americans. With a clean, US-only competition, then twenty year old Cody Warren and twenty-three year old Melissa Buhl took championship jerseys home in 2005. The same two racers are active in 2006 although there remains a core of strong veterans and a handful of new domestic challengers to give them a run for it.
In the women's field, former national champion Kathy Pruitt, after early-season sponsorship problems when the DH program was disbanded by her former team (Luna Chix), is expected to compete. As is long-time DH pro April Lawyer (Team Maxxis). There are also ten other US women who, on the right day and on a favorable course, could win for themselves.
On the men's side, Justin Havukainen (Monster Energy/Iron Horse) had the ride of his career at Sugar Mountain, sitting in the hot seat while twenty-five riders tried unsuccessfully to better his time until Australian Sam Hill (fresh off his first-ever World Cup win - at Fort William), knocked him off. Duncan Riffle (Honda/Iron Horse) and Rich Houseman are also major threats to a Warren repeat.
Adam Craig (Giant) celebrates
Photo ©: Rocky Arroyo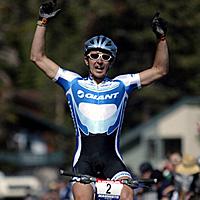 Short Track, Sunday, July 16: The final challenge of the national championship weekend always has a little more significance than the previous day's races. For some riders, it's one last chance to grab a jersey after just missing one in one of the cross-country events (or, as in the case of Adam Craig in 2005, grab a second jersey for the weekend). For others, short track is a speciality. Couple that with the relaxed vibe of the final day of a major event and the spectator-friendliness of the format and we should see fireworks in the short track.
Expect a high pace in the men's race as JHK, Todd Wells, Jeremiah Bishop, Adam Craig, Ryan Trebon, Barry Wicks and others to put up the strongest fight.
In women's racing, NORBA short track has been the domain of a non-American in 2006. Czech Katerina Nash (Luna Chix) has all but swept the series (winning three of four races). With her not competing, the riders who have come second and third throughout the season are expected to be the favorites. Nash' teammates Gould and Vanlandingham have been right behind her for two Luna podium sweeps (Sugar Mountain - first through fourth - and Deer Valley - first through third) but again Irmiger and Koerber have been the rider closest in results from there. And Sue Haywood is a short-track specialist. Fireworks indeed.