NORBA USA National Championships - CN
USA, July 13-July 16, 2006
Main Page Results Overall standings Previous Race Next Race
Race 3 - Friday, July 14: Cross Country
Trebon and Gould score upsets in US Nats
By Steve Medcroft in Sonoma
Ryan Trebon waits for his teammate to complete a Kona 1-2 podium at Nats
Photo ©: Steve Medcroft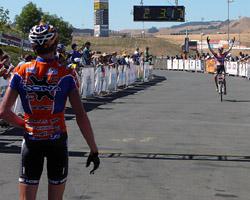 The favorites to win the US National Championships on Friday, four-time champion Jeremy Horgan-Kobelski (Subaru/Gary Fisher) and Shonny Vanlandingham (Luna Chix) went home empty handed as Ryan Trebon (Kona/Les Gets) and Georgia Gould (Luna Chix) used tempo pacing on the wide-open Sonoma course to take upset victories.
Trebon made what appeared to be a suicidal attempt to get free in the men's race. A strong chase group including JHK, Jeremiah Bishop (Trek/VW), Todd Wells (Hyundai/GT) and Barry Wicks (Trebon's teammate on the Kona/Les Gets team) worked for four hot laps to pull the six-foot five-inch cyclo-crosser back. But after two hours, Trebon was still in front. He crossed the line with an almost relieved look on his face to earn his first elite cross-country jersey.
Wicks, in the favored position of not needing to help the chase bring back his teammate, saved his legs for the finale and was able to slide home for second. Bishop, cramping on the final lap, finished third. JHK managed fourth and Adam Craig fifth.
Strong solo tempo riding proved the key strategy in the women's race as well. The field splintered into a string of individual riders within fifteen minutes of the start. Heather Irmiger (Subaru/Gary Fisher) pulled into a solo lead until Gould bridged entering the final lap. In only in her third professional mountain-bike season, Gould gapped Irmiger for her first major victory. Her best placing before Friday? Fifth in Deer Valley July 8.
Defending champion Mary McConneloug (Kenda/Seven Cycles) says she cut her losses on the last lap and stopped chasing, preserving the third place she'd earned so far in the race. Sue Haywood finished fourth. Flagstaff Arizona's Dara Marks-Marino finished fifth.
Both winners receive automatic nominations to the US National Team for Worlds in Roturoa, New Zealand.
Trebon's suicide tactics pay off in championship style
The winning move in the men's race came on the very first climb when Trebon muscled his way into a lead with an explosive burst of uphill power. After the race, Trebon said his tactic wasn't as predetermined as it may have looked but was merely an attempt to set his own tempo. "It was windy out there," he said. "It's just easier for me to ride by myself."
Trebon's teammate also said there was no discussion of strategy before the race. "We didn't talk about it. Ryan just likes to race like that. He doesn't like to sit in a group were he can't ride a real, solid tempo."
Trebon says that once he had the lead, he was unsure whether he had the strength to solo for two full hours. "But as long as I was off the front, I knew those guys were going to do just as much work to chase me so I just kept plugging away at the pedals. Your mind plays games with you though; I had to keep reminding myself to take advantage of the sections where I felt good and conserve energy where I didn't feel so good."
Behind him JHK, who had the most to lose as defending champion, was forced to become primary chaser. "I did everything I could to hang onto the jersey," he said. "I didn't want to let Ryan get too much time in those early laps so I put in a couple of really big efforts on the climbs. But the gap was still opening up. For Ryan to be able to stretch that lead out like that; my hat's off to him."
The four chasers, Wicks, JHK, Jeremiah Bishop and Todd Wells, stayed together. Then Wells crashed and the group splintered, with JHK falling off the pace leaving Bishop dragging an uncooperative Wicks into contention for second. "I had to drive it despite the fact Barry was on my wheel," a disappointed Bishop said at the finish line. He added that the effort he put out trying to find his way back to Trebon's wheel depleted every resource in his body. "I cramped hard."
"I could tell he was hurting," Wicks said. "I rode by and kept the same pace and he fell off."
Bishop was philosophical about falling to third after working so hard for second. "I did the best I could with what I had. I raced the way I wanted to. And hat's off to Ryan - he had the cahones to go off by himself and he and Barry worked the tactic superbly. It was a road race and they won with road tactics."
JHK was equally philosophical. "I'd be lying if I said I didn't mind giving up the jersey today but I paid the price for the work I did early."
Words from the top two were almost zen-like. "It's pretty sweet," Wicks said. "It exceeded my wildest expectations." Trebon summed it up with "I'm pretty stoked."
Gould's first major win earns her the Stars and Stripes
Georgia Gould
Photo ©: Rocky Arroyo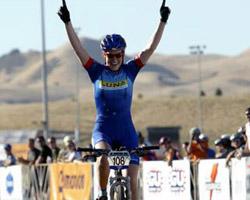 Unlike the men's race, Gould didn't establish her lead right from the start. "The race was weird because nothing happened tactically," said eventual second-place Heather Irmiger. "It just shattered through the second feed zone and all of a sudden, Willow (Koerber, Irmiger's teammate) and I were off the front."
"The Gary Fisher girls had an advantage being able to work together," Mary McConneloug said after the race. "They were able to get about 30 seconds ahead on that first lap."
Then, "we (Irmiger and Koerber) actually crashed into each other," Irmiger said.
The crash sidelined Koerber and stranded Irmiger without help out on the wide-open, windy and hot course. "Georgia was right behind us when we crashed so I just killed myself on the second lap hoping that she felt bad enough that I could stretch out the gap," Irmiger said. "But she was just so strong today."
Gould says she was surprised to suddenly find herself within reach of the lead in the biggest race of her career. "My result last weekend (fifth in the Deer Valley cross country) gave me a little more confidence coming into today and I know I was riding strong but I was surprised to win," she said. "When I caught Heather, I was only trying to ride a smart race and parcel my energy. I didn't really attack, I just tried to keep my pace up." That pacesetting was enough. Gould won with a 1:29 advantage over Irmiger.
Once she knew she was too far back to contend for a higher placing, McConneloug says she switched into preservation mode. "I looked back and saw that there was no-one there so I just put my head down to hold onto third."
Pre-race favorite Vanlandingham suffered in the California heat. "I've been feeling a little tired, worn down," she said after the race. "I knew I wasn't 100-percent. Plus I crashed yesterday and hurt my hip so I just didn't have the power I needed." The two-time NORBA series champion fell to seventh place by the finish but plans to treat her injury tomorrow and line up for short track on Sunday for a chance at redemption.
Photography
For a thumbnail gallery of these images, click here
Images by Rocky Arroyo / www.arroyophotography.com
Images by Steve Medcroft / www.cyclingnews.com
Images by Rob O'Dea/www.BaldZebra.com
Results
Pro men
 
1 Ryan Trebon (Kona/Les-Gets)                 2.02.25
2 Barry Wicks (Kona/Les-Gets)                    0.54
3 Jeremiah Bishop (Trek/VW)                      1.29
4 Jeremy Horgan-Kobelski (Subaru-Gary Fisher)    2.50
5 Adam Craig (Giant)                             3.12
6 Todd Wells (Gt Bicycle)                        5.33
7 Carl Decker                                    7.02
8 Michael Broderick (Seven Cycles)               8.10
9 Nick Waite (Kelly Benefits Strategies)         8.19
10 Jeff Schalk (Trek-Vw East Coast)              8.56
11 Aren Timmel (Soulcraft)                      10.04
12 Jay Henry                                    10.18
13 Alan Obye (SRAM)                             10.28
14 Andy Schultz (Bear Naked)                    11.19
15 Erik Tonkin (Kona/Team)                      12.04
16 Jeff Hall (Salsa Cycles)                     12.39
17 Tim Olson (Trek Vw)                          13.56
18 Kevin Bradford-Parish (Bicycle Bu)           14.27
19 Cody Peterson (3D Racing/Hillenbrand)        15.47
20 Keith Hickerson (Tamarack)                   16.05
21 Sean Donovan (Cytomax/KHS)                   16.34
22 Kyle Dixon (Bicycle Warehouse)               16.59
23 Michael Andres (Team Chico)                  17.07
24 Dana Weber (Jax Bicycles)                    17.34
25 Michael Janelle (Tokyo Joe's)                17.35
26 Jason Sager (Hotel)                          18.03
27 Charles Jenkins                              18.46
28 Jason Moeschler                              18.47
29 Ross Schnell (Trek/VW)                       20.05
30 Eric Ransom (Tamarack)                       21.14
31 Lucas Livermon (Cycling)                     21.23
32 Stephen Iles (Comotion)                      21.34
33 Tj Woodruff (Trego Wi Usac Litespeed/)       22.26
34 Brent Winebarger (Health FX)                 25.09
35 Bear Perrin (Kenda/Jamis)                    26.44
36 Leonardo Sandoval (Bicycle)                  27.04
37 Blake Zumbrunnen (Revolution)                27.18
38 Daniel Corum (Inland)                        33.34
DNF Ariel Lindsley (Maverick )                       
DNF Clint Muhlfeld (Sportsman )                      
DNF Hal Helbock (Cytomax/Kh)                         
DNF Walker Ferguson (Scott/Spin)                     
DNF Luke Pennington                                  
DNF Noah Holcomb (Bear Naked)                        
DNF David Wyandt (Mcguire)                           
DNF Eric Jones (Raleigh Factory)                     
DNF Paul Hanson                                      
DNF Nat Ross (Subaru-Gary Fisher)                    
DNF Matt Kelly (Subaru-Gary Fisher)                  
DNF Charlie Pendry (Inland Construction)             
DNF Dain Al Zaffke                                   
DNF Patrick Bush (Clif Bar)                          
 
Pro women
 
1 Georgia Gould (Luna Women)                  1.46.26
2 Heather Irmiger (Subaru-Gary Fisher)           1.29
3 Mary Mcconneloug (Seven Cycle)                 3.35
4 Dara Marks Marino (Titus/Kenda)                4.58
5 Susan Haywood (Trek/VW)                        5.45
6 Jennifer Wilson (Titus Grass roots)            6.13
7 Shonny Vanlandingham (Luna Women)              6.38
8 Jamie Whitmore (Felt Racing)                   7.23
9 Melissa Thomas (Tokyo Joes)                    8.34
10 Kathy Sherwin (Ford Cycling)                 10.17
11 Sarah Barber (Tamarack)                      10.56
12 Stacey Scanlan (Tamarack)                    11.27
13 Shannon Gibson (Crazy Cat)                   11.44
14 Alice Pennington                             13.24
15 Kelli Emmett (Ford Cycling)                  14.41
16 Cassandra Perkins (Land Rover)               14.43
17 Sara Bresnick-Zocchi (Ford Cycling)          15.24
18 Theresa Richardson (Bear Naked)              16.02
19 Chrissy Bono (Bicycle)                       18.26
20 Kristin Danielson (Ford-Basis)               19.02
21 Meggan Flaherty (Bicycle)                    19.47
22 Shannon Holden (Velo Bella)                  20.50
23 Lynn Stott                                   21.14
24 Judy Freeman (Cannondale)                    21.23
25 Chris Costa (Team Tamarack)                  22.05
26 Zephanie Blasi (Kenda/Sinister)              22.36
27 Rebecca Gross (Armed Forces)                 24.55
28 Kristina Andrus (Dean Bikes)                 25.03
29 Ann Fitzsimmons (Schwalbe Tires)             26.41
30 Kim Passafiume (Velo Bella)                  27.01
31 Nina Baum (Bear Naked)                       27.02
32 Heather Svahn (Content)                      27.33
33 Lorien Lightfield (Tamarack)                 29.46
34 Abbie Durkee (Hunter Cycles)                 38.11
DNF Krista Park (Colavita/A)                         
DNF Willow Koerber (Subaru-Gary Fisher)              
DNF Megan Monroe (Sports Gary Fisher)                
DNF Jennifer Tilley (Kona-Velo)                      
DNF Becca Blay (Bear Naked)