NORBA USA National Championships - CN
Mammoth Mountain, CA, USA, September 15-18, 2005
Main Page Results Overall standings Race Details Previous Race Next Race
Race 4 - Saturday, September 17: Mountain Cross
The veteran still has it while Kintner dominates
By Steve Medcroft
Jill Kintner (Yeti Cycles)
Photo ©: Rocky Arroyo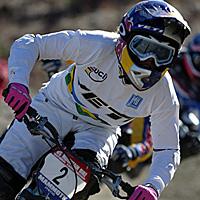 After a year on the sidelines with back-to-back injuries, an emotional Eric Carter (Mongoose) won the 2005 U.S. National Mountain Cross Championships in Mammoth Mountain, California on Saturday ahead of teammate Brian Schmith. Carter says the win lets him put the 2005 season out of his mind and head into winter recommitted to racing. Reigning World Champion Jill Kintner (Team Yeti) added her country's National Championship to her Jeep King of the Mountain, World Cup and World Championship crowns for the year. Defending Champion Tara Llanes (Giant) mounted an aggressive defense but crashed on the upper third of the course to come last in the finals.
Mammoth Mountain course designers turned their wintertime snowboard half pipe into a mountain cross course and even though constant gusty winds covered the crowds and competitors in waves of dust, riders were treated to a fast, steep and sweeping ride. Back and forth across the bowl they went, hitting stutter-jumps, berms and triple and double-whoops before finishing several hundred yards and two hundred feet in elevation lower than where they started.
Eight strong competitors made up the final National Championship bracket in the women's race. Melissa Buhl (KHS Bicycles), Llanes, Kintner and Kathy Pruitt (Luna Chix) made up the final. Kintner had floated through the semi-finals without having to put in an aggressive attack and was confident. "I didn't quite get the top qualifying position," Kintner said at the bottom of the course after the finals. "But I knew that this track was all about getting into the first turn first."
Kintner shot for the lead position, dabbing one foot for control. "I knew that Melissa and Tara both had really good starts here and I could hear them behind me really close all the way down." Buhl and Llanes slipped in behind Kintner but Llanes took too aggressive a line in some soft dirt but crossed her handlebars and hit the dirt. "I heard the crash," Kintner said.
The crash was severe enough that Pruitt came to a complete stop on the course to tend to Llanes, leaving Buhl alone to follow Kintner across the finish line. It took Llanes more than a minute to regain enough composure to complete the course and she was seen holding her left side in obvious pain as she was led away to medical personnel.
Eric Carter (Mongoose/Hyundai)
Photo ©: Rocky Arroyo

When asked which of her Championship jerseys she would wear in competition in 2006 Kintner said "that's easy. The World Championship jersey trumps all the others."
Just like Kintner did in the women's race, former World Champion and 2004 NORBA National Mountain Cross Series Champion Eric Carter seemed calm and comfortable on the course in practice and qualified with the fastest time. He remained smooth through the early brackets but says "I was super, super nervous," in the final. Against Rich Houseman (Team Yeti), Chris Powell (Specialized) and teammate Brian Schmith, Carter drew the inside position on the start gate. "I was in lane one," he said. "You're so vulnerable in the lead taking the inside line. We saw so many passes tonight from guys coming into the first turn in last, railing the corner then coming out in first. I was a sitting duck."
Despite the pressure, Carter says he "had a good pop" off the start. He then got a break in that dangerous first berm. "Chris (Powell) was next to me and didn't hold me to the inside; he backed out and gave me room and I just swung out to the berm real hard. I think that freaked everybody out because nobody had done that all day."
Once Carter found clean air, he says he felt the race was under control. "I got a good flow and they weren't going to catch me."
At the finish, Carter became emotional. "It's been a rough season," he said. "I had a lot of injuries this year, a lot of things with my family. It was good to come out here and ride my bike with my friends." Carter says the win represents an opportunity to make a fresh start. "Racing is in my blood. It's what I do, you know. It's my passion. I wanted to get this weekend over with so now I want to go home, regroup and come out swinging next year."
Not on the start line in Saturday's men's race was current World Champion and 2004 U.S. National champion opted out of competition at Mammoth.
Photography
For a thumbnail gallery of these images, click here
Images by Rocky Arroyo/www.arroyophotography.com
Results

Pro Men Qualifying
 
1 Eric Carter (Mongoose/Hyundai)                          
2 Garrick Anderson (Fox/Maxxis/Bombshell/Answer/Spy)      
3 Chris Powell (Specialized)                              
4 Ross Milan (Yeti)                                       
5 Brian Schmith (Mongoose/Hyundai)                        
6 Rich Houseman (Yeti Racing)                             
7 Christopher Herndon (Cane Creek)                        
8 Lars Sternberg (Fluidride)                              
9 Steve Wentz (Turner/Fox/Michelin/The Fix)               
10 Curtis Beavers (Wtb/Santacruz/Fox)                     
11 Matt Thompson (Big Crank Racing)                       
12 James Schwanke (Kenda/Utopia/Sdg/Monster Energy/In)    
13 Cole Bangert (Fox Shox/Yeti/Hayes/Maxxis)              
14 Juan Ashworth (Maxxis/Kovachi Wheels)                  
15 Daniel Umland (Odi Southridge)                         
16 Chuck Pitts (Oakley)                                   
17 Ian Odom (Intense/Romic)                               
18 Sean Mcclendon (Aventcycles/Bombshell/Smith)           
19 Jeff Evans (Khs/Utopia)                                
20 Curtis Zamora (Down Fast)                              
21 Shaun Evans (Turner/661)                               
22 Darrell Young (Arrow Racing)                           
23 Chris Heath (E13/Smith/Maxxis/Foxshox)                 
24 Sean Methven (Turner/661/Utopia)                       
25 David Thacker (S.E.I.)                                 
26 Matt Fisher (Full Tilt/Gt/Oakley/Gamut)                
27 Jonathan Canfield (Honda Turner)                       
28 Aaron Peters (Mongoose/Hyundai)                        
29 Cody Warren (Haro Bicycles)                            
30 Duncan Riffle (Yeti Racing)                            
31 David Klaassenvanoorschot (Khs/Spy/D3)                 
32 Travis Collins (Giant/Sram)                            
 
Pro Men Final
 
1 Eric Carter (Mongoose/Hyundai)                          
2 Brian Schmith (Mongoose/Hyundai)                        
3 Rich Houseman (Yeti Racing)                             
4 Chris Powell (Specialized)                              
5 Lars Sternberg (Fluidride)                              
6 Ross Milan (Yeti)                                       
7 Garrick Anderson (Fox/Maxxis/Bombshell/Answer/Spy)      
8 Christopher Herndon (Cane Creek)                        
9 Steve Wentz (Turner/Fox/Michelin/The Fix)               
10 Curtis Beavers (Wtb/Santacruz/Fox)                     
11 James Schwanke (Kenda/Utopia/Sdg/Monster Energy/In)    
12 Cole Bangert (Fox Shox/Yeti/Hayes/Maxxis)              
13 Juan Ashworth (Maxxis/Kovachi Wheels)                  
14 Ian Odom (Intense/Romic)                               
15 Sean Mcclendon (Aventcycles/Bombshell/Smith)           
16 Jonathan Canfield (Honda Turner)                       
17 Matt Thompson (Big Crank Racing)                       
18 Daniel Umland (Odi Southridge)                         
19 Chuck Pitts (Oakley)                                   
20 Jeff Evans (Khs/Utopia)                                
21 Curtis Zamora (Down Fast)                              
22 Shaun Evans (Turner/661)                               
23 Sean Methven (Turner/661/Utopia)                       
24 David Thacker (S.E.I.)                                 
25 Matt Fisher (Full Tilt/Gt/Oakley/Gamut)                
26 Aaron Peters (Mongoose/Hyundai)                        
27 Cody Warren (Haro Bicycles)                            
28 Chris Heath (E13/Smith/Maxxis/Foxshox)                 
29 Darrell Young (Arrow Racing)

Pro Women final
 
1 Jill Kintner (Yeti Cycles)                
2 Melissa Buhl (Khs Bicycles)               
3 Kathy Pruitt (Luna Womens Mtb Team)       
4 Tara Llanes (Giant Pearl Izumi)           
5 Bobbi Kae Watt (Foxshox/Pearl Izumi)      
6 Wendy Reynolds (Cannondale/Sportless)     
7 Amelia Colasurdo (Cannondale Mtb Team)    
8 Jessica Vogt