NORBA USA National Championships - CN
Mammoth Mountain, CA, USA, September 15-18, 2005
US MTB season climax at Mammoth
By Steve Medcroft
Jeremy Horgan-Kobelski wins XC in 2004
Photo ©: USA Cycling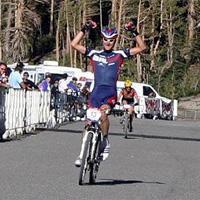 The U.S. mountain bike season comes to a close this weekend in Mammoth Mountain, California where for the second year in a row National Championships will be awarded in one-day pro/elite, semi-pro, expert, and junior expert category Downhill, Mountain Cross, Super D, Short Track, Cross Country and Marathon competitions.
Racing starts Thursday with the Marathon National Championship. Held on a 22.5-mile circuit, the three-lap fire road and single-track marathon course climbs 2,716 feet per lap. The men's race will likely be a battle between Chris Eatough (Ellicott City, MD) who won the NORBA National Championship Series and Jay Henry (Avon, Colo.). Henry beat Eatough in two NORBA marathons this season and even led the series at one point but sacrificed a chance at the NORBA series to compete in the Marathon World Championships the weekend of the mandatory NORBA series. In the women's marathon, it will be interesting to see who lines up to challenge two-time NORBA Series Marathon and 2005 U.S. 24 Hours Solo National Champion Monique Sawicki Calimesa, Calif.).
Racing ends Sunday's with Downhill competition. In the men's race last year's top two - Chris Del Bosco (Vail, Colo.), Duncan Riffle (Santa Barbara, Calif.) - should get their most serious challenge from twenty-year old Cody Warren (Haro Racing) who was the highest-placed American in the NORBA series in 2005.
In women's downhill, Marla Streb (Los Osos, Calif.) will be looking for her second National Championship in a row. And the Stars and Stripes jersey may very well end up a Luna Chix hands but Streb's teammate Kathy Pruitt (Lake Almanor, Calif.) is showing stronger form at the moment. The 2004 and 2005 NORBA National Series champion placed fourth in last weekend's Fort William World Cup finals and seventh in the Livigno World Championships the week before; both best performances for an American woman.
Newly crowned World Champions Jill Kintner (Murietta, Calif.) and Brian Lopes (Trabuco Canyon, Calif.) will likely have their way with the Mountain Cross competitions but Saturday's Super D should be a free-for-all. Maverick rider Mike West (Boulder, Colorado) and Dandelion Magazine-sponsored Jennifer Whalen (Idaho Springs, Colo.) won the NORBA National Series by consistently showing up and placing well in all seven Series' Super D's. But since Super D was new and the NORBA weekends already crowded, many of the top bike handlers who race other disciplines stayed away from the event. Not so at the Mammoth Nationals, which starts above the tree line and plummets 3,000 feet to the ski resort village. The Cross Country and Marathon races will have been decided already by Saturday and many endurance pros have said they plan to be at the Super D start.
As for the premier event of the weekend - Friday's Elite Cross Country - Kona rider Ryan Trebon (Corvallis, Ore.) and Trek rider Jeremiah Bishop (Harrisonburg, VA) will be sidelined. Trebon broke his wrist in the fourth stage of the International Tour de 'Toona and is just now recovering. Bishop fractured the outer spines on his three lower-most lumbar vertebrae and is restricted from racing while they heal.
Short two incredibly strong potential winners, a thinner lead group should form in the men's race. It's tough to know how 2004 National Champion Jeremy Horgan-Kobelski (Boulder, Colo.) will fare. The lanky Coloradoan was the only American to hang with NORBA Series Champion Geoff Kabush on a regular basis but took a couple of nasty falls during the season. The most recent, a violent crash in the first five minutes of the Snowshoe NORBA, left him technically uninjured but his results in the finals and at World Championships seemed to show that Horgan-Kobelski is off his potential. Which means the door is open for riders like Todd Wells (Durango, Colo.) and former Junior World Champion Walker Ferguson.
And since Giant rider Adam Craig (Bend, Oregon) finished both the NORBA finals and the World Championship race ahead of Horgan-Kobelski, he may be the racer to watch on Saturday. "I'm optimistic about the weekend," Craig said five days before the race. "But I had the same scenario last year - 5th at World Cup Finals - then I got smoked at nationals so I'm not going to count my chickens."
Craig may be downplaying his form. In post-race interviews after the Fort William World Cup finals, he said he felt like he was "flying" in the race. "I've been feeling really, really good."
In women's Cross Country, Shonny Vanlandingham (Durango, Colo.) is the obvious favorite; she won the NORBA National Championship Series on the back of five dominant Cross Country wins. But with a thinner field than at NORBA's and World cups, the favorite faces serious challenge from riders like Heather Irmiger (Boulder, Colo.), who beat Vanlandingham to win her first-ever NORBA Cross Country at Brian Head and Alison Dunlap (Colorado Springs, Colo.), who proved with the win at Mount Snow that although she is retiring after Sunday's Short Track, she still has victory in her legs.
The true challenger to keep an eye on in the women's race is Mary McConneloug (Chilmark, MA) though - who is fresh off not only the best-placed American Cross Country results in Fort William and Livigno but a solid training block focused on altitude. "I feel strong," she said while driving through Nevada heading towards Mammoth. "We did a bunch of elevation training in the summer - two and a half months in the Rockies - where we only came down from altitude for five days."
The 2003 National Champion and U.S. Olympian says her plan all year was to peak for the three-week run of World Championships, World Cup finals and U.S. Nationals. The training seems to be paying off. "I felt really good at Worlds. Had that calm determination and focus in the race and even though I had mechanical problems (dropped a chain five or six times), I stayed positive. To finish seventh felt great."
Her form carried over to Scotland where she managed to close out the World Cup series in fifth position overall. "I'm coming to Nationals hoping I can win," she said. "I feel good. You never know how it's going to go but I'm ready for the altitude and I know what I'm up against."
Craig and McConneloug's Cross Country races start at 2pm U.S. Pacific Standard Time Friday.