MTB news & racing round-up for March 7, 2007
Welcome to our regular roundup of what's happening in mountain biking. Feel free to send feedback, news and releases to mtb@cyclingnews.com.
Edited by Sue George
Basinger sets Iditarod record
Peter Basinger
Photo ©: Dan Lucas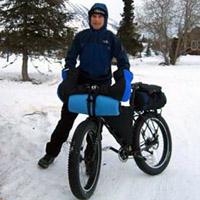 On his way to winning the 383-mile Iditarod Trail Invitation race, Pete Basinger set a new course record. His three days, five hours, and forty minutes run broke the former record set by Mike Curiak in 2005 (three days, six hours).
Basinger is no newbie to endurance racing; he finished second, ironically to Curiak, in the 2004 Great Divide race. Near the end, Basinger's record-breaking ride was slowed unexpectedly by challenging terrain in the form of large pieces of ice hidden beneath new snow that caused him many falls.
"Peter's ride was absolutely amazing. The route was actually 33 miles longer than the usual 350 miles. He took off on unfamiliar territory all by himself across the Alaska Range," said organizer and seven-time finisher Bill Merchant, in awe. "It was seriously remote." Merchant marveled at what must have gone through Basinger's mind at the start of such an undertaking, unsupported and alone, in extreme conditions.
The Iditarod Trail Invitational is a simultaneous bike, ski, and foot race. The longer option runs 1,100 miles from Knik Lake to McGrath, Alaska. As of Tuesday afternoon, three cyclists and one walker are still racing in the 1,100 mile version, which will finish in Nome after they have endured 25 to 30 days of unsupported racing. "I'm not expecting any records to be broken this year on that one," said Merchant.
Racers receive limited support and may take any route they choose so long as they pass through all required checkpoints. They must carry their own survival gear and may receive no outside assistance. They often battle temperatures of 30 to 50 degrees below zero.
Ultra-distance mountain-biking pioneer John Stamsted was a former successful record holder at the Iditarod; however, he competed in an era of a mandatory overnight stop, so his record performance (three days, eight hours, and 15 minutes in 1998) cannot be directly compared.
Top five for the 350 mile edition:
1 Peter Basinger - 3 days, 5 hours, 40 min
2 Jeff Oatley - 4 days, 1 hour, 20 min
2 Jay Petervary - 4 days, 1 hour, 20 min
2 Rocky Reifenstuhl - 4 days, 1 hour, 20 min
5 Joseph Dundee- 4 days, 9 hours, 59 min
US elite racers begin quest for UCI Points
US 2004 Olympian Mary McConneloug ready to race
Photo ©: Mike Broderick & Mary McConneloug

The selection criteria for the US Olympic mountain bike "Long Team," recently announced by USA Cycling, is all about earning UCI points in 2007. Points will be available at major mountain bike races such as those hosted as part of the National Mountain Bike Series (NMBS) and individual races like the Greenbriar Challenge near Hagerstown and Frederick, Maryland. A maximum of eight men and eight women will be named to the "Long Team" based on their UCI rankings at the end of the 2007 season.
"The criteria clearly states that only 2007 results count toward the selection of the 'Long Team' from which the final Olympic Team will selected," said Greenbriar Challenge Race Director Jim Carlson. "Our assumption all along had been that points scored during both 2006 and 2007 would be used." The rankings of the nations will ultimately determine how many starting slots each country will have.
Greenbriar race announcer Ken Getchell commented on the ramifications of the selection criteria. "You can throw away last year's points, because they mean nothing as far as who's going to be on the US team. Right now, every elite mountain biker in America has a shot at the dream." Then, encouraging elite racers to attend the Greenbriar Challenge, organizers announced that not only has race registration begun, but reminded entrants that UCI Elite Women and UCI Elite Men categories must pre-register.
From the long team, up to a maximum of three men and two women will make the final Olympic team. Performances at the 2008 mountain bike worlds, 2008 world cup races through June 23, 2008, and coaches' discretion will determine final team spots.
Fans of American elite mountain bike racing will remember the epic battle for Olympic Team slots for the 2004 Games in Athens. The story was documented in the film Off Road to Athens.
NMBS offers free entries to women
The US National Mountain Bike Series (NMBS) announced a new program to encourage beginner and sport women by providing free race entries.
NMBS instituted a new entry-fee block purchase program for the 2007 series. Series patrons can purchase blocks of five entries in the women's beginner/sport category for the discounted rate of $125. These entries will then be made available on a first-come first-served basis to beginner/sport women entrants for free. To keep things fair, only one free entry will be available per person, per season.
In addition to the free entry incentive, NMBS introduced more women's age group categories. The new categories are Expert Women 40-49, Expert Women 50 plus, Beginner/Sport Women 18 and under, Beginner/Sport Women 19-29, Beginner/Sport Women 30-39, and Beginner/Sport Women 40 plus.
The changes were in response to a February petition presented by women's 45-49 cross country national champion Jane Finsterwald. Over 900 signers supported the petition asking for better representation for women in the NMBS.
The blocks will be available for purchase by anyone - individuals or sponsors.
Records all around at Karapoti
Clinton Avery
Photo ©: Michael Jacques

New race records and a record turnout from a record number of countries marked the 22nd edition of the Scott Karapoti Classic.
As the southern hemisphere's longest-running mountain bike event, Upper Hutt's Karapoti Classic has been happening since 1986. Commonwealth Games representatives Clinton Avery and Jennifer Smith lined up as favourites for the 50km test through the Akatarawa Ranges, but facing strong fields, no one expected them to dominate quite like they did.
Avery rode a collection of New Zealand, American, and Australian riders off his wheel until eventually he finished 10 minutes ahead of Australian Nic Both, but had no idea that he'd achieved anything other than his first Karapoti title. In fact, he'd won in a record-breaking time of 2 hours and 14 minutes. "The track didn't seem any faster than last year," he said. "I was feeling good and was going better on the climbs than last year, so I just went for it. But I didn't expect to go that fast."
Jenny Smith carries her bike
Photo ©: Michael Jacques

Jennifer Smith (Trek/VW) said she wasn't quite expecting what happened at Karapoti either. She had raced there before, finishing second to Commonwealth Games medallist Susy Pryde four years previously. This year, the Kiwi-born runner-turned mountain biker out-classed New Zealand's best women to claim her first Karapoti title by almost four minutes. The West Coast native smashed the 13-year-old woman's record set by endurance sport legend Kathy Lynch by more than two minutes, stopping the clock at 2 hours 47 minutes and 35 seconds.
Like Avery, Smith had no idea what she'd achieved. "Really," she exclaimed upon hearing her time. "That's amazing. I knew I was winning, but I had no idea how fast I was riding."
To view the full race report, photos, and results, click here.
Back-to-back weekends in Cypress
Elite women's victor Elsbeth Van Rooy-Vink (Holland National Team)
Photo ©: Jan Nemec

This past weekend, racers participated in the Afxentia 2007 stage race in Cyprus, which consisted of two UCI class 1 races plus a time trial only counting in the general classification. The two UCI-races were the Sunshine Cups #2 and #3, also part of the Sunshine Cup series.
Roel Paulissen (Cannondale-Vredestein) placed in the top three in all events and took the overall general classification on the men's side while his Swiss teammate Fredrik Kessiakoff won both the Sunshine Cup #2 and the time trial. Italian rider Yader Zoli (Italian National Team) won the final stage.
The women's race was won overall by Dutch rider Elsbeth Van Rooij-Vink, who took a third place and two firsts in the women's events. The only event she didn't win was taken by Polish racer Maja Wloszczowska.
Meanwhile, racing continues in Cyprus this weekend with the Race under the Sun on March 11. The UCI Hors Classe category race will award top racers with UCI points. More than 50 international elite riders are expected at the start line. Last year, German Karl Platt won the men's category, and Vink-van Rooy was the first women to finish the race on the 6.1 km track, with 245m of climbing per lap in the Yermasogia hills.
This year's women's race is shaping up to be a highly contested one. Former world champion, Sabine Spitz from Germany will lead the women's peloton along with worlds medallist Petra Henzi (Sui) and U23 racer Elisabeth Osl (Aut).
IMBA releases new management book
The cover
Photo ©: IMBA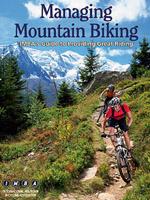 IMBA released a 256 page book this week called "Managing Mountain Biking: IMBA's Guide to Providing Great Riding," to guide mountain bikers seeking solutions to common trail management problems. The book covers topics like planning for a successful trail system, building successful partnerships, minimizing user conflict, reducing environmental impact, and managing risk and liability, and tips for providing technically challenging trails.
With 270 color photos and 25 illustrations, the book details a collection of best practices for planning, designing, and managing successful trail networks and bike parks. More than 50 experts including land managers, recreation ecologists, professional trailbuilders, and experienced advocates contributed to the book, and success stories from around the globe provide examples of effective trail management.
The book expands on "Trail Solutions: IMBA's Guide to Building Sweet Singletrack," which was published by IMBA in 2004. While that book focused on trail construction, "Managing Mountain Biking" focuses on solving mountain biking issues through trail design, effective partnerships, and visitor management strategies.
The project was supported by a grant from the U.S. Federal Highway Administration's Recreational Trails Program (RTP) along with sponsorship from the National Park Service Rivers, Trails, and Conservation Assistance program and the states of Pennsylvania, Tennessee, and Minnesota. The book is available exclusively through IMBA and costs $35. Discounts are available to IMBA members and those purchasing higher quantities.
Nat Ross Diary: Mas-o-menos
Nat Ross
Photo ©: Crystal Allbright

In a high school Spanish class, I learned that mas-o-menos meant 'more or less'. The unique phrase stuck in my head so naturally I was intrigued to find a mountain bike endurance festival race with the name.
After doing my homework, the event ended up as my first mountain bike race of the season. I hooked up with Lee and Kevin of the Bike Barn from Houston, Texas and their hosting skills were the bomb!
More or less was the certainly the theme of the weekend. The amazing venue is located in BFE Texas, right by the Mexican Boarder in South-West Texas. Back in the day, NORBA had an early season race in the Chihuahuan Desert that attracted top pros from Colorado like Dave Weins (Polo/RLX) and Rishi Grewal (Klein). This year was no different as Travis Brown (Trek/FRS) and I ventured down south to get a taste of some early season singletrack. There were races of all sorts including: the Kids Kup, 30, 50 and 100 kilometres. I'll give you the 411 on the 100 kilometre track.
Mas o Menos course profile
Photo ©: Nat Ross

I more or less came over-prepared for winter weather and the climate was amazing, so I had to take scissors to my long sleeve jackets, jerseys, arm warmers and full leg warmers. Don't worry - this was a good problem to have. I pre-rode the entire 50 kilometre lap on Thursday, because I was so excited to be riding singletrack again. I should have saved some of the course for Friday, but the riding was so sweet, I couldn't help it!
More or less? More - I brought my hard tail, but would have rather had my Race Day full suspension there. More once again - I decided, after pre-riding the course with too little air pressure, to add 10 psi to the Bontrager Dry X front and rear tyres.
Race Day - I had a great warm-up as I rode from our lodging to the venue. More or less, the start was a sprint to the singletrack and was super chaotic. The Texas racers charge hard and are in race shape this time of year, so it was game on from the get-go.
To read the complete diary, click here
Registration opens for US Nationals
Following three years on the West Coast since the single-day national championship format was introduced in 2004, the mountain bike national championships will be held in the East at Mount Snow Resort in West Dover, Vermont, from July 17-22.
Mount Snow is a classic venue with a reputation for technical terrain after years of hosting events like the National Mountain Bike Series and the UCI World Cup. Racers will have a chance to claim titles in cross country, short track, downhill, four cross, and super downhill. 2,500 racers are expected to attend.
USA Cycling announced that registration is now open for the 2007 event at https://www.sportsbaseonline.com. Visit www.usacycling.org for more information on the race schedule, a list of qualified riders, eligibility and qualification info, qualification calendars, and lodging info.
Mount Snow will also be the host venue for the 2008 national championships.
Hutchinson sponsors Gudex
Niki Gudex
Photo ©: Niki Gudex

Niki Gudex, who has made a name for herself as an up and coming Australian cross country racer as well as a fashion model and graphic designer, will race all over the globe in 2007 with the support of newly signed sponsor Hutchinson.
Gudex joins the ranks of Saunier Duval and Agritubel pro roadie teams under the care of Hutchinson.
The 28-year-old Scott racing team member will race at events like Sea Otter in Monterey, California, where Hutchinson will unveil a new line of cross country tires, and at endurance races in Australia.
Scott signs McDermott
Lance McDermott
Photo ©: Scott

Scott signed British slopestyle sensation Lance McDermott, who front-flipped his way into the minds of the gravity community at the Slopestyle in Saalbach, Austria
He joins an international group of riders sponsored by Scott Bicycles. Rosters for the Progressive and Contessa Progressive squads are listed below.
Progressive
Timo Pritzel (Ger) Dirt/Street/Slopestyle
Mike Hopkins (Can) Big Mountain/Freeride/Slopestyle
René Wildhaber (Swi) DH Race/Enduro DH/Freeride
Holger Meyer (Ger) Freeride/All Mountain
Kyle Ebbett (USA) Dirt/Street/Slopestyle
Lance McDermott (UK) Dirt/Street/Slopestyle
Carmine Falco (Fra) 4X/Freeride
Kyle Jameson (USA) Dirt/Slopestyle
Contessa Progressive
Katrina Strand (Can) DH Race/DH Freeride/Dirt
Beth Parsons (Can) DH Freeride/Dirt
Berghaus Polaris Challenge to Oberon Shire
Australia's Berghaus Polaris Challenge heads to the Oberon Shire in the Central West of NSW on the weekend of March 9-11. The event, now in its 11th year, moves to a different location each year and competitors are not told exactly where until two weeks before the event. This year, the event will be based out of the village of Black Springs, 23km south of Oberon.
In the Polaris, there is no fixed route. Teams of two riders, carrying tents, food, sleeping bags etc, will spend two days, using a specially made map, seeking out checkpoints scattered throughout a huge area of bush and mountain. The event encompasses an area running from Black Springs right into the depths of Abercrombie River NP, across through large areas of State Forest and farmland towards Burraga and towards Shooters Hill.
Riders will leave Black Springs between 8 and 9:30 am Saturday morning, will stay at a 'secret' camp on Saturday night after seven hours of riding before returning to Black Springs on Sunday lunchtime after another five hours on the bike. The winning riders will clock some 180km over the course of the weekend.
This year's theme is The Rocky Horror Polaris Show, so some strangely dressed mountain bikers may appear. Furthermore, all racers are required to carry a rock as part of their stipulated equipment.
Defending champions Gwyn Taverner-Smith and Ken Wilyman will face stiff competition this year with world mountain bike orienteering champion Adrian Jackson again teaming up with Shaun Lewis. Lewis is after a clean sweep in the 2006-07 Wild Horizons events 'season' after winning the Urban Polaris (with Jackson) in December and the VAUDE Highland Fling 100km Marathon in November. However, John Hardwick and David Wood, winners of the Polaris Challenge in 1998 and 1999, will also challenge; they are making their first showing together since 2000.
NorCal High School starts season of racing and fund-raising
The 2007 NorCal High School mountain bike season kicked off on March 4 in Monterey. This year, 350 students from 25 high school teams will tackle the six race series. The series visits the following locations: Granite Bay (near Folsom), Toro Park (near Salinas), Angels Camp, and Grant Ranch (near Santa Clara), Bogg's Mountain.
The League will host several world premier screenings of "24 Hour Solo," a film about Chris Eatough's quest for his seventh consecutive World Championship 24-hour mountain biking title. In addition to those already reported by Cyclingnews last week, other screenings include
April 16, 7:30pm - Davis - Davis Varsity Theater
April 18, 7:30pm - Grass Valley - Del Oro Theater
April 18, 7:30pm - Berkeley - Berkeley Community Theater
April 19, 7:30pm - Larkspur - Lark Theater
April 20, 7:30pm - San Francisco - Randall Museum
(All rights reserved/Copyright Knapp Communications Pty Limited 2007)