MTB news & racing round-up for March 1, 2007
Welcome to our regular roundup of what's happening in mountain biking. Feel free to send feedback, news and releases to mtb@cyclingnews.com.
Edited by Sue George
Australia and New Zealand wrap up national series
Marcus Roy (Aunt Betty's)
Photo ©: Karyn McQueen

Two countries down under each hosted their final round of their national series this past weekend.
On the east side of the Tasmania, Marcus Roy, a student at Otago University when not racing, handily wrapped up his series' cross country title after winning the fifth and final round in Wellington. The final race was not only valuable for determining the series champions but for the elite men and women competitors it was also offered valuable UCI points and prize money.
USA-based Kiwi Jenny Smith won the elite women's cross country race, meaning she takes maximum UCI points as she prepares for her North American campaign starting next month. This was Smith's only national series race, which left the consistent Fiona MacDermid with the national series women's title.
Wanganui's Sam Blenkinsop won the elite men's downhill NZCT mountain bike national series, by taking the fifth and final round by just under three seconds over junior world champion Cameron Cole. Meanwhile Jenna Makgill won the elite women's race by nearly five seconds over Scarlett Hagen, but it was too little too late for Makgill as Hagen's second place was enough to give the former junior world champion the women's 2007 NZCT series title.
Meanwhile to the west, Tasmania's Sid Taberlay proved he was one of Australia's best cross country bike riders by winning the fourth and final round of the National Series in Mt Beauty. The 27 year-old Athens Olympian was one point away from the series lead occupied by Sydney rider Aiden Lefmann heading into the round but his win was enough to claim the series title. Sydney Olympian Paul Rowney proved his class by taking second place and even giving Taberlay a challenge in the downhill sections of the course.
Recently crowned Australian champion Tory Thomas came out on top in the women's cross country race and the overall title, thereby backing up her National Marathon win in September last year. Thomas reeled in early leader Niki Fisher to win by one and a half minutes.
Claire Whiteman
Photo ©: Evan Jeffery

Amiel Cavalier ended a stellar season by winning the fourth and final round of the Australian downhill series, also at MT Beauty. The Wollongong rider's time was a full two seconds quicker than local rider Liam Panozzo, who took second place. It was only Cavalier's first year competing at the elite level. "I was a bit nervous at the start," he admitted, "but I just went faster than I wanted to and it paid off at the end."
Newcastle's Emma McNaughton blitzed the women's downhill field to finish in a respectable 4.05.47. Canberra's Claire Whiteman claimed second place from Sydney's former downhill champion Joanne Fox who finished third. McNaughton had crashed in the first run and hurt her sternum but recovered well to finish the season on a strong note. "It's so good now to have six or more women," she said. "We get to races thinking 'now who's going to win today?'"
Her second place finished was enough to tie up the National Series title for Whiteman for the second consecutive year. Canberra's Caroline Buchanan claimed second overall in the series while Joanne Fox takes third place.
Read the full report, results, and see photos from the final rounds of the New Zealand and Australian national series.
US MTB season opens with endurance racing
Travis Brown (Trek/FRS)
Photo ©: Mike Gladu

The US elite mountian-bike season opened in February with two endurance events; the 12 hours of Razorback in Reddick, Florida and the Mas o Menos in Terlingua, Texas marked the start of the new six-race USA Cycling Mountain Bike National Ultra-Endurance Calendar.
Fleeing the worst winter storm of the year, Pennsylvania residents Harlan Price (Independent Fabrication) and Rob Lichtenwaller (Cannondale/ Bare-Naked) raided the 12 hour Razorback race and took home first and second places with Price's Florida teammate Harvey Minton (Independent Fabrication) taking third. However, it took almost ten hours of riding before Price could shake Lichtenwaller during the last two laps nighttime laps. On the women's side, Darlene Angeler took the win over Carey Lowery and Sandra Tomlinson.
Meanwhile in Texas, other top endurance riders were finding their early season legs. Travis Brown (Trek/FRS) won the pro men's race over Christian Helmig (Mad Duck) and Nat Ross (Subaru-Gary Fisher). For the women, Brenda Moczygemba (PACC) won the Expert women 19-29 category while Christina Smith (Team Ortho/Sage Cycles) won the 30-39 race.
Although not racing in an NMBC event, on the other side of the country, Cannondale's Tinker Juarez outclassed his competition with a win at the 24 hours of Old Pueblo. Sarah Kaufmann had a closer battle with her female competitors. She assumed the lead after Lynda Wallenfels crashed out mid-race.
Stay tuned to Cyclingnews for Nat Ross' next diary entry covering his experience at the Mas o Menos.
USA Cycling names Continental championship team
Defending Continental champion Mary McConneloug (Kenda-Seven Cycles) will lead a team of fifteen riders at the upcoming Continental Championships in Neuquen, Argentina, on March 6-12. The Continental Championships will play a key role in determining how many start positions the United States will receive at the 2008 Olympic Games in Beijing since it offers significant international ranking points.
Jeremy Horgan-Kobelski (Subaru-Gary Fisher), Adam Craig (Giant), Jeremiah Bishop (Trek-Volkswagen), and Todd Wells (GT-Hyundai) earned automatic qualifying spots by virtue of their world rankings in 11th, 17th, 22nd, and 55th respectively, as of the end of 2006. Michael Broderick (Kenda-Seven Cycles), who has committed to racing a full World Cup schedule for 2007, joins the ranks as a discretionary selection.
On the women's side, Mary McConneloug will line up with three other automatic selections: Heather Irmiger (Subaru-Gary Fisher), Willow Koerber (Subaru-Gary Fisher), and Shonny Vanlandingham (Luna), who were ranked 24th, 26th, and 31st in the world at the end of 2006. Reigning national champion Georgia Gould (Idaho/Luna) joins the team as a discretionary pick.
Newly signed Subaru-Gary Fisher rider Sam Schultz was the only U23 rider to qualify automatically for the team; however Sam Jurekovic (USA Cycling Development Team) and Colin Cares (USA Cycling Development Team) round out the list of young riders on the team. Jurekovic was the U23 silver medalist at the national championships last year, and he also finished the year as second American in the U23 world rankings. Cares was selected to the team based on his third-place ranking in the US in 2006.
Collegiate national champion Chloe Foresman (Luna) heads up the U23 women's team consisting also of Melanie Meyers (Kenda-X-Fusion-Titus). Meyers was the bronze medalist in the U23 National Championship race last year and the second-ranked American rider in the world rankings.
Elite Men Cross Country
Jeremy Horgan-Kobleski (Boulder, Colo.)
Adam Craig (Bend, Ore.)
Jeremiah Bishop (Harrisonburg, Va.)
Todd Wells (Durango, Colo.)
Michael Broderick (Chilmark, Mass.)
Elite Women Cross Country
Mary McConneloug (Chilmark, Mass.)
Heather Irmiger (Boulder, Colo.)
Willow Koerber (Horseshoe, N.C.)
Shonny Vanlandingham (Durango, Colo.)
Georgia Gould (Ketchum, Idaho)
U23 Men Cross Country
Sam Schultz (Missoula, Mont.)
Sam Jurekovic (Colorado Springs, Colo.)
Colin Cares (Boulder, Colo.)
U23 Women Cross Country
Chloe Foresman (Boulder, Colo.)
Melanie Myers (Flagstaff, Ariz.)
Zoli and Klemencic win opening Sunshine Cup
Women's podium
Photo ©: Michalis Hadjioannou

The sun didn't show up for the Sunshine Cup first round meeting of 105 men and women elite mountain bikers from around Europe. A slight rain two hours before the start of the first Sunshine Cup was enough to make the life hard for the riders on the 48km course.
Yader Zoli from Italy proved to be the strongest of a break of five men, followed by the German champion Milatz Moritz. Third was Fredrik Kessiakof.
On the women's side 2005 European marathon champion Blaza Klemencic of Slovenia won the event in front of Polish racer Maja Wloszczowska and Great Britain's Amy Hunt. Local Rider Elina Sophokleous was eighth.
The Sunshine Cup continues this weekend with round #2 on March 2 and round #3 on March 4.
To view the full report, results, and photos, click here.
Team Maxxis for 2007
Team Maxxis CX riders
Photo ©: Susan Candee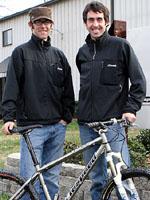 Team Maxxis announced five riders on its roster for the 2007 season and a new sponsor. Cross country riders include Geoff Kabush and Mathieu Toulouse. Kabush's extensive wins include the 2006 Oceania cross country championship, the NORBA short track championship, and Canadian national cross country title. He's won the NORBA cross country series twice and the short track series three times. Canadian National Team Member Toulouse is a multi-time Quebec Provincial Champion. Last year he also took second at the 2006 Pan Am Championship.
Cameron Cole, Luke Strobel, and April Lawyer will represent Maxxis at gravity events. Only 18-years-old, Cole was crowned 2006 junior downhill world champion as well as the junior downhill champion at the Oceania Championships. Strobel finished on the podium last year in the US Open of Mountain Biking and in the top 20 at the world championship. The 2004 junior NMBS champion has worked full time to support his biking career.
Lawyer returns to the team after four seasons away. She made five trips to the podium at NORBA events last year and finished third overall in the series in 2005. Before turning to mountain biking, Lawyer was a professional snow boarder and won silver at the X-Games. When not racing, Lawyer host clinics to encourage young women to ride more and find their place in the sport. She also operates a retail clothing store in Bend, Oregon.
"At Maxxis, we're excited to once again be fielding a team with some of the top athletes in mountain biking. We have two young, new riders on the team this year and they are bringing a new enthusiasm and perspective with them. One of the things that stands out most about Team Maxxis, is not only how talented our riders and staff are, but how they have so much more to offer to the industry than just their riding ability." said Christopher Warrick, Sponsorship Director at Maxxis International.
Gary Wolff will manage the team while Adam McGrath will perform wrenching duties. Look for the squad at the NMBS series, select World Cup events, the Sea Otter Classic, and the US Open of Mountain Biking.
Along with clothing sponsor Louis Garneau, the 2007 Maxxis MTB team will ride Ellsworth bikes for gravity events and Litespeed for cross country.
Pruitt & Obye sign with Jamis
Kathleen Pruitt (USA)
Photo ©: Rob Jones

Kathy Pruitt and Alan Obye signed with Jamis Bicycles for 2007 to race gravity and cross country events respectively. The re-signed Pruitt is the 2000 junior world downhill champion and two-time national champion. Obye is the 2004 US cross country national U23 champion, and he has been a member of the US mountain bike world team three times and the US cyclo-cross world team five times.
Pruitt will be concentrating on gravity events at the US National Mountain Bike Series (NMBS), the US Open of Mountain Biking, and North American World Cups, and on many travel and adventure trips. "I am happy to be returning to Jamis Bicycles in 2007, with something to prove," said Pruitt.
Alan Obey
Photo ©: Craig Hoyt

Obye will compete in pro cross country and short track events throughout North America. He brings plenty of experience to the Jamis program and brings the squad back into the cross-country arena. "I think I'm at a point where I'm maturing as a rider, and I'm ready to get on some National Series podiums. ... It should be a good year," said Obye.
Pruitt will race the Diablo in downhill events and the Komodo in four cross and slalom events. Obye will race the XCR Pro and Dakota Elite.
Alta Pusteria marathon World Cup course set
With the marathon World Cup series about to kick off in March 18 Canaria, the Italian World Cup race in Alta Pusteria announced its course this year for the July 8 race in South Tyrol, also called the 13th Südtirol Dolomiti Superbike. This is the second time the event will have earned World Cup status.
This year, the 119.9km course runs in a clockwise direction and features 3,853m of elevation change. After running the course counter-clockwise at the first World Cup event held here last year, the organisers have gone back to the original course for organisational reasons. A short course option will run over 60.5km and climb for 1,785m.
The start will be on the main square at Villabassa, after which long course racers will head west on the asphalt climb to the Monte Costa. From there, they take a forest road to the Silvester Valley. After a short, very technical climb, they will reach Silvesterplatz and turn to Dobbiaco railway station. Then, they will pass the Dobbiaco and Landro Lakes, and take the cycleway (an old railway) to Cortina. After a couple of kilometres, they will turn right to climb to Prato Piazza. Seven kilometres on an old military road take them to the highest point of the race, at 2,025 m. A descent runs through Braies and after a few kilometres, on asphalt to the finish back in Villabassa
For this year, organizers have planned five starting blocks for the anticipated 700 participants, plus a separate start block for the elite athletes. Women will be allowed to choose any of the start blocks except the one of the World Cup athletes. So they will be able to start in the race in the front lines of the mass of participants or further back, as they prefer.
The race opened registration online in mid-December and set records in the first ten days. Registration remains open through March 31.
The final marathon World Cup event will take place July 14 in Oisans, France. The World Championships are scheduled for August 12 in Verviers, Belgium.
Sea Otter getting greener
Riders backed up
Photo ©: Rob O'Dea

The Sea Otter Classic announced its "Path to Sustainability" initiative to reduce its environmental impact at the Laguna Seca Recreation Area and adjacent Bureau of Land Management (BLM) property where the annual four-day festival will be held April 12 - 15, 2007, near Monterey, California.
"In our efforts to one day build an entirely 'green' event model, we will continue to build creative partnerships with environmentally conscious companies who are dedicated to reducing their environmental impact on this planet," said Frank Yohannan, president and CEO of Sea Otter Classic. "We're proud to have Toyota as a new partner in our Path to Sustainability and delighted to welcome back Clif Bar & Company and their expertise in guiding us to achieve a 100 percent 'Climate Neutral' rating for the event."
Those who arrive at the Sea Otter any hybrid or alternative fuel vehicle will claim a spot in a premier reserved parking area. Pedal-powered vehicles and carpools of three or more people per vehicle will also gain access.
Last year, organizers purchased enough clean wind energy credits from Native Energy to completely offset the estimated 748 tons of CO2 emissions making the event 100 percent "Climate Neutral." The organization was commended by the surrounding county for its recycling efforts and by the Bureau of Land Management, which reported that the land in which the event took place was returned in better condition than it was received thanks crews who spent several days cleaning up, seeding, reseeding, and vegetating the land.
"When we're talking about minimizing the environmental impact of our daily lives, a bicycle can be a powerful tool," said Peter Berridge, field marketing manager for Clif Bar & Co. "I love a good bike race, but I also value my bike for transportation and the fight against global warming. In fact, this year our staff will be going car-free to the Sea Otter Classic."
24 Solo to premiere at Sea Otter
Gripped Films (makers of Off Road to Athens) announced this week that their next mountian-bike feature documentary, 24-Solo, will debut at the 2007 Sea Otter Classic. The film documents six-time 24-Hours of Adrenalin World Solo Champion Chris Eatough's quest for a seventh word title at the 24 Hours of Adrenaline World Solo Championships in Conyers, Georgia.
The film follows his 2006 season as it is complicated by pressure from sponsors and tougher competition following the athlete through preparatory wins in China and Wisconsin. The film culminates with Eatough's dramatic battle with Australian National Champion Craig Gordon in Georgia.
The movie will preview at Sea Otter on April 13 at 8pm at the historic Golden State Theatre in downtown Monterey, California. Additional screenings will follow Saturday and Sunday nights at 7 PM and 9 PM.
Produced by Jason Berry and Ken Bell, the film includes commentary from big names in the sport including Gary Fisher, John Stamstad, Hans Rey, John Tomac, Alison Dunlap, and Ned Overend.
Myriam Saugy's Cape Epic diary: One month to go
Pressure is on. It has been non-stop since the last time I wrote you. The days just went by so fast. Studying, training, sleeping, training, studying, sleeping, what a nice cycle it is… I forgot what a weekend is. I actually can't remember the last time I had a weekend or simply two days off my books. Yesterday, I wrote my first two exams. I think that I passed them so it was worth the "sacrifice."
Today, I took the morning off doing nothing but I must say I couldn't stay still; I had to move around. This afternoon I went back to my books, but I was not really efficient. Then I went for a run and since my mind was not really into concentrating on a book, I decided to finalize logistical issues for the Cape Epic. There are still details that need to be set such as those relating to coach transfer and hotels. Gosh the pressure is now ON for good. We depart in one month exactly.
My training is still suffering from the fact that I have all these exams to write, but as I said in my previous entry, it also helps me to keep my mind in balance and from getting too bored of studying. The emphasis was put this month on my VO2 max improvement. So I have been doing quite a lot of short interval training; mainly on my own.
To read the complete diary, click here.
Oceania Championships announce full schedule
Organizers detailed the schedule for the 2007 Oceania MTB Championships coming up in Thredbo. The Oceania Championships will be staged within the more broad Australian MTB Open. Racers will compete for nearly AUS$10K in prize money for the following classes: Elite, U23 and U19 in the cross country, Elite in the mountain cross, and Elite and U19 in the downhill. Entry is open to any appropriately licensed entrant from an Oceania county.
All Oceania competitions will be separated out and will only have accredited Oceania athletes competing, but some practice sessions may be mixed, thereby including Non-Oceania athletes, in particular those racing cross country and mountain cross.
Oceania Championships schdule:
Thursday, March 22 - Downhill & XC course preview, team manager meeting, press conference
Friday, March 23 - Downhill preview, MTNX practice, heats, and final, XC practice
Saturday, March 24 - Downhill practice and seeding, Men's XC race
Sunday, March 25 - Downhill practice and racing, Women's XC race, U23 XC race
For the full schedule of all events being offered, including those associated with the Australian MTB Open, visit www.rawnrg.com.au.
Brentjens to Dolphin for 2007
Team Dolphin
Photo ©: Ralf van Heugten

The Dolphin Bike Teams presented its 2007 lineup to over 700 people at the Carlton De Burg hotel in Mierlo in the Netherlands as part of the Passion for Bikes festival. There the team also organized a youth cycling clinic attended by over 120 children.

The Dolphin team runs three squads of racers. The Elite cross-country team includes Dutch national champion Bart Brentjens and former Australian national champion Sid Taberly. Dolphin also fields their X-treme team and a satellite team called BEJAN-Dolphin.

Dolphin cross-country roster:
Bart Brentjens (elite)
Sid Taberlay (elite)
Rudi van Houts (elite)
Bjorn Brems(U23)
Frank Beemer (U23)
Tim Wijnants (U23)
Paul Ponnet (Trainer) Jan Mathieu (Team doctor)
Sander Gijs, Eric van Overbeek, Peet van Hout (mechanics)
Gerard Spierings, Dennis Boelen, Ivo Vanherck (Soigneurs)
Ralf van Heugten, Ronald van Hecke, and the board of Foundation Holland Pro Cycling (managers)

Dolphin Team X-Treme roster:
Jurg Meijer (fourcross, bmx, downhill)
Nico Vink (downhill, dirt, freestyle BMX)

BEJAN-Dolphin team (Dutch national team) roster:
Tijmen Eising (cadets)
Atze Dijkhuis (elite)
Onno Reijnhout (elite)
Maarten Krommendijk (U23)
Wim Jansen and Ralf van Heugten (managers)
KlunkerZ showing in Durango
KlukerZ poster art
Photo ©: Billy Savage

Mountain bike enthusiasts in Durango, Colorado have the opportunity to view a screening of KlunkerZ at the Abbey Theatre as part of the Durango Independent Film Festival this weekend.
Showing Friday, March 2nd at 9 PM and Sunday, March 4th at 9 AM, the movie documents the roots of the sport of mountain biking. Mountain bike pioneers Gary Fisher and Charlie Kelly, who are featured in the movie, will attend the festival.
For more detailed information, visit http://www.durangofilm.org.
Bike the Rock 2007 scheduled
This year's seventh annual edition of Bike the Rock will be held May 4-6 in Heubach, Germany. The cross-country race, often attended by elite racers, is part of the German Bundesliga series. The race is the second most important event in Germany, next to the Offenbach World Cup, and is one of only three Hors class category races worldwide.
Organisers have redesigned the cross country course per riders' suggestions and in consultation with the local forest management and meet the standards of environmental protection. The typical climb remains unchanged; however, an extra-loop has been added on top, giving the riders the chance to catch their breath before facing a completely new descent. "Technically more demanding" is how the course designers Ralf Tiede and Holger Krauss describe their handiwork. The drops will challenge even the best riders while also serving as crowd pleasers. The overall distance has been extended by approximately 500m, so that riders will tackle two to three laps less than in previous years.
In 2006, the trial riders on their 26-inch wheeled bikes made their first appearance in the Bike the Rock programme. This year they will battle in two heats for the German national title.
(All rights reserved/Copyright Knapp Communications Pty Limited 2007)