MTB index page for all MTB content
South African National Cup Series #5 - 2
Pretoria, South Africa, May 23-24, 2009
Race 1 - May 23: Cross country
Bassingthwaighte takes national series
Yolande Speedy leaves a trail of dust
Photo ©: Carl Scholtz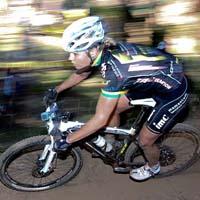 Marc Bassingthwaighte (Garmin adidas) showed his tactical and technical nous when he launched a well-timed attack to win round five and the MTN National cross country series crown at Fountains Reserve in Pretoria.
Bassingthwaighte, plus Brandon Stewart (DCM Chrome), Roan Exelby (Fullimput Morewood), Craig Paul (Jeep) and Renay Goustra (Team GT) were the five riders in line with a shot at the series title. After seven laps of a twisty, technical course in warm, dry conditions it was Bassingthwaighte who made the most of the challenge and claimed the prestigious title.
"It feels great to win the race and win the series title," said Bassingthwaighte after the finish. "I like this course and always seem to do well here. Today, I felt in control and when Roan went to the front, I just let him set the pace and waited for my moment. On lapsix, I gave it everything and managed to pull a decent gap and I just kept it steady from there."
Philip Buys leads the pack
Photo ©: Carl Scholtz

After a frantic start, Philip Buys (Garmin adidas) led the field through the first lap, closely followed by Bassingthwaighte and Exelby with Stewart, Paul and Goustra more than 20 seconds back.
On lap three, Buys began to fade and Exelby took the lead. Bassingthwaighte moved steadily onto Exelby's tail and was content to let the Howick rider set the pace. The pair gradually began to extend their lead over the rest of the contenders and on lap six Bassingthwaighte surged strongly, passing Exelby on his way to building a solid lead. He remained in control and extended his lead on the final lap to secure victory in one hour, 59 minutes and 20 seconds.
The top five in the men's race
Photo ©: Carl Scholtz

Exelby, riding an attention-grabbing prototype South African-made Morewood bike, secured second place 49 seconds later, with a resurgent Buys another five seconds back, taking third overall and securing the Under 23 race victory.
Stewart, who was making a late charge for a podium place, fell victim to a puncture on lap six, losing places to Paul and Bryce Munro (DCM Chrome), who completed the top five overall.
In the women's race, South African champion Yolande Speedy (IMC Momentum) took the lead from the start and never relinquished it, clocking a quick 1:37:01 for the five laps. Sara Muhl (Jeep) finished a distant second, but it was enough to secure her the series title.
Third overall and first Under 23 was Heletjie van Staden (Schwinn) with Janneke Leask (Schwinn) and Tania Raats (Bell Equipment) filling the top five places overall.
"I felt really good today and I actually enjoyed myself out there," smiled Speedy. "This course suits me perfectly and I made the most of it!"
Photography
For a thumbnail gallery of these images, click here
Images by Carl Scholtz / MIHPhotography
Results

Elite men

1 Marc Bassingthwaigthe    1.59.20
2 Roan Exelby                 1.09
3 Craig Paul                  2.48
4 Brandon Stewart             3.40
5 Johnny Kritzinger           3.41
6 Renay Groustra              3.47
7 Hannes Neethling           11.54
8 Erik Kleinhans             13.54
9 Bunnie Loubser             15.46
10 Dion Froneman             16.50
11 Adrien Niyonshuti         17.14
12 Jan Withaar               23.50
Lapped

13 Gavin Rossouw                  
14 Justin Porteous                
15 Jupiter Nameembo               
16 Willem Le Roux                 
17 Ico Schutte                    
DNF Justice Makhale               
DNF Karabo Swartz                 
DNF Trust Munangandu              
DNF Petrus Malherbe               
DNF Drew Murphy                   

Elite women

1 Yolande Speedy           1.37.01
2 Sara Muhl                   8.34
3 Tania Raats                16.34
Lapped

4 Carmen Bassingthwaighte         
5 Claudia Von Tutschek            
6 Karien Van Jaarsveld            
DNF Shawna Thunder                
DNF Colette Victor                

Under 23 women

1 Heletje Van Staden       1.51.14
2 Janneke Leask               1.06
3 Genee Steyn                12.18

Under 23 men

1 Philip Buys              2.00.34
2 Bryce Munro                 1.49
3 Dominic Calitz              4.02
4 Matthys Beukes              6.23
5 Francois Theron             6.55
6 Jean-Michael Du Preez       9.52
7 Dwayne Klingbiel                
DNF Jedson Tooms                  
DNF Max Knox                      
DNF Renier Bellingham             
DNF Francois Jooste               
DNF Stuart Fitzpatrick            
DNS Lucky Mpuru                   

Junior women

1 Candice Neethling        1.22.02
2 Mariske Strauss             1.24
3 Klara Rossouw              10.55

Junior men

1 Rourke Croeser           1.45.35
2 James Reid                  1.43
3 Ruan Du Toit                4.03
4 Adriaan Louw                4.12
5 Travis Walker               8.47
6 Warwick Waldeck            10.45
7 Mike Casey                 13.42
8 Wayne Gerber               14.55
9 Patrick Reimers            16.51
10 Sboniso Ntombela          17.48
11 Justin Pictor             19.12
Lapped

12 Slahde Seale                   
13 Jeandre Fourie                 
14 Ruan Pretorius                 
15 Donovan Lubbe                  
16 Ryan Ellis                     
17 Mark Bridges                   
18 Allan Britnell                 
19 Ruan Van Heerden               
20 Graham Chrystal                
21 Jared Surtees                  
22 Sebastian Jahnke               
23 Lee Beukes                     
24 Jared Milford                  
25 Derek Taylor                   
DNF Ruan Van Staden               
DNF Shaun Silver                  
DNF Roland Grabe                  
DNF Louis Lombard                 
DNF Christopher Banahan           
DNF Herman Bester                 
DNF Brandon Whiteley              

Nipper boys

1 Matthew Dinham             24.55
2 Sharjah Jonsson             6.02
3 Hanno Erwee                11.29


Sprog boys

1 Julian Jessop              46.51
2 Dieter Blom                 0.28
3 Herbert Peters              2.01
4 Dustin Osborne              4.03
5 Vincent Leygonie            4.05
6 Tristan De Lange            6.18
7 Thomas Jessop               6.28
8 Andrew Hughes               9.30
9 Cameron Macnair            12.22
10 Mikaela Jonsson           23.48

Sub Junior boys

1 Frans Grotepass          1.20.58
2 Alexander Frogley           0.26
3 Jaco Pelser                 4.52
4 Joel Hieber                 5.40
5 Neil Robinson               8.34
6 Martin Freyer               9.39
7 Jannes Buijs               10.24
8 Alan Hatherly              16.15
Lapped

9 Charl Du Plessis                
10 Gerhardus Van Der Bank         
DNS Devin Kruger                  

Youth women

1 Hayley Smith             1.05.33
2 Vera Adrian                 1.53
3 Courtenay Riggien          11.53
4 Rosalea Kubjana            12.06
5 Tayla-Anne Odendaal        13.59

Sub Veteran Women

1 Helen Squirrel           1.32.08
2 Dorette Crous               6.59
3 Mylene Loumeau              9.20
DNS Catherine Roberts             

Veteran women

1 Rose Mackintosh          1.35.35
2 Woudie Saaiman              1.03
3 Debbie Hughes              12.58
4 Colleen Jacobs             13.40
5 Lauralyn Purchase          15.33
6 Gail Killian               33.14
DNS Alma Bester                   
DNS Helen Gibbings                

Master women

1 Ann Pearton              1.24.41
2 Bridget O' Meara            1.41
3 Sue Rault                   3.04

Youth women

1 Arno Du Toit             1.29.39
2 Luke Roberts                2.15
3 Brendan Davids              3.29
4 Gert Heyns                  5.23
5 Jac-Johann Steyn            9.52
6 Ruan Erasmus               12.45
7 Michael Hughes             14.33
8 Stephan Reyneke            15.14
9 Ryan Gibbons               15.57
10 Timothy Munro             19.22
Lapped

11 Emile Klingbiel                
12 Ferdi Botha                    
13 Gregory Avierinos              
14 Stefan Colmanet                
15 Kyle Wood                      
16 Tshepo Matlangu                
17 Bruce Scheurkogel              
DNF Reyno Bester                  
DNF Werner Van Heerden            
DNF Stemmet Marincowitz           
DNS Paul Kukkard                  

Sub veteran men

1 Paul Cordes              1.47.31
2 Dylan Victor                1.32
3 Gawie Du Plessis            4.39
4 Anton Smal                  5.34
5 Shane Jansen Van Vuuren     7.19
6 Brett Dickson               8.53
7 Hennie Kriek               10.26
8 Gerard Dirks               13.04
9 Daniel Paul                14.49
10 Rowan Grobler             19.39
11 Darren Wilson             22.59
Lapped

12 Stuart Carliell                
13 Sean O' Flynn-Madden           
14 Kevin Buchler                  
15 Piers Morgan                   
16 Paul Coetser                   
17 Christian Van Niekerk          
18 Mark Meyer                     
19 Wayne Le Roux                  
20 Greg Davis                     
21 Che Lue                        
22 Louis Horn                     
23 Matthew Munting                
DNF Corrie Moolman                
DNF Craig Palmer                  
DNF Benedikt Schneider            
DNF Francois Taljaard             
DNF Bruce Turvey                  

Veteran men

1 Francois Ebersohn        1.37.08
2 Chris Nel                   1.11
3 Louw Gerber                 7.13
4 Johann Wykerd               8.49
5 Mark Ziervogel             10.42
6 Fred Leygonie              14.05
7 Gary Neethling             14.37
8 Cameron Middleton          19.53
Lapped

9 Johan Holscher                  
10 Mark Frogley                   
11 Alfie Dos Santos               
DNF Johannes Erwee                
DNS Allen Dinham                  

Master men

1 Bryan Strauss            1.21.28
2 Chris Brand                 0.44
3 Tony Stark                  4.18
4 Charles Stander             4.43
5 Cobus Slabbert              8.02
6 Colin Gibbings              8.38
7 Pierre Klingbiel            9.31
8 Arrie Rossouw              14.56
9 Mark Rault                 17.52
10 Johan Jacobs              21.32
11 Paul Boshoff              22.28
DNS Charles Roberts               

Grand master men

1 Ben Cronje               1.11.48
2 Fred Van Zyl                4.22
3 Cobus Du Plessis            5.54
4 Gerhard Degener            16.08
5 Mike Smith                 19.52