Recently on Cyclingnews.com
MTB index page for all MTB content
MTB World Cup XC #4 - CDM
Madrid, Spain, May 23-24, 2009
Main Page Results Previous Race World Cup Standings
Race 4 - May 24: Elite men cross country
Three in a row for Absalon
By Rob Jones in Madrid
Julien Absalon (Orbea) takes his third consecutive win
Photo ©: Rob Jones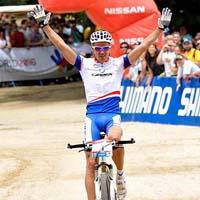 Julien Absalon (Orbea) padded his already comfortable lead in the men's UCI World Cup series by taking his third consecutive win of the season, and the 19th of his career.

By the time the men were ready to start their six-lap race, the rain-soaked ground that had caused the women's race to be shortened had mostly dried up, and all sections were rideable.

Multivan Merida's Ralph Näf had his patented fast start, and a sizable group of contenders formed at the front of the race by the midpoint of the first lap. However, there were two big names missing from the front - World Champion Christoph Sauser (Specialized Factory Racing) and the number-two-ranked rider in the World Cup Wolfram Kurschat (Topeak Ergon) Both had poor starts, and had to chase to make up placds throughout the race.

At the front, the lead group was rapidly whittled down, and by the third lap, it was just Absalon and Näf leading, with a chase group of four trailing at 29 seconds and including Jose Hermida (Multivan Merida), Roel Paulissen (Cannondale Factory Racing), Under 23 World Cup series leader Burry Stander (Specialized Factory Racing) and Nino Schurter (Scott-Swisspower).

Ralph Näf (Multivan Merida) attacked
Photo ©: Rob Jones

A second chase group, at 44 seconds, was led by Olympic silver medalist Jean-Christophe Peraud (Massi). The two groups would merge late in the lap, to create a seven-rider chase. American Todd Wells (Specialized Factory Racing) joined the tail end of this group for awhile before having to back off and ride at his own pace to finish 16th.

However, the chaser weren't making any headway on the two leaders, who continued to add seconds to their advantage on lap four. By the fifth lap, Näf felt it was time to put some pressure on Absalon, and launched a powerful attack near the end of the lap, gaining 11 seconds as the pair began their final lap. But move proved to be premature, as Absalon steadily reeled him in, and then dropped the tiring Swiss rider to solo in with a gap of over a minute for his 19th World Cup victory.

Burry Stander (Specialized Factory Racing) padded his World Cup lead
Photo ©: Rob Jones

"It was a bit of a tactical race with Ralph," said Absalon. "He did a very good attack against me, and gained some seconds. I wasn't able to keep his wheel when he went. But I think maybe it was too much for him to keep going (like that), and I was able to get back up to him."

Behind, the chase was down to four riders for the last kilometre, with Näf's teammate Moritz Milatz taking third, one second ahead of Marco Fontana (Cannondale Factory Racing), and three seconds ahead of Schurter and Peraud.

Absalon's lead in the series is becoming almost insurmountable, as the Olympic champion now has 950 points to second placed Kurschat's 625, while Stander sits in third at 580 points, and leads the Under 23 standings. Canada's Geoff Kabush (Maxxis-Rocky Mountain) is the top North American in 24th place, with Sam Schultz (Subaru-Gary Fisher) holding down 33rd, one spot ahead of Adam Craig (Giant), who skipped this race.
Photography
For a thumbnail gallery of these images, click here
Images by Rob Jones / www.canadiancyclist.com
Images by Dave McElwaine / www.trailwatch.net
Images by Alvaro Astiz
Results
1 Julien Absalon (Fra) Orbea                                                   1.44.32
2 Ralph Naef (Swi) Multivan Merida Biking Team                                    1.06
3 Moritz Milatz (Ger) Multivan Merida Biking Team                                 1.59
4 Marco Aurelio Fontana (Ita) Cannondale Factory Racing                           2.00
5 Nino Schurter (Swi) Scott-Swisspower MTB-Racing                                 2.02
6 Jean-Christophe Peraud (Fra) Massi                                                  
7 Burry Stander* (RSA) Specialized Factory Racing                                 2.16
8 Inaki Lejarreta Errasti (Spa) Orbea                                                 
9 Manuel Fumic (Ger) Fumic.Brothers.International                                 2.17
10 Roel Paulissen (Bel) Cannondale Factory Racing                                 2.18
11 Christoph Sauser (Swi) Specialized Factory Racing                                  
12 Wolfram Kurschat (Ger) Topeak Ergon Racing Team                                2.19
13 José Antonio Hermida (Spa) Multivan Merida Biking Team                         2.31
14 Stéphane Tempier (Fra) TX Active Bianchi                                       2.40
15 Sergio Mantecon Gutirrez (Spa) Cemelorca-Trek-Lorca Taller Del Tiempo          3.05
16 Todd Wells (USA) Specialized Factory Racing                                    3.09
17 Carlos Coloma Nicolas (Spa) MSC Bikes                                          4.03
18 Jiri Friedl (Cze) Merida Biking Team                                           4.06
19 Liam Killeen (GBr) Trek World Racing                                           4.09
20 Chris Jongewaard (Aus) Trek-Brentjens Mountainbike Racing Tea                  4.17
21 Ivan Alvarez Gutierrez (Spa) Giant Italia Team                                 4.25
22 Sven Nys (Bel)                                                                 4.49
23 Marc Colom (Fra)                                                               4.57
24 Oliver Beckingsale (GBr) Giant Mountain Bike Team Gmt                          5.01
25 Alexis Vuillermoz* (Fra) Lapierre International                                5.08
26 Milan Spesny (Cze) Ceska Sporitelna MTB                                        5.14
27 Ruben Ruzafa Cueto (Spa) Orbea                                                 5.18
28 Rudi Van Houts (Ned) Multivan Merida Biking Team                               5.20
29 Mathias Flückiger* (Swi) Trek World Racing                                         
30 Martin Gujan (Swi) Cannondale Factory Racing                                   5.38
31 Daniel Mcconnell (Aus) Torq Performance Nutrition                              5.39
32 Jan Skarnitzl (Cze) Giant Mountain Bike Team Gmt                               5.43
33 Fabian Giger* (Swi) Sks M.I.G. Team                                            5.44
34 Geoff Kabush (Can) Team Maxxis-Rocky Mountain Bicycles                         6.00
35 Jeremy Horgan-Kobelski (USA) Subaru-Gary Fisher                                6.06
36 Thomas Litscher* (Swi) Sks M.I.G. Team                                         6.19
37 Bas Peters (Ned)                                                               6.40
38 Bjorn Brems (Bel) Team Saeco                                                   6.46
39 Giuseppe Lamastra (Ita)                                                        7.04
40 Lukas Flückiger (Swi) Trek World Racing                                        7.16
41 Jochen Kass (Ger) Multivan Merida Biking Team                                  7.19
42 Martin Fanger* (Swi) Giant Mountain Bike Team Gmt                                  
43 Samuel Schultz (USA) Subaru-Gary Fisher                                        7.22
44 Christof Bischof (Swi) ISD Cycling Team                                        7.30
45 Hannes Metzler (Aut)                                                           7.39
46 Ludovic Dubau (Fra)                                                            7.44
47 Pascal Meyer* (Swi) Sks M.I.G. Team                                            7.46
48 Lukas Kaufmann* (Swi)                                                          7.48
49 Frank Schotman (Ned)                                                           7.49
50 Alban Lakata (Aut) Topeak Ergon Racing Team                                    8.00
51 Nicola Rohrbach (Swi) Central Ghost Pro Team                                   8.27
52 Karl Markt (Aut) Srm Stevens Team                                              8.40
53 Balz Weber (Swi) DS-Rennsport                                                  8.43
54 Hector Leonardo Paez Leon (Col) TX Active Bianchi                              8.45
55 Severin Disch* (Swi) Giant Mountain Bike Team Gmt                              8.51
56 Sebastien Carabin* (Bel) Lingier-Versluys Team                                 8.55
57 Irjan Luttenberg* (Ned)                                                        8.56
58 Lachlan Norris* (Aus) Discovertasmania.com                                         
59 Torsten Marx (Ger) DS-Rennsport                                                9.00
60 Sergiy Rusenko (Ukr) ISD Cycling Team                                          9.12
61 Cristian Cominelli* (Ita) TX Active Bianchi                                    9.24
62 Frank Beemer* (Ned) Trek-Brentjens Mountainbike Racing Tea                     9.37
63 Peter Sagan* (Svk)                                                            10.02
64 Paolo Cesar Montoya Cantillo (CRc) Giant Italia Team                          10.05
65 Jelmer Pietersma (Ned) Trek-Brentjens Mountainbike Racing Tea                 10.07
66 Andrea Tiberi (Ita) TX Active Bianchi                                         10.13
67 Andras Parti (Hun) Srm Stevens Team                                           10.21
68 Patrik Gallati* (Swi) Scott-Swisspower MTB-Racing                             10.26
69 Alejandro Diaz De La Pena Lopez (Spa)                                         10.30
70 Dario Alejandro Gasco* (Arg) Massi                                            10.59
71 Josef Kamler* (Cze) Ceska Sporitelna MTB                                      11.09
72 Yader Zoli (Ita) Torpado-4Us                                                  11.45
73 Henrique Avancini* (Bra) ISD Cycling Team                                     11.58
74 Nathan Haas* (Aus) Discovertasmania.com                                       12.16
75 Jimmy Tielens (Bel) Team Saeco                                                12.23
76 Juan Pedro Trujillo Hernandez (Spa) Cemelorca-Trek-Lorca Taller Del Tiempo    12.24
77 Niels Wubben* (Ned)                                                           12.40
78 Pierre Lebreton (Fra) BH-Suntour                                              12.59
79 Marco Arnold* (Swi)                                                           13.01
80 Connor Mcconvey* (Irl) Felt International MTB Team                            13.20
81 Simon Scheiber* (Aut) Sunshine Racers Asv Nals                                13.41
82 Paxti Cia Apezteguia (Spa) Conor - Camping La Siesta                          13.53
83 Michael Broderick (USA)                                                       13.58
84 Julien Saussac* (Fra) BH-Suntour                                              13.59
85 David Joao Serralheiro Rosa (Por)                                             14.15
86 Charlton Durie* (Aus) Discovertasmania.com                                    14.16
87 Daniel Filipe Valente Marques (Por)                                           15.04
88 Chun Hing Chan (HKg)                                                          15.19
89 Andrew Blair (Aus)                                                            15.21
90 Rob Vangenechten* (Bel) Team Saeco                                            16.57
91 Fabien Canal* (Fra) Lapierre International                                    17.07
92 Cédric Ravanel (Fra) Lapierre International                                        
93 Guillaume Vinit* (Fra) Team Scott Valloire Galibier                           17.08
94 Ivo Santos (Por)                                                                   

Behind one lap

95 Pierre Geoffroy Plantet (Fra) Lapierre International                               
96 Nicolas Jeantet* (Ita) Team CBE Tecnoimpianti A.S.D.                               
97 Joan Marc Perarnau Garcia* (Spa)                                                   
98 Ludovic Mottet (Bel)                                                               
99 Hugo Martinez Rus (Spa)                                                            
100 Jo Thorson Nordskar* (Nor) Team Etto Hoydahl                                      
101 Alexandre Guilhoto (Por)                                                          
102 Mikhail Baryshnikov* (Rus)                                                        
103 Sebastian Batchelor* (GBr)                                                        
104 Hubert Pollinger (Ita) Sunshine Racers Asv Nals                                   
105 Jonas De Backer* (Bel)                                                            
106 Ben Henderson (Aus)                                                               
107 David Escolar Ballesteros (Spa)                                                   

Behind two laps

108 Vivien Legastelois* (Fra) BH-Suntour                                              
109 Diogo Beatriz Gomes Afonso* (Por)                                                 
110 André Anes* (Por)                                                                 

Behind three laps

111 John Groves (Aus)                                                                 
DNF Periklis Ilias (Gre) ISD Cycling Team                                             
DNF Umberto Corti (Ita) Team CBE Tecnoimpianti A.S.D.                                 
DNF Ondrej Cink* (Cze) Merida Biking Team                                             
DNF Klaus Nielsen (Den)                                                               
DNF Maxime Marotte (Fra) BH-Suntour                                                   
DNF Jaroslav Kulhavy (Cze)                                                            
DNF Emil Lindgren (Swe) Felt International MTB Team                                   
DNF Florian Vogel (Swi) Scott-Swisspower MTB-Racing                                   
DNF Jose Melitao (Por)                                                                
DNF Cristobal Silva Ibaceta (Chi)                                                     
DNF Marti Gispert Labarta (Spa) MSC Bikes                                             
DNF Luis Alberto Costa Leao Pinto (Por)                                               
DNF Tiago Jorge Oliveira Ferreira* (Por)                                              
DNF David Lozano Riba* (Spa) Cemelorca-Trek-Lorca Taller Del Tiempo       

Teams

1 Multivan Merida Biking Team                 88 pts
2 Orbea                                       67
3 Specialized Factory Racing                  59
4 Cannondale Factory Racing                   52
5 Scott-Swisspower MTB-Racing                 28
6 Massi                                       26
7 Fumic.Brothers.International                22
8 Topeak Ergon Racing Team                    19
9 TX Active Bianchi                           17
10 Cemelorca-Trek-Lorca Taller Del Tiempo     16
11 MSC Bikes                                  14
12 Trek World Racing                          14
13 Merida Biking Team                         13
14 Trek-Brentjens Mountainbike Racing Team    11
15 Giant Italia Team                          10
16 Giant Mountain Bike Team                    7
17 Lapierre International                      6

World Cup Standings after four rounds

Individual

1 Julien Absalon (Fra) Orbea                                                    950 pts
2 Wolfram Kurschat (Ger) Topeak Ergon Racing Team                               625
3 Burry Stander* (RSA) Specialized Factory Racing                               580
4 Jean-Christophe Peraud (Fra) Massi                                            550
5 Ralph Naef (Swi) Multivan Merida Biking Team                                  500
6 José Antonio Hermida Ramos (Spa) Multivan Merida Biking Team                  460
7 Nino Schurter (Swi) Scott-Swisspower MTB-Racing                               445
8 Roel Paulissen (Bel) Cannondale Factory Racing                                410
9 Moritz Milatz (Ger) Multivan Merida Biking Team                               376
10 Marco Aurelio Fontana (Ita) Cannondale Factory Racing                        370
11 Christoph Sauser (Swi) Specialized Factory Racing                            330
12 Stéphane Tempier (Fra) TX Active Bianchi                                     319
13 Lukas Flückiger (Swi) Trek World Racing                                      304
14 Inaki Lejarreta Errasti (Spa) Orbea                                          290
15 Manuel Fumic (Ger) Fumic.Brothers.International                              261
16 Sergio Mantecon Gutierrez (Spa) Cemelorca-Trek-Lorca Taller Del Tiempo       258
17 Alexis Vuillermoz* (Fra) Lapierre International                              242
18 Jochen Kass (Ger) Multivan Merida Biking Team                                237
19 Martin Gujan (Swi) Cannondale Factory Racing                                 236
20 Jaroslav Kulhavy (Cze)                                                       230
21 Rudi Van Houts (Ned) Multivan Merida Biking Team                             230
22 Ruben Ruzafa Cueto (Spa) Orbea                                               222
23 Chris Jongewaard (Aus) Trek-Brentjens Mountainbike Racing Team               214
24 Geoff Kabush (Can) Team Maxxis-Rocky Mountain Bicycles                       207
25 Mathias Flückiger* (Swi) Trek World Racing                                   207
26 Ivan Alvarez Gutierrez (Spa) Giant Italia Team                               203
27 Hector Leonardo Paez Leon (Col) TX Active Bianchi                            202
28 Florian Vogel (Swi) Scott-Swisspower MTB-Racing                              201
29 Cédric Ravanel (Fra) Lapierre International                                  194
30 Oliver Beckingsale (GBr) Giant Mountain Bike Team                            168
31 Jiri Friedl (Cze) Merida Biking Team                                         166
32 Carlos Coloma Nicolas (Spa) MSC Bikes                                        156
33 Samuel Schultz (USA) Subaru-Gary Fisher                                      147
34 Adam Craig (USA) Giant Mountain Bike Team                                    145
35 Milan Spesny (Cze) Ceska Sporitelna MTB                                      139
36 Todd Wells (USA) Specialized Factory Racing                                  134
37 Christoph Soukup (Aut) Merida Biking Team                                    134
38 Liam Killeen (GBr) Trek World Racing                                         134
39 Umberto Corti (Ita) Team CBE Tecnoimpianti A.S.D.                            123
40 Pierre Geoffroy Plantet (Fra) Lapierre International                         115
41 Ludovic Dubau (Fra)                                                          112
42 Marc Colom (Fra)                                                             110
43 Daniel Mcconnell (Aus) Torq Performance Nutrition                            105
44 Andrea Tiberi (Ita) TX Active Bianchi                                         94
45 Bas Peters (Ned)                                                              86
46 Emil Lindgren (Swe) Felt International MTB Team                               84
47 Cristian Cominelli* (Ita) TX Active Bianchi                                   84
48 Sergiy Rusenko (Ukr) ISD Cycling Team                                         83
49 Christof Bischof (Swi) ISD Cycling Team                                       83
50 Hannes Metzler (Aut)                                                          77
51 Jürg Graf (Swi) Felt International MTB Team                                   71
52 Sven Nys (Bel)                                                                62
53 Jan Skarnitzl (Cze) Giant Mountain Bike Team                                  61
54 Thomas Litscher* (Swi) SKS M.I.G. Team                                        61
55 Anders Hovdenes* (Nor) Team Etto Hoydahl                                      61
56 Fabian Giger* (Swi) SKS M.I.G. Team                                           58
57 Karl Markt (Aut) SRM Stevens Team                                             58
58 Guillaume Vinit* (Fra) Team Scott Valloire Galibier                           56
59 Lado Fumic (Ger) Fumic.Brothers.International                                 55
60 Filip Eberl (Cze)                                                             55
61 Robert Mennen (Ger)                                                           52
62 Balz Weber (Swi) DS-Rennsport                                                 51
63 Bjorn Brems (Bel) Team Saeco                                                  47
64 Lachlan Norris* (Aus) Discovertasmania.com                                    47
65 Jeremy Horgan-Kobelski (USA) Subaru-Gary Fisher                               46
66 Lukas Kaufmann* (Swi)                                                         44
67 Derek Zandstra (Can)                                                          39
68 Johnny Cattaneo (Ita)                                                         38
69 Jelmer Pietersma (Ned) Trek-Brentjens Mountainbike Racing Team                38
70 Giuseppe Lamastra (Ita)                                                       38
71 Connor Mcconvey* (Irl) Felt International MTB Team                            34
72 Nicola Rohrbach (Swi) Central Ghost Pro Team                                  31
73 Periklis Ilias (Gre) ISD Cycling Team                                         29
74 Dries Govaerts* (Bel) Lingier-Versluys Team                                   29
75 Silvio Bundi (Swi) Giant Mountain Bike Team                                   29
76 Irjan Luttenberg* (Ned)                                                       28
77 Martin Fanger* (Swi) Giant Mountain Bike Team                                 26
78 Marek Galinski (Pol) JBG-2 Professional MTB Team                              26
79 Yader Zoli (Ita) Torpado-4US                                                  25
80 Maxime Marotte (Fra) BH-Suntour                                               24
81 Pascal Meyer* (Swi) SKS M.I.G. Team                                           21
82 Severin Disch* (Swi) Giant Mountain Bike Team                                 21
83 Frank Schotman (Ned)                                                          19
84 François Bailly Maitre (Fra) Team Scott Valloire Galibier                     19
85 Alban Lakata (Aut) Topeak Ergon Racing Team                                   18
86 Paolo Cesar Montoya Cantillo (CRc) Giant Italia Team                          18
87 Kohei Yamamoto (Jpn)                                                          14
88 Peter Sagan* (Svk)                                                            13
89 Juan Pedro Trujillo Hernandez (Spa) Cemelorca-Trek-Lorca Taller Del Tiempo    13
90 Sebastien Carabin* (Bel) Lingier-Versluys Team                                12
91 Roan Exelby (RSA)                                                             12
92 Nicolas Vermeulen (Bel) Lingier-Versluys Team                                 10
93 Torsten Marx (Ger) DS-Rennsport                                                9
94 Klaus Nielsen (Den)                                                            9
95 Andrew Blair (Aus)                                                             9

Team

1 Multivan Merida Biking Team                                                   315 pts
2 Orbea                                                                         225
3 Specialized Factory Racing                                                    209
4 Cannondale Factory Racing                                                     194
5 Scott-Swisspower MTB-Racing                                                   127
6 Topeak Ergon Racing Team                                                      117
7 Massi                                                                         110
8 Trek World Racing                                                             105
9 TX Active Bianchi                                                              99
10 Lapierre International                                                        69
11 Fumic.Brothers.International                                                  57
12 Cemelorca-Trek-Lorca Taller Del Tiempo                                        49
13 Trek-Brentjens Mountainbike Racing Team                                       41
14 Giant Mountain Bike Team                                                      37
15 Merida Biking Team                                                            36
16 Giant Italia Team                                                             27
17 Team Maxxis-Rocky Mountain Bicycles                                           23
18 MSC Bikes                                                                     18
19 Subaru-Gary Fisher                                                            17
20 Team CBE Tecnoimpianti A.S.D.                                                 10
21 Felt International MTB Team                                                    6
22 Ceska Sporitelna MTB                                                           6