Recently on Cyclingnews.com
MTB index page for all MTB content
MTB World Cup XC #4 - CDM
Madrid, Spain, May 23-24, 2009
Main Page Results Previous Race Next Race World Cup Standings
Race 3 - May 24: Elite women cross country
Fullana wins at home
By Rob Jones in Madrid
Margarita Fullana (Massi) wins
Photo ©: Rob Jones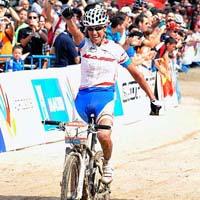 As usual, Madrid proved to be an exciting venue for the UCI Mountain Bike World Cup. World Cup leader Marga Fullana (Massi) extended her lead in the overall standings with a win in this fourth round, but the World Champion won by only four seconds over the defending World Cup champion Marie-Helene Premont (Maxxis-Rocky Mountain).

After a second night of heavy rain, the decision was made to shorten the women's race from five laps to four. The wet ground made some of the climbs unrideable, and every corner had to be negotiated with care. A group containing Fullana, Premont, world number-one-ranked Catharine Pendrel (Luna) and Lene Byberg (Specialized Factory Team) split away from the field. However, Pendrel ran into shifting problems, as well as having difficulty with the muddy course after a night of rain.

Marie-Helene Premont (Rocky Mt/Maxxis)
Photo ©: Dave McElwaine

Fullana then made her first testing attack, and only Premont and Byberg could respond. Pendrel dropped back to sit solo in fourth, with a chase group containing round one winner Elisabeth Osl (Central Ghost Team), Maja Wloszczowska (CCC Polkowice) and Eva Lechner (Colnago Cap Arreghini) forming behind. The front three began getting reeled in from behind on the second lap, both by Pendrel and the chase of Osl, Lechner, Wloszczowska and the Olympic champion Sabine Spitz

Premont was getting concerned about being caught, and upped the pace, dropping Byberg with less than a lap and a half to go. Byberg would hold on for third, but the race for the win was down to two riders. Fullana made the winning move on the final long climb, launching an attack that Premont could not respond to immediately, and then holding on to win her second consecutive World Cup. Behind Byberg, Pendrel was caught by Spitz and Osl, after some mechanical problems, but managed to hold on for the fifth and final podium spot behind Spitz.

The early laps were muddy
Photo ©: Rob Jones

"It is a great honour to win in my home country; this was one of my big goals for the season," said Fullana. "Of course, I was very concerned about Marie-Helene, because she is always strong, but I could see that I was better on the climbs, and I knew that I had to attack there in the final lap."

"In the last two laps, the chasers were catching up to us, and neither Fullana or Byberg were working," said Premont, "so I went to the front to set the pace. Then, on the last long climb Marga [Fullana] attacked, and I could not respond fast enough to catch her before the finish."

Fullana's win increased her lead in the World cup standings to 850 points, 190 over second place Osl, with Byberg in third at 565 points. Pendrel moves to fifth at 470 points, and Premont jumps from 16th to ninth in the standings with 408 points.

Georgia Gould was the top American finisher in 14th place.
Photography
For a thumbnail gallery of these images, click here
Images by Rob Jones / www.canadiancyclist.com
Images by Dave McElwaine / www.trailwatch.net
Results
1 Margarita Fullana Riera (Spa) Massi                                     1.28.24
2 Marie-Helene Premont (Can) Team Maxxis-Rocky Mountain Bicycles             0.04
3 Lene Byberg (Nor) Specialized Factory Racing                               0.15
4 Sabine Spitz (Ger) Central Ghost Pro Team                                  2.17
5 Catharine Pendrel (Can) Luna Pro Team                                      2.19
6 Elisabeth Osl (Aut) Central Ghost Pro Team                                 2.47
7 Eva Lechner (Ita) Colnago Cap Arreghini                                    3.54
8 Nathalie Schneitter (Swi) Colnago Cap Arreghini                            4.06
9 Maja Wloszczowska (Pol) CCC Polkowice                                      4.11
10 Petra Henzi (Swi) Fischer-BMC                                             4.21
11 Irina Kalentieva (Rus) Topeak Ergon Racing Team                           4.41
12 Marielle Saner-Guinchard (Swi) Team Bikepark.Ch                           4.49
13 Katrin Leumann (Swi)                                                      4.54
14 Georgia Gould (USA) Luna Pro Team                                         5.00
15 Anna Szafraniec (Pol) Jbg-2 Professional Mtb Team                         5.02
16 Caroline Mani (Fra) Team Bikepark.Ch                                      5.26
17 Adelheid Morath (Ger)                                                     5.34
18 Willow Koerber (USA) Subaru-Gary Fisher                                   5.39
19 Mary Mcconneloug (USA)                                                    5.40
20 Janka Stevkova (Svk)                                                      6.35
21 Aleksandra Dawidowicz (Pol) CCC Polkowice                                 7.11
22 Julie Krasniak (Fra)                                                      7.24
23 Rowena Fry (Aus) Discovertasmania.Com                                     7.28
24 Tereza Hurikova (Cze) Ceska Sporitelna Mtb                                7.45
25 Barbara Benko (Hun)                                                       8.18
26 Ivonne Kraft (Ger)                                                        8.33
27 Cécile Rode Ravanel (Fra) Lapierre International                          8.54
28 Laura Turpijn (Ned)                                                       9.02
29 Julie Bresset (Fra) Breiz Mountain                                        9.15
30 Kate Potter (Aus)                                                         9.28
31 Heather Irmiger (USA) Subaru-Gary Fisher                                  9.35
32 Anna Villar Argente (Spa) Massi                                           9.39
33 Vivianne Meyer (Swi) Colnago Cap Arreghini                                9.49
34 Maria Osl (Aut) Fischer-BMC                                               9.56
35 Laura Metzler (Fra) Bh-Suntour                                           10.22
36 Vera Andreeva (Rus)                                                      10.23
37 Alexandra Engen (Swe)                                                    10.37
38 Helene Marcouyre (Fra) Bh-Suntour                                        10.45
39 Virginie Pointet (Swi) Team Bikepark.Ch                                  11.01
40 Cristina Mascarreras Sabria (Spa) Conor - Camping La Siesta              11.30
41 Sabrina Enaux (Fra) Bh-Suntour                                           12.05
42 Evelyn Staffler (Ita) Colnago Cap Arreghini                              12.28
43 Rosara Joseph (NZl)                                                      12.46
44 Asa Maria Erlandsson (Swe) Subaru-Gary Fisher                            12.50
45 Kristien Nelen (Bel)                                                     12.56
46 Katherine O'Shea (Aus) Torq Performance Nutrition                        14.03
47 Judith Pollinger (Ita) Sunshine Racers Asv Nals                          14.19
48 Stephanie Wiedner (Aut) Ds-Rennsport                                     14.35
49 Katrin Schwing (Ger)                                                     15.00
50 Oksana Rybakova (Rus)                                                    15.29
51 Gracie Elvin (Aus) Discovertasmania.Com                                  16.10
52 Sandra Santanyes Murillo (Spa) Cemelorca-Trek-Lorca Taller Del Tiempo    17.15
53 Elisabeth Brandau (Ger)                                                  18.02
54 Camille Pousse (Fra)                                                     18.55
55 Nadine Rieder (Ger) Fumic.Brothers.International                         20.18
56 Laure Boulay (Fra) Keops                                                 22.06
57 Joana Barbosa (Por)                                                      23.56

One lap behind
58 Catherine Lohri (Swi)                                                         
59 Elena Ondasova (Svk)                                                          
DNF Githa Michiels (Bel) Team Saeco                                              
DNF Kathrin Stirnemann (Swi)                                                     
DNF Blaza Klemencic (Slo) Felt International Mtb Team                            
DNF Magdalena Sadlecka (Pol) CCC Polkowice      

Teams

1 Central Ghost Pro Team                      56 pts
2 Colnago Cap Arreghini                       47
3 Luna Pro Team                               45
4 Massi                                       40
5 Team Maxxis-Rocky Mountain Bicycles         35
6 Team Bikepark.ch                            34
7 Specialized Factory Racing                  32
8 CCC Polkowice                               32
9 Fischer-BMC                                 21
10 Topeak Ergon Racing Team                   20
11 JBG-2 Professional MTB Team                16
12 Subaru-Gary Fisher                         13
13 Discovertasmania.com                        8
14 Ceska Sporitelna MTB                        7
15 Lapierre International                      4
16 Breiz Mountain                              2

World Cup Standings after four rounds

Individual

1 Margarita Fullana Riera (Spa) Massi                                           850 pts
2 Elisabeth Osl (Aut) Central Ghost Pro Team                                    660
3 Lene Byberg (Nor) Specialized Factory Racing                                  565
4 Irina Kalentieva (Rus) Topeak Ergon Racing Team                               540
5 Catharine Pendrel (Can) Luna Pro Team                                         470
6 Sabine Spitz (Ger) Central Ghost Pro Team                                     470
7 Eva Lechner (Ita) Colnago Cap Arreghini                                       436
8 Chengyuan Ren (Chn)                                                           410
9 Marie-Helene Premont (Can) Team Maxxis-Rocky Mountain Bicycles                408
10 Maja Wloszczowska (Pol) CCC Polkowice                                        354
11 Willow Koerber (USA) Subaru-Gary Fisher                                      352
12 Petra Henzi (Swi) Fischer-BMC                                                349
13 Katrin Leumann (Swi)                                                         338
14 Mary Mcconneloug (USA)                                                       314
15 Heather Irmiger (USA) Subaru-Gary Fisher                                     264
16 Julie Bresset* (Fra) Breiz Mountain                                          260
17 Georgia Gould (USA) Luna Pro Team                                            253
18 Anna Szafraniec (Pol) JBG-2 Professional MTB Team                            251
19 Janka Stevkova (Svk)                                                         249
20 Adelheid Morath (Ger)                                                        249
21 Laura Turpijn (Ned)                                                          244
22 Nathalie Schneitter (Swi) Colnago Cap Arreghini                              242
23 Marielle Saner-Guinchard (Swi) Team Bikepark.ch                              234
24 Rowena Fry (Aus) Discovertasmania.com                                        234
25 Cécile Rode Ravanel (Fra) Lapierre International                             230
26 Caroline Mani* (Fra) Team Bikepark.ch                                        228
27 Aleksandra Dawidowicz* (Pol) CCC Polkowice                                   226
28 Blaza Klemencic (Slo) Felt International MTB Team                            188
29 Anna Villar Argente (Spa) Massi                                              177
30 Emiliy Batty* (Can)                                                          175
31 Magdalena Sadlecka (Pol) CCC Polkowice                                       162
32 Helene Marcouyre (Fra) BH-Suntour                                            151
33 Julie Krasniak* (Fra)                                                        144
34 Sabrina Enaux (Fra) BH-Suntour                                               143
35 Alexandra Engen* (Swe)                                                       131
36 Esther Süss (Swi)                                                            130
37 Ivonne Kraft (Ger)                                                           127
38 Kate Potter (Aus)                                                            123
39 Hanna Klein* (Ger)                                                           118
40 Githa Michiels (Bel) Team Saeco                                              116
41 Lea Davison (USA) Team Maxxis-Rocky Mountain Bicycles                        102
42 Laura Metzler (Fra) BH-Suntour                                               101
43 Vera Andreeva* (Rus)                                                          97
44 Barbara Benko* (Hun)                                                          96
45 Vivianne Meyer* (Swi) Colnago Cap Arreghini                                   94
46 Anja Gradl (Ger) Central Ghost Pro Team                                       90
47 Gracie Elvin* (Aus) Discovertasmania.com                                      75
48 Maria Osl (Aut) Fischer-BMC                                                   73
49 Katherine O'shea (Aus) Torq Performance Nutrition                             71
50 Yolande Speedy (RSA)                                                          64
51 Tanja Zakelj* (Slo) MBK Orbea                                                 62
52 Amanda Sin (Can)                                                              59
53 Tereza Hurikova* (Cze) Ceska Sporitelna MTB                                   58
54 Fiona Macdermid (GBr)                                                         52
55 Rosara Joseph (NZl)                                                           49
56 Maaike Polspoel* (Bel)                                                        44
57 Nataliya Krompets* (Ukr)                                                      43
58 Virginie Pointet* (Swi) Team Bikepark.ch                                      42
59 Kathrin Stirnemann* (Swi)                                                     39
60 Mical Dyck (Can)                                                              39
61 Evelyn Staffler (Ita) Colnago Cap Arreghini                                   38
62 Sandra Santanyes Murillo (Spa) Cemelorca-Trek-Lorca Taller Del Tiempo         38
63 Oksana Rybakova (Rus)                                                         37
64 Melanie Spath (Ger)                                                           36
65 Inbar Ronen (Isr)                                                             34
66 Jean Ann Mckirdy (Can)                                                        30
67 Tania Raats (RSA)                                                             29
68 Cristina Mascarreras Sabria (Spa) Conor - Camping La Siesta                   28
69 Sara Muhl (RSA)                                                               28
70 Kajsa Snihs* (Swe)                                                            27
71 Shawna Thunder (RSA)                                                          27
72 Janneke Leask* (RSA)                                                          26
73 Fanny Bourdon* (Fra)                                                          26
74 Heletje Van Staden* (Nam)                                                     25
75 Asa Maria Erlandsson (Swe) Subaru-Gary Fisher                                 24
76 Hilana Marais (RSA)                                                           24
77 Kristien Nelen (Bel)                                                          23
78 Carmen Bassingthwaighte (Nam)                                                 22
79 Judith Pollinger* (Ita) Sunshine Racers ASV Nals                              21
80 Carla Freysen (RSA)                                                           21
81 Stephanie Wiedner* (Aut) DS-Rennsport                                         20
82 Katrin Schwing (Ger)                                                          19
83 Christel Ferrier-Bruneau (Fra) Team Scott Valloire Galibier                   17
84 Elisabeth Brandau (Ger)                                                       15
85 Suzanne Clarke (GBr)                                                          15
86 Camille Pousse* (Fra)                                                         14
87 Nadine Rieder* (Ger) Fumic.Brothers.International                             13
88 Silke Schmidt* (Ger)                                                          13
89 Laure Boulay (Fra) Keops                                                      12
90 Joana Barbosa* (Por)                                                          11
91 Coralie Redelsperger (Fra)                                                    11
92 Catherine Lohri (Swi)                                                         10
93 Sarka Chmurova (Cze)                                                          10
94 Tatjana Dold (Ger)                                                            10
95 Elena Ondasova (Svk)                                                           9

Teams

1 Central Ghost Pro Team                                                        227 pts
2 Massi                                                                         154
3 Luna Pro Team                                                                 145
4 CCC Polkowice                                                                 125
5 Colnago Cap Arreghini                                                         124
6 Specialized Factory Racing                                                    115
7 Topeak Ergon Racing Team                                                      107
8 Subaru-Gary Fisher                                                            102
9 Team Maxxis-Rocky Mountain Bicycles                                            88
10 Fischer-BMC                                                                   76
11 Team Bikepark.ch                                                              65
12 JBG-2 Professional MTB Team                                                   55
13 Breiz Mountain                                                                42
14 Discovertasmania.com                                                          32
15 Felt International MTB Team                                                   28
16 Lapierre International                                                        27
17 BH-Suntour                                                                    22
18 Team Saeco                                                                    10
19 Ceska Sporitelna MTB                                                           7