MTB index page for all MTB content
MTB World Cup DH & 4X #3 - CDM
Vallnord, Andorra, May 15-17, 2009
Main Page Results Previous Race Next Race World Cup Standings
Race 4 - May 16: Elite men four cross
Upsets continue as Wichman wins men's final
By Rob Jones
Joost Wichman rides away
Photo ©: Enric Moran Gimeno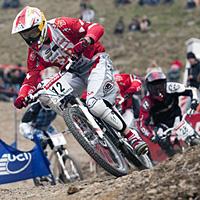 Dutch rider Joost Wichman slipped past World Cup leader Jared Graves (Yeti Fox Shox) in the final to claim the round win. Coming off two consecutive wins Graves and Wichman were joined by Australian Luke Madill (GT Bicycles) and Roger Rinderknecht (GT Bicycles) in the final.
Graves had easily won all of his heats up to the final and was in control from the start of the medal race. However he drifted wide after carrying too much speed into the first corner, giving Wichman and Rinderknecht the chance to get through in a tight squeeze at the second corner.
Rinderknecht also made a mistake near the end, opening the door for Madill to get by and then crashing with Graves. Graves managed to outrun Rinderknecht to the line for third.
Roger Rinderknecht (GT Bicycles) goes down
Photo ©: Enric Moran Gimeno

"I think that was aggressive enough, wasn't it," said a very excited Wichman. "I think it was a clean move, because I didn't hit him. It was awesome, man! I'm really happy. It was close but a clean move."
Graves was philosophical about his winning streak being broken. "It was getting pretty loose in the corners," he said. "If I can take something positive from the final, I was still third, and Roger fourth, so my points lead grows a bit. But I kind of feel I threw away a gold opportunity a bit, I just drifted in a straight line coming into that first corner, and didn't even get close to recovering my line.
"It was just one of those things," he added. "I'm a disappointed with that, but my lead grows, so that's the main thing."
The men's racing saw world champion Rafael Alvarez de Lara Lucas (Specialized) once again become a victim of a crash, this time in the 1/8 final round. Another favourite Guido Tschugg (Ghost ATG) went out in the quarter finals.
Photography
For a thumbnail gallery of these images, click here
Images by Enric Moran Gimeno
Results
1 Joost Wichman (Ned)                                               
2 Luke Madill (Aus) GT Bicycles                                     
3 Jared Graves (Aus) Yeti Fox Shox Factory Race Team                
4 Roger Rinderknecht (Swi) GT Bicycles                              
5 Tomas Slavik (Cze)                                                
6 Romain Saladini (Fra) Team Sunn                                   
7 Filip Polc (Svk) MS Evil Racing                                   
8 Jurg Meijer (Ned)                                                 
9 David Graf (Swi)                                                  
10 Michal Prokop (Cze)                                              
11 Guido Tschugg (Ger) Ghost A.T.G. Pro Team                        
12 Patrick Campbell-Jenner (GBr)                                    
13 Michal Marosi (Cze)                                              
14 Sascha Meyenborg (Ger)                                           
15 Lukas Mechura (Cze) Chain Reaction Cycles/Intense                
16 Marek Pesko (Svk)                                                
17 Mickael Deldycke (Fra)                                           
18 Quentin Derbier (Fra)                                            
19 Dominik Gspan (Swi)                                              
20 Javier Guijarro Villacieros (Spa) XMS-Devinci World Cup Team     
21 Pascal Seydoux (Swi)                                             
22 Florian Gottschlich (Ger)                                        
23 Tom Dowie (GBr)                                                  
24 Felix Beckeman (Swe)                                             
25 Kamil Tatarkovic (Cze)                                           
26 Rafael Alvarez De Lara Lucas (Spa) Specialized Factory Racing    
27 Nico Seidel (Ger) Ghost A.T.G. Pro Team                          
28 Martin Frei (Swi)                                                
29 Jan Ersek (Svk)                                                  
30 Ziga Knez (Slo)                                                  
31 Matej Vitko (Svk)                                                
32 Randal Huntington (Aus)                                          
33 Matthieu Faury (Fra)                                             
34 Lewis Lacey (GBr) Chain Reaction Cycles/Intense                  
35 Rastislav Pirman (Svk)                                           
36 Joey Van Veghel (Ned)                                            
37 Scott Roberts (GBr)                                              
38 William Evans (GBr)                                              
39 Duncan Ferris (GBr)                                              
40 David Axelsson (Swe)                                             
41 Adrian Kiener (Swi)                                              
42 Adam Stasek (Cze) Ghost A.T.G. Pro Team                          
43 Adrien Loron (Fra)                                               
44 Nicolas Gspan (Swi)                                              
45 Bernard Kerr (GBr)                                               
46 Peter Prajczer (Hun)                                             
47 Ludovic Gadois (Fra) Team Vario Racing                           
48 Borja Carrasco Morera (Spa)                                      
49 Thomas Schäfer (Ger) Solid Aclass Factory Team                   
50 Tilen Frank (Slo)                                                
51 Francisco Javier Gutierrez Trigo (Spa)                           
52 Vincent Rasera (Fra)                                             
53 Adrian Hanko (Ger)                                               
54 Ghislain Ricci (Fra)                                             
55 Scott Beaumont (GBr) Rocky Mountain UK                           
56 Oskar Harnstrom (Swe)                                            
 
Teams
 
1 GT Bicycles                                                     61 pts
2 Suspension Center                                               45
3 Norco World Team                                                40
4 Yeti Fox Shox Factory Race Team                                 30
5 Team Sunn                                                       20
6 MS Evil Racing                                                  18
7 Ghost A.T.G. Pro Team                                           10
8 Chain Reaction Cycles/Intense                                    6

World Cup standings after three rounds

Individual

1 Jared Graves (Aus) Yeti Fox Shox Factory Race Team                  325 pts
2 Roger Rinderknecht (Swi) GT Bicycles                                195
3 Joost Wichman (Ned)                                                 193
4 Romain Saladini (Fra) Team Sunn                                     140
5 Michal Prokop (Cze)                                                 125
6 Dan Atherton (GBr) Animal Commencal                                 120
7 Luke Madill (Aus) GT Bicycles                                       100
8 Rafael Alvarez De Lara Lucas (Spa) Specialized Factory Racing        75
9 Tomas Slavik (Cze)                                                   50
10 Johannes Fischbach (Ger) Ghost A.T.G. Pro Team                      45
11 Mickael Deldycke (Fra)                                              40
12 Cédric Gracia (Fra)                                                 40
13 Filip Polc (Svk) MS Evil Racing                                     36
14 Jurg Meijer (Ned)                                                   31
15 Guido Tschugg (Ger) Ghost A.T.G. Pro Team                           31
16 Gee Atherton (GBr) Animal Commencal                                 30
17 Scott Beaumont (GBr) Rocky Mountain UK                              30
18 Kamil Tatarkovic (Cze)                                              25
19 David Graf (Swi)                                                    20
20 Sascha Meyenborg (Ger)                                              20
21 Lukas Mechura (Cze) Chain Reaction Cycles/Intense                   19
22 Quentin Derbier (Fra)                                               17
23 Joey Van Veghel (Ned)                                               14
24 Patrick Campbell-Jenner (GBr)                                       11
25 Darryn Stow (RSA)                                                   11
26 Michal Marosi (Cze)                                                  8
27 Matej Vitko (Svk)                                                    4
28 Marek Pesko (Svk)                                                    2
29 Adam Stasek (Cze) Ghost A.T.G. Pro Team                              2
30 Premek Tejchman (Cze)                                                2

Teams

1 Suspension Center                          125 pts
2 Yeti Fox Shox Factory Race Team            110
3 GT Bicycles                                 91
4 Norco World Team                            70
5 Animal Commencal                            67
6 Team Sunn                                   64
7 Ghost A.T.G. Pro Team                       57
8 Specialized Factory Racing                  30
9 MS Evil Racing                              25
10 Chain Reaction Cycles/Intense              21
11 Rocky Mountain UK                          18