MTB index page for all MTB content
MTB World Cup DH & 4X #3 - CDM
Vallnord, Andorra, May 15-17, 2009
Main Page Results Previous Race Next Race World Cup Standings
Race 3 - May 16: Elite women four cross
Griffiths claims upset victory
By Rob Jones
Fionn Griffiths enjoys her moment
Photo ©: Enric Moran Gimeno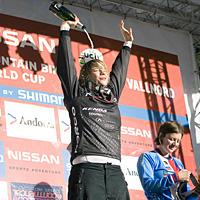 Fionn Griffiths (Norco World Team) took the women's win after the three other riders crashed in the second corner. Until the final things were unfolding pretty much as expected, with Griffiths, World Cup leader Anneke Beerten (Suspension Center), round two winner Jill Kintner (Red Bull/Intense) and Jana Horakova (Czech Republic) advancing to the medal round.
"I've been getting terrible gates all day," said Griffiths. "So I figured I'd be off the back a bit at the start. I was planning on going inside but I saw the line that Horakova had and Jill still wasn't turned yet. I knew she was going to drift and I saw it before it happened, so I just braked, went outside and just rode past everybody. It was cool."
After the gate and the first set of jumps in the medal race, Kintner and Horakova came into the first left hand corner pretty much neck and neck, with Kintner on the inside. Horakova went wide and then cut across to squeeze Kintner as they set up for the second corner, a right hander, taking both of them down, with Beerten caught behind. Griffiths had a clear shot through to the finish.
Beerten finished second, with Horakova beating Kintner for third. Beerten holds onto her World Cup lead, while Horakova moves into second ahead of Kintner.
Photography
For a thumbnail gallery of these images, click here
Images by Enric Moran Gimeno
Results

1 Fionn Griffiths (GBr) Norco World Team                            
2 Anneke Beerten (Ned) Suspension Center                            
3 Jana Horakova (Cze)                                               
4 Jill Kintner (USA)                                                
5 Emmeline Ragot (Fra) Suspension Center                            
6 Melissa Buhl (USA)                                                
7 Caroline Buchanan (Aus)                                           
8 Rachel Seydoux (Swi)                                              
9 Joanna Petterson (RSA)                                            
10 Mio Suemasa (Jpn)                                                
11 Diana Marggraff (Ecu)                                            
12 Angelika Hohenwarter (Aut)                                       
13 Lucia Oetjen (Swi)                                               
14 Helene Valerie Fruhwirth (Aut)                                   
15 Eva Castro Fernandez (Spa)                                       
16 Neven Steinmetz (USA)                                            
17 Anita Molcik (Aut)                                               
18 Sarsha Huntington (Aus)                                          
19 Steffi Marth (Ger)                                               
20 Katarina Tothova (Cze)                                           
21 Esther Leroy (Fra)                                               
22 Tereza Votavova (Cze)                                            
23 Maria Sanchez Veliz (Spa)                                        
24 Romana Labounkova (Cze)                                          
 
Teams
 
1 GT Bicycles                                                     61 pts
2 Suspension Center                                               45
3 Norco World Team                                                40
4 Yeti Fox Shox Factory Race Team                                 30
5 Team Sunn                                                       20
6 MS Evil Racing                                                  18
7 Ghost A.T.G. Pro Team                                           10
8 Chain Reaction Cycles/Intense                                    6

World Cup standings after three rounds

Individual

1 Anneke Beerten (Ned) Suspension Center                              225 pts
2 Fionn Griffiths (GBr) Norco World Team                              175
3 Jill Kintner (USA)                                                  170
4 Jana Horakova (Cze)                                                 165
5 Romana Labounkova (Cze)                                              90
6 Emmeline Ragot (Fra) Suspension Center                               60
7 Melissa Buhl (USA)                                                   60
8 Anita Molcik (Aut)                                                   20
9 Caroline Buchanan (Aus)                                              10
10 Rachel Seydoux (Swi)                                                 5
11 Lucia Oetjen (Swi)                                                   5
12 Helene Valerie Fruhwirth (Aut)                                       5

Teams

1 Suspension Center                          125 pts
2 Yeti Fox Shox Factory Race Team            110
3 GT Bicycles                                 91
4 Norco World Team                            70
5 Animal Commencal                            67
6 Team Sunn                                   64
7 Ghost A.T.G. Pro Team                       57
8 Specialized Factory Racing                  30
9 MS Evil Racing                              25
10 Chain Reaction Cycles/Intense              21
11 Rocky Mountain UK                          18