MTB index page for all MTB content
Sunshine Cup #4 - 1
Voroklini, Cyprus, March 15, 2009
2008 results Results Final series standings
Rysenko gets a victory for a birthday present while Engen wins number three
Alexandra Engen and Periklis Ilias
Photo ©: Armin Küstenbrück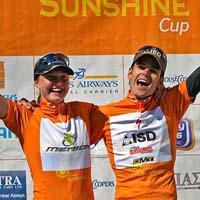 Swede Alexandra Engen and Ukrainian Sergiy Rysenko earned victories in the fourth and final round of the Sunshine Cup in Voroklini on Sunday. With her win, Engin locked up the overall series title, but in the men's race, Greek Periklis Ilias overtook the men's series lead from Emil Lindgren.
By the last lap, the men's competition appeared to be effectively decided. Alexander Wetterhall (Focus) had started an early attack and was out for a long solo effort, about one minute ahead of a five-man chase group.
Sergiy Rysenko (ISD Cycling) then escaped off the front of this group while his teammate Christoph Bischof stayed in the group and controlled attacks.
"Alexander Wetterhall attacked directly after the start and he was so fast, that we couldn't follow," said Bishof.
Rysenko was looking good for second place until Wetterhall got a flat and had to run to the next technical zone to change his wheel. The Ukrainian champion Rysenko got so close that when Wetterhall jumped back on his bike after the repair, it was just ahead of his Ukranian chaser.
After his technical difficulties, Wetterhall appeared to lose his rhythm and a bit later, he could not follow an attack launched by Rysenko on an uphill section.
The elite men's field
Photo ©: Armin Küstenbrück

"I had super legs today. Even though I had bad luck at the end, it was a great day for me," said Wetterhal. "Shit happens. After changing the wheel, my legs were very stiff and I was not able to follow Sergiy."
At the end, eight seconds separated Wetterhall in second and winner Rysenko, whose win was perfectly timed to coincide with his 29th birthday.
"It is a nice birthday present for me, even though it came through the bad luck of Alexander," said Rysenkol. "I felt very strong today and I'm really happy to get a win in Cyprus."
Bischof attacked the rest of the chase group hard before the last downhill and finished third at 1:22.
Periklis Ilias, also from the ISD Cycling Team, crashed on the first lap and lost contact with the chasing group. He ended up in sixth and took the overall win ahead of his teammates Rysenko and Bischof.
Happy with the overall classification win, Ilias said, "It was one of my goals." He added that he was not disappointed with his result after the early-race crash. "I lost contact but this does not matter now, because a teammate won the race."
Three out of four
ISD Cycling Team
Photo ©: Armin Küstenbrück

In the women's race, Lene Byberg (Specialized) and Alexandra Engen (Merida) were at the front working together after less than one lap. Their pairing was an advantage given the strong winds out on the course, and they soon extended their lead to one minute.
"For awhile, we worked together because we didn't want more women with us," said Engen.
Then, on the second of four laps, in a downhill section, Engen created a small gap between her and Byberg and kept it all the way to the finish.
Byberg was a little stronger on the uphills, but when the trails turned down, she deliberately kept is safe following an injury from a crash during last week's round in Amathous.
Racing over the hills at Voroklini.
Photo ©: Armin Küstenbrück

"I couldn't follow Alexandra on the downhills," said Byberg. "That normally should not happen with my full suspension bike," she joked, "But with my injured right wrist, I was playing it safe. I felt very good on the climbs."
At the end, just 10 seconds separated the 26-year-old Byberg and the 21-year-old Engen.
"To win again, that makes me super satisfied," said Engen. "I knew, my form was better than last year but I couldn't have expected three victories in this series. What that means for the bigger races, I don't know. We will see."
Two German riders
Photo ©: Armin Küstenbrück

Engen took the overall classification with three wins out of four races. Fellow Swede Kajsa Snihs finished second overall, and Belgian champion Githa Michiels (Saeco Focus) was third.
Olympic champion Sabine Spitz (central Ghost Pro Team) was unable to follow the pace of the leaders from the start after suffering a cold during the week before the race. "It wasn't until later that I found my rhythm," said Spitz.
Instead, Spitz battled her teammate Elisabeth Osl for third place on the day. Spitz finished at 2:11 and Osl came in at 2:20.
Photography
For a thumbnail gallery of these images, click here
Images by Armin Küstenbrück
Results

Elite men

1 Sergiy Rusenko (Ukr) ISD Cycling Team         1.48.40
2 Alexander Wetterhall (Swe)                       0.08
3 Christof Bischof (Swi) ISD Cycling Team          1.22
4 Mattias Wengelin (Swe)                           1.23
5 Henrique Avancini (Bra)                          1.24
6 Periklis Ilias (Gre) ISD Cycling Team            2.17
7 Evgeniy Nikolaev (Rus)                           3.30
8 Torsten Marx (Ger)                               4.00
9 Lukas Kaufmann (Swi)                             4.10
10 Mattias Nillson (Swe) Team Kalas                4.43
11 Nicola Rohrbach (Swi) Central Ghost Pro Team    5.31
12 Felix Euteneur (Ger)                            6.07
13 Anton Gogolev (Rus)                             7.00
14 Magnus Darvell (Swe)                            7.30
15 Dmitry Medvedev (Rus)                           7.42
16 Max Oste-Macdonald (Swe)                        7.53
17 Artem Orlov (Rus)                               8.07
18 Steffen Thum (Ger)                              8.15
19 Oleksander Gerashenko (Ukr) ISD Cycling Team    8.46
20 Maxim Gogolev (Rus)                             8.46
21 Heiko Gutmann (Ger)                             8.52
22 Pavel Pryadein (Rus)                            9.12
23 Marchel Fleschhutl (Ger)                        9.22
24 Andras Melts (Hun) Corratec World Team         10.33
25 Mirco Pirazzoli (Ita) ISD Cycling Team         10.50
26 Dmytro Titarenko (Ukr) ISD Cycling Team        10.57
27 Kirill Sinitsyn (Rus)                          11.12
28 Marios Athanasiades (Cyp)                      11.44
29 Vasilis Adamou (Cyp)                           12.26
30 Alexander Fedotov (Rus)                        12.28
31  Reis   Manfred (Ger)                          12.43
32 Sven Piepers (Ger)                             13.52
33 Anton Fomin (Rus)                              14.47
34 Sergey Belykh (Rus)                            14.48
35 Roman Orlov (Rus)                              15.11
36 Francesco Panza (Ita)                          15.18
37 Ryan Sherlock (Irl)                            15.44
38 Simon Stiebjahn (Ger)                          17.26
39 Andrei Revunov (Rus)                           17.33

Behind one lap

40 Victor Korchagin (Rus)                              

Behind two laps

41 Kyriakos Papanastasiou (Cyp)                        

Behind three laps

42 Antreas Nicou (Cyp)                                 
43 Mikhail Baryshnikov (Rus)                           
44 Andy Eyring (Ger)                                   
DNF Rene Tann (Ger)                                    
DNF Vladislav Neroznak (Lat)                           
DNF Oscar Ekstam (Swe)                                 
DNF Calle Friberg (Swe)                                
DNS Norland Sondre (Nor)                               

Elite women

1 Alexandra Engen (Swe)                         1.46.13
2 Lene Byberg (Nor) Specialized World Team         0.10
3 Sabine Spitz (Ger) Central Ghost Pro Team        2.11
4 Elisabeth Osl (Aut) Central Ghost Pro Team       2.20
5 Petra Henzi (Swi) Fischer - BMC                  3.52
6 Kajsa Snihs (Swe)                                4.14
7 Adeilheid Morath (Ger)                           5.36
8 Githa Michiels (Bel)                             5.47
9 Barbara Benko (Hun)                              6.46
10 Anja       Gradl (Ger)                          9.11
11 Hanna Klein (Ger)                               9.11
12 Melanie Spath (Ger)                            11.08
13 Silke Schmidt (Ger)                            14.47
14 Ksenia Chernikh (Rus)                          15.58
15 Elena Gogoleva (Rus)                           25.07
16 Yana Klishina (Rus)                            26.23

Behind four laps

17 Jelena Petrova (Lat)                                

Junior men

1 Michalis Kitis (Cyp)                          1.14.26
2 Denis Hobotov (Rus)                              1.26
3 Ilya Dushakov (Rus)                              9.07
4 Kyriakos Skettos (Cyp)                          18.04
5 Aggelos Kyriakou (Cyp)                          24.39
6 Loukas Theodorou (Cyp)                               
7 Michalis Achas (Cyp)                                 

Behind two laps

8 Anton Yatsko (Rus)                                   
DNF Ivan Smirnov (Rus)                                 

Junior women
1 Anoshina Ekaterina                            1.00.01

Behind one lap

2 Nasia Constantinou                                   
DNF Andria Christoforou                                

Cadet men

1 Denis Zhuykov (Rus)                             51.03
2 Irineos Koutsiou (Cyp)                           4.10
3 Katsouris Leontios (Cyp)                         9.00
4 Giannis Xaralampous (Cyp)                       13.54
5 Filipos Grigoriou (Cyp)                         13.59
6 Mamas Kiriakou (Cyp)                            17.50
7 Alexandros Kiriakidis (Cyp)                     27.23
8 Paulos Farmakas (Cyp)                           38.14
DNF Rafail Finikaridis (Cyp)                           
DNS Adonis Vasiliou (Cyp)                              
DNS Loizos Georgiadis (Cyp)                            

Cadet women

1 Engeniya Nekrasova (Rus)                        32.43
2 Kostantina Kraour (Mda)                         17.14
3 Mirto Skouroupathi (Cyp)                        22.10
DNF Gianna Lagou (Cyp)                                 

Under 15 cadet men

1 Christos Loizou (Cyp)                         1.11.26
2 Panagiotis Kapetanios (Cyp)                     19.59
3 Giorgos Hrakleous (Cyp)                         27.07
4 Antreas Antoniou (Cyp)                          27.39

Under 15 cadet women

1 Antigoni Katsikidou (Cyp)                     1.08.28

Master 1 men

DNS Giorgos Katsiamis                                  

Master 2 men

1 Mike Hadjikostantas                           1.11.26
2 Kipros Papacharalampous                         17.51

Behind one lap

3 Achileos Sofoulis                                    

Final standings Sunshine Cup

Elite men

1 Periklis Ilias (Gre) ISD Cycling Team             315 pts
2 Sergiy Rusenko (Ukr) ISD Cycling Team             294
3 Christof Bischof (Swi) ISD Cycling Team           291
4 Emil Lindgren (Swe)                               285
5 Mattias Wengelin (Swe)                            271

Elite women

1 Alexandra Engen (Swe)                             385 pts
2 Kajsa Snihs (Swe)                                 283
3 Githa Michiels (Bel)                              280
4 Melanie Spath (Ger)                               274
5 Petra Henzi (Swi)                                 240