MTB index page for all MTB content
South African National Cup Series #3 & National Championships - CN
George, South Africa, March 14-15, 2009
Main Page Results Previous Race
Race 2 - March 15: Downhill
Potgieter & Martin grab downhill titles
Johann Potgieter lived up to his pre-race No. 1 ranking
Photo ©: MTN National Cup Series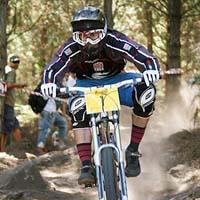 Johann Potgieter (Red Bull/Von Zipper) has won every major race on the downhill course in George since 2006, so it was no surprise that he won the South African Downhill National Championship held there on Sunday. In the women's race, Anka Martin took the title as the first South African finisher behind Helene Fruhwirth (Morewood).
The course proved to be one of the most physically demanding in the country, with plenty of berms, jumps and a high percentage of pedalling required. The 22-year-old Capetonian clocked a first run time 3:25.02 down the challenging 2km course, giving him the early lead by more than two seconds over Jonty Neethling (Fox/Morewood).
Potgieter's second run was more than a second slower than his first and a motivated Neethling improved his time by just under a second, making it a tight finish between two of the pre-race favourites with Potgieter ultimately taking the gold by a second-and-a-half from Neethling.
Top junior Pierre van der Merwe (Morewood/Monster Energy) impressed by clocking 3:32.16 in his second run, the third best time of the day, giving him the Junior national title in what is becoming a highly competitive category. Gary Barnard (Fox/Morewood) and Louis-Bresler Knipe completed the top five overall.
"After I clocked the best time for the first run, I was a bit more confident going into the second run, but with Jonty only two seconds down, I knew it would be close. Last year, at the National Cup event here, he improved on his first run by five seconds. If there was anyone I was nervous of today it was Jonty," said a relieved Potgieter.
Jonty Neethling's second run was quicker than his first,
Photo ©: MTN National Cup Series
Potgieter, who also won the national title in 2006, proclaimed Sunday's result as the highlight of his career thus far.
"When I won in 2006, it wasn't nearly as special. Downhill racing wasn't nearly as organised back then and hardly noticed by the media. The depth of the competition is also so much greater now than it was three years ago. Standing on that podium and receiving my national champion's jersey today was amazing!"
Potgieter, who has only partial sponsorship from Red Bull and Von Zipper, hopes this win will help boost his career.
"I really would love to have a full-time racing career, but at the moment it's part-time as I don't have the resources to race all the important events overseas. I am excited that I'll be able to race the Pietermaritzburg round of the World Cup in the national champion's jersey. I hope to have a smooth run there and maybe a top-30 finish."
New national champions for 2009
Photo ©: MTN National Cup Series

In the women's event top Austrian racer, Lene Fruhwurth (Morewood), ranked 18th in the world, captured the overall victory with a quick time of 4:12.38. However, it was runner-up Anka Martin, who was the fastest of the South Africans in 4:14.16 and was awarded the national title. Gina Nixon, Tayla Brown and Victoria Phillips rounded out the top five respectively.
Martin has been one of the country's leading female downhill racers for the past few year, but seldom competes locally as she's based in the United States where she races for her team.
The national championships, which took place in the forests at the foot of the Outeniqua Mountain range in temperatures over 35 degrees Celsius, doubled as round three of the MTN National Cup, Africa's only national downhill racing series. Round four will be in Pietermaritzburg on April 5.
Photography
For a thumbnail gallery of these images, click here
Images by MTN National Cup Series
Results

Elite women

1 Helene Fruhwirth         4.12.38
2 Anka Martin              0.01.38
3 Gina Nixon               0.07.17
4 Tayla Brown              0.38.14
5 Victoria Phillips        0.38.42
6 Erna Nel                 1.21.85

Elite men

1 Johann Potgieter         3.24.62
2 Jonty Neethling          0.01.72
3 Gary Barnard             0.07.54
4 Louis-Bresler Knipe      0.09.81
5 Kelvin Purchase          0.10.36
6 Jarryd Haley             0.11.66
7 Sven Martin              0.12.22
8 Darryn Stow              0.12.95
9 Dirk Van Schalkwyk       0.13.66
10 Myles Kelsey            0.14.67
11 Jaco Veldsman           0.16.49
12 Hayden Brown            0.17.80
13 Alexander Bramley       0.17.95
14 Wesley Augustyn         0.18.33
15 Dane Olsen              0.19.03
16 Thomas Rood             0.19.28
17 Andrew Guess            0.19.97
18 Gustav Kros             0.19.98
19 Andries Nortier         0.23.62
20 Wesley Auths            0.29.79
21 David Dinkelman         0.32.01
22 Matthew Hofmeyer        0.33.61
23 Nils Hansen             0.35.76
24 Neil Van Blerk          0.38.29
25 Adriaan Smit            0.39.87
26 Kyle Mclaren            1.19.80
DNS Greg Saharin                  

Sub junior boys

1 Alan Hatherly            4.00.05
2 Luke Evans               0.45.78
3 Christopher Rigby        0.50.23
4 Peter Bentley            0.54.13

Youth men

1 Tiaan Odendaal           3.47.27
2 Alasdair Fey             0.08.19
3 Matthew Wortmann         0.09.86
4 Kyle Davids              0.15.11
5 Dewald Oosthuizen        0.52.08
6 Ronald Christie          0.58.57

Junior men

1 Pierre Van Der Merwe     3.31.76
2 Kenneth Sinclair         0.06.28
3 Luke Davis               0.07.09
4 Simon Dinkelman          0.11.54
5 Timothy Bentley          0.11.93
6 Andries Van Schalkwyk    0.15.44
7 Daniel Walsh             0.19.23
8 Gerard Walsh             0.21.18
9 Richard Russell          0.25.94
10 Duran Van Eeden         0.26.66
11 Johnty Human            0.31.96
12 Shaun Thomlinson        0.34.19
13 Paul Hoogwerf           0.34.57
14 Mark Malherbe           0.38.63
15 Cameron Muller          0.45.41
16 Christo Venter          0.48.88

Sub veteran men

1 Mark Hopkins             3.47.30
2 Tyrone Van Rooyen        0.01.81
3 Devlin Fogg              0.05.40
4 Wade Allcock             0.09.88
5 Dominic Bright           0.12.74
6 Pieter Rossouw           0.13.61
7 Dan Forsyth              0.14.19
8 David Hartley            0.14.65
9 Adriaan Van Der Merwe    0.22.84
10 Conrad Davies           0.50.34

Veteran men

1 Chris Nixon              3.36.98
2 Vince Muir               0.31.04
3 Norman Hatherly          0.42.62
4 Neil Evans               1.03.93
5 Clive Gaven              1.04.66
DNS Keith Calder