MTB index page for all MTB content
South African National Cup Series #3 & National Championships - CN
George, South Africa, March 14-15, 2009
Race 1 - March 14: Cross country
Stander secures seventh national title while Speedy earns number two
Burry Stander was in a class of his own in winning
Photo ©: MTN National Cup Series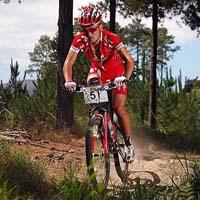 Burry Stander (Mr Price Specialized) lived up to his pre-race favourite status and won his seventh-successive national title when he dominated the elite men's race at the South African Cross-country mountain bike championships in George on Saturday. Yolande Speedy (IMC Racing Momentum) won the women's race, collecting her second-ever elite national title.
The current Under 23 World Cup Champion not only retained his national Under 23 national title, but beat the elite men convincingly, coming home more than seven minutes ahead of runner-up Marc Bassingthwaighte (Garmin adidas). According to Stander, who regularly records such large winning margins in South Africa, the difference between him and his African rivals isn't as much physical as it is mental.
"Physically, these guys are superb athletes, but I just have better conditioning and confidence from focusing my career on cross country racing and not racing so often," said Stander, when asked why he was so much quicker than his domestic rivals.
"Racing regularly abroad at a quicker pace, as I have done for the past two years, gets you onto a slightly higher physical level, but it's the mental jump that's biggest and most important," said Stander, agreeing that the continued fascination with marathon and stage racing in South Africa was largely to blame for the lack of depth in cross country racing, the only mountain bike racing discipline contested at Commonwealth and Olympic Games.
Erik Kleinhans
Photo ©: MTN National Cup Series

Stander seldom races on a hardtail bike now that he is sponsored by his new team Specialized, and a full suspension was what he rode to victory on Saturday. "It's such a rough course here and although other guys also used dual-suspension bikes today, they're not as used to racing them as I've become, so in a way, that benefitted me too," said Stander, who's winning time for the eight-lap race was a snappy 2:03:40.
Bassingthwaighte, a Namibian, clocked 2:11:18 with Matthys Beukes (MTN Energade) claiming third place overall and the silver medal in the Under 23 category. Philip Buys (Garmin adidas), was fourth overall and third Under 23.
The first elite South African rider home was Erik Kleinhans in sixth overall (behind fifth-placed Mannie Heymans of Namibia) giving him the elite national title. The Namibian riders don't qualify for South Africa's titles and medals.
Rourke Croeser (DCM Chrome) retained his national junior title in the category with the most depth. Ruan du Toit claimed the silver medal and Adriaan Louw (DCM Chrome) secured the bronze.
Overcast, cool conditions greeted the participants, welcome relief after a week of searing heat. National titles were contested in a variety of age groups at the Saasveld Campus of the Nelson Mandela Metropolitan University, one of the most scenic race venues in the country.
Speedy rides consistently for the women's win
Yolande Speedy was a model of consistency
Photo ©: MTN National Cup Series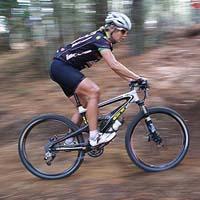 Yolande Speedy (IMC Racing Momentum) won the battle of the eras as well as the national elite women's title when she beat former multiple national champion Erica Green to the gold medal. Speedy, a Beijing Olympian, scored a commanding victory over Green, a former double Olympian (Atlanta and Sydney), who at 38, has made a return to competition, largely in preparation for next week's Cape Epic.
Speedy shot off the start line and reached the first piece of singletrack in front. She completed her first of six laps in 17:44, a minute clear of her rivals and was then a model of consistency, clocking subsequent lap times of 18:13, 18:14, 18:14, 18:19 and 18:02.
"It was a very smooth, steady race. Everything went well. There weren't really any climbs on the course but the rough terrain made for a challenge. I'm glad I chose to race a dual suspension," said Speedy.
It was Speedy's second elite cross-country title, having won it for the first time in 2006. Her final time was a fast 1:48:46. Green was the only other rider to break two hours, clocking 1:58.59. Heletjie van Staden (Schwinn) was third overall and first Under 23 in 2:01.23. Janneke Leask (Rocky Mountain) and Sara Muhl (Jeep) rounded out the top five respectively.
In the junior women's race over four laps, Mariske Strauss (MTN) proved the strongest, claiming the gold medal ahead of Candice Neethling (Jeep) and Caitlin de Wet (Mr Price Scott), who were second and third respectively.
Photography
For a thumbnail gallery of these images, click here
Images by Carl Scholtz / MIHPhotography
Images by MTN National Cup Series
Results

Open men (elite & U23 men)

1 Burry Stander            2.03.40
2 Marc Bassingthwaighte       7.38
3 Matthys Beukes              7.47
4 Philip Buys                 8.17
5 Mannie Heymans              8.26
6 Erik Kleinhans              9.04
7 Roan Exelby                11.04
8 Brandon Stewart            12.03
9 Craig Paul                 12.10
10 Geddan Ruddock            14.06
11 Arno Viljoen              15.23
12 Francois Theron           15.55
13 Dominic Calitz            17.31

Behind one lap

14 Renay Groustra                 
15 Petrus Malherbe                
16 Johannes Scannell              
17 Stephan Strauss                
18 Hannes Neethling               
19 Jan Schutte                    
20 Bryce Munro                    
21 Andre Van Der Merwe            
22 Marthinus Esmeyer              

Behind two laps

23 Jason Peach                    
24 Kyle Symons                    
DNF Dion Froneman                 
DNF Frans Stander                 
DNF Krisjan Slabbert              
DNF Timothy Hammond               
DNF Bunnie Loubser                
DNF Bernard Venter                
DNF Ross Blount                   
DNF Johnny Kritzinger             

Open women (elite & U23)

1 Yolande Speedy           1.48.46
2 Erica Green                10.13
3 Heletje Van Staden         12.37
4 Janneke Leask              13.36
5 Sara Muhl                  16.34
6 Shawna Thunder             19.25
7 Hilana Marais              22.53
8 Cherise Taylor             25.07
9 Bianca Grotepass           33.52

Behind one lap

10 Carmen Bassingthwaighte        
11 Carla Freysen                  
12 Alexis Zorab                   
13 Karien Van Jaarsveld           
14 Claudia Von Tutschek           
DNF Tania Raats                   
DNS Melanie Palframan             
DNS Jade Roberts                  

Elite men

1 Marc Bassingthwaighte    2.11.18
2 Mannie Heymans              0.48
3 Erik Kleinhans              1.26
4 Roan Exelby                 3.26
5 Brandon Stewart             4.25
6 Craig Paul                  4.32
7 Geddan Ruddock              6.28
8 Arno Viljoen                7.45

Behind one lap

9 Renay Groustra                  
10 Petrus Malherbe                
11 Johannes Scannell              
12 Hannes Neethling               
13 Jan Schutte                    
14 Andre Van Der Merwe            
15 Marthinus Esmeyer              
DNF Dion Froneman                 
DNF Frans Stander                 
DNF Bunnie Loubser                
DNF Johnny Kritzinger             

Elite women

1 Yolande Speedy           1.48.46
2 Erica Green                10.13
3 Sara Muhl                  16.34
4 Shawna Thunder             19.25
5 Hilana Marais              22.53

Behind one lap

6 Carmen Bassingthwaighte         
7 Carla Freysen                   
8 Karien Van Jaarsveld            
9 Claudia Von Tutschek            
DNF Tania Raats                   

Under 23 men

1 Burry Stander            2.03.40
2 Matthys Beukes              7.47
3 Philip Buys                 8.17
4 Francois Theron            15.55
5 Dominic Calitz             17.31
Behind one lap
6 Stephan Strauss                 
7 Bryce Munro                     

Behind two laps

8 Jason Peach                     
9 Kyle Symons                     
DNF Krisjan Slabbert              
DNF Timothy Hammond               
DNF Bernard Venter                
DNF Ross Blount                   

Under 23 women

1 Heletje Van Staden       2.01.23
2 Janneke Leask               0.59
3 Cherise Taylor             12.30
4 Bianca Grotepass           21.15

Behind one lap

5 Alexis Zorab                    
DNS Melanie Palframan             
DNS Jade Roberts                  

Junior men

1 Rourke Croeser           1.42.29
2 Ruan Du Tiot                1.12
3 Adriaan Louw                5.12
4 Ryan Ellis                  6.10
5 James Reid                  7.02
6 Travis Walker               9.37
7 Shaun-Nick Bester          11.25
8 Hendrik Kruger             11.26
9 Jeandre Fourie             12.50
10 Shaun Silver              13.59
11 Colin Brent               14.21
12 Adam Reyneke                   
13 Derek Taylor              15.26
14 Warwick Waldeck           17.33
15 Sboniso Ntombela          21.15

Behind one lap

16 James Gerber                   
17 Mike Casey                     
18 Justin Pictor                  
19 Slahde Seale                   
20 Patrick Reimers                
21 Carl Lippert                   
22 Simon Adler                    
23 Ruan Van Staden                
24 Herman Bester                  

Behind two laps

25 Graham Chrystal                
26 Daniel Giles                   
DNF Ruan Pretorius                
DNF Armand Swanepoel              
DNF Jonathan Van Gesselleen       
DNF Aaron Adler                   
DNF Ruan Van Heerden              

Junior women

1 Mariske Strauss          1.17.08
2 Candice Neethling           0.53
3 Caitlin De Wet              2.43
4 Klara Rossouw              18.31
DNF Danny Dalton                  
DNF Chelsey Pretorius             

Sport women

1 Cheryl Jenks               54.51
2 Etresia Heyns               2.15

Sport men

1 Alex Naude                 37.31
2 Anton De Freitas            5.58
3 Bryce Conl;On               7.12
4 Thys Van Rensburg           9.16
5 Conrad Johannes            13.52
6 Piet Strydom               16.02
7 Nathan Hodgson             18.14
DNS Gerhard Kruger                

Nipper boys

1 Matthew Dinham             24.13
2 Cameron Wright              0.15
3 David Botha                 0.42
4 Joshua De Freitas           2.09

Sprog boys

1 Matthew Lombardi           44.38
2 Joshua Kuhn                 0.48
3 Dieter Blom                 1.58
4 Julian Jessop               3.05
5 Morne Hollander             4.53
6 Cameron Macnair             7.54
7 Juka Gerstner              12.31
DNF Dustin Osborne                

Sub junior girls

1 Heidi Dalton             1.16.23
2 Carli Anderson             10.16
DNF Kathryn De Freitas            

Sub junior boys

1 Frans Grotepass          1.15.27
2 Alexander Frogley           8.15
3 Jannes Buijs                9.25
4 Ivan Venter                 9.26
5 Jaco Pelser                15.51
6 Louw Kriel                 16.32
7 Waldo Van Niekerk          20.01
8 Liam Doult                 23.01
9 Kyle Walker                56.18
DNF Devin Kruger                  
DNF Alan Hatherly                 

Youth women

1 Hayley Smith             1.05.03
2 Vera Adrian                 2.12
3 Tayla-Anne Odendaal         9.58
4 Courtenay Riggien          12.03
5 Siobhan Walker             25.04
DNF Maryna Van Antwerp            

Sub veteran women

1 Mylene Loumeau           1.29.32
2 Catherine Roberts           2.57
3 Dorette Crous               6.44

Veteran women

1 Michelle Lombardi        1.21.41
2 Catherine Gibbings         12.08
3 Bridget O'Meara            19.36
4 Debbie Hughes              22.13
5 Lauralyn Purchase          24.34
DNS Woudie Saaiman                
DNS Tessa Conte                   

Youth men

1 Arno Du Toit             1.25.41
2 Brendan Davids              1.44
3 Gert Heyns                  2.44
4 Luke Roberts                4.36
5 Ruan Erasmus                9.27
6 Richardt Ferreira           9.29
7 Jac-Johann Steyn                
8 Harry Maarsingh            13.01
9 Michael Hughes             14.24
10 Ryan Gibbons              14.38
11 Cameron Taylor            15.13
12 Johannes Scribante        18.38
13 Werner Van Heerden        21.38
14 Bert Pauw                 22.50

Behind one lap

15 Albert Anderson                
DNS Johannes Hamilton             

Sub veteran men

1 Paul Cordes              1.40.16
2 Shane Jansen Van Vuuren     6.56
3 Hennie Kriek               10.45
4 Brandon Moore              13.14
5 Daniel Paul                14.52
6 Piers Morgan                    
7 Jason Whyte                19.58
8 Jacques Van Staden         14.39
9 Stuart Holder              23.57

Behind one lap

10 Jacques Brink                  
11 Hennie Boshoff                 
DNS Kobus Barnard                 

Veteran men

1 Chris Nel                1.33.07
2 Tony Conlon                 2.34
3 Rudi De Wet                 6.31
4 Nick Bester                 7.12
5 Juan Mason                  8.28
6 Louw Gerber                 9.07
7 Sean Quinn                 13.01
8 Gary Neethling             13.12
9 Stephen Wells              14.46

Behind one lap

10 Malcolm Taylor                 
11 Mark Frogley                   
DNF Johann Wykerd                 
DNF Gary Marescia                 
DNS Allen Dinham                  
DNS Arnold Barnardo               
DNS Michael Winterbottom          
DNS Frans Du Preez                

Master men

1 Bryan Strauss            1.15.42
2 Chris Brand                 0.30
3 Neville Ackermann           3.30
4 Noel Ernstzen               4.10
5 Dewet Marais                5.56
6 Tony Stark                  6.29
7 Cobus Slabbert              6.55
8 Colin Gibbings                  
9 Charles Stander                 
10 Nico Smith                12.07
11 Clive Gaven               13.39
12 Arrie Rossouw             15.29
13 Nic Claassen              16.46
14 Pieter Rossouw            24.13
DNS Linus Van Onselen             
DNS Neil Fourie                   

Grand master men

1 Fred Van Zyl             1.09.15
2 Manuel Fernandes            4.33
3 Cobus Du Plessis            8.11
4 Gerhard Degener             9.36
5 Louis Rossouw              14.10
6 Mike Smith                 25.19
7 Leonard Stanford           35.26