MTB index page for all MTB content
US Cup East #3 - Massanutten HooHa! - NE
Harrisonburg, Virginia, USA, June 6-7, 2009
Main Page Results Previous Race
Race 2 - June 7: Cross country
Bishop and Dinkins win Hoo Ha!
Jeremiah Bishop won the HooHa,
Photo ©: Dave McElwaine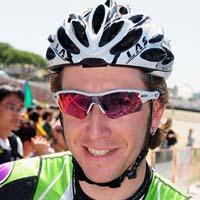 Jeremiah Bishop and Jamie Dinkins won the fourth round of the US Cup East cross country at Massanutten on Sunday. Bishop beat Sam Koerber, who won yesterday's Super D, and Jeff Schalk. Dinkins finished ahead of Anina Aaron and Jane Pearsons.
"I never went so fast down that mountain as I did today," said Bishop, who was racing on his home course.
"It was a tougher course than I thought," he said. "It was one of the most difficult courses I've done for a cross country. There were steep climbs, rocks and roots. It was also one of the best courses I can remember."
Schalk was fastest off the line and Travis Livermon was just behind him. Bishop sat in third and then made a move to jump into the first singletrack section first. He soon opened a gap, that he would extend until the finish. Bishop never saw anyone the rest of the race as he rode his unique bike with a 650 B (27.5") front wheel and 26" rear wheel. He had about an eight-minute advantage at the finish.
Behind Bishop, Koerber and Schalk chased. Thomas Turner was not far behind them, but a wheel problem derailled his chances. Harlan Price was in fourth, but took a wrong turn and lost positions and time.
In the end, Koerber finished ahead of Schalk, who noted that he busted his front derailler during the race and could shift into a gear lower than his middle ring up front.
Livermon ended up third and Price rode his way back into fifth.
Race notes:
- The event and participating IMBA-affiliated teams raised over US$17,000.
- Retired pro Sue Haywood won the women's XXC race (double cross country).
Photography
For a thumbnail gallery of these images, click here
Images by Dave McElwaine/www.trailwatch.net
Results
Elite Men 

1 Jeremiah Bishop                   2.01.00
2 Samuel Koerber                       8.00
3 Jeff Schalk                         10.00
4 Travis Livermon                     13.00
5 Harlan Price                        14.00
6 Robert Marion                       15.00
7 David Walker                        16.00
8 Nathanael Wyatt                     17.00
9 Martin Kell                         22.36
10 Alex Ryan                          22.37
11 Rickey Visinski                    24.00
12 Justin Raynes                      27.07
13 Christophe Michaels                27.31
14 Dave Weaver                        28.00
15 Timothy Carson                     30.00
16 Brad Wilhelm                       31.00
17 Jed Prentice                       38.00
18 Paul Kolb                          46.00
19 Thomas Turner                      51.00
DNF Kahlenbergjordan                       
DNF Matt Rotroff                           
DNF Daniel Corum                           
DNF Patrick Wallace                        

Elite women

1 Jamie Dinkins                     2.43.00
2 Anina Aaron                          6.00
3 Jane Pearson                         9.00
4 Jennifer Smith                      13.00
5 Kylie Krauss                        25.00
6 Philicia Marion                     39.00
DNF Johanna Draus                          

Open men

1 Mike Capraro                      2.38.00
2 Shawn Withers                        3.00
3 Chris Pottowsky                     13.00
4 Ken Bell                            14.00
5 Pat Miller                          17.00
6 Dave O'neill                        33.29
7 Paul Bell                           33.58
8 John Carzoli                        34.00
9 Kevin Horvath                       39.20
10 Richard Cobb                       39.55
11 Barry O'melinn                     43.00
12 Frank Krajcirovic                  45.00
13 Fernando Torres                    49.00
14 Fenton Carey                       52.00
15 Paul Patarini                      53.00
16 Mark Petsche                       55.11
17 Paul Johnston                      55.48
18 Kevin Bruestle                     56.00
19 Paul Souchar                       59.00
20 Scott Fitzner                    1.07.00
21 Chris Ledvina                    1.30.00
22 William Tilson                   1.42.00
DNF Shawn Mahal                            
DNF Chris Shelley                          
DNF Michael Yriart                         
DNF Erik Stevdle                           
DNF Joseph Castle                          
DNF Anthony Vachino                        
DNF Keith Rohr                             
DNF Evan Ellicott                          

Open women

1 Cassie Smith                      2.58.00
2 Susan Musante                       34.00
3 Whitney March                       36.00

XXC men

1 Jesse Stevens                     3.45.00
2 Ben Klimas                           4.00
3 Kyle Lawrence                        7.00
4 Mike Carpenter                      11.00
5 Gunnar Shogren                      12.00
6 Darrell Prillaman                   13.00
7 Jason Thorpe                        17.18
8 Martin Quinn                        17.37
9 Dennis Helton                       29.00
10 Adam Stephens                      30.00
11 Travis Coldsmith                   33.00
12 Morgan Miller                      34.00
13 Dan Williams                            
14 Dale Terendale                     36.00
15 Cliff Hatchett                          
16 Aaron Cacola                       38.00
17 Ryan Hobbs                         39.28
18 Roger Carter                       40.36
19 Matt Smith                         42.00
20 Wake Fulp                          44.00
21 Jose Martinez                      49.00
22 Calvin Cheung                      50.00
23 Matthew Donahue                    53.00
24 Area Yevata                             
25 Paul Stahman                       54.00
26 Gary Roach                              
27 Chad Rathbone                    1.01.00
28 Ethan Lindbloom                  1.07.00
29 Ray Clark                        1.15.00
30 Charles Mick                     1.19.00
31 Tyler Minor                             
32 Scott Ramsey                     1.20.00
33 Michael Malone                          
34 Steve Schumaker                  1.21.00
35 Dary Hazlegrove                  1.25.00
36 Chris Phillips                          
37 Acie Hylton                      1.32.00
38 Josh Hepler                      1.34.00
39 Jim, Mitchell                    1.37.00
40 Chris Cunningham                 1.41.00
41 Jaraun Moradi                    1.46.00
42 Greg Garrison                    1.50.00
43 Todd Green                       1.51.00
44 Kevin Cox                        1.53.00
45 Sean Yeager                      1.54.00
46 Rich Holmes                      1.55.37
47 Tyler King                       1.55.38
48 Keith Wimmer                     1.56.00
49 Andy Cremeans                    2.00.00
50 Jaimison Baker                   2.01.00
51 Michael Boyes                    2.07.00
52 Grant Patterson                  2.14.00
53 Laurenc Etgen                    2.20.00
54 Jeremy Kinsell                   2.31.00
DNF Branden Wright                         
DNF Christophe Mcgill                      
DNF Brian Marshall                         
DNF Marty Lamp                             
DNF Cj Congrove                            
DNF Joel Ganshan                           
DNF Justin Pokrivka                        
DNF Tim Arnold                             
DNF Matt Linderman                         
DNF Wesley Best                            
DNF Travis Williams                        
DNF Jay Cullen                             

XXC women

1 Sue Haywood                       4.14.00
2 Cheryl Sornson                       6.00
3 Betsy Shogren                       24.00
4 Elizabeth Frye                      55.00
5 Ruth Cunningham                   1.27.00
6 Paula Lamberson                   1.39.00
7 Kristen Wimmer                    1.43.00
8 Katie Patrick                     2.41.00
DNF Leslie Conrad                          
DNF Donja Lang                             

Cat. 3 Men 60+

1 Rich Hall                         1.48.00

Cat. 3 Women 19-29

1 Katy Martin                       1.23.00

1 Beth Vonisenburg                  1.22.00
2 Christine Neary                     26.00

1 Barry Dickman                     1.44.00

1 Caylie Kunz                       1.32.00

1 Janel Demeter                     3.22.00
2 Cynthia Bischoff                     7.00
DNF Anna Kelson                            

Cat. 3 Men 60+

1 Rich Hall                         4.05.00

Kids 9-10

 Adam Croft                                

Kids 7-8

 Jacob Bowen                               

Singlespeed men

1 Trevor Graham                     1.24.03
2 Jason Milton                         0.29
3 Gordon Wadsworth                     1.57
4 Ian Coffey                          11.57
5 Kevin Lockeroth                     18.57
6 Massonneauchristophe Winchester     20.57

Clydesdale men

1 Timothy Koch                      1.34.00
2 Garth Kunkle                        13.00
3 Bruce Wickhar                       15.00
4 Mike Meadows                        17.00
5 Lee Woodward                        19.00
6 Barny Quigley                       20.00
7 Michael Miller                      47.00
DNF Michael Willi                          
DNF Martin Neary                           

Cat. 1 Junior men 18 & under

1 Austin Plymole                    1.14.00
2 Austin Bell                          3.00
3 Adam Croft                           4.00
4 Zach Boyle                           5.00
5 Carter Schultz                      15.00
6 Breton Nicholas                     34.00
DNF Ben Kunkle                             

Cat. 3 men 50-59

1 Jon Devier-Scott                  1.21.00

Cat. 3 women 50+

1 Marti Merritt                     2.07.00

Cat. 3 men 40-49

1 Robert Eiserman                   1.06.00
2 Peter Schultz                        2.00
3 Carlos Espinoza                      3.00
4 Roger Spivey                        20.00
5 Carl Nasr                           27.00
6 Bill Balckstone                     33.00

Cat. 3 men 30-39

1 Paul Pfeifer                      1.06.00
2 Jim Simpkins                         7.00
3 Rafael Campbell                      9.00
4 Mark Scafidi                        13.00
5 Scott Lyter                         15.00
6 Scutellaromichael                   16.00
7 Michael Bowen                       23.00
8 Victor Weaver                       29.00
DNF Mike Moran                             

Cat. 3 Men 19-29

1 Brandon Dick                      1.01.00
2 James Kelly                          6.12
3 Alex Aldridge                        6.24
4 Michael Yoder                        9.00
5 Seth Spurlock                       10.00
6 Zak Tonovitz                        14.00
7 Matthew Juaneza                     20.00
8 Kevin Ford                          38.00
DNF Ryan Grumberg                          
DNF Chris Overstreet                       
DNF Timothy Jansen                         

Cat. 2 junior men 18 & under

1 Jacob Ehlinger                    1.26.00
2 Kyle Miller                          1.35
3 Whit Zirkle                          1.37
4 Forrest Conrad                       5.00
5 Connor Bell                          9.00
6 Zachary Kyler                       12.00
7 Massonneauandrew                    16.00
8 Andrew Devier-Scott                 22.00
9 Parker Yost                         33.00

Cat. 2 Junior women 18 & under

1 Lindsey Prososki                  2.41.00
DNS Jenny Lewis                            

Cat. 2 Men 50-50

1 Matthew Schurp                    1.29.02
2 Robert Drinkwater                    0.56
3 Joseph Botsch                        0.58
4 Luther Barden                        5.58
5 Glen Hobart                         23.58
6 Keith Roberts                       24.58
7 Larry Dell                          32.58
8 Mark Stinson                      1.23.58
DNF Matthew Scherp                         

Cat. 2 Men 40-49

1 Matt Lough                        1.26.11
2 Eric Sauer                           0.24
3 Clarke Tanner                        1.49
4 Rich Edwards                         5.49
5 Phil Ehlinger                        7.49
6 John Claman                          8.49
7 Donald Peppard                      10.49
8 David Phillips                      10.51
9 Ken Yasnowsky                       14.50
10 Mark Stahl                         15.15
11 Michael Bender                     20.21
12 Chris Eklund                       20.44
13 James Seguin                       20.49
14 Ludek Kolesa                       21.49
15 Todd Sykes                         22.49
16 David Jones                        24.49
17 Rick Bartley                       25.49
18 Mike Stoll                         27.49
19 Steve Friedman                     47.49
20 Joe York                           48.49
DNF Matt Linderman                         

Cat. 2 women 40-49

1 Sonya Gagnon                      2.10.00
2 Shelly Schumaker                    11.00
3 Elizabeth Austin                    35.00

Cat. 2 men 30-39

1 Trae Duty                         1.26.09
2 Frank Armetta                        0.12
3 Chris Reynolds                       0.51
4 Trevor Sayler                        1.51
5 John Glodek                          3.51
6 Brian Lancaster                      5.51
7 Vashek Vancuza                       8.51
8 Herb Wright                         11.33
9 Chad Holm                           11.35
10 Barry Prandi                       12.51
11 Aaron Angell                       13.51
12 Phil Crawley                       14.51
13 Don Loomis                         17.01
14 Jason Heller                       17.05
15 Jude Vilain                        17.13
16 Matt Bennett                       17.51
17 Ray Gay                            20.57
18 Jospeh Foley                       21.07
19 Paul Johnston                      21.12
20 Robert Maye                        22.05
21 Charles Montour                    22.09
22 Michael Holzman                    27.51
23 Brad Hank                          31.51
24 Mark Veerman                       35.51
25 Lin Wright                         44.51
DNF Aaron Angell                           
DNF Don Loomis                             
DNF Vashek Vancura                         

Cat. 2 women 30-39

1 Jennifer Wolfson                  1.36.00
2 Kristin Wilson                       8.13
3 Trish Mcmillen                       9.00
4 Courtney Cohon                      27.00
5 Blakely Sapsford                    37.24
DNF Megan Carmody                          

Cat. 2 Men 19-29

1 Ben Frederick                     1.23.00
2 Stuart Louder                        3.01
3 Joseph Grimes                        3.20
4 Jason Harris                         7.11
5 Michael Downs                        7.41
6 James Hessler                        8.00
7 Thatcher Hurt                       10.00
8 Timothy Lamb                        11.00
9 Matthew Denton                      12.12
10 Vaciav Vicek                       12.52
11 Alex Kurland                       17.15
12 Joseph Pelz                        17.55
13 Erik Spahr                         22.00
14 Ahmed Qureshi                      25.00
15 Jacob Mcglauflin                   28.00
16 Robert Honaker                     35.00
DNF Vas Vlcek                              
DNF Dan Fudala                             

Cat. 2 Women 19-29

1 Amy Mace                          1.46.00
2 Kathryn Hansen                       1.00
3 Emily Mcdonald                       4.00
4 Chekea Raynes                        5.00
5 Kristin Colonna                     27.00
DNF Amy Mace                               

Cat. 1 Junior men 18 & under

1 Kerry Werner Jr.                  2.21.11
2 Jesus Martinez                       0.09
3 Jeffrey Bahnson                      8.49
4 Zach Mcdonald                       12.29
5 Joseph Dombrowski                   15.49
6 Chase Dickens                       20.49
7 Gunnar Bergey                       26.49
8 Matthew Phillips                  1.04.49
DNF Matt Schumaker                         

Cat. 1 Men 60+

1 James Carlson                     4.05.00

Cat. 1 Men 50-59

1 Michael Laub                      2.39.00
2 Mark Kutney                          4.00
3 Steve Hetherington                   8.00
4 James Frith  Jr                     14.00
5  Bilotta                            29.00
DNF Matt Marcus                            
DNF Eric Alger                             

Cat. 1 Men 40-49

1 Morgan Olsson                     2.29.00
2 Thomas Jenkins                       4.00
3 Richard Pyle                         5.00
4 Chris Scott                          9.00
5 Joe Fritsch                         11.00
6 Roger Masse                         15.00
7 Ken Welch                           19.00
8 Michael Buchness                    21.00
9  Richeson, Jrtom                    23.00
10 Jason Berry                        28.00
11 Bill Marciniak                     29.00
12 Scott Stahl                        31.00
13 William Gilmer                     32.00
14 Thomas Gillespie                   35.00
15 Denny Boyle                        48.00
16 William Thompson                   58.00
DNF Chuck Buczeskie                        

Cat. 1 Women 40-49

1 Loretta Torres                    3.27.00
2 Janice Morris                        2.00
3 Terri Spanogle                      16.00

Cat. 1 Men 30-39

1 Andrew Johnston                   2.21.00
2 Michael Hosang                      15.00
3 Justin Mace                         17.00
4 John Kirkwood                       27.00
5 Todd Branham                        28.00
6 Michael Phillips                    34.00
7 Glenn Sapsford                      42.00
8 David Cazenas                       52.00
9 Chris Mcmilloin                   1.00.00
10  Dietrich                        1.03.00
DNF Alexander Pearson                      
DNF Colby Waller                           
DNF Jaimison Baker                         
DNF Jimmy Mcmillan                         

Cat. 1 Men 19-29

1 Vincent Lombardi                  2.19.00
2 Matthew Green                        5.00
3 Drew Scharns                         8.00
4 Jonathan Gdowik                     10.00
5 Zachary Adams                       13.00
6 Cary Rimmer                         14.00
7 Matt Miller                         16.00
8 Kyle Rodland                        17.00
9 Daniel Atkins                       20.00
10 Sean Kennedy                       22.11
11 Ryan Fawley                        22.43
12 Luke Spisak                        29.00
13 Joe Fish                           33.00
14 Jake Davidson                      42.00
DNF Brian Marsh                            
DNF Denton Reel                            
DNF Kyle Spisak                            

Cat. 1 Women 19-29

1 Lindsay Bayer                     3.16.00
2 Laura Winberry                       2.00
3 Misty Tilson                        10.00