MTB index page for all MTB content
US Cup East #3 - Massanutten HooHa! - NE
Harrisonburg, Virginia, USA, June 6-7, 2009
Race 1 - June 6: Super D
Koerber and Haywood win Super D
By Sue George in Harrisonburg
Sam Koerber was fastest in the Super D.
Photo ©: Dave McElwaine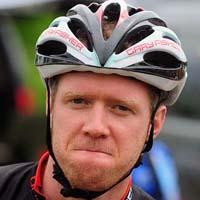 Sam Koerber and Sue Haywood won the Super D held on a sunny and clear Saturday evening. Starting from the high point of Kaylor's Knob, racers tackled a very technical rocky ridge section before turning onto a smoother, faster downhill trail and winding the rest of the way to the finish.
Cross country racer Koerber took the win on his dually 22 seconds ahead of endurance pro Harlan Price, on a hardtail, and one minute and 27 seconds ahead of local bike shop owner Tim Richardson.
"The Super D is my favorite race format. My race run was the first time I'd seen the trail so I was flying blind," said Koerber to Cyclingnews. "It seems like every time I come to Harrisonburg, I find myself racing down something I've never seen before. My run went well although I did have a few run-ins with some trees."
In the women's race, local retired pro Sue Haywood dusted off her race gear and took the win by five minutes and 48 seconds over Whitney Marsh and 6:03 over Kelley Hazelgrove.
Sue Haywood tried her first race, the Super D and XXC,
Photo ©: Dave McElwaine

"My race was really good compared to the pre-ride. I had a big wreck in the pre-ride," said Haywood to Cyclingnews. Haywood, a local, was part of the brushing crew that worked on the trail mid-week prior to the event. It was her first competition after breaking her ankle last summer at the US National Championships in Vermont and then retiring.
"I don't have the motivation to push myself as hard, but I did what I was able to do," said Haywood.
Both winners will race on Sunday. Koerber will do the cross country and Haywood will race the XXC (double-length cross country).
Results
Men
1 Sam Koerber         17.25
2 Harlan Price         0.22
3 Tim Richardson       1.27
4 Mike Carpenter       1.41
5 Joel Maynard         1.45
6 Kyle Lawrence        1.55
7 Colin Bento              
8 Dennis Helton        2.29
9 Chris Scott          2.36
10 Jimmy MacMillian    2.44

Women

1 Sue Haywood         21.14
2 Whitney Marsh        5.48
3 Kelley Hazelgrove    6.03
4 Jennifer Willis     11.17