MTB index page for all MTB content
MTB World Cup XC #2 - CDM
Offenburg, Germany, April 26-27, 2008
Main Page Results Previous Race World Cup Standings
Race 4 - April 27: Elite men cross country
Absalon wins again in Offenburg
By Luke Webber in Offenburg, Germany
Absalon celebrates a repeat victory in Offenburg, this time without mud
Photo ©: Luke Webber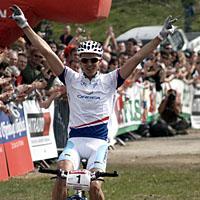 Under the perfect conditions for mountain bike racing with blue skies, dusty trail and warm temperatures Julien Absalon rode away from the field without effort underlying his class and dominance when it comes to men's cross country racing.
Much like the women's race earlier in the day a long queue of riders formed before the first singletrack. An additional start loop was not enough to spread the 230-strong field and for the first lap at least a group of twenty riders headed the race including all of the favourites.
The start was not Absalon's strongest, but by halfway through the first full 5km lap he was back taking control of the race. Here the main challengers emerged, along with a few less familiar faces that soon paid for their early exertions. After three laps it was easy to see what sort of race was shaping up.
A lead group containing Absalon, Hermida, Schurter, Vogel and Sauser controlled the race while behind Adam Craig was flying just moments away from the top spots. Just as he was about to bridge however, Absalon put his plans forward and such was the pace, nobody could give any more.
This blew the race into a small chase group of Schurter, Vogel and Hermida, trailed by Sauser and Craig. This lasted two laps until which time everyone had recovered and the racing could start once more. In this time it was possible for Frederik Kessiakoff and Burry Stander to make gains and their results would be massively helped by what followed.
First, riders who pushed too hard early on had to drop their pace and second Jose Hermida had bad luck. A snapped chain and long walk to the tech zone followed, killing any chance of a top result.
In less than two hours Absalon had managed to put a minute into the chasers, which were headed by Sauser. Even though he faded when the attacks went on lap five, his deep strength allowed a comeback and even a small sprint to overhaul fellow countryman Florian Vogel. Schurter's fourth place finish meant there were three Swiss in the top five.
Adam Craig's week of adaptation to the Euro lifestyle, following a late fly-in to Houffalize obviously paid off, finishing top American in eighth. Todd Wells went well early on, eventually getting 23rd proving last week was no fluke.
Photography
For a thumbnail gallery of these images, click here
Images by Luke Webber
Images by Dave McElwaine / www.trailwatch.net
Results

1 Julien Absalon (Fra) Orbea                                             1.58.42
2 Christoph Sauser (Swi) Specialized Factory Racing                         0.51
3 Florian Vogel (Swi) Swisspower MTB Team                                   0.54
4 Nino Schurter (Swi) Swisspower MTB Team                                   1.06
5 Jean-Christophe Peraud (Fra) Orbea                                        1.53
6 Fredrik Kessiakoff (Swe) Full-Dynamix-IT                                  2.00
7 Burry Stander (RSA) GT Bicycles                                           2.10
8 Adam Craig (USA) Giant Mountain Bike Team                                 2.22
9 Seamus McGrath (Can)                                                      2.32
10 Marco Aurelio Fontana (Ita)                                              2.40
11 Jakob Fuglsang (Den) Cannondale-Vredestein                               2.50
12 Cédric Ravanel (Fra) Team Lapierre International                         2.55
13 Ivan Alvarez Gutierrez (Spa) Giant Italia Team                           2.59
14 Kashi Leuchs (NZl) Cannondale-Vredestein                                 3.00
15 Inaki Lejarreta Errasti (Spa) Orbea                                      3.05
16 Martin Gujan (Swi) Athleticum-MTB-Team                                   3.22
17 Thomas Frischknecht (Swi) Swisspower MTB Team                            3.26
18 Jürg Graf (Swi) Swisspower MTB Team                                      3.30
19 Geoff Kabush (Can) Team Maxxis                                           3.35
20 Rudi Van Houts (Ned) Dolphin-Trek Mountainbike Racing Team               3.36
21 Ruben Ruzafa Cueto (Spa) Orbea                                           3.38
22 Christoph Soukup (Aut)                                                   4.24
23 Todd Wells (USA) GT Bicycles                                             4.42
24 José Antonio Hermida Ramos (Spa) Multivan Merida Biking Team             4.48
25 Carlos Coloma Nicolas (Spa) ECP-TAU Ceramica                             5.00
26 Manuel Fumic (Ger) Fumic.Brothers.International                          5.05
27 Matthias Flückiger (Swi) Athleticum-MTB-Team                             5.05
28 Moritz Milatz (Ger) Multivan Merida Biking Team                          5.09
29 Chris Jongewaard (Aus) Dolphin-Trek Mountainbike Racing Team             5.18
30 Oliver Beckingsale (GBr) Giant Mountain Bike Team                        5.22
31 Stéphane Tempier (Fra) Gewiss Bianchi                                    5.48
32 Roel Paulissen (Bel) Cannondale-Vredestein                               5.51
33 Lado Fumic (Ger) Fumic.Brothers.International                            5.54
34 Yader Zoli (Ita) Giant Italia Team                                       5.56
35 Milan Spesny (Cze) Merida Biking Team                                    6.04
36 Gion Manetsch (Swi) Athleticum-MTB-Team                                  6.17
37 Martino Fruet (Ita)                                                      6.54
38 Jaroslav Kulhavy (Cze)                                                   7.11
39 Alexis Vuillermoz (Fra) Scott Valloire Galibier                          7.14
40 Marek Galinski (Pol) JBG2-APC Presmet                                    7.16
41 Emil Lindgren (Swe) Full-Dynamix-IT                                      7.22
42 Frank Schotman (Ned)                                                     7.26
43 Hannes Metzler (Aut) Giant Mountain Bike Team                            7.39
44 Sergio Mantecon Gutierrez (Spa) Cemelorca-Seguros10.com                  7.46
45 Karl Markt (Aut)                                                         7.54
46 Peter Riis Andersen (Den) Team Alb-Gold Mountainbike                     8.00
47 Lachlan Norris (Aus)                                                     8.02
48 Derek Zandstra (Can)                                                     8.06
49 Tim Bohme (Ger) Team Alb-Gold Mountainbike                               8.15
50 Jan Skarnitzl (Cze)                                                      8.16
51 Israel Nunez Baticon (Spa) Massi                                         8.20
52 Pascal Meyer (Swi)                                                       8.31
53 Ricky Federau (Can)                                                      8.37
54 Jochen Kass (Ger) Team Alb-Gold Mountainbike                             8.49
55 Fabian Giger (Swi)                                                       8.59
56 Pierre Lebreton (Fra) BH - SR. Suntour                                   9.20
57 Tony Longo (Ita) Full-Dynamix-IT                                         9.23
58 Giuseppe Lamastra (Ita)                                                  9.45
59 Bas Peters (Ned)                                                         9.48
60 Lukas Kaufmann (Swi)                                                     9.53
61 Jeremy Horgan-Kobelski (USA) Subaru-Gary Fisher                          9.58
62 Martin Fanger (Swi)                                                     10.05
63 Hannes Genze (Ger) Team Alb-Gold Mountainbike                           10.14
64 Karl Platt (Ger) Team Bulls                                             10.22
65 Liam Killeen (GBr) Specialized Factory Racing                           10.47
66 Patrik Gallati (Swi) Swisspower MTB Team                                10.51
67 Maxime Marotte (Fra) BH - SR. Suntour                                   10.58
68 Bart Brentjens (Ned) Dolphin-Trek Mountainbike Racing Team              11.09
69 Juan Pedro Trujillo Hernandez (Spa) Cemelorca-Seguros10.com             11.22
70 Filip Meirhaeghe (Bel) Versluys-Landbouwkrediet MTB Team                11.38
71 Mattias Wengelin (Swe)                                                  11.58
72 Mannie Heymans (Nam)                                                    12.06
73 Mirko Pirazzoli (Ita)                                                   12.08
74 Hector Leonardo Paez Leon (Col) Gewiss Bianchi                          12.15
75 Filip Eberl (Cze)                                                       12.17
76 Dario Alejandro Gasco (Arg) Massi                                       12.54
77 Christof Bischof (Swi)                                                  13.10
78 François Bailly Maitre (Fra) Scott Valloire Galibier                    13.17
79 Sergiy Rysenko (Ukr) ISD-International                                  13.23
80 Till Marx (Swi) Swisspower MTB Team                                     13.28
81 Lukas Flückiger (Swi) Athleticum-MTB-Team                               13.29
82 Alexander Wetterhall (Swe)                                              13.35
83 Barry Wicks (USA) Kona                                                  13.43
84 Nicolas Bazin (Fra) BH - SR. Suntour                                    14.59
85 Frank Beemer (Ned)                                                      17.47
86 Bjorn Brems (Bel)                                                       1 lap
87 Paul Van Der Ploeg (Aus)
88 Andras Melts (Hun)
89 Cristian Cominelli (Ita) Gewiss Bianchi
90 Michael Broderick (USA)
91 Maxim Gogolev (Rus)
92 Marc Colom (Fra)
93 Thomas Litscher (Swi)
94 Alban Lakata (Aut) Dolphin-Trek Mountainbike Racing Team
95 Jeremiah Bishop (USA) Trek-VW
96 Matous Ulman (Cze)
97 Andrea Tiberi (Ita) Giant Italia Team
98 Cristobal Silva (Chi)
99 Mattias Nilsson (Swe)
100 Kris Sneddon (Can) Kona
101 Nicola Rohrbach (Swi) Central Ghost Pro Team
102 Pavel Boudny (Cze)
103 Samuel Schultz (USA) Subaru-Gary Fisher
104 Mathieu Toulouse (Can) Team Maxxis
105 Ludovic Mottet (Bel) Windose Houffalize
106 Markus Bauer (Ger)
107 Fabien Canal (Fra) Team Lapierre International
108 Shlomi Haimy (Isr)
109 Jelmer Jubbega (Ned)
110 Javier Puschel (Chi)
111 Klaus Nielsen (Den) Team Alb-Gold Mountainbike                         2 laps
112 Rob Vangenechten (Bel)
113 Jiri Novak (Cze)
114 Arnaud Grosjean (Fra) BH - SR. Suntour
115 Taavi Selder (Est)
116 Michel Luginbuehl (Swi)
117 Sebastian Szraucner (Ger)
118 Balz Weber (Swi) Bikepark.ch BMC
119 Andriy Khripta (Ukr)
120 Anders Hovdenes (Nor) Team Etto Hoydahl
121 Marco Arnold (Swi)
122 Hans Becking (Ned) Beone Mountainbiketeam
123 Robert Kircher (Aut)
124 Bilal Akgul (Tur)
125 Robert Mennen (Ger)
126 Nieck Busser (Ned)
127 Martin Bratland (Nor) Team Etto Hoydahl
128 Chun Hing Chan (HKg)
129 Pierre Geoffroy Plantet (Fra) Team Lapierre International
130 Jonathan Galante (Fra)
131 Guillaume Vinit (Fra) Scott Valloire Galibier
132 Ian Field (GBr)
133 Uwe Hochenwarter (Aut)
134 Samuele Porro (Ita) Team CBE Tecnoimpianti A.S.D
135 Luka Mezgec (Slo)
136 Kristian Torgersen (Nor) Team Etto Hoydahl
137 Nicolas Vermeulen (Bel) Lingier-Versluys Team
138 Heiko Gutmann (Ger)
139 Sebastien Carabin (Bel)
140 Felix Euteneuer (Ger)
141 Andy Eyring (Ger)
142 Niels Wubben (Ned)
143 Tobias Ullmann (Ger) Team XLC Haibike
144 Evgeniy Pechenin (Rus) Format-Udmurtia
145 Andriy Gumenyuk (Ukr)
146 Freddy Betremiaux (Fra) BH - SR. Suntour
147 Tim Ottens (Ned) Beone Mountainbiketeam
148 Erik Nellen (Ned) Beone Mountainbiketeam
149 Martin Loo (Est) Merida Biking Team
150 Sergio Pulido Rodriguez (Spa) Cemelorca-Seguros10.com
151 Nicolas Jeantet (Ita) Team CBE Tecnoimpianti A.S.D
152 Sam Jurekovic (USA)                                                    3 laps
153 Igor Bogdan (Ukr) ISD-International
154 Mitchell Peterson (USA)
155 Andi Weinhold (Ger)

Teams

1 Orbea                                                                       94 pts
2 Swisspower MTB Team                                                         89
3 Cannondale-Vredestein                                                       37
4 Specialized Factory Racing                                                  35
5 GT Bicycles                                                                 32
6 Full-Dynamix-IT                                                             26
7 Giant Mountain Bike Team                                                    24
8 Team Lapierre International                                                 19
9 Athleticum-MTB-Team                                                         19
10 Giant Italia Team                                                          18
11 Dolphin-Trek Mountainbike Racing Team                                      13
12 Team Maxxis                                                                12
13 Multivan Merida Biking Team                                                10
14 ECP-TAU Ceramica                                                            6
15 fumic.brothers.international                                                5

Overall World Cup standings after two events

1 Julien Absalon (Fra) Orbea                                    500 pts
2 Christoph Sauser (Swi) Specialized Factory Racing             360
3 Nino Schurter (Swi) Swisspower MTB Team                       350
4 Jean-Christophe Peraud (Fra) Orbea                            270
5 Jakob Fuglsang (Den) Cannondale - Vredestein                  240
6 Florian Vogel (Swi) Swisspower MTB Team                       228
7 Cédric Ravanel (Fra) Team LaPierre International              225
8 Adam Craig (USA) Giant Mountain Bike Team                     186
9 Fredrik Kessiakoff (Swe) Full-Dynamix-IT                      182
10 Kashi Leuchs (NZl) Cannondale - Vredestein                   178
11 José Antonio Hermida Ramos (Spa) Multivan Merida MTB Team    178
12 Marco Aurelio Fontana (Ita)                                  175
13 Martin Gujan (Swi) Athleticum-MTB Team                       169
14 Seamus Mcgrath (Can)                                         160
15 Geoff Kabush (Can) Team Maxxis                               153
16 Roel Paulissen (Bel) Cannondale - Vredestein                 152
17 Todd Wells (USA) Giant Bicycles                              150
18 Inaki Lejarreta Errasti (Spa) Orbea                          148
19 Jürg Graf (Swi) Swisspower MTB Team                          144
20 Burry Stander (RSA) Giant Bicycles                           129
21 Ruben Ruzafa Cueto (Spa) Orbea                               126
22 Rudi Van Houts (Ned) Dolphin Trek MTB Team                   120
23 Christoph Soukup (Aut)                                       120
24 Oliver Beckingsale (GBr) Giant Mountain Bike Team            116
25 Yader Zoli (Ita) Giant Italia Team                           104
26 Thomas Frischknecht (Swi) Swisspower MTB Team                 95
27 Moritz Milatz (Ger) Multivan Merida MTB Team                  94
28 Jaroslav Kulhavy (Cze)                                        86
29 Ivan Alvarez Gutierrez (Spa) Giant Italia Team                80
30 Wolfram Kurschat (Ger) Topeak Ergon Racing                    78
31 Lado Fumic (Ger) Fumic Brothers International                 76
32 Alexis Vuillermoz (Fra) Scott Valloire Galibier               75
33 Matthias Flückiger (Swi) Athleticum-MTB Team                  73
34 Hannes Metzler (Aut) Giant Mountain Bike Team                 67
35 Ralph Naef (Swi) Multivan Merida MTB Team                     64
36 Peter Riis Andersen (Den) Team Alb-Gold Mountainbike          62
37 Martino Fruet (Ita)                                           61
38 Tony Longo (Ita) Full-Dynamix-IT                              61
39 Milan Spesny (Cze) MBT                                        58
40 Carlos Coloma Nicolas (Spa) ECP-TAU Ceramica                  56
41 Manuel Fumic (Ger) Fumic Brothers International               54
42 Tim Bohme (Ger) Team Alb-Gold Mountainbike                    53
43 Gion Manetsch (Swi) Athleticum-MTB Team                       52
44 Chris Jongewaard (Aus) Dolphin Trek MTB Team                  48
45 Lukas Flückiger (Swi) Athleticum-MTB Team                     48
46 Emil Lindgren (Swe) Full-Dynamix-IT                           47
47 Karl Markt (Aut)                                              47
48 Stéphane Tempier (Fra) Gewiss Bianchi                         44
49 Marek Galinski (Pol) JBG2-APC Presmet                         39
50 Frank Schotman (Ned)                                          39
51 Sergio Mantecon Gutierrez (Spa) Cemelorca-Seguros10.com       38
52 Till Marx (Swi) Swisspower MTB Team                           38
53 Michael Weiss (Aut)                                           32
54 Ricky Federau (Can)                                           31
55 Daniel Mcconnell (Aus)                                        30
56 Jochen Kass (Ger) Team Alb-Gold Mountainbike                  29
57 Bas Peters (Ned)                                              28
58 Marc Trayter Alemany (Spa) ECP-TAU Ceramica                   28
59 Davy Coenen (Bel)                                             27
60 Karl Platt (Ger) Team Bulls                                   26
61 Patrik Gallati (Swi) Swisspower MTB Team                      25
62 Lachlan Norris (Aus)                                          21
63 Derek Zandstra (Can)                                          20
64 Jan Skarnitzl (Cze)                                           18
65 Israel Nunez Baticon (Spa) Massi                              17
66 Andreas Kugler (Swi) Fischer-BMC                              17
67 Pascal Meyer (Swi)                                            16
68 Fabian Giger (Swi)                                            13
69 Pierre Lebreton (Fra) BH - SR. Suntour                        12
70 Torsten Marx (Ger) Team Alb-Gold Mountainbike                 12
71 Giuseppe Lamastra (Ita)                                       10
72 Filip Meirhaeghe (Bel) Versluys-Landbouwkrediet MTB Team      10
73 Lukas Kaufmann (Swi)                                           8
74 Jeremy Horgan-Kobelski (USA) Subaru Gary Fiser                 8

Team standings

1 Orbea                                                         183 pts
2 Swisspower MTB Team                                           151
3 Cannondale-Vredestein                                         112
4 Specialized Factory Racing                                     67
5 Giant Mountain Bike Team                                       53
6 GT Bicycles                                                    52
7 Team Lapierre International                                    47
8 Multivan Merida Biking Team                                    44
9 Athleticum-MTB-Team                                            42
10 Full-Dynamix-IT                                               33
11 Team Maxxis                                                   31
12 Giant Italia Team                                             29
13 Dolphin-Trek Mountainbike Racing Team                         18
14 Topeak Ergon Racing Team                                      17
15 ECP-TAU Ceramica                                               6
16 Fumic.Brothers.International                                   5
17 Scott Valloire Galibier                                        1