MTB index page for all MTB content
MTB World Cup XC #2 - CDM
Offenburg, Germany, April 26-27, 2008
2007 results Schedule Preview Start List
Schedule
Race 1 - April 26: Junior men and women cross country (non-World Cup event),
Race 2 - April 26: Master men and women cross country (non-World Cup Event),
Race 3 - April 27: Elite women cross country,
Race 4 - April 27: Elite men cross country,
Racers ready for round two
By Luke Webber in Offenburg, Germany
This long switchback downhill
Photo ©: Luke Webber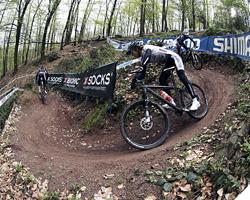 Just 200 miles away from Houffalize, Offenburg on the edge of the Black Forest in south Germany hosts round two of the mountain bike World Cup. Because of this short distance there has been something of a split in team strategy - some riders deciding to go home, some staying in Houffalize until later in the week and others travelling immediately to Offenburg.
So far conditions have been damp and slightly humid, with rain overnight and low clouds over the hills. Thursday was a big improvement and for the first time, there was a clear view across the vineyards, and a course inspection revealed a mainly dry lap made up of a clay mud base with roots. There is one sticky section but with the good forecast, this should dry out just fine for a fast race. The worst affected sections of uphill have also been treated to a top layer of hardcore to prevent damage.
If the forecasts turn bad, however, and the same conditions should strike as in 2007, expect a lot of running especially through the crowd pleasing sections. Worldclassdrop, Wolfsdrop, Snakepit, Dualspeed and Northshore will all be packed with spectators baying for blood!
Thursday was the first time you could see the magnificent view
Photo ©: Luke Webber

Even though the lap is two kilometers less than in Belgium, start numbers are barely down, so expect a lot of riders exceeding the one lap limit. Those lucky enough to score a top sixty in round one will be gridded whereas the rest will rely on UCI ranking and a pair of sharp elbows. And, while the difference is only two kilometers on paper, there are very few passing places with 90% of the course singletrack and through the trees. While this will give riders at the front with better technical skills the advantage it will cost those outside the top 50.
Fortunately, Americans Adam Craig and Todd Wells prop up the top 15 following an excellent opening round, and this start is just the opportunity they need to support their continued quest to make the US Olympic team. Speaking after the Houffalize race, Craig was well aware the difference a second row grid position can make - last year he had to battle from the back.
The Wolfsdrop is the steepest and most technically demanding
Photo ©: Luke Webber

"World Cup number one is always a challenge for me but it worked out great. I was half asleep on the start line but over the next few weeks I can adjust and hopefully the results will come. A good start position for Offenburg keeps morale high and is another thing not to worry about."
Thanks to a convincing win in Houffalize current World Cup leader Julien Absalon will be favourite to make it two for two. Last year he enjoyed the course and in such great condition nobody would bet against him. Other favorites include Nino Schurter, Christoph Sauser, Jakob Fuglsang, Cédric Ravanel, Jean-Christophe Peraud, José Antonio Hermida Ramos and Roel Paulissen.
The women's race is far harder to call. While Ren Chengyuan finished top in Belgium, it was not a convincing win, rather one benefiting from others misfortune. Weekend two should prove a much sterner test against the likes of Irina Kalentieva, Marie-Helene Premont, Margarita Fullana, Georgia Gould, and Gunn-Rita Dahle Flesjaa.
Stay tuned to Cyclingnews for the latest from Offenburg on Sunday.
Photography
For a thumbnail gallery of these images, click here
Images by Luke Webber / www.lukewebber.com
Start list
Elite men

1 Julien Absalon (Fra) Orbea                                             
2 Nino Schurter* (Swi) Swisspower MTB Team                               
3 Christoph Sauser (Swi) Specialized Factory Racing                      
4 Jakob Fuglsang (Den) Cannondale-Vredestein                             
5 Cédric Ravanel (Fra) Team Lapierre International                       
6 Jean-Christophe Peraud (Fra) Orbea                                     
7 José Antonio Hermida Ramos (Spa) Multivan Merida Biking Team           
8 Roel Paulissen (Bel) Cannondale-Vredestein                             
9 Kashi Leuchs (NZl) Cannondale-Vredestein                               
10 Martin Gujan (Swi) Athleticum-MTB-Team                                
11 Todd Wells (USA) GT Mongoose / Pacific Cycle                          
12 Marco Aurelio Fontana (Ita)                                           
13 Wolfram Kurschat (Ger) Topeak Ergon Racing Team                       
14 Adam Craig (USA) Giant Mountain Bike Team                             
15 Jürg Graf (Swi) Swisspower MTB Team                                   
16 Inaki Lejarreta Errasti (Spa) Orbea                                   
17 Oliver Beckingsale (GBr) Giant Mountain Bike Team                     
18 Florian Vogel (Swi) Swisspower MTB Team                               
19 Yader Zoli (Ita) Giant Italia Team                                    
20 Ralph Naef (Swi) Multivan Merida Biking Team                          
21 Ruben Ruzafa Cueto (Spa) Orbea                                        
22 Seamus Mcgrath (Can)                                                  
23 Christoph Soukup (Aut)                                                
24 Jaroslav Kulhavy (Cze)                                                
25 Rudi Van Houts (Ned) Dolphin-Trek Mountainbike Racing Team            
26 Fredrik Kessiakoff (Swe) Full-Dynamix-IT                              
27 Tony Longo (Ita) Full-Dynamix-IT                                      
28 Lukas Flückiger (Swi) Athleticum-MTB-Team                             
29 Alexis Vuillermoz* (Fra) Scott Valloire Galibier                      
30 Moritz Milatz (Ger) Multivan Merida Biking Team                       
31 Hannes Metzler (Aut) Giant Mountain Bike Team                         
32 Peter Riis Andersen (Den) Team ALB-Gold Mountainbike                  
33 Till Marx (Swi) Swisspower MTB Team                                   
34 Tim Bohme (Ger) Team ALB-Gold Mountainbike                            
35 Michael Weiss (Aut)                                                   
36 Daniel Mcconnell (Aus)                                                
37 Martino Fruet (Ita)                                                   
38 Marc Trayter Alemany (Spa) Ecp-Tau Ceramica                           
39 Karl Platt (Ger) Team Bulls                                           
40 Patrik Gallati* (Swi) Swisspower MTB Team                             
41 Karl Markt (Aut)                                                      
42 Thomas Frischknecht (Swi) Swisspower MTB Team                         
43 Milan Spesny (Cze) Merida Biking Team                                 
44 Matthias Flückiger* (Swi) Athleticum-MTB-Team                         
45 Emil Lindgren (Swe) Full-Dynamix-IT                                   
46 Bas Peters (Ned)                                                      
47 Gion Manetsch (Swi) Athleticum-MTB-Team                               
48 Andreas Kugler (Swi) Fischer-BMC                                      
49 Ricky Federau (Can)                                                   
50 Jochen Kass (Ger) Team ALB-Gold Mountainbike                          
51 Sergio Mantecon Gutierrez (Spa) Cemelorca-Seguros10.Com               
52 Frank Schotman (Ned)                                                  
53 Torsten Marx (Ger) Team ALB-Gold Mountainbike                         
54 Marek Galinski (Pol) JBG2-APC Presmet                                 
55 Filip Meirhaeghe (Bel) Versluys-Landbouwkrediet MTB Team              
56 Burry Stander* (RSA) GT Mongoose / Pacific Cycle                      
57 Jeremy Horgan-Kobelski (USA) Subaru-Gary Fisher                       
58 Carlos Coloma Nicolas (Spa) Ecp-Tau Ceramica                          
59 Chris Jongewaard (Aus) Dolphin-Trek Mountainbike Racing Team          
60 Cristobal Silva (Chi)                                                 
61 Ivan Alvarez Gutierrez (Spa) Giant Italia Team                        
62 Bart Brentjens (Ned) Dolphin-Trek Mountainbike Racing Team            
63 Jeremiah Bishop (USA) Trek-VW                                         
64 Max Plaxton (Can) Rocky Mountain                                      
65 Javier Puschel (Chi)                                                  
66 Stefan Sahm (Ger) Team Bulls                                          
67 Jan Skarnitzl* (Cze)                                                  
68 Michael Broderick (USA)                                               
69 Alban Lakata (Aut) Dolphin-Trek Mountainbike Racing Team              
70 Marti Gispert Labarta (Spa) Ecp-Tau Ceramica                          
71 Ji Jianhua (Chn)                                                      
72 Derek Zandstra (Can)                                                  
73 Sergiy Rysenko (Ukr) Isd-International                                
74 Mannie Heymans (Nam)                                                  
75 Rene Tann (Ger)                                                       
76 Maxim Gogolev (Rus)                                                   
77 Kristian Hynek (Cze)                                                  
78 Stéphane Tempier* (Fra) Gewiss Bianchi                                
79 Lachlan Norris* (Aus)                                                 
80 Hector Leonardo Paez Leon (Col) Gewiss Bianchi                        
81 Balz Weber (Swi) Bikepark.Ch BMC                                      
82 Sam Jurekovic* (USA)                                                  
83 Christof Bischof (Swi)                                                
84 Chun Hing Chan (HKg)                                                  
85 Jelmer Pietersma (Ned) Beone Chainreaction Mountainbiketeam           
86 Dario Alejandro Gasco* (Arg) Massi                                    
87 Ludovic Dubau (Fra)                                                   
88 Silvio Bundi (Swi) Giant Mountain Bike Team                           
89 Samuel Schultz (USA) Subaru-Gary Fisher                               
90 Bjorn Brems* (Bel)                                                    
91 Igor Bogdan (Ukr) Isd-International                                   
92 Marc Colom* (Fra)                                                     
93 Martin Kraler (Aut)                                                   
94 Magnus Darvell (Swe)                                                  
95 Robert Gehbauer* (Aut) Multivan Merida Biking Team                    
96 Andras Melts (Hun)                                                    
97 Klaus Nielsen (Den) Team ALB-Gold Mountainbike                        
98 Denis Vorontsov* (Rus)                                                
99 François Bailly Maitre (Fra) Scott Valloire Galibier                  
100 Mirko Pirazzoli (Ita)                                                
101 Israel Nunez Baticon (Spa) Massi                                     
102 Pavel Boudny (Cze)                                                   
103 Matous Ulman (Cze)                                                   
104 Filip Eberl (Cze)                                                    
105 Alexey Medvedev (Rus)                                                
106 Juan Ped Trujillo Hernandez (Spa) Cemelorca-Seguros10.Com            
107 Olivier Maignan (Fra)                                                
108 Barry Wicks (USA) Kona                                               
109 Evgeniy Pechenin (Rus) Format-Udmurtia                               
110 Kris Sneddon (Can) Kona                                              
111 Dries Govaerts* (Bel) Lingier-Versluys Team                          
112 Fabian Giger* (Swi)                                                  
113 Roland Plank (Aut)                                                   
114 Nicolas Filippi (Fra) Scott Valloire Galibier                        
115 Robert Kircher (Aut)                                                 
116 Martin Loo* (Est) Merida Biking Team                                 
117 Tim Wijnants* (Bel) Dolphin-Trek Mountainbike Racing Team            
118 Andrea Tiberi (Ita) Giant Italia Team                                
119 Pierre Lebreton (Fra) BH-SR. Suntour                                 
120 Kristian Torgersen (Nor) Team Etto Hoydahl                           
121 Taavi Selder (Est)                                                   
122 Roman Rametsteiner (Aut)                                             
123 Adrian Brzozka* (Pol) JBG2-APC Presmet                               
124 Luka Mezgec* (Slo)                                                   
125 Martin Bratland (Nor) Team Etto Hoydahl                              
126 Frank Beemer* (Ned)                                                  
127 Liam Killeen (GBr) Specialized Factory Racing                        
128 Axel Bult (Ned)                                                      
129 Gerald Hauer (Aut)                                                   
130 Pascal Meyer* (Swi)                                                  
131 Julio Humberto Caro Silva (Col) Gewiss Bianchi                       
132 Hannes Genze (Ger) Team ALB-Gold Mountainbike                        
133 Nicolas Bazin (Fra) BH-SR. Suntour                                   
134 Paul Van Der Ploeg* (Aus)                                            
135 Robert Mennen (Ger)                                                  
136 Uwe Hochenwarter* (Aut)                                              
137 Mattias Wengelin* (Swe)                                              
138 Nicolas Vermeulen (Bel) Lingier-Versluys Team                        
139 Giuseppe Lamastra (Ita)                                              
140 Alexander Wetterhall* (Swe)                                          
141 Umberto Corti* (Ita) Team Cbe Tecnoimpianti A.S.D                    
142 Pierre Geoffroy Plantet (Fra) Team Lapierre International            
143 Jiri Novak (Cze)                                                     
144 Cristian Cominelli* (Ita) Gewiss Bianchi                             
145 Ludovic Mottet (Bel) Windose Houffalize                              
146 Nikolay Zagulyaev (Rus)                                              
147 Anders Ljungberg (Swe)                                               
148 Jérome Chevallier (Fra) BH-SR. Suntour                               
149 Steffen Thum (Ger) Team Mayer Stevens                                
150 Lee Williams (GBr)                                                   
151 Hans Becking* (Ned) Beone Chainreaction Mountainbiketeam             
152 Max Oste Macdonald* (Swe)                                            
153 Dmitry Medvedev* (Rus)                                               
154 Anders Hovdenes* (Nor) Team Etto Hoydahl                             
155 Colin Cares* (USA)                                                   
156 Oriol Morata Abril (Spa)                                             
157 Wilko Rochow (Ger) Team Mayer Stevens                                
158 Andi Weinhold* (Ger)                                                 
159 Hubert Pollinger (Ita) Sunshine Racers Asv Nals                      
160 Jonathan Galante (Fra)                                               
161 Ruud Rentmeester (Ned)                                               
162 Michal Plesnik (Svk)                                                 
163 David Lozano Riba* (Spa) Msc Bikes                                   
164 Ian Field* (GBr)                                                     
165 Guillaume Vinit* (Fra) Scott Valloire Galibier                       
166 Vero Lüscher* (Ger) Team Mayer Stevens                               
167 Arnaud Grosjean (Fra) BH-SR. Suntour                                 
168 Frank Lehmann (Ger)                                                  
169 Pascal Hossay* (Bel)                                                 
170 Marcel Wildhaber (Swi)                                               
171 Patxi Cia Apezteguia (Spa)                                           
172 Tim Ottens (Ned) Beone Chainreaction Mountainbiketeam                
173 Evgeniy Medvetsskyy (Ukr)                                            
174 Rick Evers (Ned) Beone Chainreaction Mountainbiketeam                
175 Niels Wubben* (Ned)                                                  
176 Ondrej Zeleny (Cze)                                                  
177 Martin Fanger* (Swi)                                                 
178 Daniel Suter (Swi)                                                   
179 Sebastian Szraucner* (Ger)                                           
180 Haimy Shlomi* (Isr)                                                  
181 Nathan Haas* (Aus)                                                   
182 Mitchell Peterson* (USA)                                             
183 Ivan Planzer (Swi)                                                   
184 Vivien Legastelois* (Fra) Team Lapierre International                
185 Samuele Porro* (Ita) Team Cbe Tecnoimpianti A.S.D                    
186 Rob Vangenechten* (Bel)                                              
187 Maxime Marotte* (Fra) BH-SR. Suntour                                 
188 Rumen Voigt* (Ger)                                                   
189 Jelmer Jubbega* (Ned)                                                
190 Andriy Gumenyuk* (Ukr)                                               
191 Alexis Chenevier* (Fra)                                              
192 Calle Friberg (Swe)                                                  
193 Hugo Navarian* (Fra) Team Cibf Keops                                 
194 Mattias Nilsson* (Swe)                                               
195 Peter Coddens (Bel) Lingier-Versluys Team                            
196 Sergio Pulido Rodriguez* (Spa) Cemelorca-Seguros10.Com               
197 Nieck Busser* (Ned)                                                  
198 Heiko Gutmann* (Ger)                                                 
199 Josef Kamler* (Cze) Ceska Sporitelna MTB                             
200 Marco Arnold* (Swi)                                                  
201 Lukas Kaufmann* (Swi)                                                
202 Erik Nellen* (Ned) Beone Chainreaction Mountainbiketeam              
203 Simon Scheiber* (Aut) Sunshine Racers Asv Nals                       
204 Tobias Ullmann (Ger) Team Xlc Haibike                                
205 Simon Gegenheimer* (Ger)                                             
206 Nicola Rohrbach* (Swi) Central Ghost Pro Team                        
207 Jiri Hudecek* (Cze)                                                  
208 Sébastien Hansen (Fra) BH-SR. Suntour                                
209 Michel Luginbuehl* (Swi)                                             
210 Andriy Khripta* (Ukr)                                                
211 Pierre Fuseau (Fra) Team Cibf Keops                                  
212 Andy Eyring* (Ger)                                                   
213 Hans Urkens (Bel) Lingier-Versluys Team                              
214 Severin Disch* (Swi)                                                 
215 Thomas Litscher* (Swi)                                               
216 Markus Bauer* (Ger)                                                  
217 Freddy Betremiaux* (Fra) BH-SR. Suntour                              
218 Fabien Canal* (Fra) Team Lapierre International                      
219 Jo Norskar* (Nor) Team Etto Hoydahl                                  
220 Sebastien Carabin* (Bel)                                             
221 Paul Remy* (Fra)                                                     
222 Diego Rosa* (Ita) Giant Italia Team                                  
223 Nicolas Jeantet* (Ita) Team Cbe Tecnoimpianti A.S.D                  
224 Tim Lemmers* (Ned)                                                   
225 David Escolar Ballesteros (Spa) Sunshine Racers Asv Nals             
226 Felix Euteneuer* (Ger)                                               
227 Bart Maas* (Ned) Beone Chainreaction Mountainbiketeam                
228 Marco Minnaard* (Ned) Beone Chainreaction Mountainbiketeam           
229 Jaco Wagenaar* (Ned) Beone Chainreaction Mountainbiketeam            
230 Paul Gaillard* (Fra)                                                 
231 Markus Knott* (Ger) Team Xlc Haibike                                 
232 Vladislavs Neroznaks (Lat)                                           
233 Steven Garcin* (Fra)                                                 
234 Boris Vasilyev (Rus) Format-Udmurtia                                 
235 Ethan Gilmour* (USA)                                                 
236 Adrien Pastor* (Fra) Team Cibf Keops                                 
237 Cédric Meinero (Fra)                                                 
238 Piotr Brzozka* (Pol) JBG2-APC Presmet                                
 
Elite women

1 Ren Chengyuan (Chn)                                                    
2 Irina Kalentieva (Rus) Topeak Ergon Racing Team                        
3 Marie-Helene Premont (Can) Rocky Mountain                              
4 Margarita Fullana (Spa) Massi                                          
5 Georgia Gould (USA) Luna Womens MTB Team                               
6 Gunn-Rita Dahle Flesjaa (Nor) Multivan Merida Biking Team              
7 Nathalie Schneitter (Swi) Colnago Cap Arreghini                        
8 Petra Henzi (Swi) Fischer-BMC                                          
9 Tereza Hurikova (Cze) Ceska Sporitelna MTB                             
10 Sabine Spitz (Ger) Central Ghost Pro Team                             
11 Lene Byberg (Nor) Specialized Factory Racing                          
12 Elisabeth Osl (Aut) Team Ghost International                          
13 Ying Liu (Chn)                                                        
14 Catherine Pendrel (Can) Luna Womens MTB Team                          
15 Kiara Bisaro (Can)                                                    
16 Sabrina Enaux (Fra) Team Lapierre International                       
17 Blaza Klemencic (Slo) Giant Italia Team                               
18 Katrin Leumann (Swi)                                                  
19 Mary Mc Conneloug (USA)                                               
20 Esther Süss (Swi)                                                     
21 Nina Wrobel (Ger) Multivan Merida Biking Team                         
22 Jingjing Wang (Chn)                                                   
23 Heather Irmiger (USA) Subaru-Gary Fisher                              
24 Laurence Leboucher (Fra)                                              
25 Sandra Walter (Can)                                                   
26 Katerina Nash (Cze) Luna Womens MTB Team                              
27 Wendy Simms (Can) Kona                                                
28 Nina Homovec (Slo)                                                    
29 Adelheid Morath (Ger)                                                 
30 Magdalena Sadlecka (Pol) Halls Professional MTB Team                  
31 Tanja Zakelj (Slo)                                                    
32 Aleksandra Dawidowicz (Pol) Halls Professional MTB Team               
33 Marielle Saner-Guinchard (Swi) Bikepark.Ch BMC                        
34 Laura Turpijn (Ned)                                                   
35 Sarah Koba (Swi)                                                      
36 Cécile Rode Ravanel (Fra) Team Lapierre International                 
37 Susan Haywood (USA) Trek-VW                                           
38 Bernardine Boog-Rauwerda (Ned)                                        
39 Amanda Sin (Can)                                                      
40 Anna Villar Argente (Spa) Massi                                       
41 Willow Koerber (USA) Subaru-Gary Fisher                               
42 Anna Szafraniec (Pol) Halls Professional MTB Team                     
43 Ivonne Kraft (Ger)                                                    
44 Janka Stevkova (Svk)                                                  
45 Eva Lechner (Ita) Colnago Cap Arreghini                               
46 Maja Wloszczowska (Pol) Halls Professional MTB Team                   
47 Rosara Joseph (NZl) Team Ghost International                          
48 Maroussia Rusca (Swi)                                                 
49 Yolanda Speedy (RSA)                                                  
50 Maria Osl (Aut) Sunshine Racers Asv Nals                              
51 Dellys Starr (Aus)                                                    
52 Francisca Campos Salas (Chi) Massi                                    
53 Renata Bucher (Swi)                                                   
54 Alexandra Engen (Swe)                                                 
55 Arielle Van Meurs (Ned)                                               
56 Emiliy Batty (Can)                                                    
57 Nataliya Krompets (Ukr)                                               
58 Kaytee Boyd (NZl)                                                     
59 Mical Dyck (Can)                                                      
60 Daniela Bunzli Rojas (Chi)                                            
61 Séverine Hansen (Fra) BH-SR. Suntour                                  
62 Helene Marcouyre (Fra) BH-SR. Suntour                                 
63 Ksenia Chernykh (Rus)                                                 
64 Elsbeth Van Rooij-Vink (Ned) Beone Chainreaction Mountainbiketeam     
65 Evelyn Staffler (Ita) Colnago Cap Arreghini                           
66 Jenny Copnall (GBr) Subaru-Gary Fisher                                
67 Laura Metzler (Fra) BH-SR. Suntour                                    
68 Emma Colson (Aus)                                                     
69 Julie Krasniak (Fra) Team Lapierre International                      
70 Katrin Schwing (Ger) Dolphin-Trek Mountainbike Racing Team            
71 Vera Andreeva (Rus)                                                   
72 Hanna Klein (Ger)                                                     
73 Maaris Meier (Est)                                                    
74 Githa Michiels (Bel)                                                  
75 Oxana Rybakova (Rus)                                                  
76 Sandra Dolcerocca (Den)                                               
77 Caroline Mani (Fra)                                                   
78 Daniela Campuzano (Mex)                                               
79 Tory Thomas (Aus)                                                     
80 Sandra Santanyes Murillo (Spa) Cemelorca-Seguros10.Com                
81 Zoe King (Aus)                                                        
82 Rowena Fry (Aus)                                                      
83 Cristina Mascarreras Sabria (Spa) Conor - Camping La Siesta           
84 Judith Pollinger (Ita) Sunshine Racers Asv Nals                       
85 Kristien Nelen (Bel)                                                  
86 Bettina Schmid (Swi) Fischer-BMC                                      
87 Evgenia Belozerova (Rus)                                              
88 Maaike Polspoel (Bel)                                                 
89 Therese Rhodes (Aus)                                                  
90 Barbara Oberdorfer (Ita)                                              
91 Katherine O'shea (Aus)                                                
92 Agnes Naumann (Ger)                                                   
93 Alison Sydor (Can) Rocky Mountain                                     
94 Monique Zeldenrust (Ned)                                              
95 Marie Kunst (Den)                                                     
96 Ekaterina Melnikova (Rus)                                             
97 Sofia Shashova (Rus) Format-Udmurtia                                  
98 Tatjana Dold (Ger)                                                    
99 Claudia Seidel (Ger)                                                  
100 Monika Heuveling (Ned)                                               
101 Kate Potter (Aus)                                                    
102 Fabienne Niederberger (Swi)                                          
103 Karin Groen (Ned)                                                    
104 Nina Kunz (Ger)                                                      
105 Klaartje Legtenberg (Ned)                                            
106 Janine Droz (Swi)                                                    
107 Iryna Slobodyan (Ukr)                                                
108 Coralie Redelsperger (Fra)                                           
109 Hanna Israel (Fra)                                                   
110 Elisabeth Mottet (Bel) Windose Houffalize                            
111 Silke Schmidt (Ger)                                                  
112 Susan Butler (USA)                                                   
113 Jennifer Fischer (Fra) Team Cibf Keops                               
114 Julie Bresset (Fra) Breiz Mountain                                   
115 Laure Boulay (Fra) Team Cibf Keops                                   
116 Kathrin Stirnemann (Swi)                                             
117 Karen Brouwer (Ned)                                                  
118 Berengere Boes (Fra) Breiz Mountain                                  
119 Myriam Saugy (Swi)                                                   
120 Fabienne Heinzmann (Swi) Dolphin-Trek Mountainbike Racing Team       
121 Nicole Lechl (Ger) Team XLC Haibike                                

* indicates U23 racer